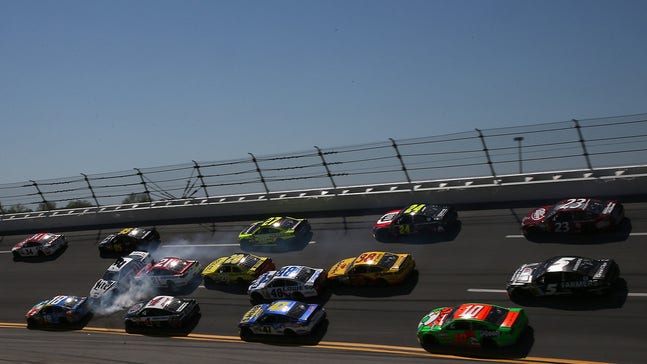 Bad Brad: Keselowski triggers 15-car wreck, angers other drivers
Published
May. 4, 2014 6:02 p.m. ET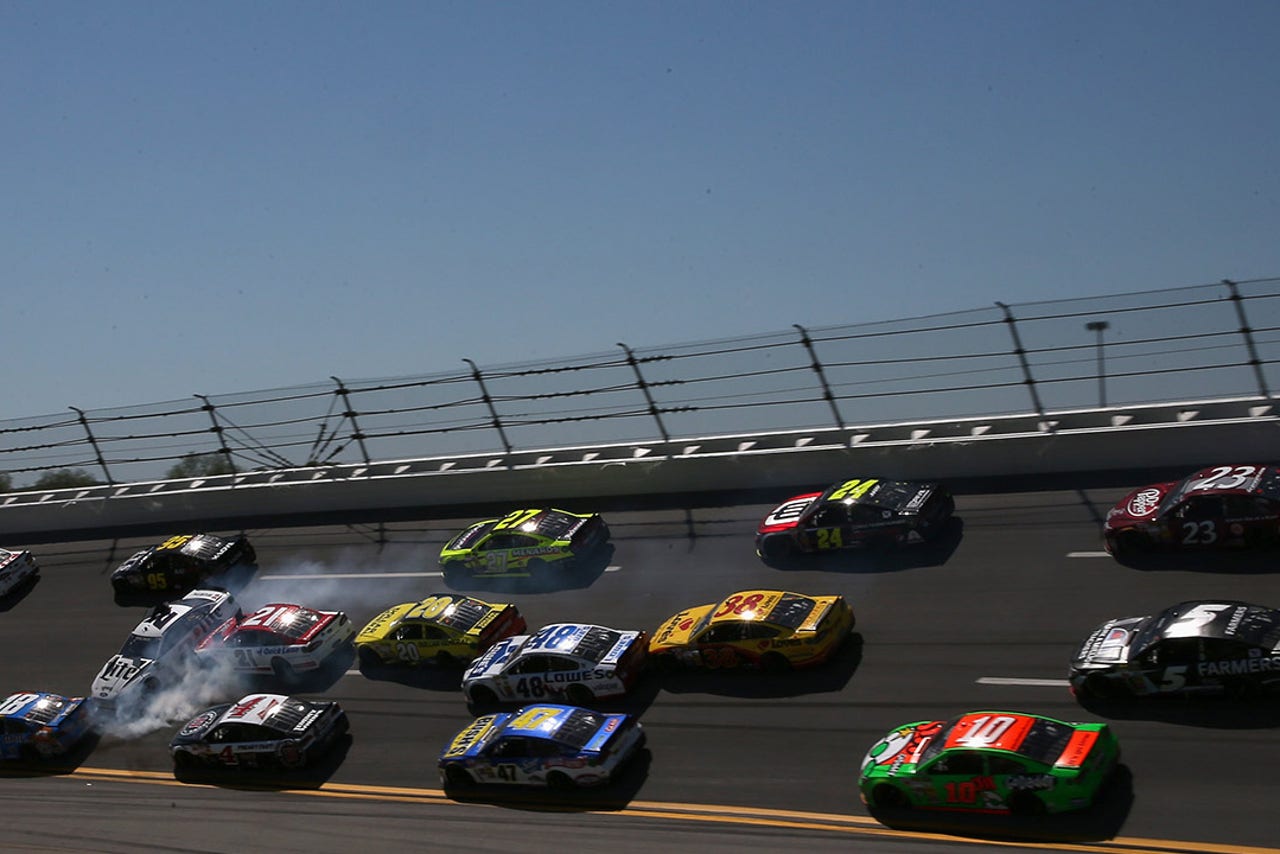 After 137 laps of fairly clean racing, the 'Big One' finally struck coming off Turn 4 collecting a total of 15 cars, leading many to point fingers at the lapped car of Brad Keselowski.
The incident occurred when Keselowski got loose at the front of the pack leading the center lane. With no room for error, Trevor Bayne got into the back of Keselowski's No. 2 Ford and the wreck was on from there.
When the smoke cleared, those involved included: Keselowski, Bayne, Matt Kenseth, Jeff Gordon, pole-sitter Brian Scott, Tony Stewart, Michael Annett, Alex Bowman, David Gilliland, Jimmie Johnson, Justin Allgaier, and Josh Wise.
"It just broke loose and spun out on me," Keselowski said. "I don't know if I ran over something or just busted my rear-end. I feel bad for the guys that got caught up on it."
Running 43rd, six laps down at the time, Keselowski was trying to put himself in the position to earn the free pass and get his lap back if the caution flew. One of the stronger cars in the opening stages of the race, Keselowski came down on Danica Patrick entering Turn 1, sending his car sliding down the apron and back up the track.
While he was able to avoid major damage in that incident, he -- and many others behind him -- was not as lucky the second time around.
"We were just trying really hard to get our lap back there, and just couldn't catch any yellows or any breaks," he said. "So, I had to be really aggressive and hope for something to happen there and had to be running up front. Feel bad that we got cars tore up and we were laps down when we did it, but we were trying to race too. It just didn't work out for us."
Keselowski's aggressiveness at the front of the pack was not well received by those involved in the wreck.
"Brad made a pretty bold move early -- a mind-boggling move, I guess you could say -- to go in front of Danica early and spun out in front of the field and got away with it," Kenseth said. "I thought he was a bunch of laps down, but maybe he was trying to get his lap back and just spun out in front of all of us and tore up a bunch of good race cars.
"I will say one thing, if it was the other way around and it was anybody else except for him we'd all be getting lectured," he said.
Kenseth, who had a run-in with Keselowski late in Saturday night's race at Richmond, was not the only driver that questioned the Team Penske driver's strategy of running up front multiple laps down.
"I could see where the 2 came from the outside lane, back down to the inside lane, then to the middle lane, then wiggled and got turned," Jeff Gordon said. "I'm not exactly sure why he was driving the way he was driving to begin with. Obviously, he was trying to get his lap back and felt like that was the way to do it. Just unfortunate what happened to him early, but more unfortunate what happened to many of us in that incident."
Just a handful of laps later, a similar incident occurred with only 14 laps to go. Much like Keselowski, Jimmie Johnson got loose heading into Turn 3 racing to the outside of Ricky Stenhouse Jr.
In total, eight cars were involved in this second incident, including: Johnson, Stenhouse Jr., Joey Logano, David Ragan, Reed Sorenson, Kurt Busch, Michael McDowell and Austin Dillon.
"It looked like someone got turned in the middle or the bottom lane and we were just kind of minding our own business up top and all I saw was some cars coming up toward us," defending race-winner David Ragan said. "There was nothing you could do. Everyone is running real hot, and I think everyone is kind of ducking in and ducking out and if I would have to guess I would think that someone was probably moving in and out and just got clipped and turned him around."
"The 48 just started spinning out in front of me and when he caught it and had to save it, it's Talladega," Logano said. "All of us are in a pack so when one car gets free then we all kind of get jumbled up there. I think a product of a lot of it was just old tires when people came in for fuel only and their cars were getting really loose when that happened both times I think is when you've seen the bigger crashes. That's Talladega. You come into this race almost expecting something like that to happen. It's unfortunate."
While Johnson said he was turned around in his incident, he echoed many drivers' thoughts as to Keselowski's motives running so aggressively, but said he ultimately understood his reasoning.  
"I wasn't so thrilled that a car six laps down crashed the field," Johnson said. "But I get it. You're trying to get your laps back. But I didn't have any big run-in with him except for unfortunately being caught up in that wreck."
For race winner Denny Hamlin, there was no reward for a car that many laps down to race that hard in the middle of the pack. 
"There's no reward to do anything like. Really you have to have things line up," he said. "If I were multiple laps down on a superspeedway, I'd probably just hang out behind the pack and hope to not be in the wreck. That would be the only way I could improve my position.
"There's not really a rule or anything about it, anyone can do anything they want," he said. "Typically, if guys are racing you that are multiple, multiple laps down, you kind of just wonder why, but anybody can do whatever they want to do."
---
---