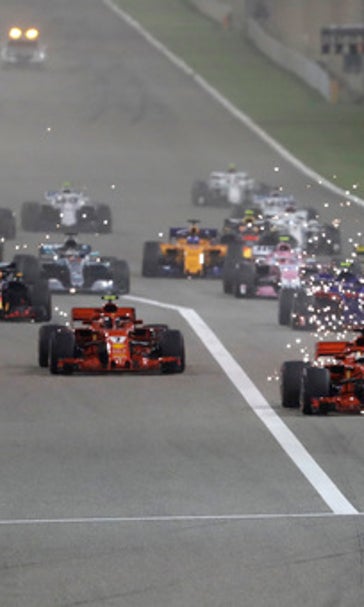 Vettel wins Bahrain GP, Raikkonen's car hits mechanic
April 8, 2018
SAKHIR, Bahrain (AP) Sebastian Vettel just held on to win a dramatic Bahrain Grand Prix from pole position on Sunday, while his Ferrari teammate Kimi Raikkonen accidentally broke a team mechanic's leg after a botched tire change cost him a podium spot.
Lewis Hamilton profited from Ferrari's mishap to finish third behind his Mercedes teammate Valtteri Bottas. Both Red Bulls failed, with Max Verstappen retiring moments after Daniel Ricciardo, facilitating Hamilton's transition from ninth on the grid to the podium.
It could have been even better for Mercedes.
Bottas almost overtook Vettel on the last lap, but Vettel made a crucial blocking move and won by only 0.6 seconds. It was the four-time F1 champion's 49th career win on his 200th race start.
''The last five laps were really difficult,'' Vettel said. ''I thought Valtteri would catch me. I nursed the tires and it worked, but only just.''
Vettel followed up his win at the season-opening Australian GP two weeks ago by staging a nerve-wracking rearguard. Although the German driver looked steady behind the wheel, his mind was racing almost as fast as Bottas' Mercedes behind him.
''I was doing the maths in the car: 10 laps to go, with that pace he's going to catch me,'' a relieved Vettel said. ''I just really tried to keep it as clean as possible.''
While it was a fine case of damage limitation for Hamilton, he now trails Vettel by 17 points after two races and has not won in his past five.
No driver has won the opening two races and then failed to win the title since Keke Rosberg in 1982.
Bottas, who is fighting to get a new contract for next year, proved a point after a disappointing eighth place in Melbourne.
''I knew there would be a chance at the end. But it wasn't quite enough,'' Bottas said. ''Being second with such a close margin is extremely disappointing.''
Red Bull had an awful race, with Ricciardo and Verstappen retiring within six laps. In an ironic twist, Red Bull's feeder team Toro Rosso had arguably the result of the day - with French driver Pierre Gasly driving superbly to finish a career-best fourth.
Ferrari totally botched Raikkonen's second tire change. A rear wheel was not fitted properly and, in his haste to get back into the race, Raikkonen's car ran over and broke a mechanic's left leg.
''A bit sad because one of our mechanics got injured,'' Vettel said. ''A mixed day overall.''
Raikkonen came in for his second change after 36 of 57 laps of the 5.4-kilometer (3.3-mile) desert circuit. He was given the green light to go despite work still continuing on the rear left tire. As the Ferrari driver pulled away, the tire hit the leg of one of the mechanics, knocking him to the ground. The team said the mechanic, named only as Francesco, had sustained a shinbone and fibula fracture.
Raikkonen's car came to a halt a few meters later and he took off the steering wheel and dejectedly threw it into the cockpit. As he walked back through the team garage, the Finnish driver swiped away a water bottle in frustration.
It was a poor error from Ferrari, which was fined 50,000 euros ($61,500) for an unsafe pit release.
Ferrari was also fined 5,000 euros for the same error during practice on Friday.
As the sun set, drivers prepared on the grid for their showdown under floodlights.
Vettel started on the front row with Raikkonen, and Bottas started third. Hamilton was low down after incurring a five-place grid penalty for an unauthorized gearbox change.
Raikkonen got passed on the first corner by Bottas, but Vettel held his ground.
Verstappen had a more frustrating race. The Dutch driver had done brilliantly to jump from 15th on the grid, and fought with Hamilton on the inside heading into turn one. But he sustained too much damage after puncturing his left rear tire.
Moments later, there were heads on hands in the Red Bull garage as Ricciardo's race came to an end. He pulled over on the side of the track because of an electrical failure, prompting the safety car to come out. With the VSC on track, Verstappen managed to crawl back into the pits. He resumed the race but abandoned shortly after.
''A very disappointing weekend,'' Verstappen said. ''Feeling sorry for all the fans that support me. Better luck next time in China.''
Hamilton expertly jumped up three places, passing Sebastian Ocon (Force India), Fernando Alonso (McLaren) and Nico Hulkenberg (Renault). By lap eight of 57, Hamilton was up to fourth and homing in on a 119th career podium.
''I started ninth so third is not bad at all,'' Hamilton said. ''It's damage limitation.''
Now he needs to start winning again - starting in Shanghai.
---
More AP auto racing: https://racing.ap.org
---
Jerome Pugmire on Twitter: http://twitter.com/jeromepugmire
---
---