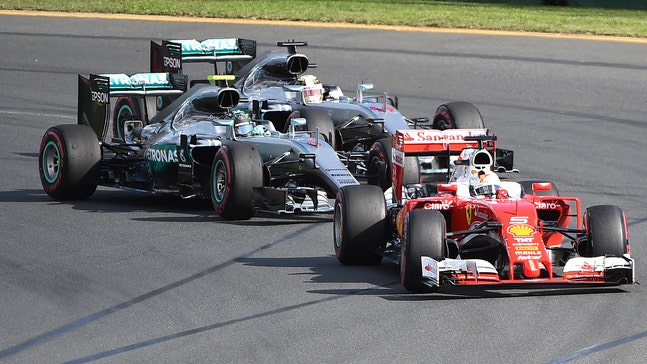 Vettel, Ferrari defend tire call that cost them the win in Australia
Published
Mar. 20, 2016 5:54 p.m. ET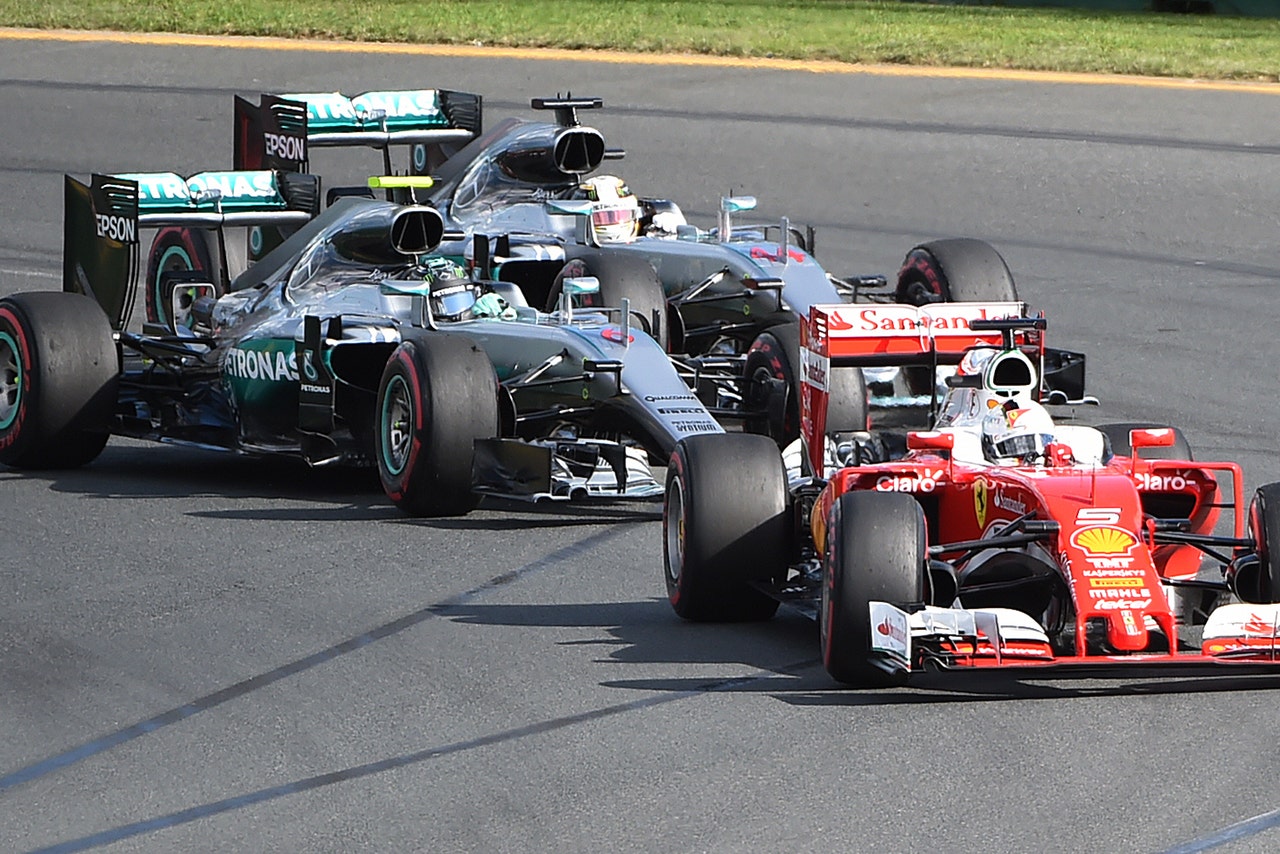 Ferrari boss Maurizio Arrivabene has defended the tire decision that turned Sebastian Vettel's lead at the Australian GP into a third-place finish.
When teams had a free choice of tires at the red flag, the Ferraris stuck with supersofts, while the two Mercedes drivers restarted with mediums. They didn't need to stop again, and when Vettel pitted, he dropped back. He was unable to recover to higher than third.
"On the wall we were confident, in all honesty," said Arrivabene. "So we were looking at the race. We looked at the gap we were gaining and, at that time, the radio was to go with our strategy and to keep going. Then, I don't want to take any excuses. The red flag – the last one was in 2009 if I am not wrong, but it is part of the race so you have to accept it and that is it.
"At that stage of the race we have to be a bit more aggressive. It could be right, could be wrong. Sebastian was talking about that. In the end we were pushing like hell and Sebastian also had the chance to be able to overtake Hamilton, that was in our strategy. If you want to look at the glass not half empty – we were there. But this is the news. Of course after that, you cannot be happy after this but this is racing."
Nevertheless, he admitted it was a race lost: "Yeah. We lost… the race if you look, it is in front of everybody that we were showing a very, very good pace. We were quite comfortable and after the red flag, we took a decision. A certain decision that can be right or wrong."
He remains optimistic about the season.
"The pace in the race is very good. The car is very good. So, this is what I have to say. But we don't have to give up. We need to continue to push because every race has their own story. You have to turn the page and look forward and think about the next one thinking to do not what you have done today but to do even better for Bahrain.
"The start was super. I have to say both of the drivers, they start like two rockets and after that they were able to take an advantage, and that was good for us. This is the reason why at a certain point we were looking at the gap, looking at our strategy prediction and looking quite comfortable. But at the end of the day you have to look at the result of the race, not the provision. We have to be realistic."
Sebastian Vettel also tried to see the positives after losing a potential victory in the Australian GP, despite his obvious frustration.
"I think we were a lot closer," he said. "Last year this was one of our worst tracks so there's plenty of positives. Surely we expected to be a bit stronger in qualifying, it wasn't the case, but I think we had a bit of a rough session yesterday. So I think today was a lot better for us, we were a lot closer.
"Surely the red flag didn't help. Equally we benefited at the start. The guys did a great job so, I think it was obviously a pleasant surprise, or a pleasant event, seeing that the start was great and I was overtaking both. It was a bit tight with Nico into Turn One but in the end we made it and even had both cars running at the front, so couldn't ask for me really. And yesterday was forgotten at that point.
"Then you can argue the red flag didn't help us but equally, one time it plays into your favor, the other time it catches you out a bit. Today I think, nevertheless, we had a great race. We went for the aggressive route – maybe with hindsight we could have done something else but I'm not willing to blame anything or anyone. We are a team, we win as a team and I think today we won 15 points. It's a shame to see that the second car didn't make it but I think there's plenty of positives, as I said. The team seems in good shape. We know that we can up our game and we want to put pressure on these guys."
Regarding his hopes for the season, he said:
"Of course we expect more this year. Last year was a bit unknown. I think we were happy to be on the podium after the season that Ferrari had in 2014 and I had in 2014. This year we obviously come with more expectations. Naturally, when you finish second in the Constructors you want to challenge for first. I think we managed to close the gap more than anyone else so there are plenty of positives.
"At home in Maranello there has been a lot of work going into this car and I think this is the right car that should allow us to put a lot of pressure on these guys. We know that the benchmark is high but as I said, we are on the right track, things are coming together, so it's not entirely the same result – I think Nico was second last year. I'm sure he's happy about that but all in all, we are a lot closer so plenty of positives."
Click HERE for more F1 news and features
---