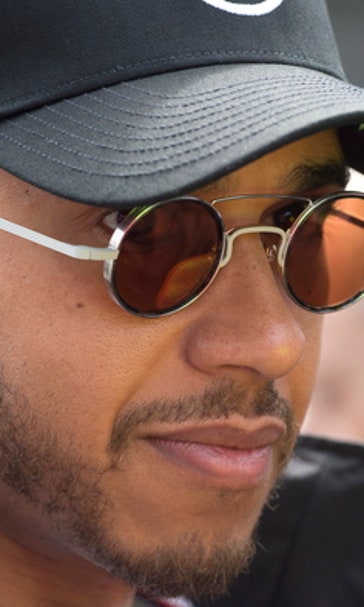 Verstappen: Crash questions make me want to headbutt someone
June 7, 2018
MONTREAL (AP) Ask Max Verstappen about his recent Formula One crashes at your own risk.
The Red Bull driver said at a news conference Thursday before the Canadian Grand Prix that he's tired of questions about the crash in Azerbaijan that also knocked out teammate Daniel Ricciardo, or the one in Monaco that sent him to the back of the grid.
''I think if I get a few more I'll head-butt someone,'' he said, only slowly allowing a faint grin. ''It's not that dramatic as people say it is. Of course, I haven't scored the points I should have scored, but that was not only my fault. Could have been better, but everybody makes it so dramatic.''
It was pretty dramatic in Baku, when Verstappen and Ricciardo were running 4-5 with a chance to reach the podium when they bumped tires while jockeying for position. That left Red Bull with zero points on a day it could have gained ground on championship leader Lewis Hamilton, and earned the drivers a talking-to from their team.
It was the second time this season Verstappen has failed to finish. In Bahrain, he punctured a tire while trying a risky move to overtake Hamilton, who called the move ''silly'' and part of a pattern of mistakes.
Verstappen, who also spun out in Australia and finished sixth, said he's not going to change the approach that made him, at the age of 17, the youngest driver ever to compete in Formula One. A year later, he won the Spanish Grand Prix and became the youngest winner in F1 history.
''I get really tired of asking me that I should change my approach,'' he said at the Circuit Gilles Villeneuve on Montreal's Ile Notre-Dame. ''I will never do that, because it's brought me to where I am so far. I will never change.''
In spite of the head-butt threat- which Verstappen did not follow through on - Ricciardo said he thinks his teammate can handle the pressure.
''I think he's pretty headstrong; he won't let it get to him too much,'' said the Australian, who won in Monaco and now sits in third place, 38 points behind Hamilton, in the standings.
''Now he (Verstappen) is in the spotlight ... any small error now I think he's probably going to get a little picked apart from,'' Ricciardo said. ''There will be times where it's going to be frustrating, but at the end of the day it's in his control.''
The good news for Ricciardo is that Red Bull thinks he can get through the weekend without needing to use a new energy recovery system. Because he has already used the allotment of two, replacing it would have saddled him with a grid penalty.
''Obviously if something happened in practice, we'd probably have to take one. But no, for now,'' he said on Thursday. ''For now we've still got enough parts to run. And if it runs reliable, we'll do the whole weekend with it.''
Part of the thinking was the team's chance of success in Montreal compared with the next race, at the Circuit Paul Ricard in France.
''When I heard whispers about a potential penalty here, I was like, `I'll take it in Paul Ricard, but not here,''' Ricciardo said. ''Having such good momentum at the moment, I think a penalty would really take a lot of the wind out of our sails. If we can escape this weekend without it, I'd rather take it somewhere else.''
Ricciardo, whose contract with Red Bull is up after the season, playfully refused to confirm or deny that he has been contacted by Ferrari or Mercedes. Although a faster car is one of his goals for next year, he was also asked if his success this season has increased his asking price.
''I think so,'' he said with a laugh. ''A little bit.''
---
---