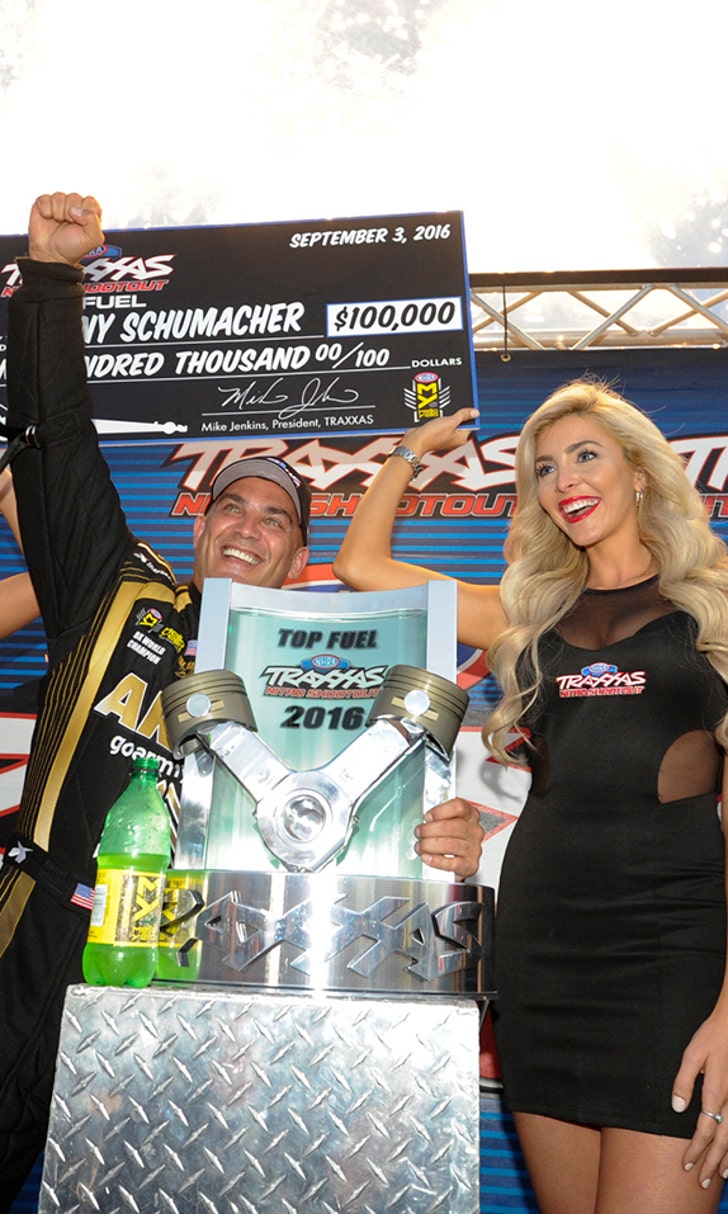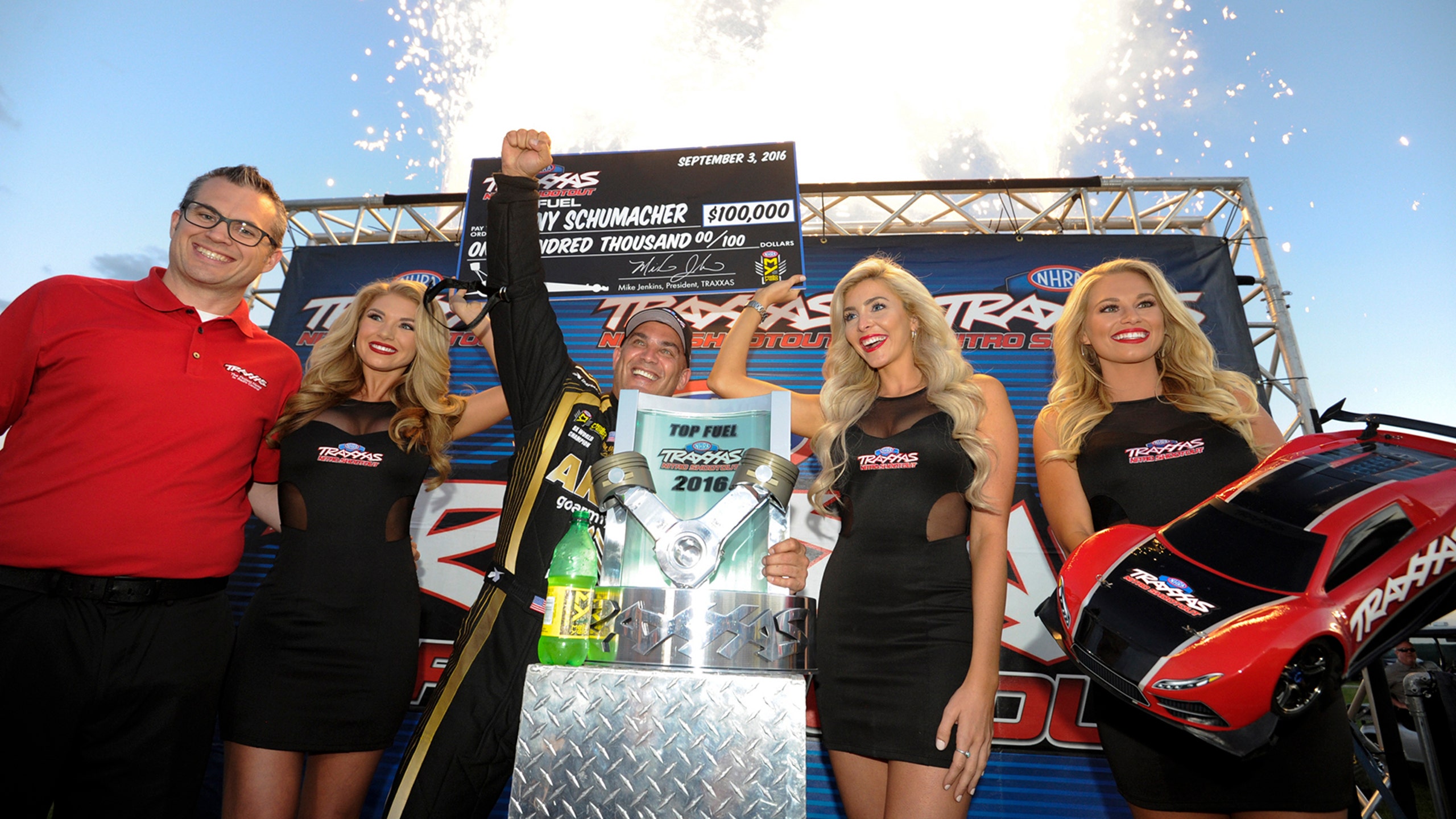 Tony Schumacher takes Top Fuel Traxxas Shootout win in Indianapolis
BY foxsports • September 4, 2016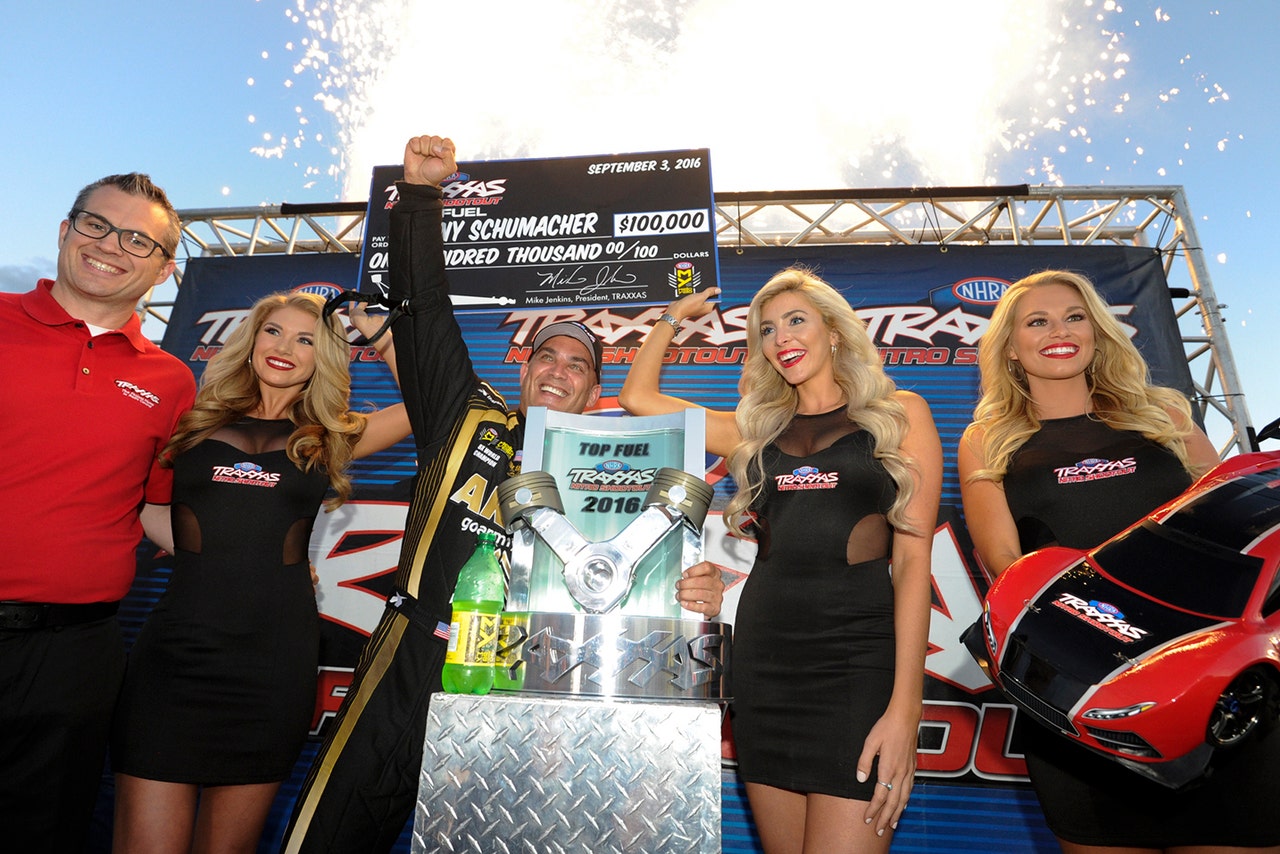 When it comes to racing in Indianapolis, Tony Schumacher is as good as gold.
Saturday, at Lucas Oil Raceway Park, the legendary drag strip located down the street from the famed Brickyard, Schumacher was better than gold.
Schumacher drove his U.S. Army-sponsored dragster to a $100,000 payday in the final round of the Traxxas Top Fuel Shootout, by beating the golden-themed Papa John's Pizza entry driven by Leah Pritchett.
Schumacher raced to an impressive 3.717-second elapsed time at 328.86 mph to outrun Pritchett's challenging 3.738, 317.05 pass.
"It's the 11th time – two Shootouts and nine wins [at the Labor Day classic] – where that last light has come on for our team," said Schumacher, who beat Brittany Force and Antron Brown to reach the final round. "This is a magical place. There's something special here."
The Traxxas Nitro Shootout was a win-win for the four-car Don Schumacher Top Fuel team as the quartet of team drivers comprised the semi-final round.
"We all have such great cars," Schumacher said. "And our drivers are hired for pure talent. Every one of those drivers is capable of winning a race. Unfortunately, you know what's in those cars. You know they're going to be fast. You know they're going to be running in the low [3.]70s. You know it's going to be hard."
Schumacher knew he needed to win not only for the pile of cash on hand but also to give his team bragging rights for the week after the race.
"Believe me, there's bragging rights in that shop," Schumacher said. "My dad may own all the cars, but we're not all best friends," he said. "We get along fine, and we're teammates. But when it comes down to it, Leah or Antron winning doesn't pay my mortgage."
A $100,000 payday can pay a great deal against the principle.
***
Bobby Bennett is the Publisher/Editor of CompetitionPlus.com, a leading independent online drag racing magazine, since 1999. For the latest in dragster news worldwide, visit www.competitionplus.com or follow on Twitter @competitionplus
---