NASCAR Cup Series
NASCAR Cup Series
The Latest: Johnson tells kids he can't dab, expects to win
Updated
Mar. 4, 2020 9:53 p.m. ET

HOMESTEAD, Fla. (AP) The Latest on NASCAR's season finale (all times local):
1:15 p.m.
Jimmie Johnson spent time answering questions from kids Sunday before NASCAR's season finale, a race that could be a record run for the six-time champion.
As expected, Johnson got some odd questions, like, ''Can you dab?'' and ''Do you have a big house?''
Johnson candidly and confidently answered them all, showing why he might just be the favorite to win a record-tying seventh championship Sunday at Homestead-Miami Speedway.
Here's a look at the Q&A session:
Q: What's your best championship?
A: The first one (in 2006). I had the least amount of fun because I was the most nervous, but it was the starting point. And then tying Cale (Yarborough) with three in a row was pretty awesome. But there was a lot of pressure to keep it going. And then 2013 is when I had the most fun.
Q: Favorite track?
A: Dover, Delaware (Johnson is a 10-time winner there).
Q: How many trophies?
A: Seventy-nine in the 48.
Q: If you win, will you do a front flip?
A: Off the car? Front flip into the pool maybe.
Q: Can you dab?
A: No, I can't. I've got it all wrong (after doing Usain Bolt's ''To The World'' pose).
Q: How much horsepower do the cars have?
A: About 900 horsepower. More than three times as much as the car you drive in.
Q: Do you have a big house?
A: Yes, way too big.
Q: Have you ever won here?
A: Not yet. We've taken the big (championship) trophy home, but not the smaller one.
Q: Favorite color?
A: Blue. It's worked out well with my sponsor.
Q: Do you think you can get No. 7 today?
A: I feel really good about it. I'd pick me.
- Mark Long.
---
1 p.m.
The Tony Stewart tributes are underway at Homestead-Miami Speedway, where the three-time Cup champion is preparing for his final NASCAR race.
NASCAR's vice chairman Mike Helton thanked Stewart for ''the character and passion you brought to NASCAR all throughout your career.''
Stewart's career was celebrated in the pre-race drivers meeting with a colorful highlight video of his biggest wins, playful banter and snippy one-liners. NASCAR drivers and crew members gave Stewart a rousing standing ovation.
Stewart eventually stood and smiled, waiving in acknowledgment at the outpouring of affection.
Stewart is just retiring from NASCAR driving. He has an ownership stake in Stewart-Haas Racing and will continue to race all over the country next year at the grassroots level.
''You understand, we still invite owners to the haulers sometimes, too,'' Helton quipped.
The hood of Stewart's No. 14 Chevrolet is emblazoned with photos from his championship years and the slogan ''Always a Racer, Forever a Champion.''
NASCAR added a ceremonial pace lap with Stewart leading the field before the race.
- Dan Gelston.
---
12:15 p.m.
Xfinity Series champion Daniel Suarez is getting a lot of attention at Homestead-Miami Speedway.
Mexican President Enrique Pena Nieto congratulated Suarez on Twitter after the 24-year-old Mexican became the first foreign champion in a NASCAR national series. Nieto tweeted in Spanish to Suarez, and called him ''a pride for Mexico and Latin America.''
''The very first time that I was going to move to the States, a lot of people told me it was going to be difficult because I was a Mexican driver, and nobody else made it happen in the past,'' Suarez said. ''Right now, honestly, I can tell that to be a Mexican driver, Latin American driver, is something positive.''
Suarez thanked Nieto for the tweet. He also did interviews Sunday, met with fans and signed autographs before the Sprint Cup season finale.
- Dan Gelston.
---
11:20 a.m.
NASCAR CEO Brian France says he's happy with the health of the sport. Sweating profusely while speaking at his state-of-NASCAR address, France defended sagging ratings and praised his Drive for Diversity program. Mexican driver Daniel Suarez won the Xfinity Series title Saturday night, becoming the first foreigner to win a NASCAR national series championship.
France also refused to talk about President-elect Donald Trump. France endorsed Trump earlier this year and spoke at a rally for the Republican nominee.
France says ''no one wants to hear my political views. I won't be talking about it.''
Speaking four hours before the season finale at Homestead-Miami Speedway, France also wished Sprint well. The telecommunications giant is leaving NASCAR after a 12-year run as title sponsor of its top series. France acknowledged that the search for a new sponsor has taken longer than he expected, adding ''we're in a good spot with that, I believe. We'll have to see how it finally plays out.''
Monster Energy has most recently been mentioned as the top contender to replace Sprint.
- Mark Long.
---
11 a.m.
It's NASCAR championship day!
The Sprint Cup champion will be decided Sunday at Homestead-Miami Speedway.
Jimmie Johnson, Kyle Busch, Joey Logano and Carl Edwards are the finalists racing for the title. The best finisher among the four drivers will be the 2016 champion.
Johnson is trying to match Dale Earnhardt and Richard Petty with a NASCAR-record seven championships. Busch is trying to repeat following his remarkable run to the 2015 title. Logano and Edwards are chasing their first championship.
It's also the final NASCAR race for three-time champion Tony Stewart, who is retiring.
NASCAR CEO Brian France is set to give a state-of-the-sport address before the race. NASCAR crowned its first foreign champion Saturday night, with 24-year-old Mexican Daniel Suarez winning the second-tier Xfinity Series title.
Actors Wilmer Valderrama (honorary starter) and Justin Hartley (grand marshal) are among the celebrities on hand for the finale.
- Dan Gelston.
---
More AP auto racing: www.racing.ap.org
---
---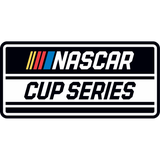 Get more from NASCAR Cup Series
Follow your favorites to get information about games, news and more
---