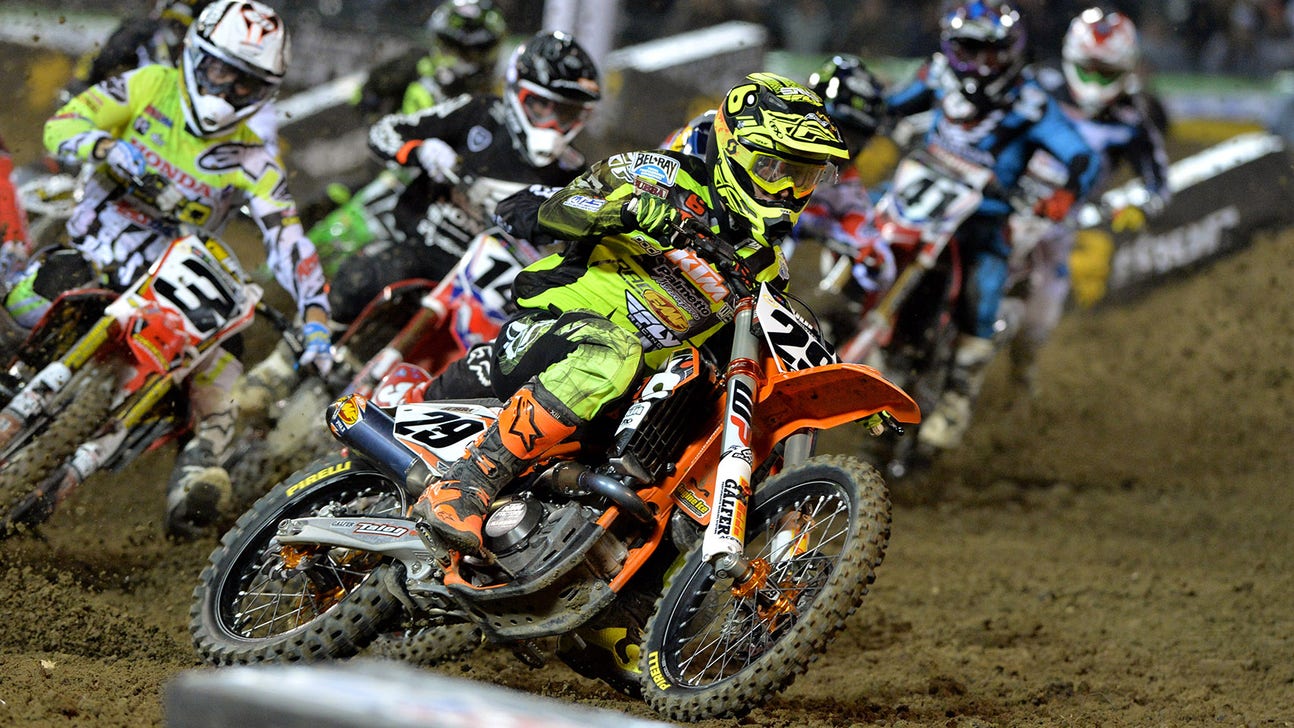 SX: Gate Picks - things to watch for in Anaheim
Published
Jan. 31, 2015 9:52 a.m. ET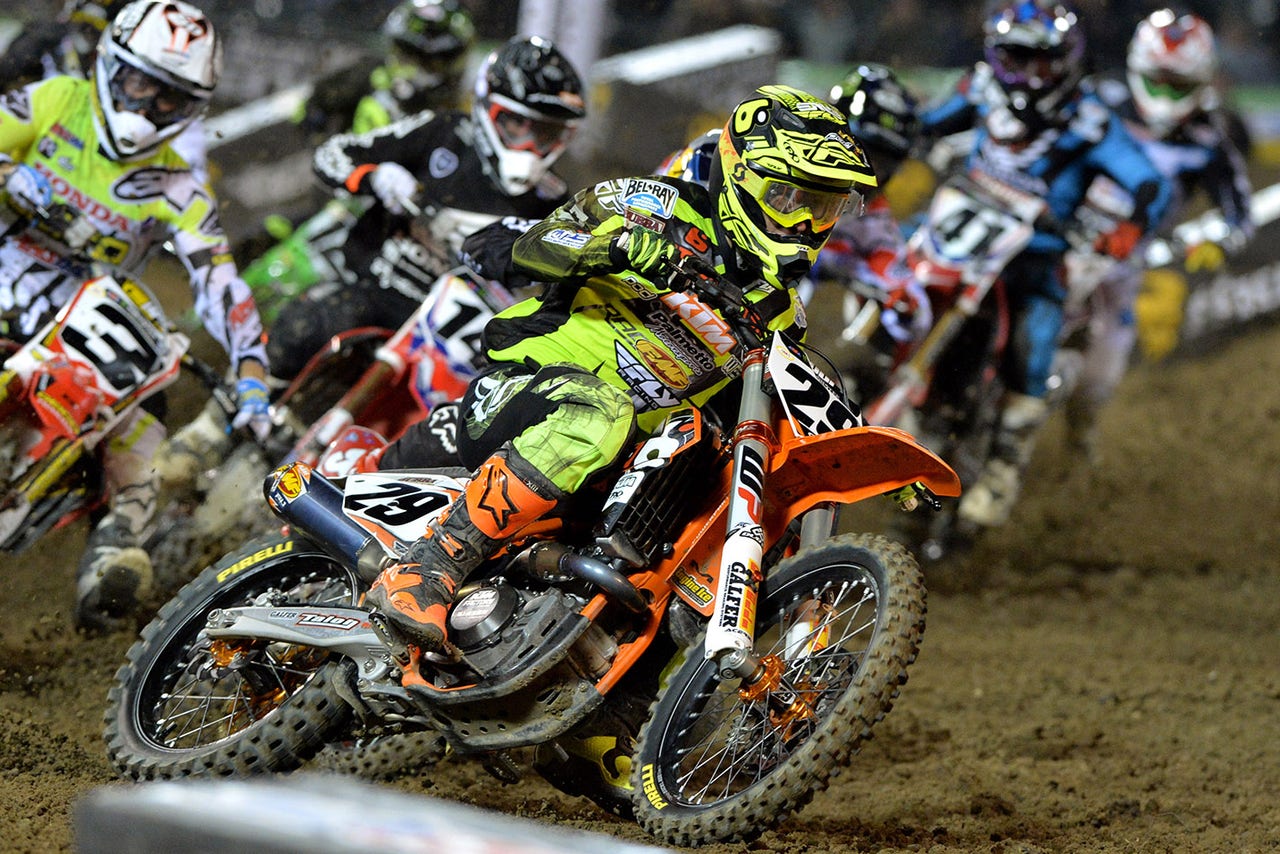 Now that the 2015 Monster Energy Supercross season is a month into its grueling 17-race schedule, the storylines surrounding #WhosNext have taken shape and are in full swing, evolving with every weekend that passes.
Gate Picks identifies the most prominent stories to watch going into each round of the championship.
1. Webb vs. Bowers
While the shakeup in the 450SX Class championship was big news, this is what everyone was talking about at the end of the night in Oakland and what continued to generate headlines this past week. Why? Because it's the kind of rivalry this sport thrives on. Drama is perhaps the most prominent element of supercross because it is so unpredictable. When you're able to take that drama and repackage it as a prize fight, or even a cage match as far as these two are concerned, it makes anyone remotely interested in the sport want to watch. It's ratings gold, if you will.
Considering the crash between these two was the second chapter of their brewing championship battle, it made what happened between Bowers and Webb that much more significant. Was it retaliation? Was it just hard racing? It honestly doesn't matter. Both riders walked away from it with strong opinions about what happened and strong opinions about one another, and it has set the stage for a very anticipated night in Anaheim. When you consider these two are friends and training partners, it only adds to the intrigue.
In my opinion I ultimately think it was a racing incident. Bowers is not one to shy away from contact and I think that's why there have been such strong opinions about it. I don't think he was necessarily against a little push or rub in the corner if it happened, but by no means do I think he intended to "punt" Webb. It ultimately hurt Bowers' progress as well and I think the headshake we saw while riding away was more out of frustration about how it all went down in that corner. I think it's also important to acknowledge the dramatic size difference between these two. Bowers is arguably the tallest and heaviest rider in the 250SX Class, while Webb is amongst the shortest and lightest. When a semi hits a car it's never pretty, and that is more or less what happened here. Bowers didn't "throw" an elbow, but because he's so much taller and heavier than Webb it magnified the contact that was made in a considerably more severe way. Regardless, Webb didn't take lightly to it and Bowers didn't appreciate Webb's comments.
Out of this we have supercross' own version of David vs. Goliath and I suggest everyone tune in on Saturday night to see if these two will continue their war. Considering a title is on the line for both, you have to think something is bound to happen.
2. How does Ryan Dungey respond to taking over the points lead?
It's a very familiar position for Dungey to be in, but yet it's also somewhat unexpected after the way everything went down in Oakland. We're used to seeing "Mr. Consistency" take control of the points by doing what he does best, running up front and even winning. However, in Oakland he was the beneficiary to a terrible night for Ken Roczen. By no means does that devalue Dungey's position though. In fact, giving control to Dungey could potentially be the worst thing to happen to Roczen and the rest of the 450SX Class field. Dungey has an average finish of 2.75 this season. Not only is that the best of anyone in the division, it's an average he's easily capable of maintaining and that's what makes his position atop the standings to potentially daunting for his competitors.
Despite that incredible consistency a win is a must for Dungey if he's going to truly assert himself as the points leader, because podium finishes are only going to take him so far when he's likely to give up valuable points to those riders chasing him in doing so. But when you consider that he's yet to reach his peak on the new KTM it does suggest bright days could be ahead for the 2010 champ. There would be no better way for Dungey to stamp his hold of the red number plate by winning in Anaheim on Saturday night, which would effectively end Roczen's hopes of sweeping at Angel Stadium at the same time.
3. How does Ken Roczen respond to the adversity?
Sure, the wind was taken out of Roczen's sails in Oakland. That has to be close to the worst way to lose the points lead, but to think he was able to fight his way back to a 15th-place finish showed serious damage control. A four-point deficit is manageable and - given how well Roczen has performed at Anaheim in particular - there's no reason to think he can't bounce back in a big way to become the third rider in history to sweep all three races inside Angel Stadium. His starts in the main event have been on point and that trend continued in Oakland prior to his crash. We've yet to really see Roczen in a position quite like this thus far in his 450SX Class career, so this is an opportunity to show how far he's come in his second full season. It's also a chance to once again show he's the rider to beat this season. Ryan Villopoto was notorious for bouncing back from adversity. Will Roczen show a similar trait?
4. Will a new rider rise to the occasion?
We've had three different winners through the first four races in a season that could potentially produce more parity than we've seen in decades. Preseason favorites like Roczen, Tomac and Canard have already broke through with wins, and we've seen Dungey and Chad Reed step up in recent weeks. Other riders like Justin Barcia, Cole Seely and Jason Anderson look like they're on the cusp of something big as well. It begs the question; will we see a new name atop the podium on Saturday night?
Never miss a race next season, add all the 2015 Monster Energy Supercross races to your calendar! Tweet #SXonFOX to @FOXSports1 and then check your notifications. You can also click HERE to get all the 2015 races added directly to your calendar.
---