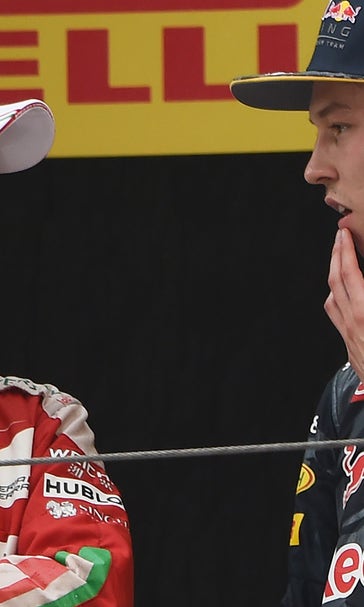 Sebastian Vettel upset with Kvyat after Lap 1 drama in China
BY foxsports • April 17, 2016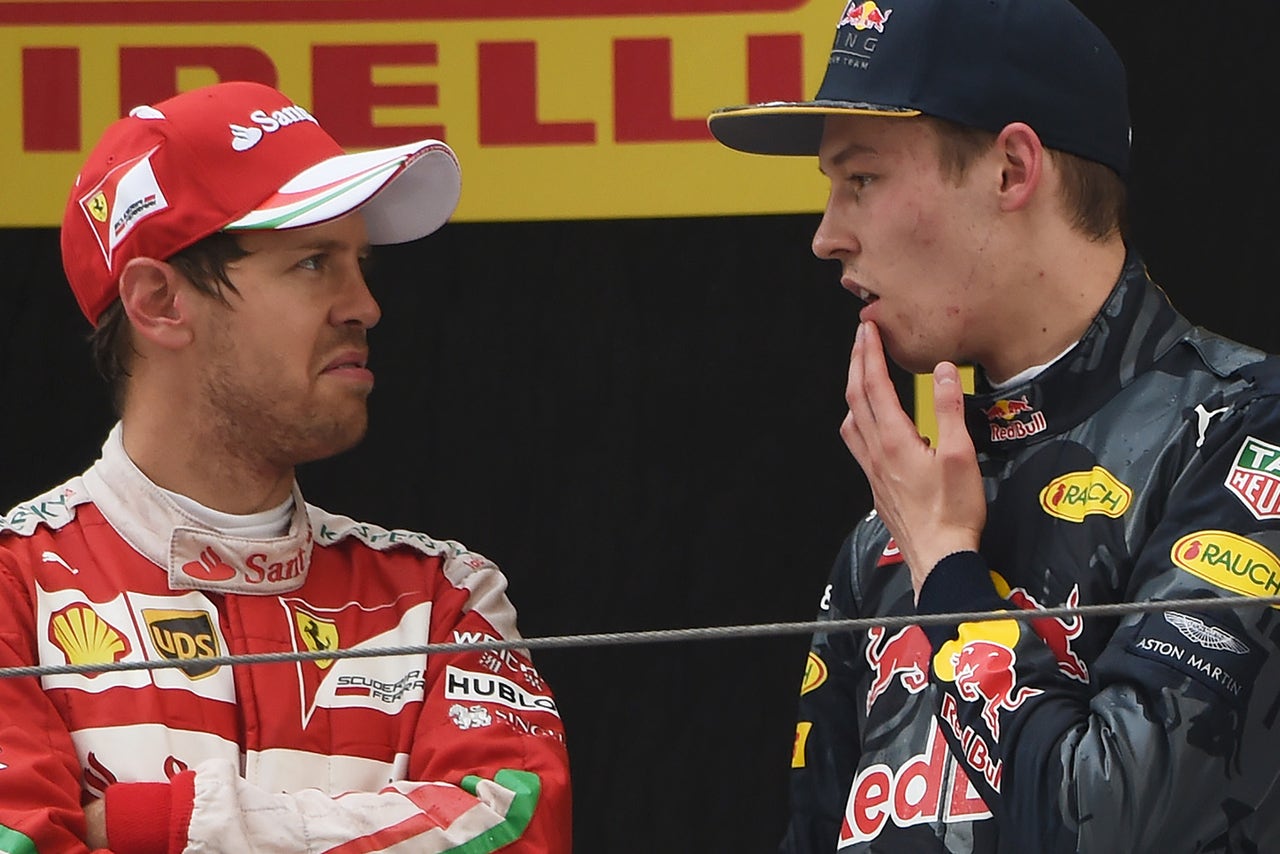 Sebastian Vettel was quick to apologize to his Ferrari teammate Kimi Raikkonen for their contact at the start of the Chinese GP, and blamed Dany Kvyat for forcing him off line when the Russian tried to come down the inside.
Both Ferraris were damaged, but Vettel was able to continue and changed his front wing under the safety car. He managed to recover to second place by the end of the race.
"Obviously it's difficult to judge how it looked from his point of view," he said of Kvyat. "But my start wasn't so great, so I was a bit on the back foot into Turn One and then I think Kimi locked up, went a bit wide, I wanted to go on the inside to overtake him.
"I think Daniil was trying to do the same thing with me, but then Kimi came back and I had to sort of be in the middle. He was coming with a lot of speed into that gap. I was very surprised, so I had to steer sort of left.
"At the same time Kimi was coming across and there was no way, so we made contact, which is a shame because you don't want the same cars, same color touching each other. In the end we were lucky – I could continue, he could continue, but surely not the best result for the team, so sorry for that."
Vettel was surprised that he was able to carry on: "Lucky that the car was still intact. I was reporting to the team, initially I thought I had to box straight away, but it was actually OK. The steering wheel was a little bit off-center, so had a bit of damage all through the race. It was actually more difficult in left-handers than right-handers. Fortunately, there's more right-handers here. If it was the other way around could have been a bit more difficult, but I think the Safety Car helped."
Vettel's charge to second was one of the drives of the race.
"We had a different strategy to most people with the supersoft tire which helped me to clear the traffic and make good progress - which was fun. A lot of cars. I didn't count but it felt like a lot! They just kept coming - but we managed to clear them, which was obviously essential. Then with Daniil in the end, the last car to pass was a bit more tricky.
"He was quite good at the end of the stint with his soft tires but then we knew that he would pit to a medium tire, and we still had a new set of softs. So we tried to be as close as possible, which worked. I was gaining a bit on the way into the pits, then on the out lap able to jump him, which was obviously important to get P2. So incredible recovery, which at that point, when you make contact in Turn One, you know things cross your mind, that it might just all be lost from here and the race just has just started - but very, very happy with the recovery."
Click HERE for full race results/recap
---