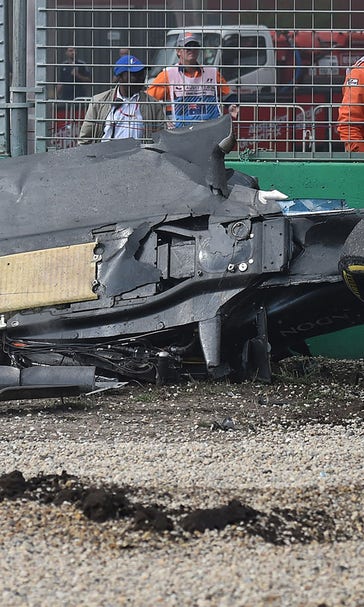 Scary crash by Fernando Alonso at Australian GP, but he walks away
March 20, 2016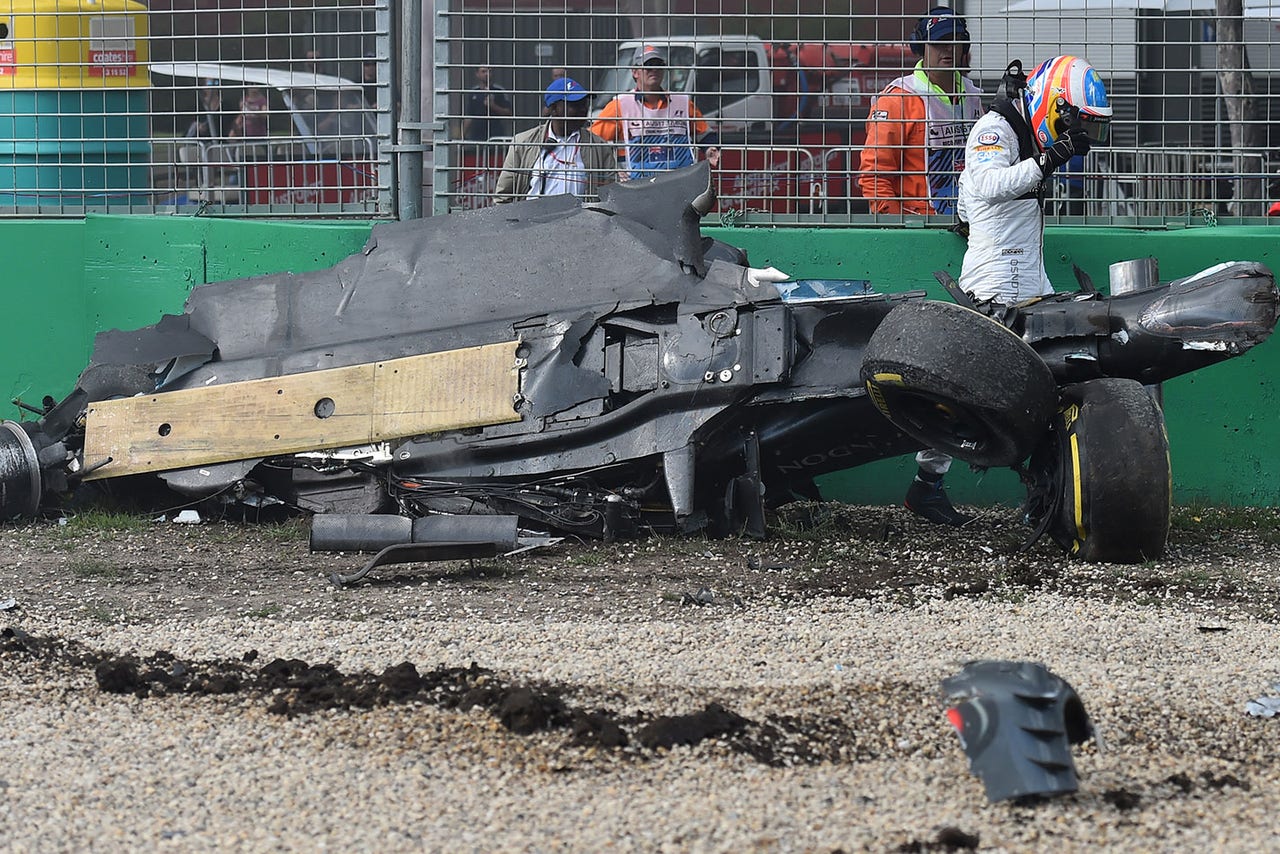 Fernando Alonso was able to walk away from a scary crash at the season-opening Australian Grand Prix on Sunday.
The accident occurred when the McLaren-Honda driver was attempting a pass on the Haas F1 machine driven by Esteban Gutierrez in Turn 3 on Lap 18.
Alonso rebounded off of Gutierrez's car after making contact with the back of him and then bounced off the wall on the left-hand side of the circuit. Alonso's McLaren then went sideways and caught the gravel which flipped the car over twice before it came to a rest upside-down. Gutierrez, meanwhile, spun out into the gravel and was also out of the race.
The incident brought out a red flag to clean up debris. Afterward, Alonso thanked the advances in Formula One technology for being able to walk away.
"I'm thankful for the safety of these cars," Alonso said. "I'm alive thanks to the job of the last 10 to 15 years of Formula One."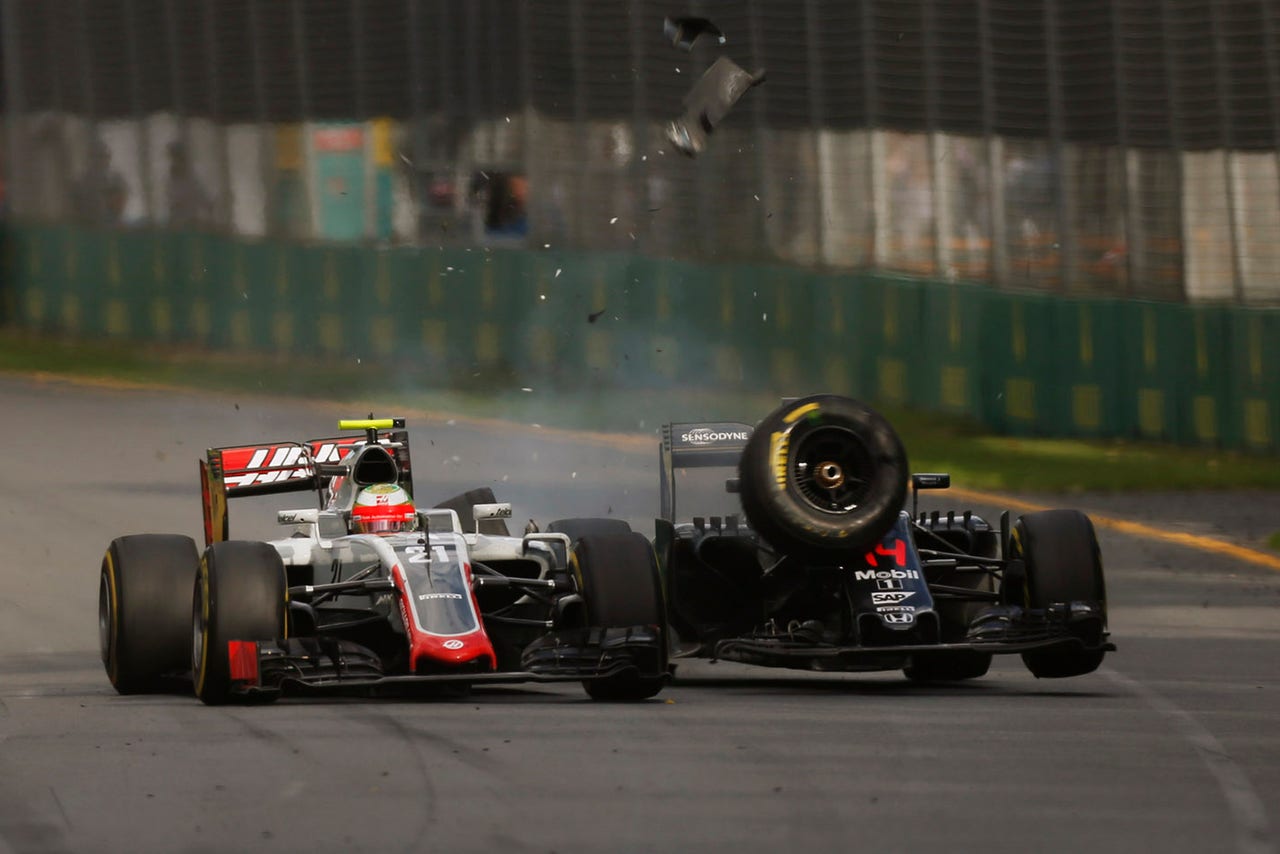 Fernando Alonso collides into the back of Esteban Gutierrez.
Alonso would have been forgiven for closing his eyes at the impact, but he was alert throughout and his thoughts immediately went to family back home.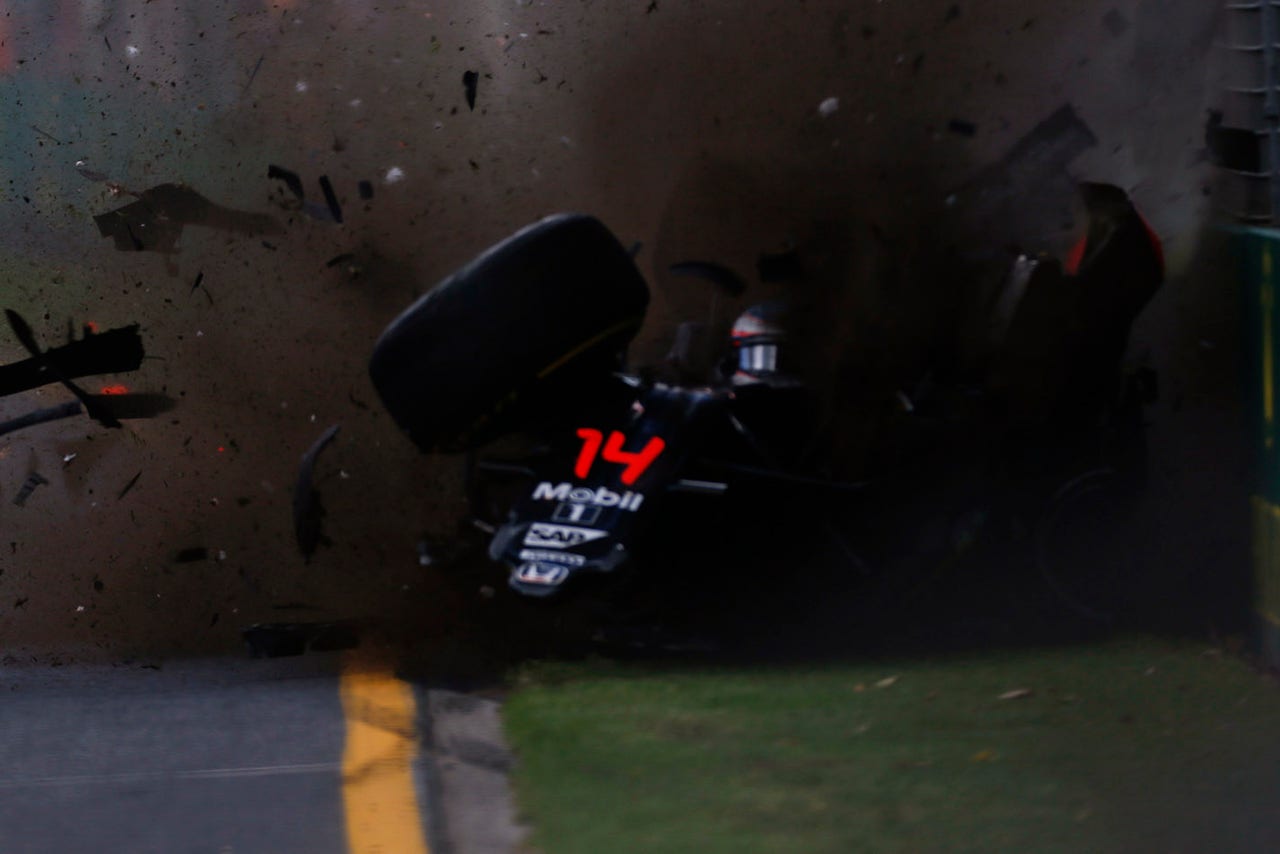 Fernando Alonso slides off into the wall before flipping.
"I was flying, so you see the sky then the ground, then the sky, then the ground," Alonso said.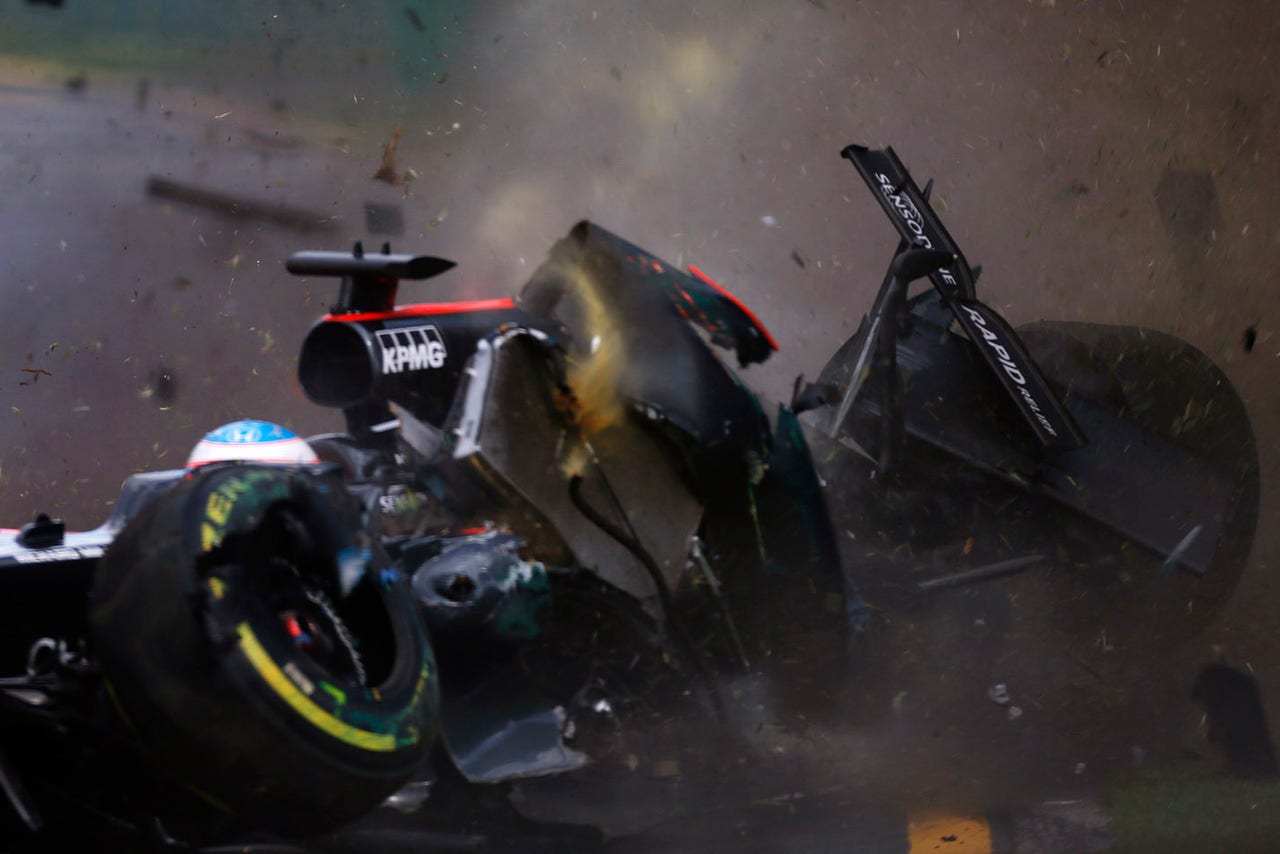 Fernando Alonso slides toward the gravel, which would set his car off into a violent flip.
"You want to stop but it doesn't stop. It keeps going and going and going. It was quite scary, but at the last moment the car stopped and I had a little space to go out and I said `I will go out quickly because my mother will be watching at home.'"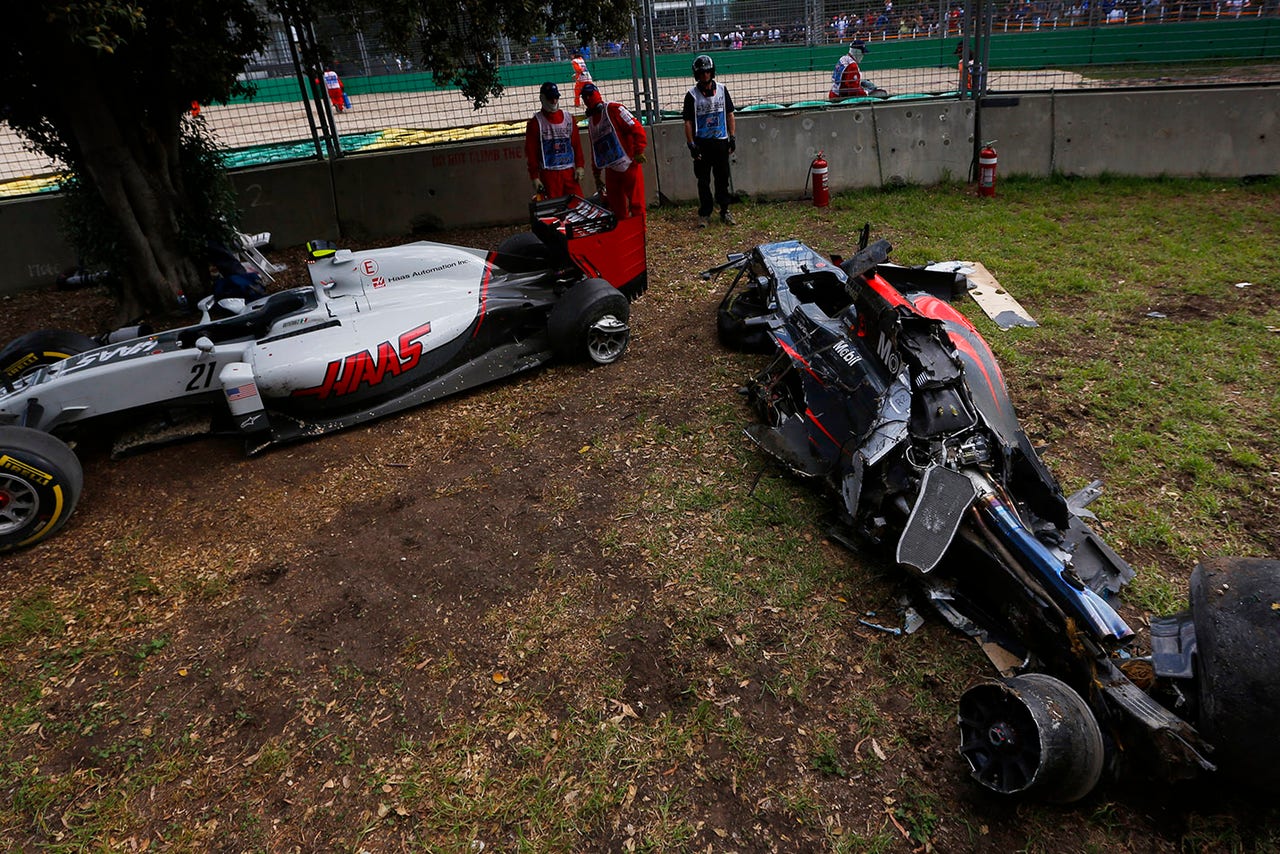 (From left) The wrecked cars of Esteban Gutierrez and Fernando Alonso.
Gutierrez quickly made his way over to the stricken McLaren and gave Alonso a handshake and embrace, clearly thankful that no greater harm was done.
"It was a big relief to see that he was fine," Gutierrez said. "It was a very scary moment and not very pleasant to see how his car ended up.
"We were both a bit shocked from the crash. We came together and spoke a little bit, but we're all good most importantly."
Stewards will review the incident. Video of the crash is available on F1's website.
---