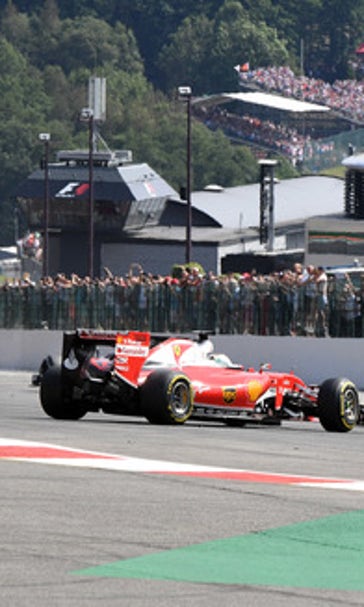 Rosberg closes gap in title race, yet Hamilton seems happier
BY foxsports • August 28, 2016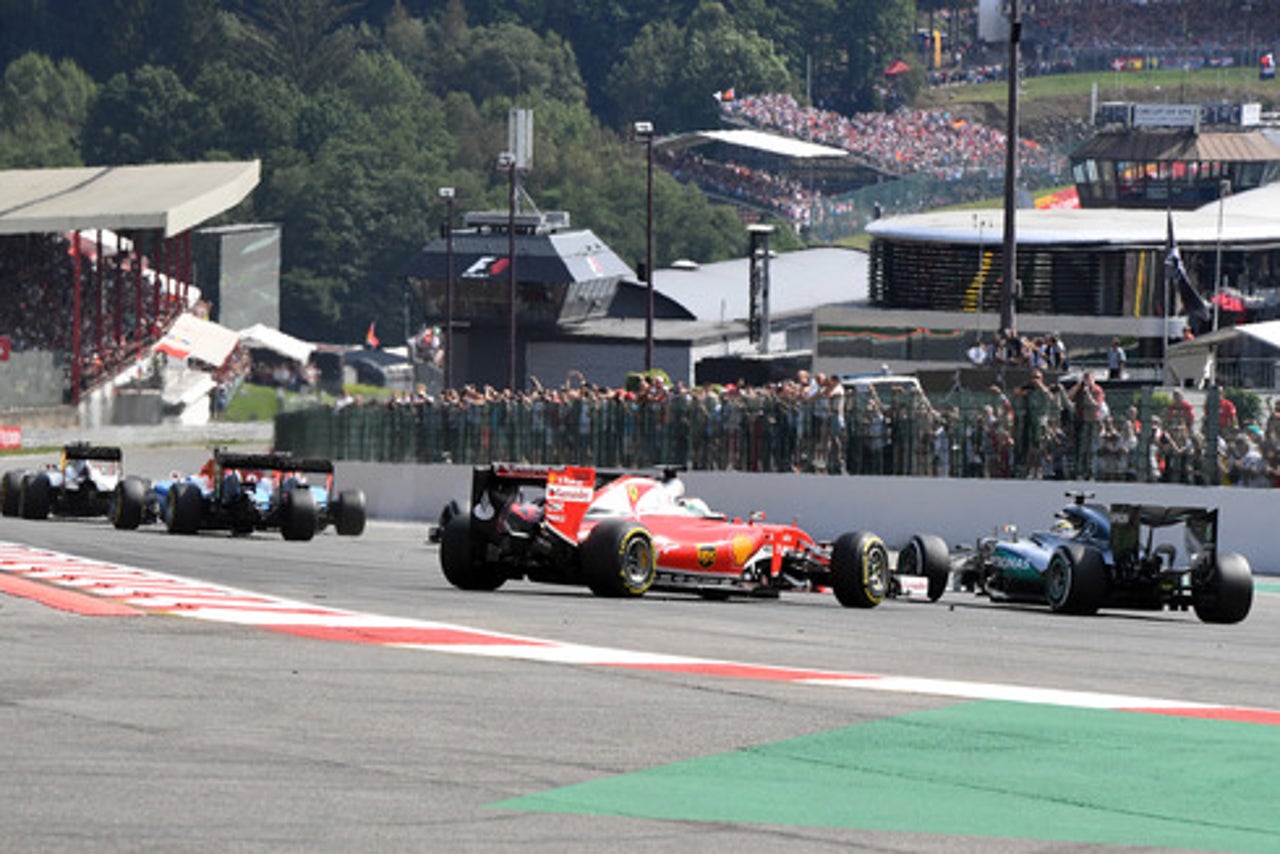 SPA-FRANCORCHAMPS, Belgium (AP) Although Nico Rosberg trimmed rival Lewis Hamilton's lead in the Formula One title race after winning the Belgian Grand Prix, it was Hamilton who seemed the happier driver on Sunday after turning a back-row start into a third-place finish.
Starting from pole position, Rosberg avoided trouble in an incident-packed race featuring a chaotic first turn, wild overtaking, a heavy crash, safety cars, a red flag and heated language between Max Verstappen and Kimi Raikkonen - the youngest and oldest in the race.
Rosberg moved to within nine points of his Mercedes teammate, but Hamilton got a victory of sorts after picking his way through the field for a 97th podium finish.
''I really cannot believe that we came up so far,'' said Hamilton, praising his team. ''Today was about having the right approach, not too aggressive.''
Red Bull's Daniel Ricciardo finished second. Rosberg's win was his 20th but first at Spa.
''It's not disappointing, I'm happy with today,'' a tight-lipped Rosberg said when asked about not closing the gap further. ''Fair play to Lewis.''
Rosberg had teen driver Max Verstappen next to him on the front row, while Hamilton was joined at the back of the class by Fernando Alonso. That was because both drivers incurred a myriad of complex grid penalties for extra engine part changes this weekend.
It was Verstappen's first-turn incident with the Ferraris of Raikkonen and Sebastian Vettel that shaped a dramatic race.
It helped Hamilton and Alonso, who avoided the early carnage up front, then gained places when the safety car came out after Danish driver Kevin Magnussen's crash. Magnussen walked away from the wreck with nothing worse than a cut to his left ankle.
Rosberg got away cleanly, but it was intense behind him.
The 18-year-old Verstappen, the youngest driver to ever start on the front row, was overtaken by Raikkonen and Vettel and then aggressively tried to squeeze past them on the inside, heading into the first turn.
The Ferraris were pushed wide and, as a consequence, Raikkonen nudged into the side of Vettel.
Verstappen became the youngest driver to win a race with a brilliant victory at the Spanish GP in May; but his aggression is not to everyone's liking. He infuriated Raikkonen, a rare feat considering the Finn's nickname is ''The Ice Man'' for his usually unflappable demeanor.
''I'm all up for fair battles and close racing,'' an exasperated Raikkonen said after the race, adding that Verstappen's racing style is ''not correct'' because his aggressive driving could have caused a ''big accident.''
Verstappen saw things differently, saying Ferrari ''ruined my race in the first bend. I'm not going to let them past.''
Others struggled, too.
Spaniard Carlos Sainz lost control when his rear right tire blew out, sending him pirouetting to an improvised halt on the grass. He then acrobatically drove back across the track, with his rear right wheel up in the air, before parking at the side of the track.
Sainz, Marcus Ericsson, Jenson Button and Pascal Wehrlein - who hit Button from behind - all retired after four laps.
Magnussen lost control of his Renault coming out of the top of the hill at Eau Rouge, spinning at speed and slamming backward into the barriers. After the safety car came out, the race was halted on lap 10 of 44 as the battered barrier needed repairing.
When the race resumed 20 minutes later, the top five was Rosberg, Ricciardo, Nico Hulkenberg, Alonso and Hamilton.
In a fascinating sub-plot, Verstappen and Raikkonen were involved in another incident as Verstappen appeared to nudge him wide.
''His only interest is to push me off the track,'' Raikkonen yelled in frustration over team radio.
Then, Verstappen zig-zagged in front of him as he tried to hold position, prompting Raikkonen to use an expletive when describing Verstappen's driving as ''ridiculous.''
Verstappen, who finished 11th, hit back at Raikkonen, who placed ninth.
''It's a big lie. I was defending my position, if someone doesn't like it that's their problem,'' he said after the race. ''It's good TV if someone is moaning.''
Raikkonen criticized Verstappen at the Hungarian GP last month, and others have also said he races recklessly at times.
Considering the next race is the Italian GP in Monza - Ferrari's home race - Verstappen will have the crowd against him.
---