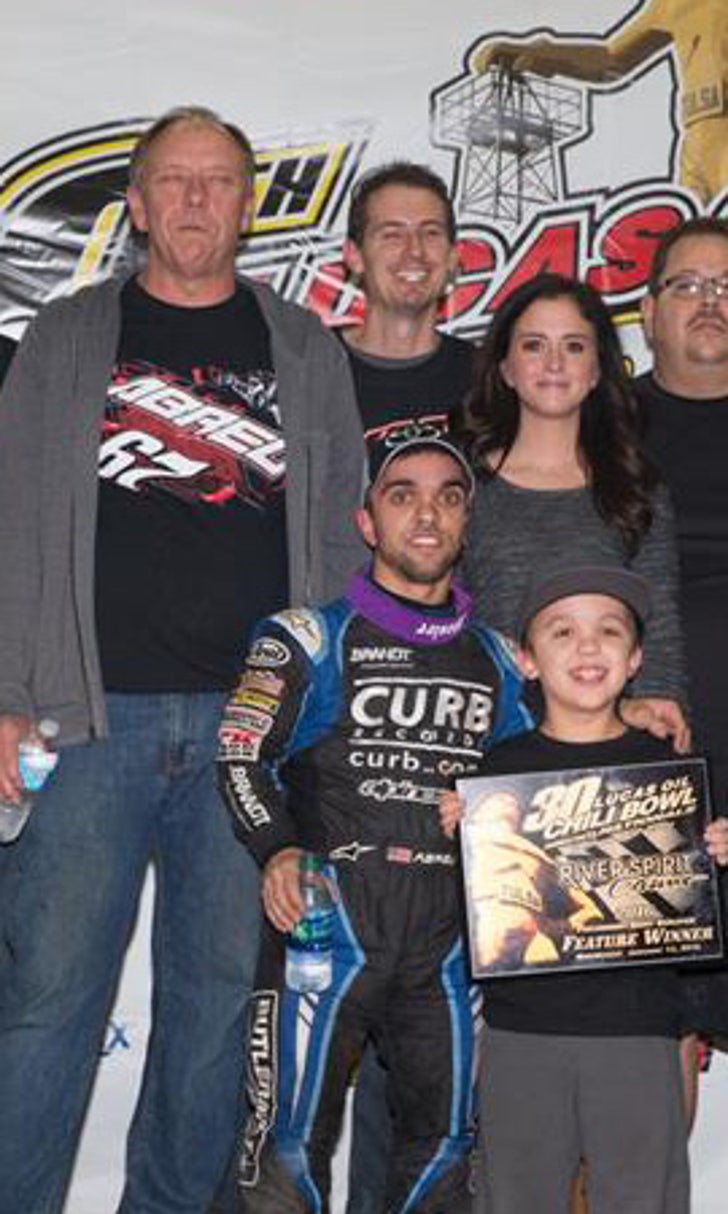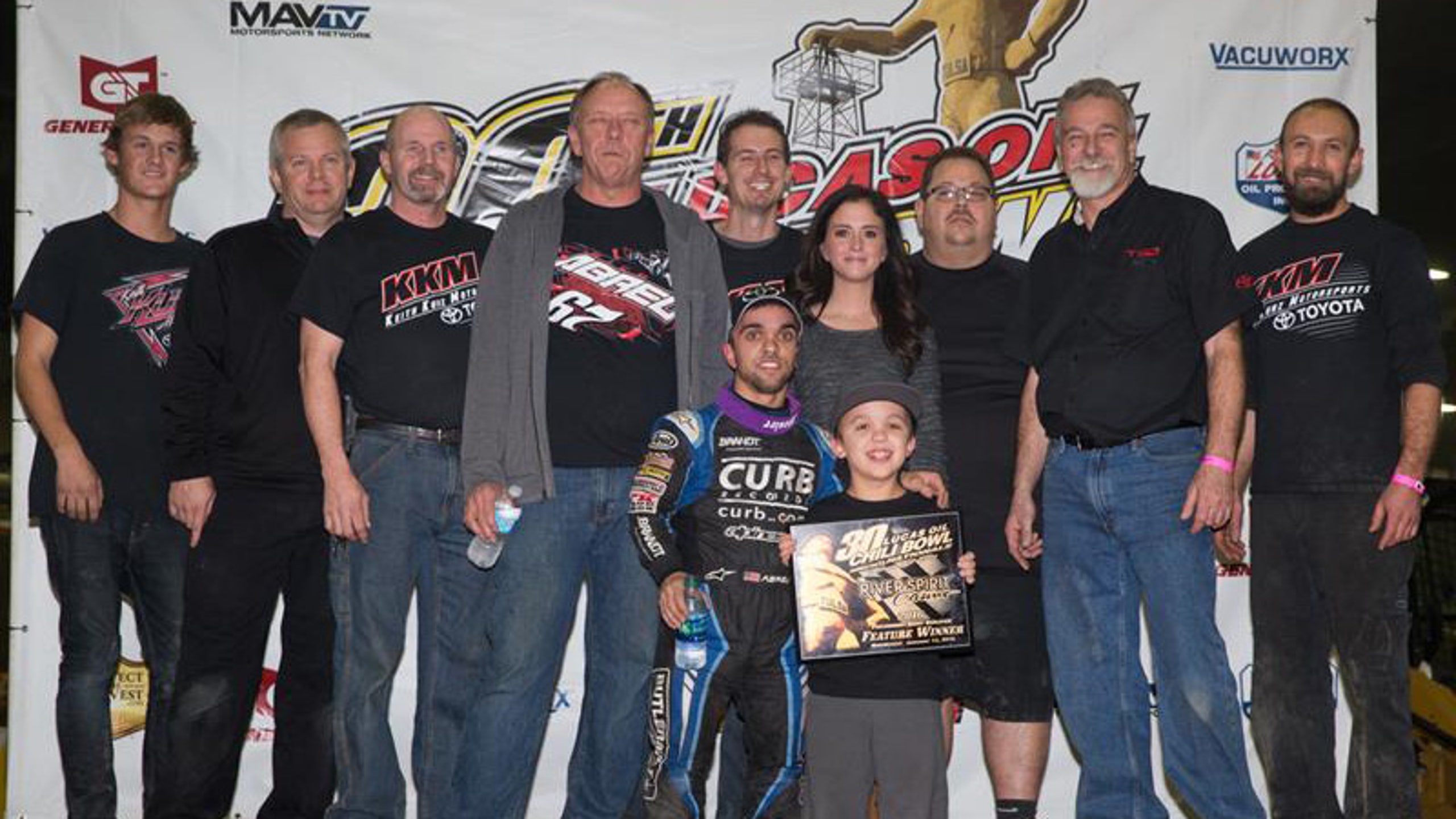 Rico Abreu wins Chili Bowl qualifying night
BY Chase Wilhelm • January 14, 2016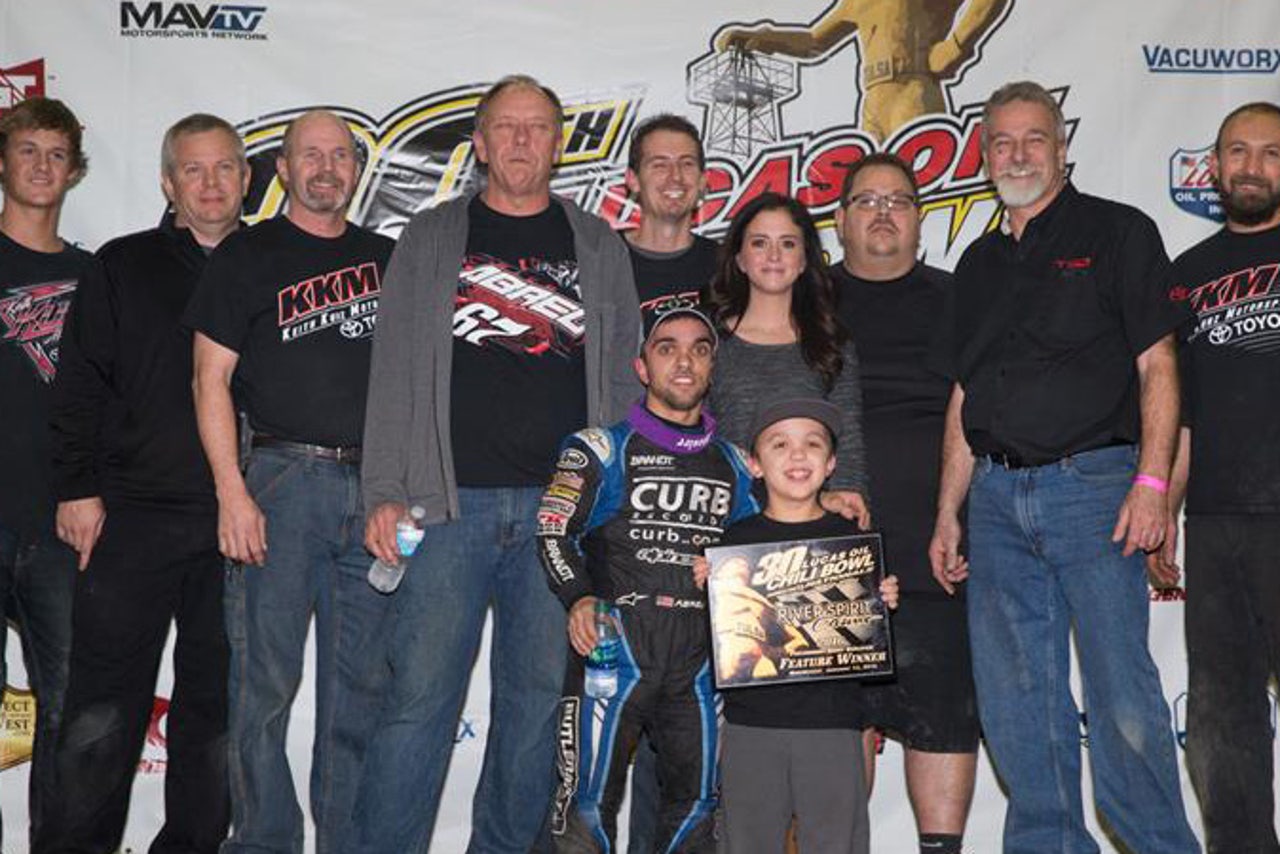 Rico Abreu came away with the victory in Wednesday's River Spirit Qualifying Night for the 30th annual Lucas Oil Chili Bowl Nationals.
Abreu started sixth and marched to the front quickly, taking the second spot after only two laps. The California driver battled with Oklahoma's Tyler Thomas for the lead, swapping spots multiple times. Thomas would maintain the lead until a restart on Lap 12, where Abreu was able to make quick work of Thomas on the bottom of Turn 1 to grab the lead spot.
The caution would again fly on Lap 21 for a three-car pileup, which allowed Thomas to catch back up with Abreu for the final restart of the race. Abreu was able to use the high line to his advantage on the restart to run away with the victory.
"I believe last year that's kind of how it went too," Abreu said after the race. "Started on the front row of my heat and my qualifier and won those. Started sixth in the feature, started sixth this year, so kind of a good spot as long as you win them.
"I feel like you have to win every time you are on the track here and tonight went really smooth."
Results:
Lucas Oil Chili Bowl Nationals presented by General Tire
Tulsa Expo Raceway - Tulsa, Okla.
Wednesday, January 13, 2016
River Spirit Casino Qualifying Night
Car Count: 81
Event Count: 166
Budweiser Heat Races: Top 40 in passing points advance to Qualifiers
Heat 1 (8 Laps): 1. 69-A.J. Fike[2]; 2. 91-Jeff Stasa[3]; 3. 21M-Michele Melton[4]; 4. 5S-Chase Stockon[8]; 5. 32-Casey Shuman[5]; 6. 1-Sammy Swindell[6]; 7. 27K-Billy Lawhead[1]; 8. 43-Logan Arnold[7]; 9. 5R-John Ricketts[9]
Heat 2 (8 Laps): 1. 55D-Nick Drake[1]; 2. 92-Brenden Bright[6]; 3. 66-Shane Cockrum[2]; 4. 9P-Parker Price-Miller[8]; 5. 11XS-Donovan Peterson[4]; 6. 29-Garrett Saunders[7]; 7. 27B-A.J. Bruns[3]; 8. (DNF) 11R-Ariel Biggs[5]
Heat 3 (8 Laps): 1. 97-Rico Abreu[1]; 2. 91T-Tyler Thomas[8]; 3. 8-Alex Sewell[7]; 4. 44-Don Droud Jr[4]; 5. 14H-Harley Hollan[3]; 6. 50-Daniel Adler[2]; 7. 7F-Josh Tyre[6]; 8. (DNF) 25J-Alex Schriever[5]
Heat 4 (8 Laps): 1. 39C-Payton Pierce[5]; 2. 73-Jason McDougal[4]; 3. 37X-Anton Hernandez[8]; 4. 1ST-J.J. Yeley[2]; 5. 5H-Tyson Hall[7]; 6. 2W-Wyatt Burks[6]; 7. (DNF) 56-Billy Wease[1]; 8. (DNF) 17W-Justin Henderson[3]
Heat 5 (8 Laps): 1. 57D-Daniel Robinson[3]; 2. 3S-Brian Shirley[4]; 3. 11F-Darin Snyder[2]; 4. 11-Tyler Courtney[7]; 5. 56Y-Jeremy McCune[6]; 6. 35W-Nate Wait[8]; 7. 77J-John Klabunde[5]; 8. 83-Kurt Blackaby[1]
Heat 6 (8 Laps): 1. 99W-Larry Wight[8]; 2. 8K-Blake Hahn[2]; 3. 7CH-Chris (Critter) Malone[5]; 4. 75-Johnny Herrera[7]; 5. 13-Derek Hagar[3]; 6. 27R-Kyle O'Gara[6]; 7. (DNF) 12-Chris Sheil[1]; 8. (DNF) 7S-Pat Schudy[4]
Heat 7 (8 Laps): 1. 17D-Alex DeCamp[5]; 2. 91N-Austin Nemire[3]; 3. 21S-Johnny Brown[1]; 4. 21A-Taylor Courtney[8]; 5. 8M-Kade Morton[4]; 6. 69J-Jeromy Hefler[2]; 7. 14B-Riley Adair[7]; 8. 118-Scott Evans[6]
Heat 8 (8 Laps): 1. 9$-Kyle Clark[2]; 2. 6K-Josh Lakatos[3]; 3. 7J-Shawn Jackson[1]; 4. 41P-Austin Prock[6]; 5. 35B-T.J. Smith[7]; 6. 21H-Harlan Hulsey[5]; 7. 51R-Matt Rossi[4]; 8. 4D-Shane Sellers[8]
Heat 9 (8 Laps): 1. 7B-Austin Brown[3]; 2. 05T-Gary Taylor[4]; 3. 1T-Tony Roney[5]; 4. 11B-Travis Berryhill[8]; 5. 22R-Eric Heydenreich[6]; 6. 3BX-Aaron Pierce[2]; 7. (DNF) 4F-Chad Frewaldt[7]; 8. (DNF) 11H-Chase Hill[1]
Heat 10 (8 Laps): 1. 2X-Thomas Meseraull[2]; 2. 68W-Jake Swanson[4]; 3. 25-Steve Buckwalter[8]; 4. 51X-Colby Copeland[5]; 5. 23A-Hannah Adair[1]; 6. 7-Shannon McQueen[6]; 7. 70K-Kevin Olson[3]; 8. 16C-David Camfield Jr[7]
D-Features: Top 2 advance to corresponding C-Feature
D Feature 1 (10 Laps): 1. 11H-Chase Hill[8]; 2. 27K-Billy Lawhead[4]; 3. 70K-Kevin Olson[2]; 4. 51R-Matt Rossi[1]; 5. 17W-Justin Henderson[7]; 6. 12-Chris Sheil[5]; 7. 7S-Pat Schudy[6]; 8. 43-Logan Arnold[3]; 9. (DNF) 25J-Alex Schriever[9]
D Feature 2 (10 Laps): 1. 56-Billy Wease[4]; 2. 16C-David Camfield Jr[3]; 3. 118-Scott Evans[5]; 4. 5R-John Ricketts[6]; 5. 4D-Shane Sellers[2]; 6. 27B-A.J. Bruns[1]; DNS 83-Kurt Blackaby; DNS 11R-Ariel Biggs
C-Features: Top 4 advance to corresponding B-Feature
C Feature 1 (12 Laps): 1. 44-Don Droud Jr[1]; 2. 2W-Wyatt Burks[7]; 3. 14H-Harley Hollan[5]; 4. 23A-Hannah Adair[6]; 5. 27K-Billy Lawhead[14]; 6. 22R-Eric Heydenreich[2]; 7. 11H-Chase Hill[13]; 8. 7-Shannon McQueen[8]; 9. (DNF) 14B-Riley Adair[11]; 10. (DNF) 11XS-Donovan Peterson[4]; 11. (DNF) 21H-Harlan Hulsey[9]; 12. (DNF) 69J-Jeromy Hefler[10]; 13. (DNF) 7F-Josh Tyre[12]; 14. (DNF) 35W-Nate Wait[3]
C Feature 2 (12 Laps): 1. 1ST-J.J. Yeley[2]; 2. 1-Sammy Swindell[6]; 3. 13-Derek Hagar[5]; 4. 50-Daniel Adler[9]; 5. 56-Billy Wease[13]; 6. 27R-Kyle O'Gara[7]; 7. 8M-Kade Morton[4]; 8. 32-Casey Shuman[3]; 9. 16C-David Camfield Jr[14]; 10. 77J-John Klabunde[12]; 11. 3BX-Aaron Pierce[10]; 12. (DNF) 4F-Chad Frewaldt[11]; 13. (DNF) 56Y-Jeremy McCune[1]; 14. (DNF) 29-Garrett Saunders[8]
Qualifiers: Top 16 in combined passing points advance to the A-Feature
Q1 (10 Laps): 1. 7B-Austin Brown[4]; 2. 73-Jason McDougal[3]; 3. 8-Alex Sewell[7]; 4. 11-Tyler Courtney[8]; 5. 11B-Travis Berryhill[1]; 6. 92-Brenden Bright[5]; 7. 99W-Larry Wight[6]; 8. 41P-Austin Prock[9]; 9. 55D-Nick Drake[2]; 10. 21S-Johnny Brown[10]
Q2 (10 Laps): 1. 97-Rico Abreu[2]; 2. 69-A.J. Fike[4]; 3. 39C-Payton Pierce[6]; 4. 91-Jeff Stasa[1]; 5. 3S-Brian Shirley[3]; 6. 75-Johnny Herrera[8]; 7. 37X-Anton Hernandez[5]; 8. 66-Shane Cockrum[9]; 9. 7CH-Chris (Critter) Malone[7]; 10. 7J-Shawn Jackson[10]
Q3 (10 Laps): 1. 5S-Chase Stockon[2]; 2. 05T-Gary Taylor[3]; 3. 8K-Blake Hahn[8]; 4. 25-Steve Buckwalter[5]; 5. 17D-Alex DeCamp[6]; 6. 91N-Austin Nemire[1]; 7. 5H-Tyson Hall[10]; 8. 1T-Tony Roney[7]; 9. 11F-Darin Snyder[9]; 10. (DNF) 9$-Kyle Clark[4]
Q4 (10 Laps): 1. 2X-Thomas Meseraull[4]; 2. 91T-Tyler Thomas[6]; 3. 68W-Jake Swanson[3]; 4. 51X-Colby Copeland[9]; 5. 57D-Daniel Robinson[5]; 6. 9P-Parker Price-Miller[7]; 7. 6K-Josh Lakatos[1]; 8. 21M-Michele Melton[8]; 9. 21A-Taylor Courtney[2]; 10. (DNF) 35B-T.J. Smith[10]
B-Features: Top 4 advance to the A-Feature
B Feature 1 (15 Laps): 1. 51X-Colby Copeland[1]; 2. 9P-Parker Price-Miller[5]; 3. 92-Brenden Bright[2]; 4. 9$-Kyle Clark[10]; 5. 1T-Tony Roney[7]; 6. 37X-Anton Hernandez[4]; 7. 5H-Tyson Hall[6]; 8. 44-Don Droud Jr[13]; 9. 3S-Brian Shirley[3]; 10. 21M-Michele Melton[8]; 11. 14H-Harley Hollan[15]; 12. 11F-Darin Snyder[11]; 13. 7CH-Chris (Critter) Malone[9]; 14. 7J-Shawn Jackson[12]; 15. (DNF) 2W-Wyatt Burks[14]; 16. (DNF) 23A-Hannah Adair[16]
B Feature 2 (15 Laps): 1. 6K-Josh Lakatos[6]; 2. 57D-Daniel Robinson[1]; 3. 1-Sammy Swindell[14]; 4. 50-Daniel Adler[16]; 5. 75-Johnny Herrera[3]; 6. 91N-Austin Nemire[5]; 7. 66-Shane Cockrum[8]; 8. 21S-Johnny Brown[11]; 9. 21A-Taylor Courtney[10]; 10. 55D-Nick Drake[9]; 11. (DNF) 11B-Travis Berryhill[4]; 12. (DNF) 41P-Austin Prock[7]; 13. (DNF) 91-Jeff Stasa[2]; 14. (DNF) 13-Derek Hagar[15]; 15. (DNF) 1ST-J.J. Yeley[13]; 16. (DNF) 35B-T.J. Smith[12]
A-Feature: Top 3 advance to Saturday's A-Feature
A Feature 1 (25 Laps): 1. 97-Rico Abreu[6]; 2. 91T-Tyler Thomas[1]; 3. 2X-Thomas Meseraull[4]; 4. 9P-Parker Price-Miller[19]; 5. 7B-Austin Brown[2]; 6. 5S-Chase Stockon[7]; 7. 8K-Blake Hahn[8]; 8. 68W-Jake Swanson[16]; 9. 92-Brenden Bright[21]; 10. 8-Alex Sewell[9]; 11. 50-Daniel Adler[24]; 12. 25-Steve Buckwalter[13]; 13. 17D-Alex DeCamp[12]; 14. 6K-Josh Lakatos[18]; 15. 57D-Daniel Robinson[20]; 16. 05T-Gary Taylor[11]; 17. 69-A.J. Fike[5]; 18. 1-Sammy Swindell[22]; 19. (DNF) 51X-Colby Copeland[17]; 20. (DNF) 11-Tyler Courtney[14]; 21. (DNF) 73-Jason McDougal[10]; 22. (DNF) 39C-Payton Pierce[3]; 23. (DNF) 99W-Larry Wight[15]; 24. (DNF) 9$-Kyle Clark[23]
Lap Leaders: Tyler Thomas 1-12; Rico Abreu 13-25
Hard Charger: Parker Price-Miller +15
---