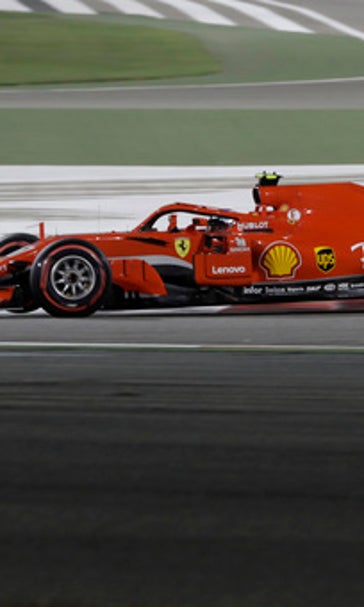 Raikkonen's car hits Ferrari mechanic after tire change
April 8, 2018
SAKHIR, Bahrain (AP) A Ferrari team mechanic was hospitalized with a broken leg after being struck by Kimi Raikkonen's car during a botched tire change at the Bahrain Grand Prix on Sunday.
Raikkonen came in for his second tire change of the race after 36 of 57 laps and was given the green light to go despite work still continuing on the rear left tire. As the Ferrari driver pulled away, the tire hit the leg of one of the mechanics, knocking him to the ground.
Ferrari later tweeted that the mechanic, named only as Francesco, likely sustained a ''shinbone and fibula fracture.''
The mechanic was standing next to the car's rear left tire, with his back turned to Raikkonen, and did not notice the Finn suddenly pulling away. As the tire impacted heavily, the mechanic's left leg twisted and buckled under him.
Sergio Marchionne, Ferrari's chairman, expressed his sympathy.
''First and foremost, I wish our mechanic a speedy recovery and hope to see him back on the track soon,'' Marchionne said in a statement.
Raikkonen had looked set to finish in third place before the incident happened.
''I am sorry for Kimi who could certainly have finished on the podium,'' Marchionne said. ''The team performed consistently all weekend and we were front-runners from the start of practice.''
Raikkonen's car came to a halt a few meters later and he took off the steering wheel and dejectedly threw it into the cockpit. As he walked back through the team garage, the Finnish driver swiped away a water bottle in frustration.
It was an astonishing error of judgment from the Ferrari team, which was fined 50,000 euros ($61,500) for an unsafe pit release.
Ferrari was also fined 5,000 euros ($6,140) for the same error during practice on Friday.
Raikkonen was arguably not to blame as he only had a split-second to react to the green light following the tire change, which usually takes less than three seconds.
''I don't see what happens,'' Raikkonen said after the race. ''My job is to go when the light is green.''
Raikkonen's teammate Sebastian Vettel made it two straight F1 wins after victory at the season-opening Australian GP two weeks ago, sealing his 49th career win on his 200th race start.
But celebrations were muted.
''A bit sad because one of our mechanics got injured,'' Vettel said. ''A mixed day overall.''
---
More AP auto racing: https://racing.ap.org
---
Jerome Pugmire on Twitter: http://twitter.com/jeromepugmire
---
---