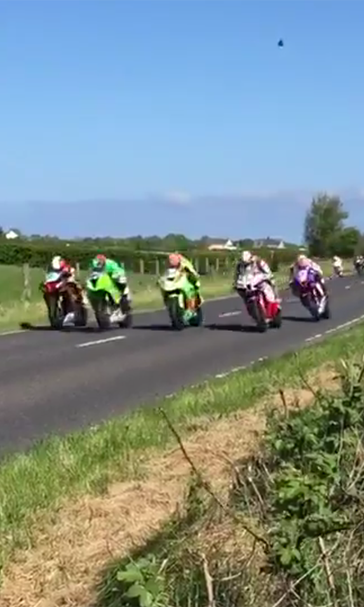 Race fan films 5-wide start during North West 200 motorcycle race
May 16, 2016

Your cars run 3-wide? That's cute.
John McGuinness, Lee Johnston, Martin Jessopp, Alastair Seeley, and Michael Rutter one-upped (or rather, two-upped) them last week though, blasting five-wide down the roads of Northern Ireland during a race at the North West 200.
The video above was captured by @dmac011188 on Twitter, and has been shared by several of the riders involved.
Held annually each May, the North West 200 motorcycle races serve as a build up for many of riders to the Isle of Man TT, which runs in June. The main difference is that, in the North West 200, the riders race each other on track, whereas the Isle of Man is a time-trial event.
Races were ran on both Thursday and Saturday of last week, but had to be cut short on Saturday following a fatal crash for 20-year-old Malachi Mitchell-Thomas.
---