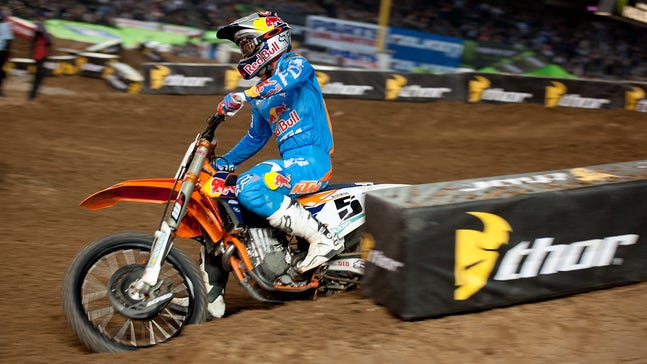 Q&A with the champ: Dungey reflects on his historic Supercross season
Published
May. 6, 2015 4:24 p.m. ET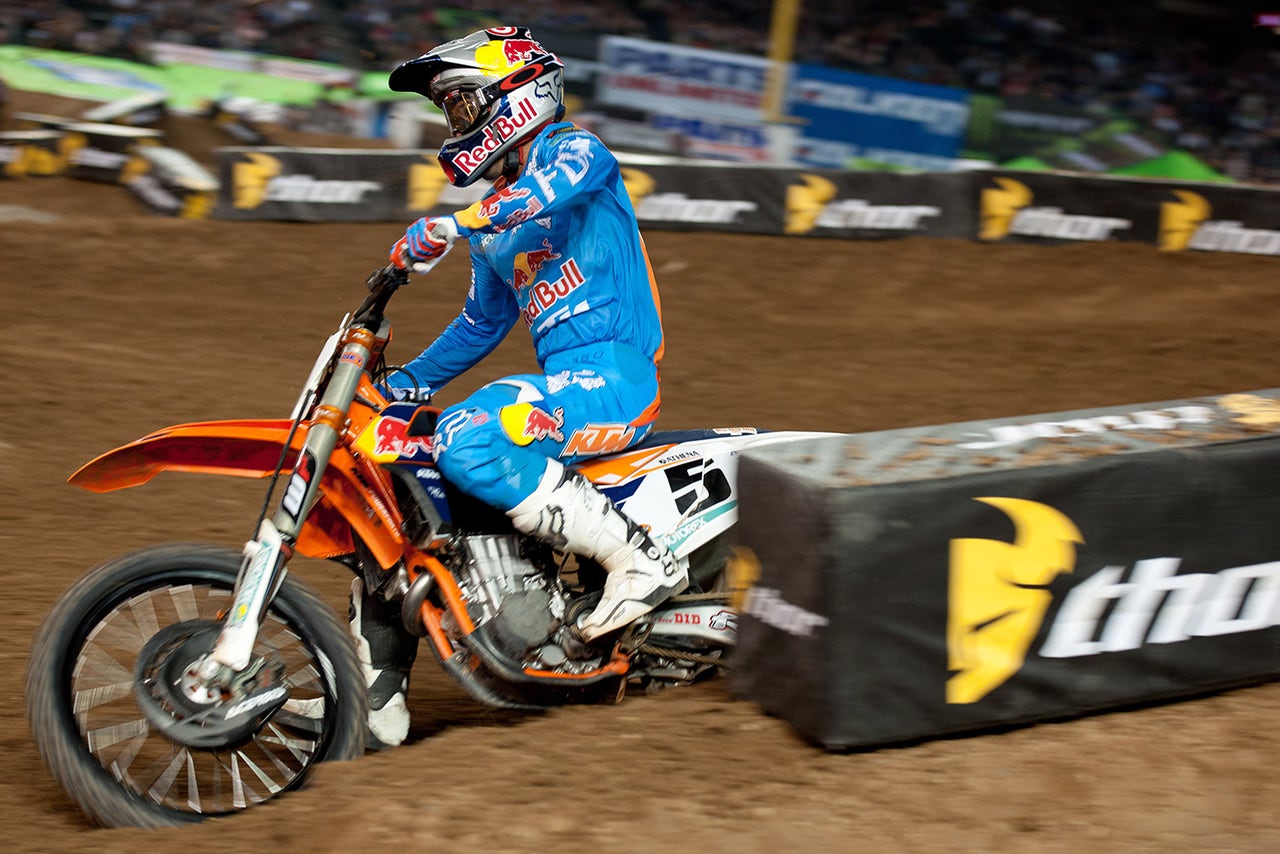 It was a season for the ages for Red Bull KTM's Ryan Dungey. It had been a record five years between Monster Energy Supercross titles, but the Minnesota native emphatically raced to his second championship in 2015 with one of the most dominant seasons in more than four decades of the sport. The season was hyped as one of the most competitive of all time with an exceptionally deep field, but Dungey made it look easy. He failed to finish off the podium just once, at the opening round, and went on to set a personal best of eight wins in a season. He grabbed the points lead in Oakland after early points leader Ken Roczen crashed, and came out swinging the following weekend in Anaheim with his first win of the year. From there it was a snowball of consistency that simply no one could keep up with.
Despite all of his success, Dungey remains one of the most intriguing figures in the eyes of the fans. While he is overwhelmingly respected, he has his fair share of critics who continually point the finger at his methodic approach. No flash, no flair. Dungey just gets the job done, in the most efficient way possible. He's proven now more than ever that his relentless work ethic and no nonsense mentality is just as effective as that of arguably more "exciting" riders like James Stewart, Ryan Villopoto or Ken Roczen. After all, he didn't earn the nickname "Diesel" for his style.
Considering how you won the title, winning eight races and finishing on the podium in 16 of 17 races, do you understand the significance of winning this title? Both for yourself and KTM as a manufacturer?
This year, as far as supercross goes, has been my best season with them. I felt like before [in previous seasons] I was consistent. The team has always done a great job giving me the best equipment they possibly could, especially this year. Going out there and being consistent…yes I want to be consistent, but I knew this year I needed to win. Consistently win more. I feel like that's been my downfall in the past years, and maybe one or two races where I finished off the box and gave up a lot of points. I think being consistently on the podium and consistently winning really helped keep growing the points lead. Once we got into that position as the points leader, KTM and myself realized this was the position we had worked so hard for. It then turned our focus, knowing it had to be about building that points lead. That was even before we had our first win [at Anaheim 3] and it gave me a lot of confidence as a rider knowing we were able to go out there and do exactly what we needed to do.
Getting the points lead in Oakland was big, but cementing it the next week in Anaheim was even bigger. Did you see that race as an opportunity to make your statement in the championship? Was that where everything with the team and the bike just came together?
It was one of the biggest moments for sure. When we started the year I kind of felt a little flat, to be honest with you. But we were able to get some testing in and were getting better. It was right before Oakland when we finally got a setting I liked and I stuck with it. I could constantly ride that setting and really focus on running laps and work on things that I needed to. As each race kept going I just felt better and better. I felt that way through the season and that's good for my confidence. But at Anaheim 3 we knew we needed to start winning. It was nice to get that first win and it really started that push all the way to the end of the season.
You've talked about this year's KTM being perhaps the best bike they've ever produced. Did it make it that much easier to land on that perfect setting that maybe you were always looking for in the past?
The bike was hands down better. As a rider I felt like I was able to do more things on the bike than I ever could before. The stability felt better, the control, the engine, the package, the bike was really light and nimble. So, yes, there were a lot of positives on the track where we were able to gain time, tenths here and there. All the parts of the bike matched up really well together and the consistency from track to track was really helpful. Having a better bike is the goal for a manufacturer, and after all that time on the old bike we had all the statistics and info from myself, Europe and everyone to achieve that goal and make a better bike. And they did. Right away from the get-go I enjoyed riding this bike. KTM did an awesome job in supplying me with the tools to win.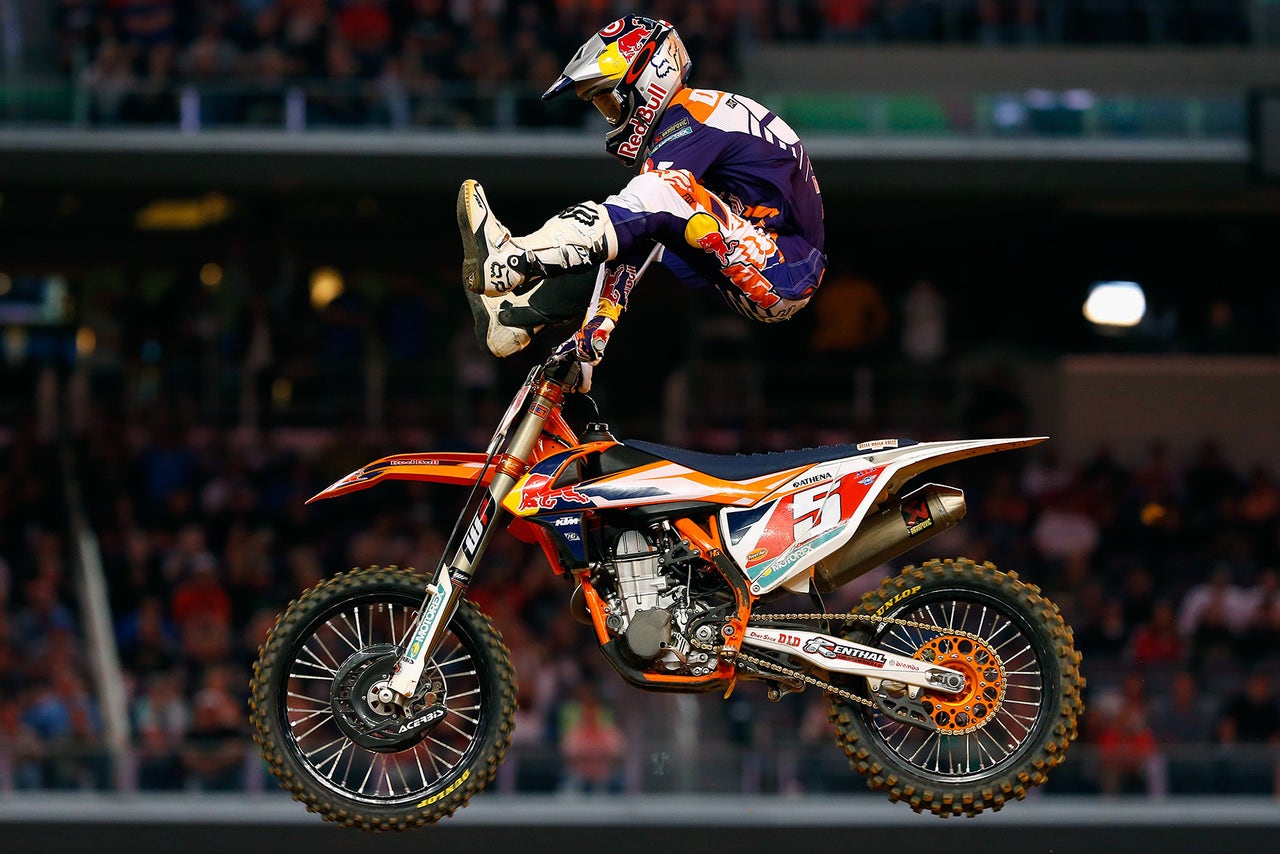 Ryan Dungey celebrates after winning the 450SX Main during the Monster Energy AMA Supercross at AT&T Stadium on Feb. 14, 2015 in Arlington, Texas.
Do you feel like as a rider that you reached a new level in performance this season? Or did all the pieces of the puzzle fall into place this season the way you've always worked for them to?
I have to give a lot of credit to not only my team, but Aldon Baker, my trainer. Aldon was a big help for me because training for our sport not just physically, but mentally is huge. You have to be ready in all areas. I really felt a lot of times coming into the season that it was all on me to do this, and do that. But there was always that little voice asking 'Could I do better? Should I be doing it better here?' I just didn't know, and with that comes doubt. That is not good for a rider. With Aldon he was able to fine-tune my program to my needs and what my body could handle, I guess you could say. And mentally, he put my mind at ease, so both physically and mentally I was ready for the season. I trust in Aldon and his program, and you have to have that amount of trust in your trainer. Both on and off the track he's a great guy. Yes, the bike was better, but Aldon was a big part of my program, in a huge way. In a lot of areas you just need to fine tune a little bit here and a little bit there, so it may not look like much, but with Aldon he was that missing piece to the puzzle. I'm glad we have the opportunity to work together and I'm glad to have him in my corner, that's for sure.
We know there's no James Stewart or Ryan Villopoto. You can't control that, but it's still out there and a part of the conversation. It's part of the sport. Do you wish there were there? Does it matter to you?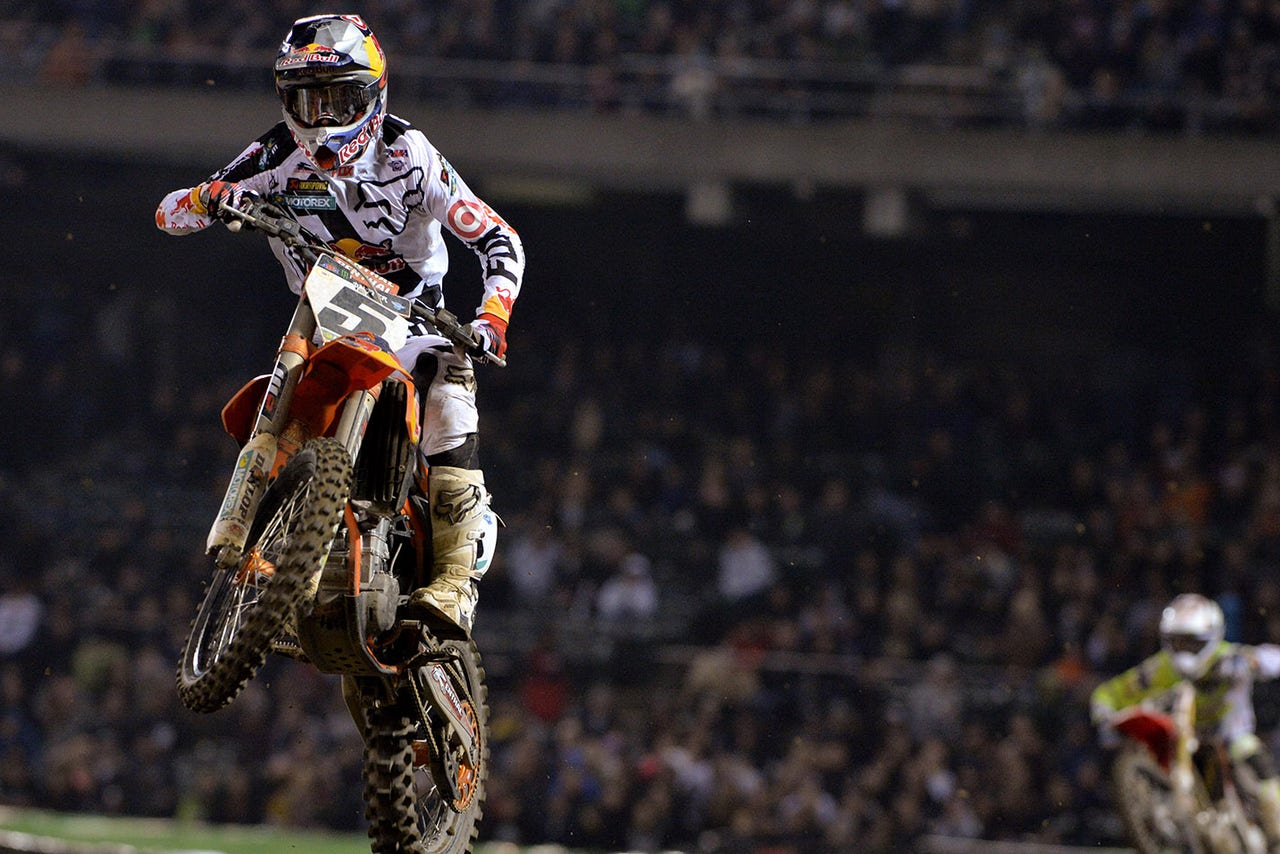 Ryan Dungey finished second for the second-consecutive week and took the lead of the points standings after the Monster Energy Supercross at O.Co Coliseum on Jan. 24, 2015 in Oakland, California.
Their absence is a factor, but in previous years the only guy I hadn't beat was Villopoto. There's two things. Yes, I would have loved to race those guys. But also, if Villopoto hadn't gone to Europe I may have never had the opportunity to work with Aldon. I wouldn't have had the opportunity. So that's a lot. Villopoto is a tough competitor. He's strong and he won a lot of years and he made our jobs tough. But, at the same time, I can't control him not being there. He went over to Europe to race and that's his decision. I had to focus. Maybe he wasn't there and yes, maybe he was the one guy I hadn't beat, but as far as everyone else that was on the gate, I wasn't going to take any of them lightly. I'm not going to give less credit or focus to all those other riders who are there. In a humbling way, all those other guys were there and there were no excuses for me to not go out there and perform. I felt like myself and my team went out there and accomplished what we wanted to. We got the job done and there was no wondering who was or wasn't out there.
People have been critical of the way you race. Your not flashy, you aren't always necessarily in attack mode, and because you're speed and success isn't necessarily achieved in an obvious way, you don't necessarily get all the credit you might deserve. Do you have anything to say to that? Was this a season where you proved you can win a title your way?
I'm not going to get caught up in the hype or what people have to say. Everyone is entitled to their opinion. For me to get caught up in that would be pointless. Everybody is wired as a race the way they're wired. Yes, there are improvements to be made and I felt like we were able to do that this year, but every time I went out there I gave the best I possibly could. I learn a little bit more about myself, I learn more about how to handle situations and I become stronger with every year that passes. I feel like we were able to find those areas of my improvement for my program and everything kind of came together for me this year. I've got a very supportive family and wife, but aside from all that I can't change the way I race. Am I going to go out there and just take everybody out? Do I want to go out there, get the lead and check out? Yeah. But, I have respect for the other guys to do anything out of line. If you're winning they'll have something to say, and if you're losing someone will have something to say. You just need to focus on your own program, and that's what I try to do.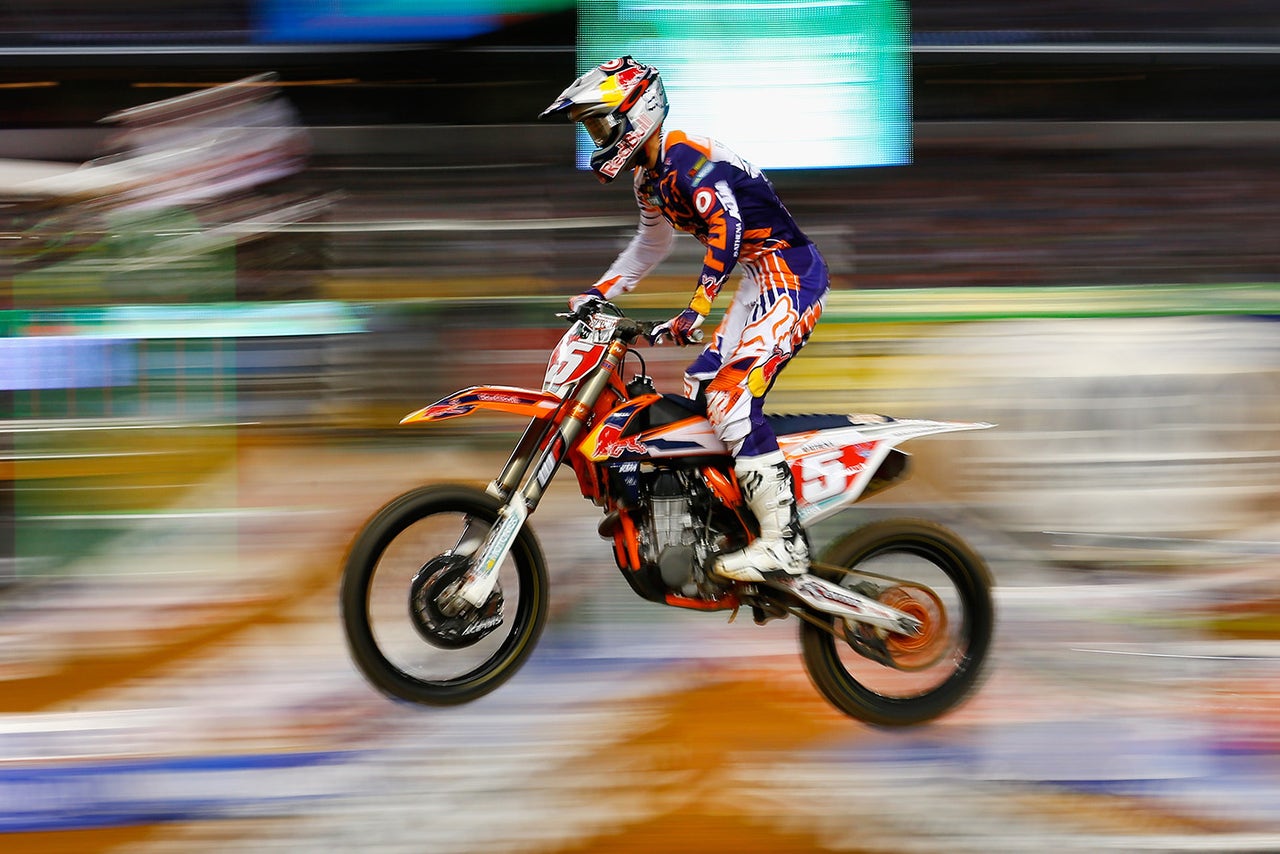 Ryan Dungey leads the field during the 450SX Main during the Monster Energy AMA Supercross at AT&T Stadium on Feb. 14, 2015 in Arlington, Texas.
How would you compare winning the title in 2010 as a rookie to winning it in 2015, five years later with more maturity, laps and experience?
The first one was an amazing feeling, 2010 was awesome. But at the same time, this 2015 one I really feel like we earned this one. There was a lot more we had to overcome, and there were a lot more riders. Back in the day, about three or four races in it came down to me in Villopoto and that was kind of it. This year there was a list of multiple guys and anyone watching as a fan can see the sport has progressed to a level way faster. Everyone is going faster, everyone is training and getting fitter. And because of all that, the challenges are tougher. Throughout a season it's harder to be consistent and win, especially because there are so many good guys. There was a lot we had to overcome and achieve, but I feel like we did a good job of managing that. On those nights that were most important we were able to pull through. That's a great feeling.
Your 16 podiums in 17 races, eight wins, and just the overwhelming consistency of your season is something no one has really done to this level since Ricky Carmichael. Does that mean anything to you at all?
As a racer it's hard to understand or realize those kinds of things because you're always caught up in the next thing and looking to keep getting better, accomplishing more. So it's hard to be satisfied and look at it. I don't ever want to settle. But, it's definitely cool. I mean, to be able to move up on the win list is great, but it can also be discouraging. See you got 72 wins with McGrath to my 22, so that's still pretty humbling to see where I'm at compared to him (laughs). So I try not to compare too much. Honestly, I just try to do the best I can with my career and as long as I can do it, the best I can possibly do it. Wherever I end up in the end… Do I want to climb up in the rankings, the lists and all the statistics? Yes. But, it doesn't happen by looking at them. It happens by accomplishing your goals and getting the job done out there on the track. That [the stats] will come with it if I continue to do my job right.
Click HERE for more Supercross news and features.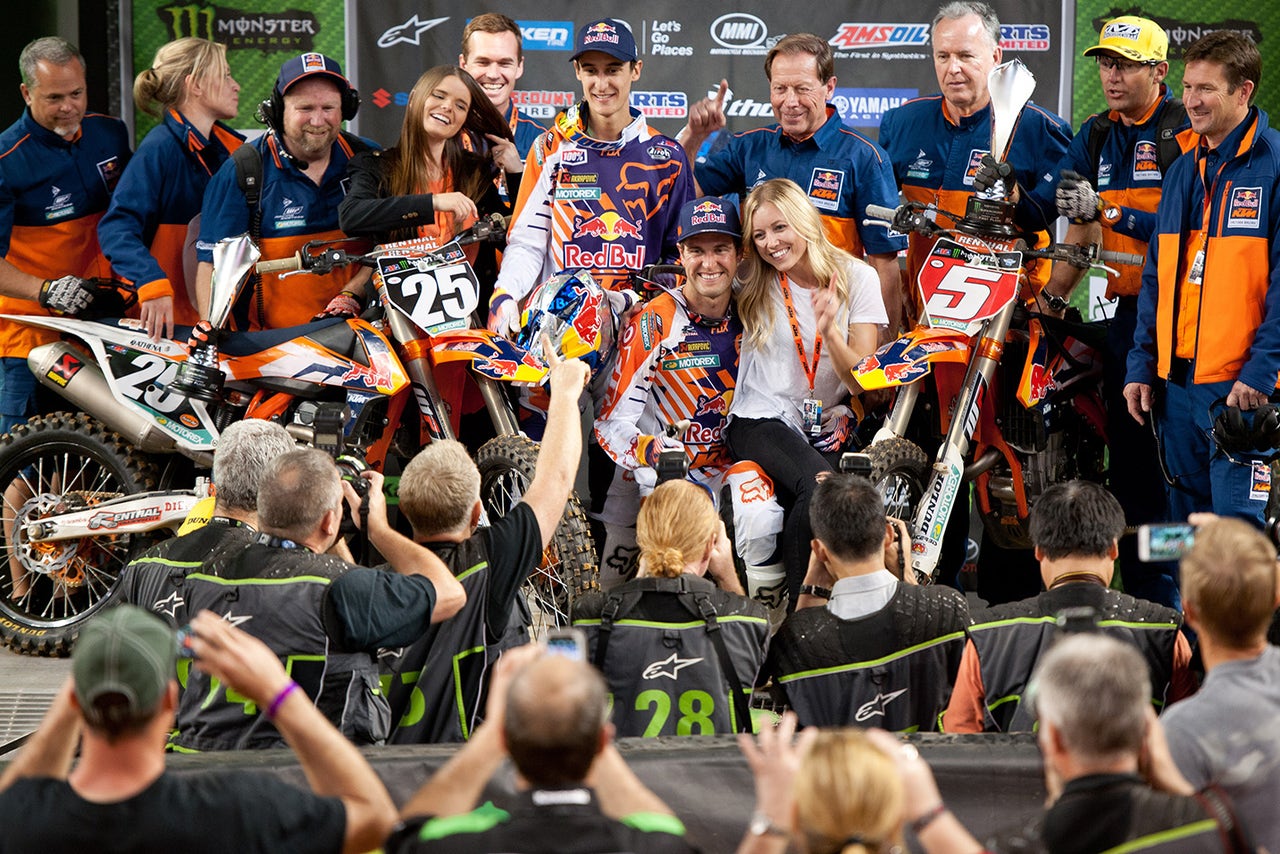 Marvin Musquin (C, standing) and Ryan Dungey (C, kneeling) celebrate their wins with their Red Bull KTM team at the Monster Energy Supercross at AT&T Stadium on Feb. 14, 2015 in Arlington, Texas.
---