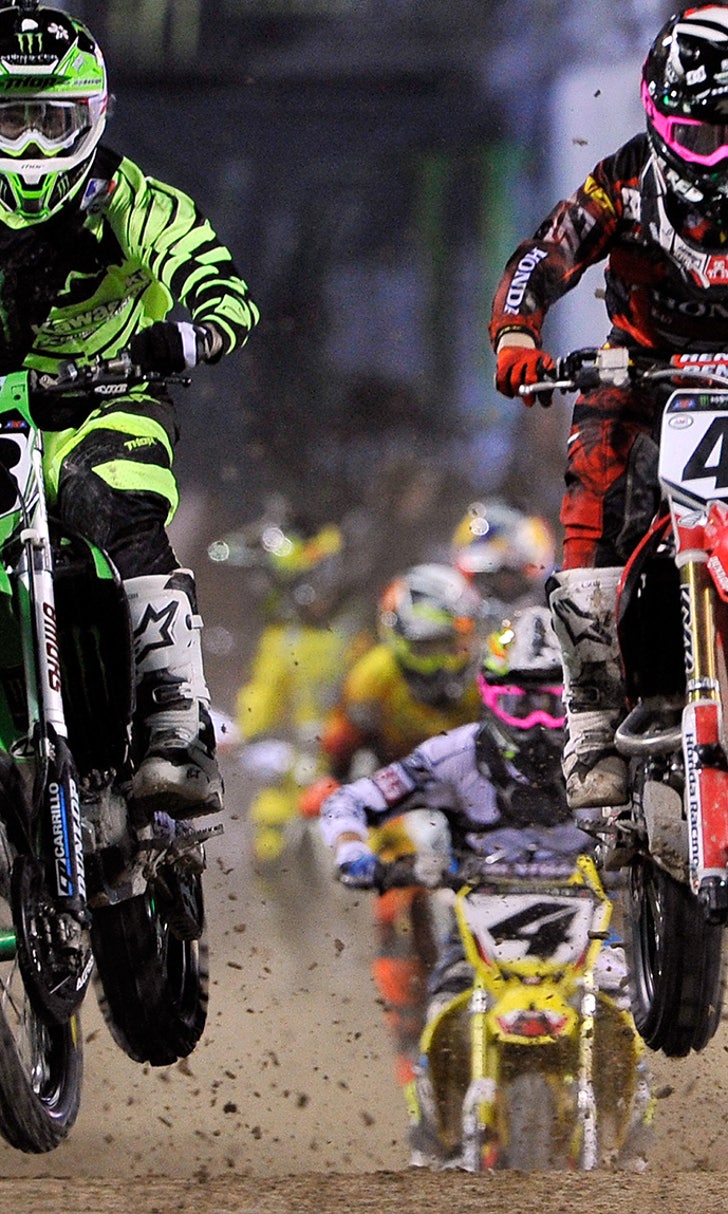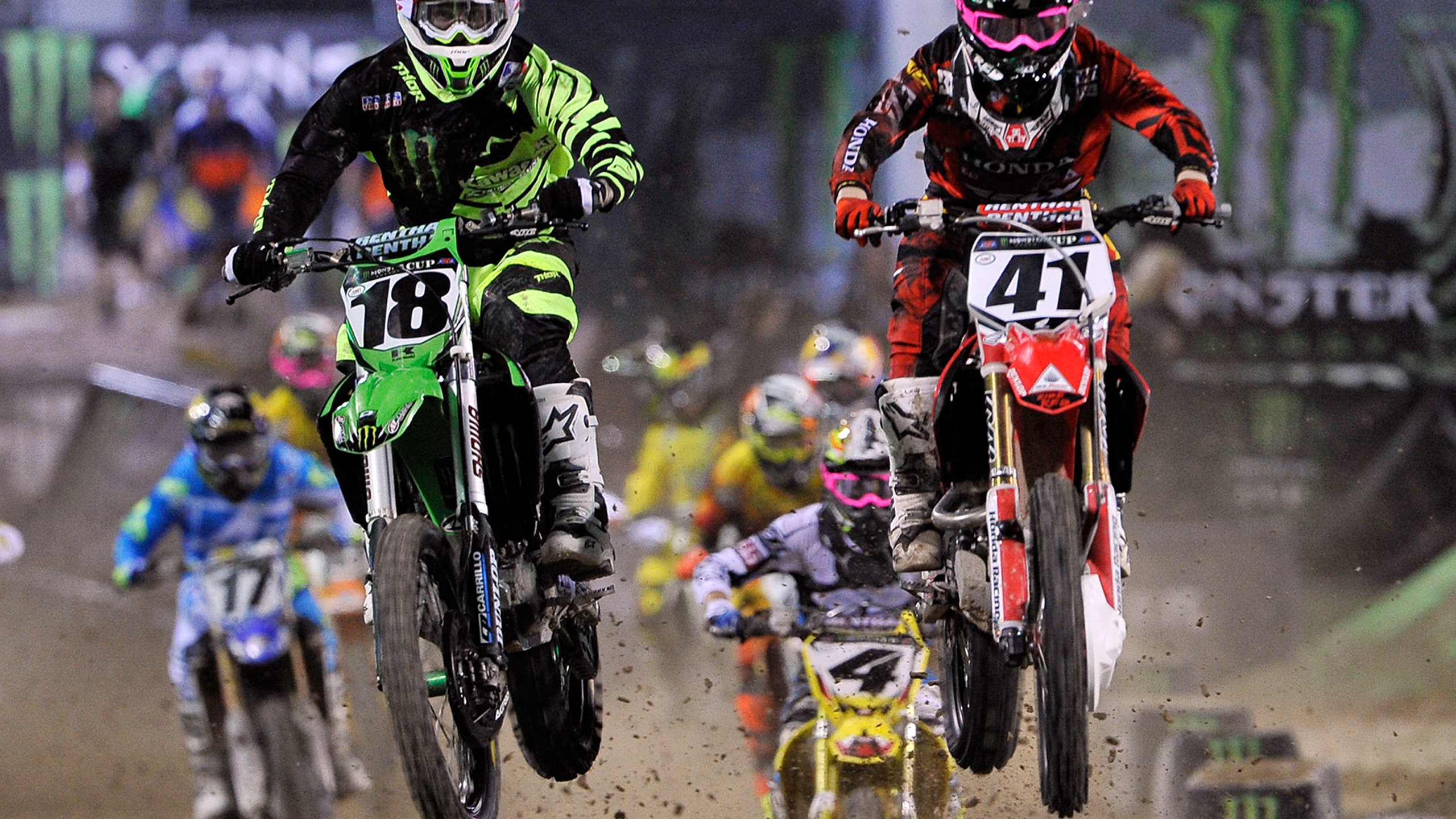 PRESS RELEASE: Monster Energy Cup boasts most complete TV package ever
BY foxsports • October 14, 2015
ELLENTON, Fla. - Feld Motor Sports and FOX Sports announced Wednesday that this Saturday's Monster Energy Cup, from Las Vegas' Sam Boyd Stadium, will be nationally broadcast on FOX, with the initial live airing on FS2 and FOX Sports GO and a repeat airing on FS1.
Monster Energy Cup Television Schedule:
Oct. 17 - FS2 & FOX Sports GO - live at 9:30 p.m. ET
Oct. 18 - FOX*
- 2:30 p.m. ET (Pre-NFL)*
- 4:30 p.m. ET (Post-NFL)*
Oct. 20 - FS1 - repeat airing at 8:00 a.m. ET
*On Oct. 18, leading in and out of NFL programming (depending on the specific television markets - check local listings and see the top 25 markets below), the Monster Energy Cup will air on the FOX Broadcast Channel, offering fans 90 minutes of Monster Energy Cup action from the Oct. 17 race.
The Monster Energy Cup will be covered extensively online by Race Day Live from Noon - 6:00pm PT. Fans can catch up on the action by logging on to www.MonsterEnergyCup.com. Throughout the race day, practice will be streaming along with special guests that will join hosts Andy Bowyer and Jim Holley.
"We are excited to offer this Saturday's Monster Energy Cup once again on the FOX broadcast network with a condensed 90-minute airing on Sunday, Oct. 18," said Mark Abernethy, Vice President of Licensing, Feld Entertainment. "This gives all fans of the sport who may not be able to witness the race live on FS2, or in person at Sam Boys Stadium, the opportunity to re-live the action from the comfort of their own homes."
"This is a great opportunity to expose the high-flying, adrenaline-filled sport of supercross to the widest possible audience," said Patrick Crakes, FOX Sports Programming, Research & Content Strategy. "A one million-dollar Las Vegas all-star event is a fantastic bridge between racing seasons for the popular Monster Energy Supercross series ... it serves as the perfect appetizer for the 2016 season."
FOX Broadcast TV Schedule (top-25 markets)
NEW YORK (4:30 p.m. ET)
LOS ANGELES (1:30 p.m. PT)
**CHICAGO (3:30 p.m. CT)
PHILADELPHIA (3:30 p.m. ET)
DALLAS-FT. WORTH (3:30 p.m. CT)
SAN FRANCISCO (1:30 p.m. PT)
BOSTON (4:30 p.m. ET)
***WASHINGTON, DC (4:30 p.m. ET)
ATLANTA (2:30 p.m. ET)
HOUSTON (1:30 p.m. ET)
DETROIT (4:30 p.m. ET)
SEATTLE-TACOMA (11:30 p.m. PT)
PHOENIX (1:30 p.m. MT)
TAMPA-ST. PETE (2:30 p.m. ET)
MINNEAPOLIS-ST. PAUL (1:30 p.m. ET)
MIAMI-FT. LAUDERDALE (2:30 p.m. ET)
DENVER (1:30 p.m. MT)
CLEVELAND-AKRON (2:30 p.m. ET)
ORLANDO-DAYTONA BCH (2:30 p.m. ET)
SACRAMENTO (1:30 p.m. ET)
ST. LOUIS (3:30 p.m. CT)
PORTLAND, OR (11:30 p.m. PT)
PITTSBURGH (4:30 p.m. ET)
RALEIGH-DURHAM (2:30 p.m. ET)
CHARLOTTE (2:30 p.m. ET)
**WPWR
***WDCA
Australian fans will once again be able to catch the Monster Energy Cup action live on their local ESPN channels.
Jamie Little hosts the FOX broadcast with analysts Ralph Sheheen, Jeff Emig and Ricky Carmichael. Jenny Taft will be reporting from the pits.
The 2015 Monster Energy Cup features an all-new track design inspired by 5-time Monster Energy Supercross Champion Ricky Carmichael. The Carmichael-inspired track design will consist of supercross and motocross obstacles unlike any other racetrack design in the world. The Monster Energy Cup posts a $250,000 purse with the winner walking away with a $100,000 check, and any rider that wins all three Main Events will take home $1 million. 
Unique to the 2015 Monster Energy Cup will be the AMSOIL Arch, which is a large, 150' sweeper turn so massive that it will extend into the grandstands, and a new spin on the devious Joker Lane built as an "S" turn on the start straight.
Racers will also be treated to a massive sand roller section coming out of Monster Alley, where racers reach speeds upwards of 70 mph and a long technical rhythm section with dual lanes. Additionally, the Monster Energy Cup track will feature a high-speed outdoor motocross themed section outside the stadium section, an under/over bridge, and a large triple jump exceeding 100' for the Monster Energy Finish line.
Click HERE for more Supercross news and features
---