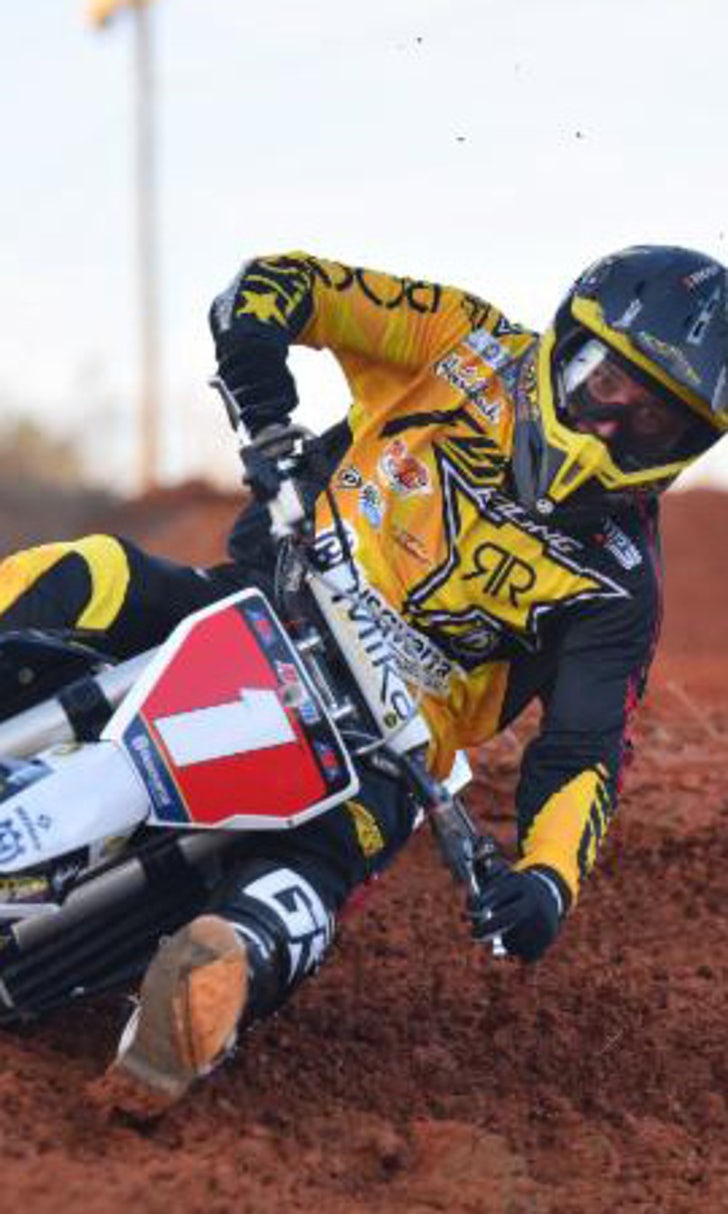 PRESS RELEASE: Kyle Regal looking to defend AMSOIL Arenacross title
BY foxsports • January 8, 2016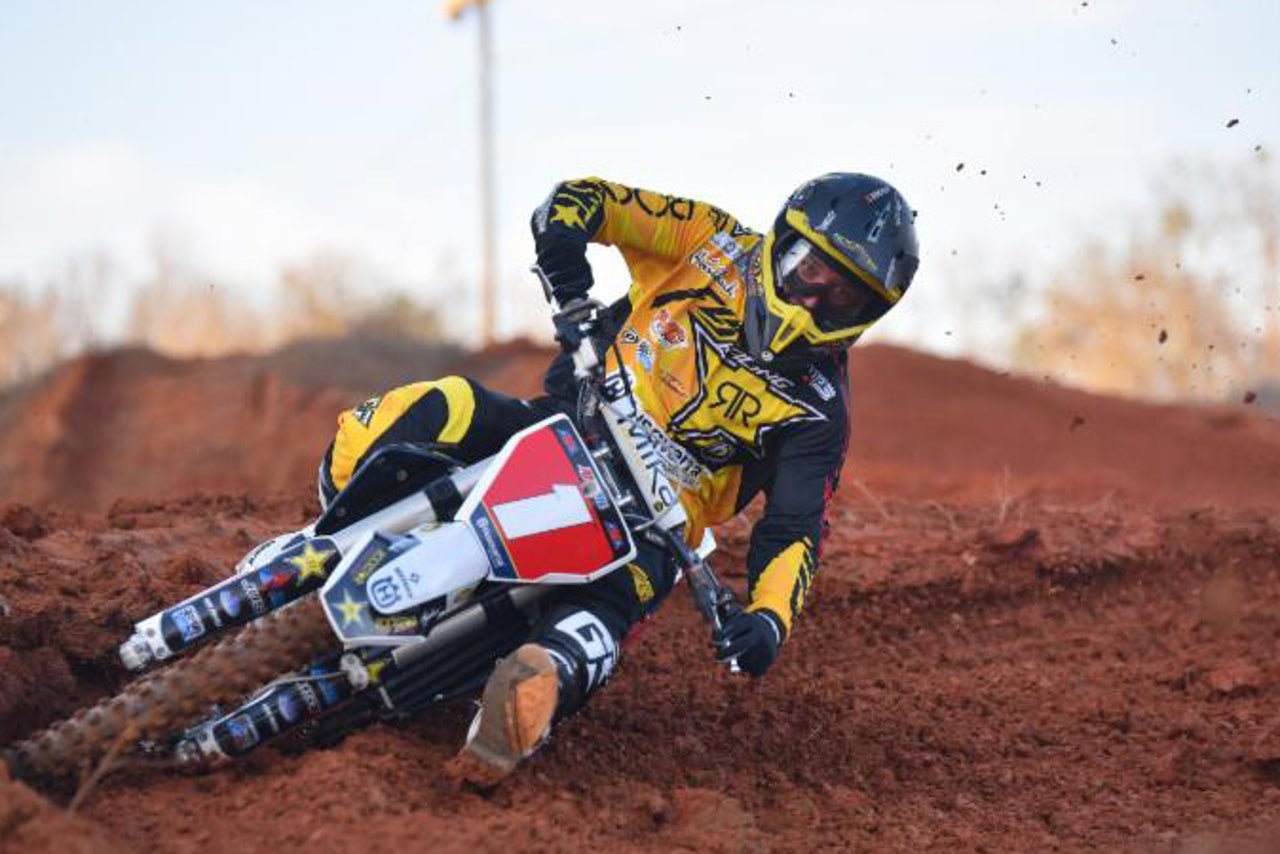 ELLENTON, Fla. - With the official start of the 2016 AMSOIL Arenacross season just hours away on Saturday, January 9, from Cincinnati's U.S. Bank Arena, the most intense riders on the planet will begin their journey to claim the Ricky Carmichael Cup. The rider they'll be chasing in that quest is Rockstar Energy Drink Husqvarna Factory Racing presented by FMC and OTSFF rider Kyle Regal.
The defending AMSOIL Arenacross Champion will wear the number one for the first time in his career and while he's been on the professional scene for many years, Regal believes he's just getting started. He's learned a lot in just two seasons of arenacross competition and feels no pressure in defending his title, a sign of the maturity and mental strength that Regal attributes to his recent success.
AMSOIL Arenacross caught up with the reigning champion to get his thoughts on the upcoming season and his path to stardom.
Kyle, only a couple days remain until the 2016 AMSOIL Arenacross season and your title defense begins. How was your offseason and how are you feeling heading into Cincinnati on Saturday night?
The offseason was good. I didn't do too much racing, but I did a lot of riding. I'm really looking forward to racing with the number one [plate]. It's something I've never done before, so I'm looking forward to that part of it. I had a little bit of a crash a little while back, but I'm feeling good going into the first round. I'm not going to do anything crazy; it's a long season and the points will reset [for the Race to the Championship]. I really just need to be in the hunt [at the end] and honestly I'm just excited to be racing with the [number] one.
You'll be back on a Husqvarna this season, but you'll have some new surroundings at Junior Jackson's Rockstar Energy Drink Husqvarna Factory Racing effort. How has that transition been and how do you feel with everything?
Everything has been going great so far. The bike is really really good; we did some testing in South Carolina a few weeks ago and everything felt great. I'm really looking forward to having a suspension and motor guy each weekend. It will be good to make changes [as needed] and have someone to watch over the bike. We'll be able to use that to our advantage and stick out from the rest.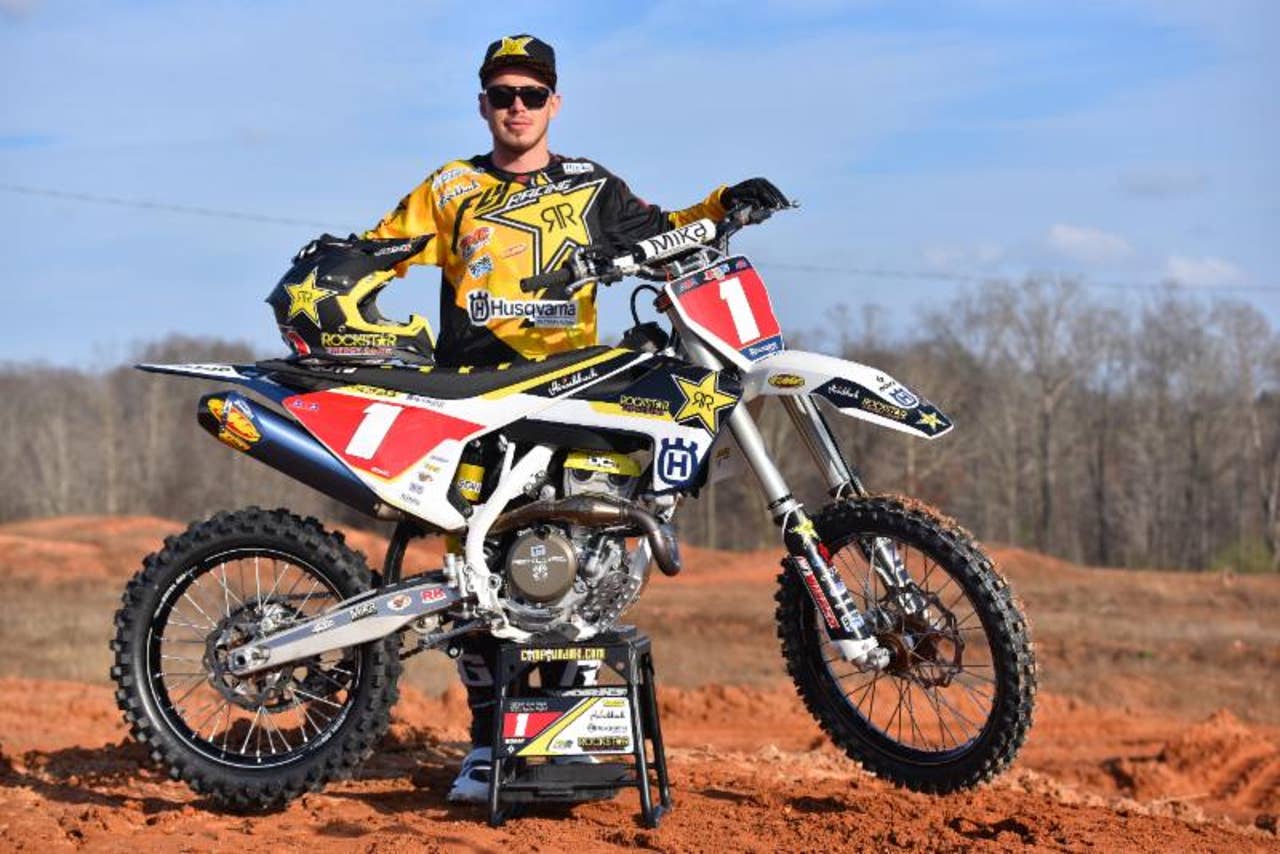 Regal has new surroundings for 2016 with Rockstar Energy Drink Husqvarna Factory Racing.
You mentioned the points resetting for the Race to the Championship. Knowing that is down the road, how do you approach the first part of the season?
I just like to feel out the series honestly. Last year I finished 15th at the first round and then ended up having a 20-point lead when the points reset. It's a long series and we have some rounds where we race two nights; in Colorado we'll race three nights. There's 34 points available each night and they'll add up quick, so I just need to stay up front as much as I can, get good starts and stay off the ground. If I can do that I think I should be fine.
To what do you attribute your progression into a championship contender last season? What started to click for you to make you arguably the most consistent rider in the series?
I'd honestly say the mental side of it. I think the first win I ever had was in Colorado Springs and after that it was a deal where I felt like I belonged up there. I just improved on the mental side of racing, where the previous year I was putting in the work but just never got a win. Last year was really cool to get my first win and then win the championship; there were a lot of ups. So, my biggest thing looking ahead to this season is to just be the best I can be. I'm training in California now so hopefully I can use that to my advantage.
Do you feel any pressure having the number one plate? You seem excited and looking forward to the opportunity that comes with it. Is this ultimately just like any other season for you?
I'm approaching it the same as I did last year, or any year before that. I've got an amazing bike that I know will be really good off the line, so I'm really just focusing on taking it one race at a time. I want to be smart and be in the mix for race wins because last year I think I had seven or eight wins, which is a lot, and I want to be better than I was a year ago. To start off with a win in Cincinnati would be really cool, but at the same time it's a long series and there are plenty races, and I got to be smart.
We all remember how things ended last season with you and Jacob Hayes in your battle for the title. It pretty much epitomized the intensity of AMSOIL Arenacross. When you look at Jacob and the rest of your challengers, do you think you have a tough task ahead of you to repeat and be at your absolute best each and every weekend?
Yeah, for sure, but you can just look at last year. We raced hard against one another and there were several guys that were winning, but at the end of the day it takes consistency and you have to be smart when the races matter. There's only a few rounds in the Race to the Championship and one mistake can cost you the championship. Whatever happened last year happened last year and now it's just another race. Yeah, I got taken out, but then again at the same time it was the best day I've ever had on a motorcycle because I won the championship, so I can't dwell on it.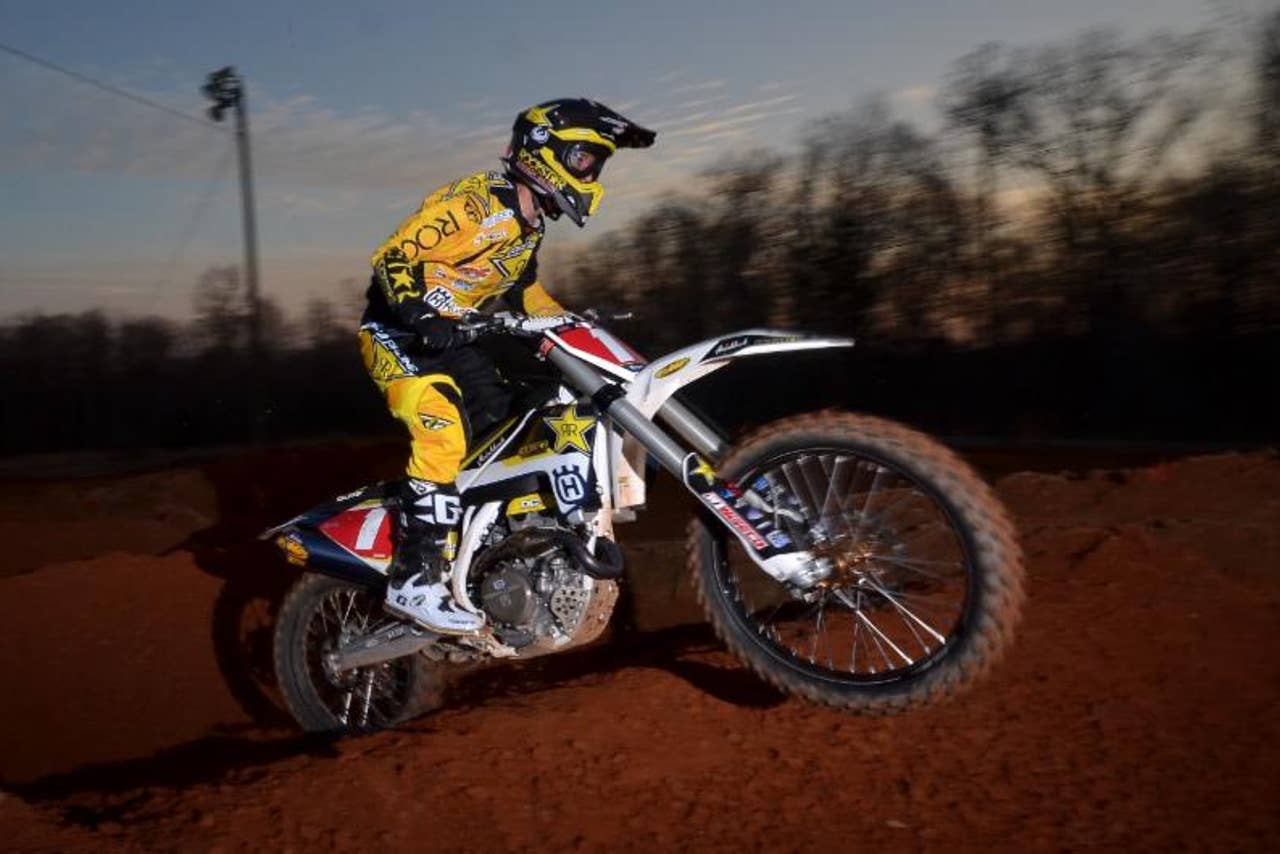 Helping young riders away from the races has benefitted Regal's own competitive efforts.
You've been racing professionally for many years and your career path up to this point has been filled with ups and downs. What has been the biggest advantage of all that experience in making you the rider you are today?
I think it goes back to being raised by my step dad, Mark. He was really hard on me and taught me to never give up. It was rough at times, but he had the construction mentality. He was raised learning nothing comes without hard work and that's the way I was raised. I just never gave up, honestly. There were a couple times where I got hurt and I was off the radar a little bit without a ride, but two years ago Jeff Quick and Zak Mashburn came to me asking to give it one last try. I was spending all my money and riding, but not making enough racing so they begged me to give it one last shot. The said they'd support me and help me do it, which brought me to arenacross where I finished fourth in the series [in 2014]. I just wanted to finish the whole series that season and then got the opportunity to race for TUF Racing last year on a Husqvarna. I got the championship and it's been awesome. When I look back, it always goes back to never giving up. That's not how I was raised and it's cool to see it finally pay off, but this is just the start for me I believe. Hopefully I can repeat what I did last year and eventually make my way to [Monster Energy Supercross] in 2017.
I know you've dedicated a lot of time to training young riders and helping out with their racing. What made you want to mentor the sport's future competitors and what does it mean to you to give back to the sport that has given you so much?
It's been really cool. I started back with Zak Mashburn and his son, Parker who was an amateur racer, when I was like 15. I started to help Zak teach classes even before I started winning as an amateur. I was always into helping people and teaching stuff that I had learned. When you're on the bike it's easier to explain to a rider how to feel it rather than someone who hasn't been riding. That's when I first started getting interested in it and over the last few years I've gotten even more into it because I wasn't doing anything in the summers. My parents used to own their own motocross track so I knew how to prep it for kids, then I'd teach them during the summer and even taken them to the line at major amateur nationals. It was just fun for me. I felt like it helped me develop the mental side of the sport because I could understand how to approach a race by helping them. I started believing in myself after working with the kids and seeing their success, then stepped up everything for myself and my racing. It's cool to see it all come together.
Season opening action Saturday night in Cincinnati will start at 7 p.m. ET. Broadcast coverage of the first race of the 2016 season can be seen on FS1 on Saturday, January 16, at 11 a.m. ET.                     
Never miss out on the latest news! For more information on AMSOIL Arenacross, please log on to www.Arenacross.com. Follow AMSOIL Arenacross on Facebook, Twitter and Instagram. Also, subscribe with us on YouTube.
---