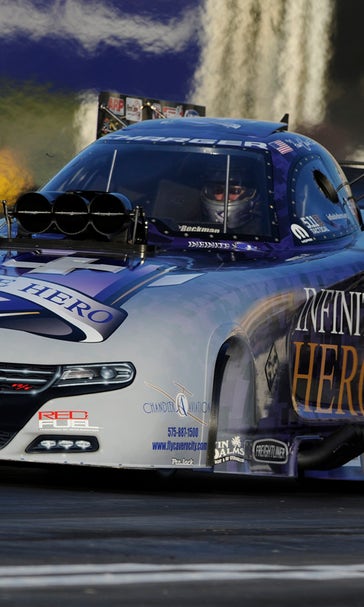 NHRA's Jack Beckman breaks track record during Friday qualifying
May 14, 2016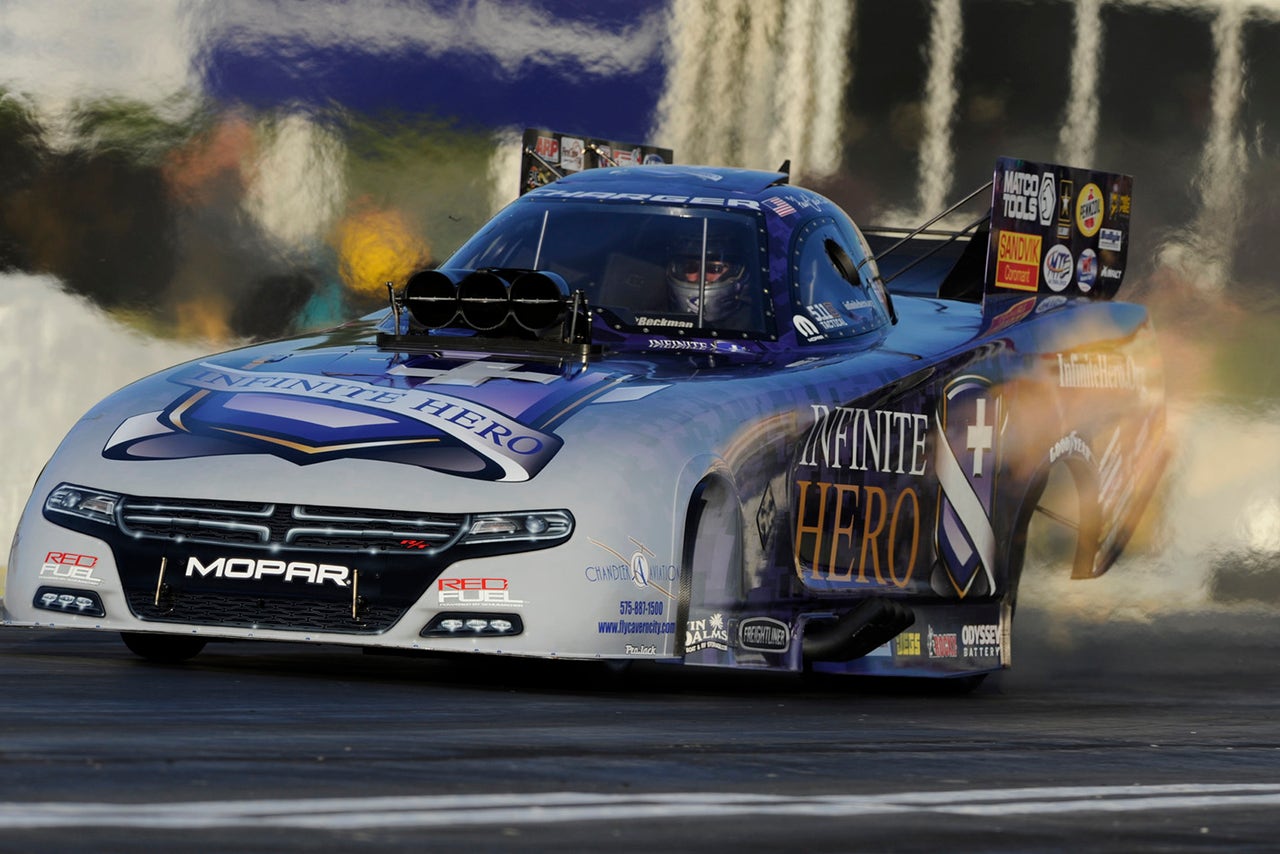 Jack Beckman is known for grabbing all the gusto a track can hold but on Friday night qualifying at the NHRA Summit Southern Nationals, he left a little on the table for Saturday.
Beckman, a two-time Southern Nationals champion, thundered to the top spot with an Atlanta Dragway track record 3.939 elapsed time at 326.32 miles per hour. Joining the past NHRA champion provisionally atop their respective categories were Doug Kalitta (Top Fuel), Greg Anderson (Pro Stock) and Angelle Sampey (Pro Stock Motorcycle).
Beckman has three No. 1 qualifiers to his credit this season and 18 in career, but none from the track located outside of Atlanta, Ga.
"This year we have not had the same performances as we did last year," Beckman admitted. "We are fine when the track conditions are cool, but we're struggling when it's warm. There's still some more performance in this car. At the end of the day, end of the weekend, end of the race, really the only thing that matters is holding up that trophy with your group in the winner's circle. We haven't even been to a final yet, and I'm hoping this Sunday is our first one."
Beckman edged out teammate Matt Hagan, who was second. Courtney Force was third and earlier in the day recorded the track's first three-second Funny Car run and picked up four points to pull ahead of Tim Wilkerson in the point standings.
Top Fuel No. 1 Kalitta also pulled ahead in the points by qualifying on top and picking up bonus points for the second session. He stopped the clocks with a 3.731-second pass at 328.70 mph and, if the run holds, it would be his second of this season and the 44th of his career.
"That was a great run," said Kalitta, who moved into the Top Fuel points lead with his Friday qualifying effort. "(Crew chief) Jim (Oberhofer) and my whole team were really serious about making a good run tonight. That thing left really hard. I was glad there were only two cars left after I made my run because the conditions were really good. They let the sun go down and let everything cool off a little bit more. We're all hungry to do good out here. We'll see what tomorrow brings but it's definitely a good start for us today."
The KB Racing domination continued on the first day, seven races into the 24-race schedule. Anderson was No. 1 with teammate Jason Line as second quickest. The only crack in their brick wall was No. 3 qualifier Shane Gray, who broke up the three car team's total domination after two sessions.
Anderson ran a 6.610 at 210.14 to take the qualifying lead. A four-time Atlanta event winner, Anderson has three No. 1 qualifiers in 2016 and has also won three of the first six races of the year.
"It was a good day," Anderson said. "I've always loved this racetrack. I've got a lot of history here. Ever since I started this driving gig of my own, I've had a lot of success here. I've had a lot of laps both outside of the car and inside of the car, so I love coming here. We've had a great year, and we're looking to keep it going. We know the competition is going to close the gap on us, but we're just trying to keep this string going as long as we can."
Sampey, a three-time champion, rode her way to the top with a 6.865 at 193.32. A six-time top qualifier with four victories at Atlanta Dragway stands on the cusp of securing her career 47th No. 1 qualifier with two sessions remaining.
"I've only been back for a handful of races, and I struggled with the bike when I first returned, so the excitement of getting the No. 1 qualifier, even it's just for Friday, is so exciting for the whole team," Sampey said. "We are working really, really hard. It's a lot of work for me to stay in shape, stay mentally and physically fit to do this and I want to do it so bad."
The final two qualifying sessions of the Summit Racing Equipment NHRA Southern Nationals will be held Saturday, May 14, at 1:30 and 4 p.m. and will set the field for Sunday's eliminations, scheduled to begin at 11 a.m. FS1 airs at 10 p.m. ET Saturday night with race coverage beginning at 4:30 p.m. ET on Sunday.
***
Bobby Bennett is the Publisher/Editor of CompetitionPlus.com, a leading independent online drag racing magazine, since 1999. For the latest in dragster news worldwide, visit www.competitionplus.com or follow on Twitter @competitionplus
---