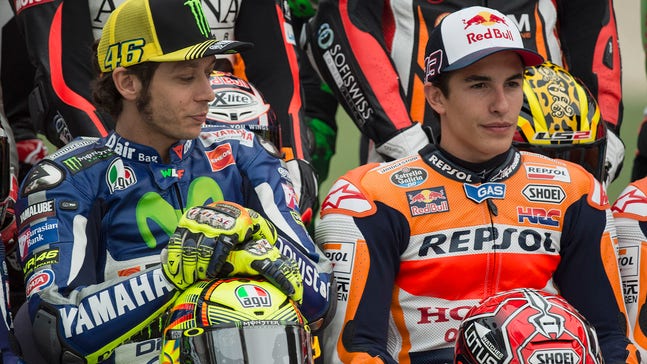 MotoGP: Rossi vs. Marquez - friends no more?
Published
Jul. 1, 2015 3:59 p.m. ET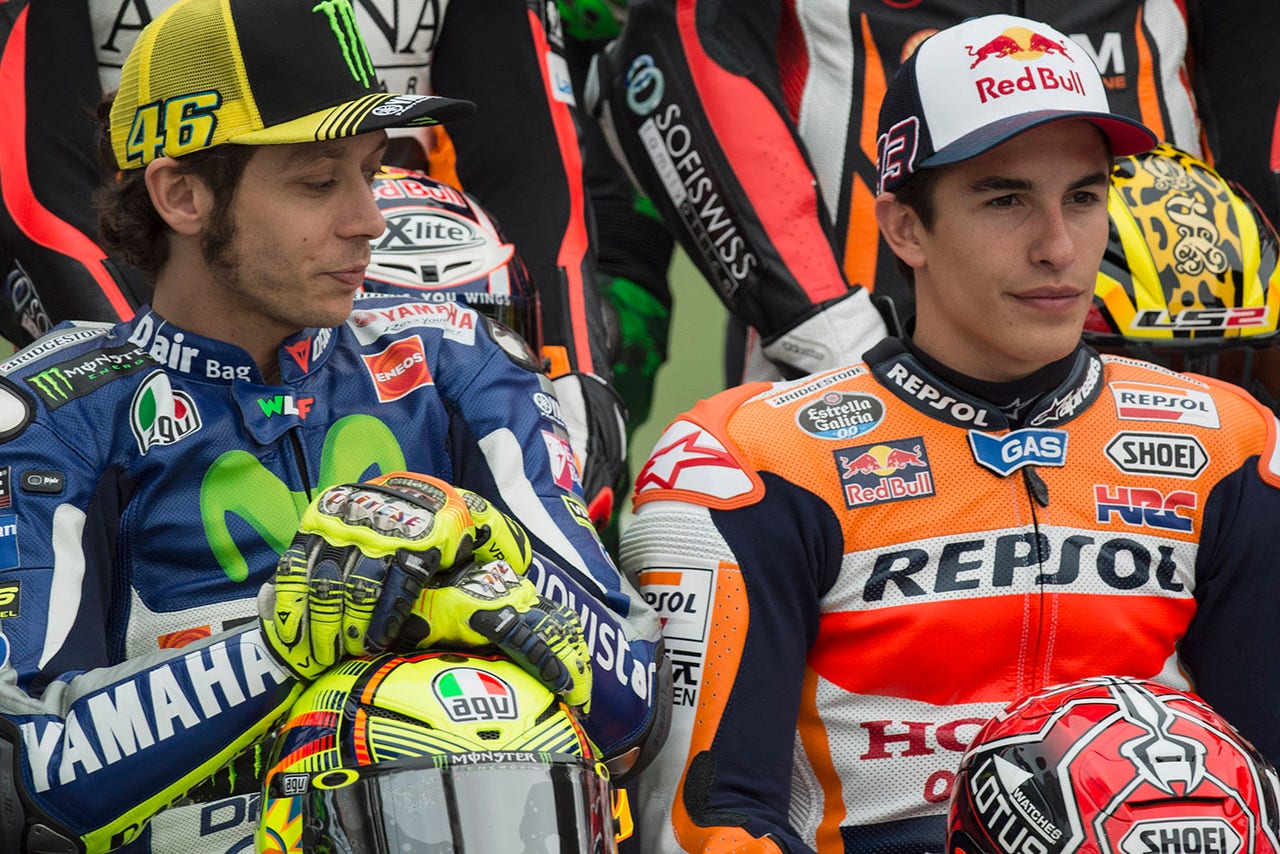 Marc Marquez grew up hero-worshipping Valentino Rossi and they seemed to have a special connection. Is that all over now?
The final chicane clash between Valentino Rossi and Marc Marquez in Assen could prove to be one of the defining moments of the 2015 MotoGP World Championship.
It will almost certainly prove a watershed moment in the relationship between the pair.
For all their denials that their relationship won't be tainted, it is hard to comprehend how it can remain convivial if the battles continue to be as intense as Assen.
One nameless MotoGP rider that I bumped into at breakfast on Sunday morning was in no doubt. "Well that's the end of that beautiful friendship then," he said.
The small cracks that first emerged in their relationship after their late tangle in Argentina widened to gaping holes during a prickly post race press conference in Assen.
It was tense and awkward to say the least, with the frosty atmosphere thawed only by some witty interjections from third placed man Jorge Lorenzo, who knows only too well what can happen when you cross swords with Rossi.
It has seemed for many a year that a special connection existed between Rossi and Marquez.
Marquez grew up hero-worshipping Rossi to such an extent that his bedroom was a shrine to the Italian. When Marquez began to rampage through the 125cc and Moto2 classes, he appeared the natural successor to Rossi as the new poster boy for MotoGP.
Rossi even seemed to embrace that by frequently speaking of his admiration for Marquez as a blindingly fast rider, brutally uncompromising in the battle and mentally bulletproof when the going got tough.
Even when Marquez first arrived in MotoGP, the fact that they were in direct competition only seemed to grow the mutual respect between them.
On the same track together, Rossi could see at close quarters the precocious talent Marquez is, while Marquez was blown away by Rossi's motivation, desire and speed that's kept him at the top level for two decades.
But the dynamic of the Rossi and Marquez relationship has dramatically altered in 2015.
When Marquez ran riot to win back-to-back titles in 2013 and '14, Rossi never really posed a serious threat to him.
Marquez invariably held the upper hand and Rossi's two wins last season in Misano and Phillip Island came in races that Marquez crashed in.
But when they have gone head-to-head in 2015, Rossi has inflicted deflating defeats on Marquez in Argentina and Assen.
And the Assen press conference gave a glimpse of how things might never be the same again between them. At least not while they are vying for the same piece of asphalt.
There were smiles through gritted teeth, brief but terse glances and more than one spikey comment.
Was this beginning of the end of their friendship? That appeared the overwhelming feeling from those in attendance. Of course that respect between them will remain. But you don't have to like somebody you respect.
And you cross Rossi at your peril. Anybody that has threatened to block his path to success in the past has been firmly cast as the pantomime villain. Just ask Max Biaggi, Sete Gibernau, Marco Melandri, Casey Stoner and Lorenzo.
Rossi though might be relieved that Marquez sits 74-points behind him in the rankings.
He knows how resentful Marquez will be about Assen. It was like a poking a sleeping lion with a big stick. And now armed with a Honda RC213V that he looks ominously confident and comfortable on, Marquez will be looking to exact swift revenge.
Emotions were running high in the immediate aftermath of the Assen race and some of the comments from Marquez angered not only Rossi fans but also the neutrals.
For too many, he wasn't gracious enough in defeat. But this is a rider that has the phrase 'second is first loser' etched into his brain.
When it comes to a battle for supremacy on track, Marquez is easily capable of winning against Rossi.
In the battle off the track, I'm afraid there is only ever going to be one winner.
Click HERE for more MotoGP news and features.
---