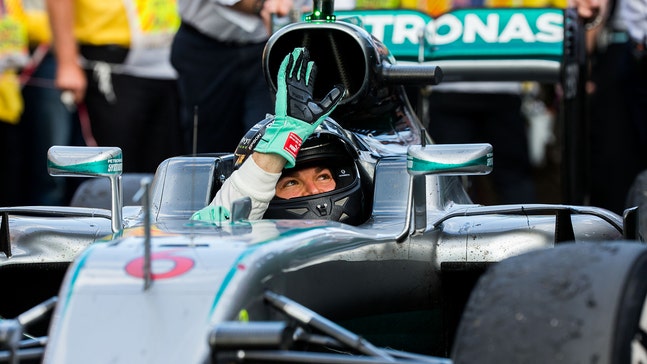 Mercedes thought about retiring Rosberg due to brake trouble
Published
Mar. 22, 2016 9:46 a.m. ET

Mercedes boss Toto Wolff says the decision to run medium tires on both cars after the red flag in Melbourne was the key to the one-two finish.
Lewis Hamilton switched just before the red flag came out as the team tried to put him on a strategy that would clear him of cars ahead, while Nico Rosberg did the same when the race was suspended. It proved a crucial move as initial leader Sebastian Vettel stuck with supersofts, made an extra stop, and dropped back to third.
"With the one-stop [from the red flag] strategy we knew that it could come towards us," said Wolff. "We didn't have a lot of information about the medium, relying on last year's assumptions and what we've seen at the test, so it was good that we ran the medium a lot. It looked like it could last, we could survive, we could make it last.
"The easier call was for Lewis. Because we knew the cars in front of him, Sainz, Verstappen and Ricciardo, that he wouldn't be able to overtake them on track. We saw how difficult it was with Verstappen before, so the one-stop was pretty obvious.
"Even though that's not the race that suits Lewis best, he likes to attack and have a tire that makes it possible. For Nico it was the more difficult call up front, to decide do we want to make it a defensive strategy, and stick on the one-stop, or make him compete with the other guys in front on the same tire?"
Although everything appeared to go for plan for Mercedes, it wasn't that easy, for Rosberg was hit by a brake overheating issue.
"We suffered some little drama as well," said Wolff. "We had a problem on Nico's car with brake caliper temperatures which kept creeping up, almost to a stage where we thought about retiring the car. That was two-thirds into the race, and then it stabilized at maximum value. It was debris we caught in the caliper. And then it started to creep down again, very slowly, and recovered. At a certain stage it was very difficult for the team to handle. [Nico] didn't know. You can't tell him."
There were also concerns about the tires: "Fifteen laps to the end, our calculations showed that the tire wouldn't last," said Wolff. "And that around five laps to the end, the left rear could fall off the cliff. And the temperatures kept dropping and dropping and dropping every single lap. Our tire guy said, 'Five laps to the end, that's it'.
"And you couldn't really stop them or tell them to go slower, because then that would have made the tire temperatures fall even more. We lost a lot of grip on the rear left, but it is just one of four tires, and we made it survive, made it last, until the end.
"It was really difficult, because we couldn't tell him to look after the left rear. If after all these years you're used to transmitting all this information to the driver, and optimize the car and also make the car survive, that lack of communication is definitely going to lead to situations which are beyond the engineer's control."
Click HERE for more F1 news and features
---