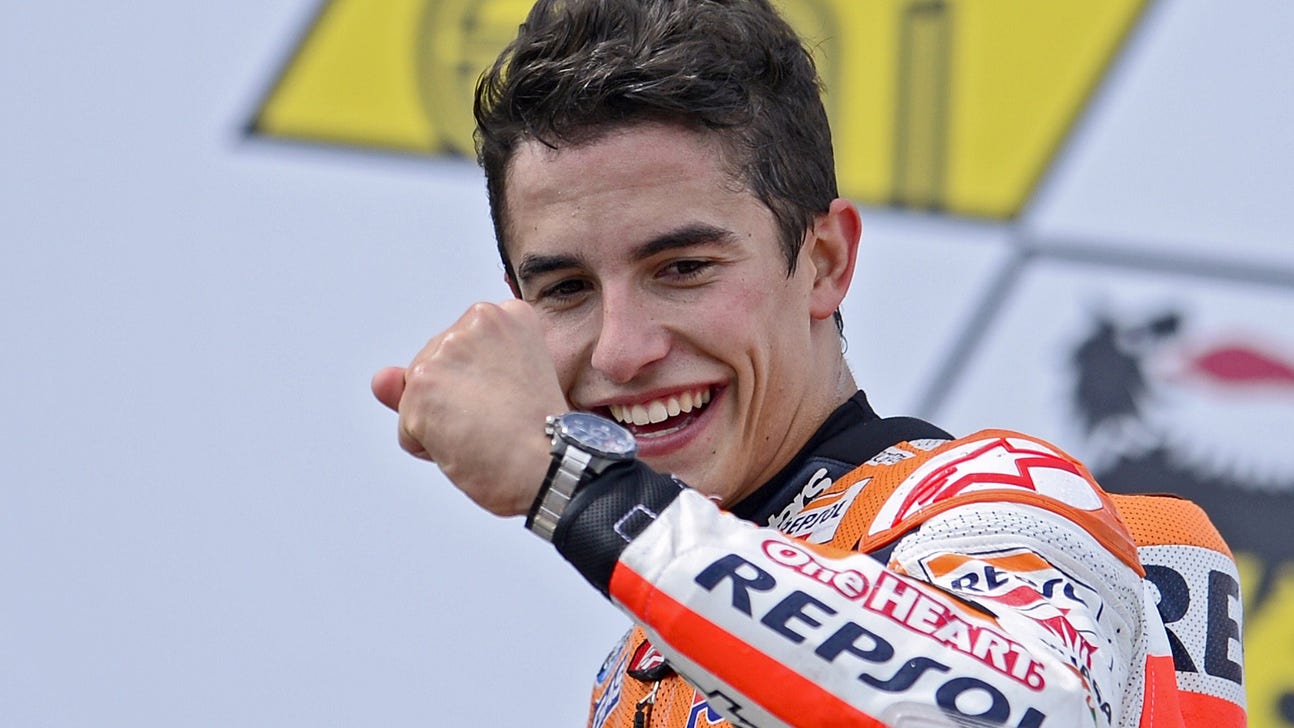 Is he too good? Marquez more than MotoGP bargained for
Published
Aug. 8, 2014 12:49 p.m. ET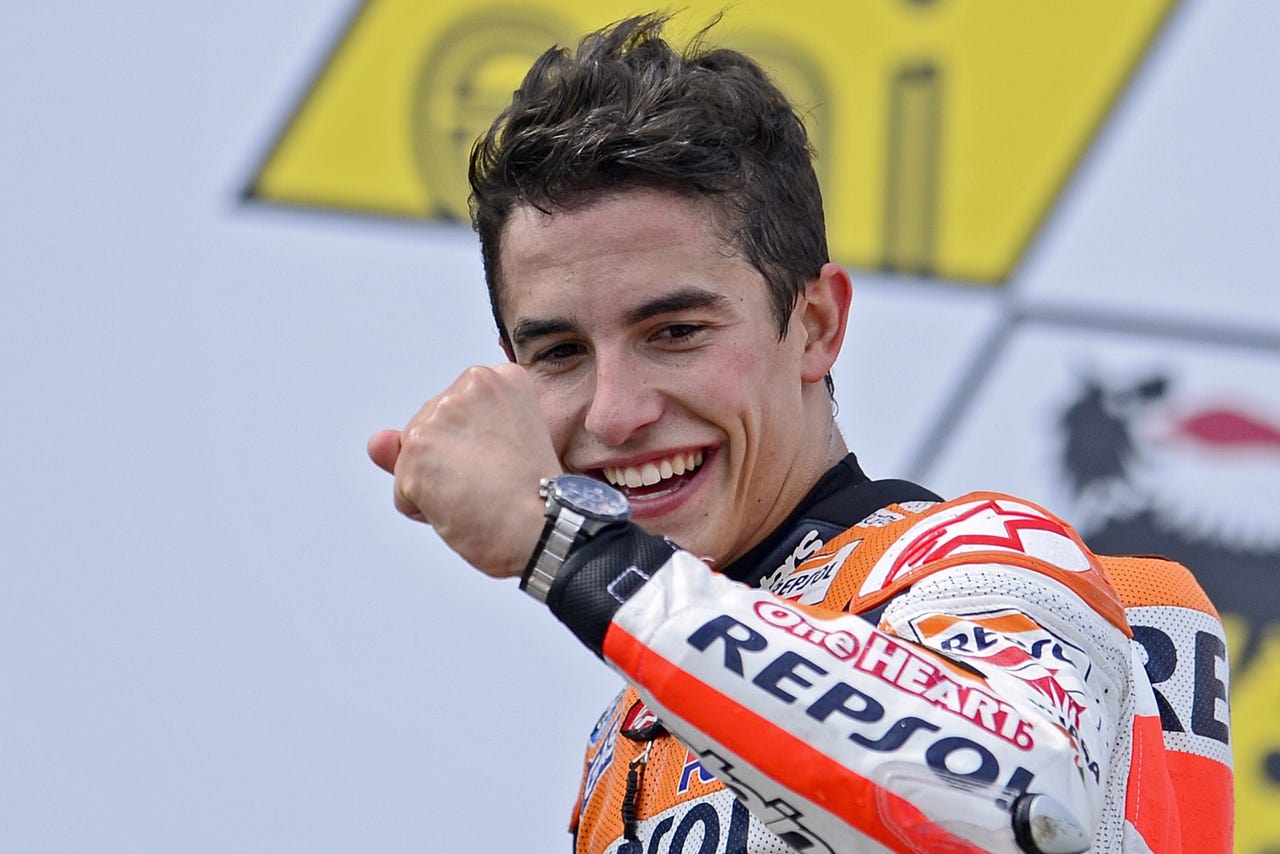 Marc Marquez steamrolls into Indianapolis Motor Speedway showcasing a form of dominance rarely witnessed in the sport's modern history.
Equal parts courage and talent, the unquestioned ruler of MotoGP not only scooped up the premier-class crown in his rookie attempt (a feat least accomplished by 'King' Kenny Roberts in the late '70s), he's now riding a perfect streak of nine victories to kick off his title defense.
And he doesn't seem particularly vulnerable this weekend as he looks to up the run to 10; Marquez boasts five straight triumphs on American soil, as he backed up his two previous Indy Moto2 victories by rolling up wins in Austin, Monterey, and then again, in Indianapolis, last year.
Despite the sameness of the results, the 21-year-old Spaniard has done everything in his power to keep things interesting. Besides the inherent entertainment value that comes with his flashy riding style — one which can make even an inconsequential FP lap worth watching — the Honda ace has won in the wet, in the dry, and somewhere in between . . . from the front, from the back, and from the pits . . . by a mile and by millimeters.
However, the intrigue is slowly shifting its base from, 'Can Marquez win X races in a row?' to 'Can someone stop him? Anyone? Please?'
As long as there's that streak, it'll remain can't-miss stuff. However, once someone finally does topple Marquez, if even for a day, the series is likely to settle into a bit of normalcy — let's say, three or four Marquez wins to every one for the field. And that does not bode particularly well for the future of MotoGP.
For years, the Grand Prix paddock prayed for the arrival of a second generational talent who could help transition motorcycle racing to the post-Vale era with sponsorship dollars and television ratings intact.
Valentino Rossi is the rare motorsports icon/mainstream celebrity who lived up to the hype in both categories. His ability and charisma helped lift the series' profile to new heights. Dorna hoped to shift those added eyeballs to some other riders so that Rossi's flock wouldn't simply fly away when the Italian finally hung up his helmet(s).
And in fact, some worthy challengers did emerge — the head-to-head numbers of Casey Stoner and Jorge Lorenzo actually indicate that the newcomers got the better of the Doctor more often than not, and Dani Pedrosa wasn't that far off the mark either. However, none captured the imagination of the public like Rossi — not by a long shot.
It was hoped Marquez was the second coming — he looked to have the talent, the charm, and the same ruthless approach in search of victory.
Marquez has proved to be all that and more — with a spectacular riding style perfectly suited to fully exploit today's tire, electronics, and chassis technology.
However, there is one quality that Marquez lacks — at least to date: Rossi's willingness to turn his back on a sure thing in order to tackle a new challenge . . . both for the sport of it and for the show.
Perhaps Marquez rushed into this level of lopsided domination a bit too quickly. Had he hit this form a year down the line, maybe he wouldn't have been so quick to re-up with HRC and threaten the paddock with two-and-a-half more seasons of one-sided clubbings (with the possibility of even more after that).
There's no blaming Marquez. It'd be unfair to suggest he should handicap himself just because he's this good.
But the fact remains, he's doing the business, and unfortunately, that may not be good for business — not for the long haul.
As Rossi said yesterday, "For Marc (it's) positive; for us a bit less."
It didn't help that HRC was all-too willing to keep him paired up with Pedrosa, who has decidedly shown to be a class below Marquez on equal (and unequalled) equipment. His steadiness may allow Honda to finish 1-2 in the championship — which is where they stand now — this year and beyond. However, barring injury, this lineup doesn't hold much promise for an actual title fight any time in the near future.
How long will fans simply be satisfied with appreciating a marvelous talent in the face of easily anticipated outcomes? What happens if MotoGP continues down a path of predictably that would make Formula 1 blush?
Marquez's rivals at least are trying hard to find the positive in their repeated beatings.
"I look at Marc from very far, but it's nice to see others change the limits so there is always a way to improve," Ducati's Andrea Dovizioso said. "And it is nice to see some rider is able to go faster and in your mind there is no possibility, so it means you have to work more and more and everything is possible."
Two-time champ Lorenzo added, "I've had the opportunity to race with Casey, with Dani, with Valentino. I think Marc with his bike is even harder to beat. For me it's a very special and motivated challenge."
Kentuckian Nicky Hayden was perhaps a bit more on the money with his response: "Every so often someone comes along and resets the bar. It's great what he's doing, but for us we don't want to see one guy win every race because truthfully he makes it look too easy from outside. It's not really the case, so I hope somebody can beat him soon."
Sooner or later, someone else will win a race. However, that won't solve the larger problem, and that's the fact that Marquez is simply better than everyone else the world currently has to offer. And the same guy winning every week is bound to get tiresome, no matter how stylish he is in taking those checkered flags.
There's always a chance there will be some shakeup with the looming regulation adjustments but the smart money is staying where it is. And no matter what Dovizioso, Lorenzo, et al may like to think, it's rare that an established rider is able to significantly alter and up their game when presented with a game-changing rider.
It's quite possible that Marquez has simply rendered the rest of the field obsolete, in which case we'll have to wait for the next crop of undercard up-and-comers who are now honing their skills with the specific long-term intent of beating Marquez. In other words, tomorrow's equivalents to what Pedrosa, Stoner, and Lorenzo were to the once-dominant Rossi. Who knows how long that might take.
Marquez was supposed to save MotoGP from a Rossi-less future. Who's going to save MotoGP from a Marquez-filled future?
**********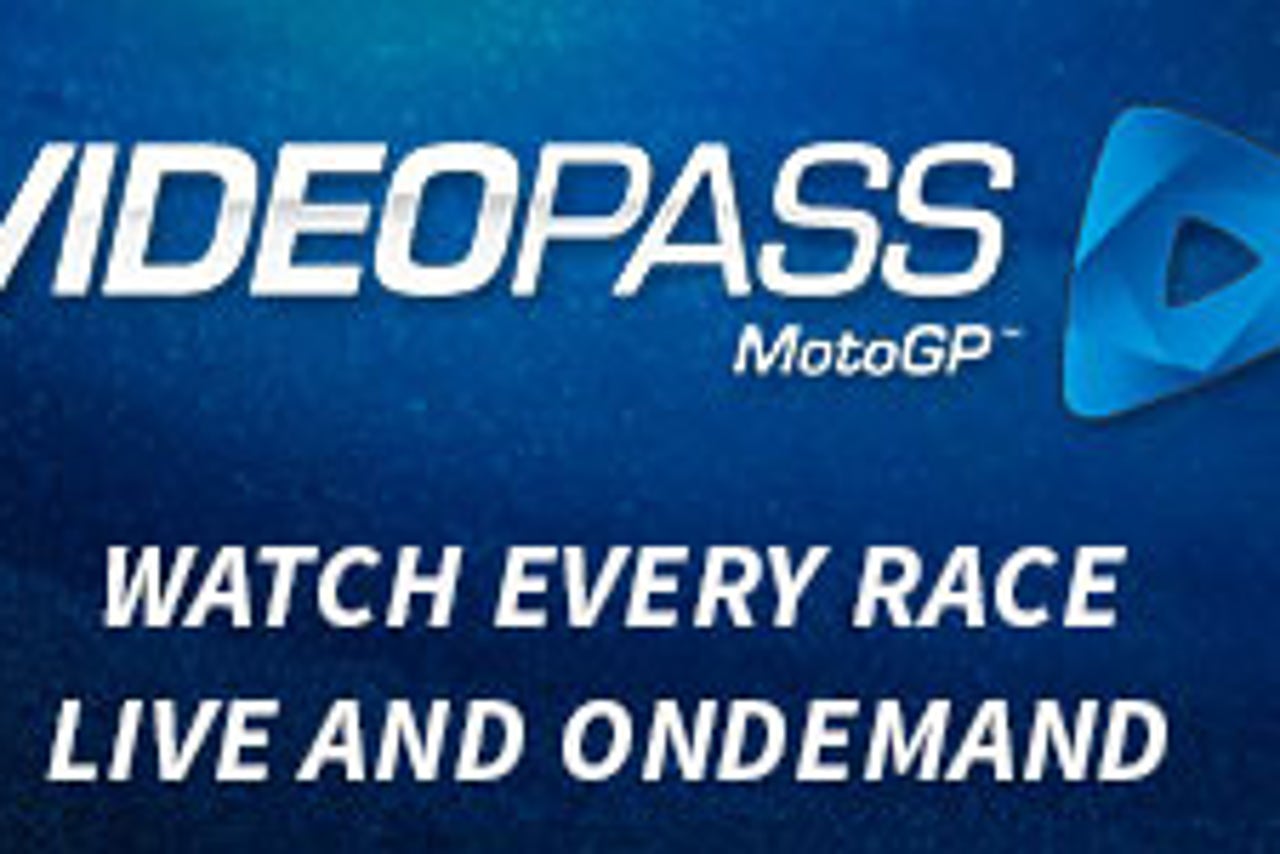 Want to take your MotoGP viewing experience to the next level?
The MotoGP Videopass allows you to watch all three MotoGP categories live and OnDemand from the comfort of your own home or on the go via your tablet or preferred mobile device. In addition, you can enjoy more than 22,000 videos from 1992 to the present day including full races, interviews, summaries, reports and much more.
Click here to access MotoGP's Videopass for half the regular price for the rest of 2014.
---