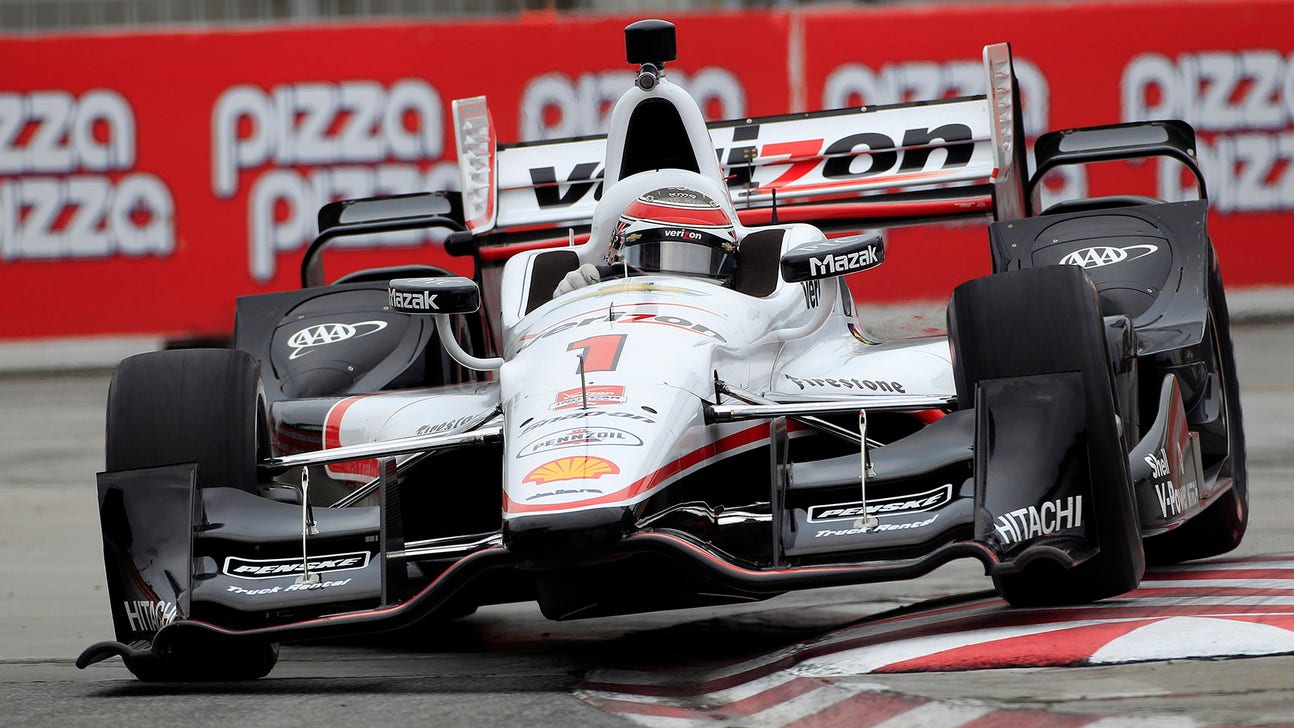 IndyCar: Will Power takes pole position in Toronto
Published
Jun. 13, 2015 4:50 p.m. ET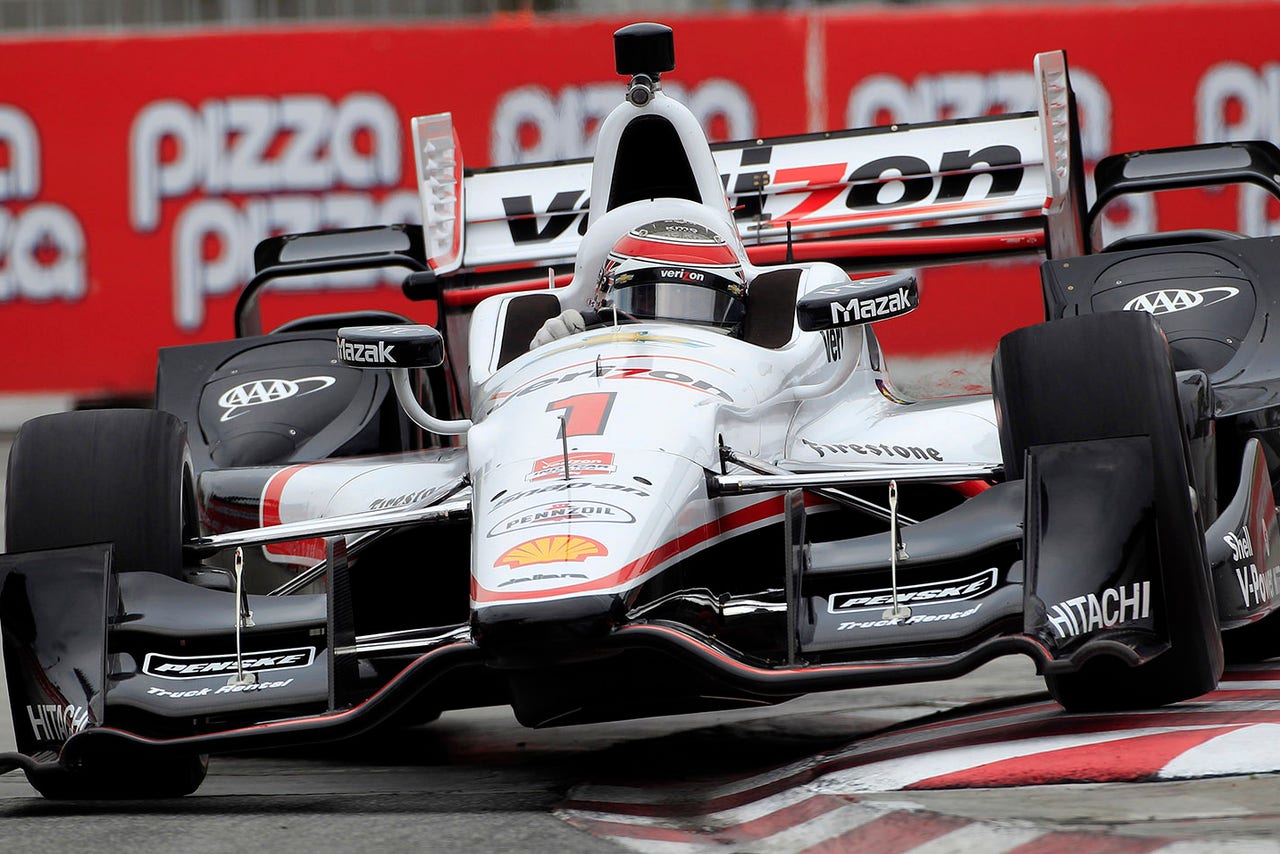 TORONTO – After winning the pole on Saturday for Sunday's Honda Indy Toronto, defending Verizon IndyCar Series champion Will Power feels like the man in the middle. He is 35 points behind the leader and teammate Juan Pablo Montoya but only eight points ahead of third-place Scott Dixon, the winner of last Saturday night's Firestone 600 at Texas Motor Speedway.
"I'm glad Scott is only trying to catch me so he can finish second in the championship," Power quipped. "It's Will trying to catch Juan basically. It is what it is - go out there, do your thing. You can't try to manipulate it either way."
Power won the pole on Saturday with a fast lap of 59.4280 seconds in a Team Verizon Chevrolet on the 11-turn, 1.755-mile temporary street circuit at Toronto's Exhibition Place for a speed of 106.314 miles per hour. It was the 41st pole of his career and broke a tie with the great Rick Mears for fifth on the all-time IndyCar pole list.
Power led a 1-2-3 Team Penske sweep with Simon Pagenaud second at 59.6095 (105.990 mph) and Montoya at 59.6242 (105.964 mph). Dixon qualified fourth at 59.8879 (105.497 mph) in a Jurassic World-sponsored Chevrolet to promote the new film but is proving he is on a charge for his fourth career Verizon IndyCar Series championship.
"Ultimately, you just have to go after a race win because if you win a race it will help your championship potential," Dixon said as he goes for his third Toronto victory. "We can do that. We just need to have a clean day tomorrow. There is talk of some weather so we'll see how that goes. Recent history we have had a lot of time in the wet so we will have to see what Sunday brings. I always love being here in Toronto. It's a fantastic crowd and a lot of fun and Chevy is knocking it out of the park."
The top seven drivers were powered by Chevrolet including fifth-place Sebastien Bourdais, who won here last year when it was a doubleheader. Luca Filippi qualified in sixth and Helio Castroneves seventh. Takuma Sato of Tokyo was the highest finishing Honda in eighth place at 59.9500 for a speed of 105.388 mph.
"Will gets another pole so we have some more speed to find out of the Target car," Dixon said. "It doesn't bother me. We are all fighting for the top spot – not necessarily single people."
Dixon was able to trim 20 points off Montoya's points lead last Saturday night with his victory at Texas Motor Speedway. This is the time of year when he makes a championship run but Montoya believes it's way too early in the season to start forecasting the title.
"I think it's too early in the championship still, especially when you got double points in the last race," Montoya said. "It's so open for anything. 
"I think we're going to four ovals. I hope we can run as good as we run last year in those ovals, take some points, see what happens."
That the other competitors are looking over their shoulders at Dixon is a good thing for the driver from Auckland, New Zealand.
"I think it obviously helps," Dixon said. "For team morale it's a good thing.  This weekend, it feels like I've been driving a dinosaur. It's been a little bit rough out there. I just thought about that one. It's been a rough start. We had an electrical issue at the start of the weekend, had to come in and change batteries every two laps. We made wholesale changes even through qualifying. Each session we've been changing a lot. 
"It has not been a smooth weekend for us. But I think the car has potential speed. We were up pretty good on the last lap, and I cooked it in a couple spots. We'll see how it goes. But Chevy is doing a fantastic job, dominance right now. It's cool to be driving a Chevy right now."
Power has won at Toronto in both the Champ Car World Series and the Verizon IndyCar Series. Starting on the pole gives him a head start to another victory and a chance to close the gap on Montoya.
"It definitely keeps you out of trouble in the first couple of corners," Power said of his start. "It's so mixed up, it doesn't matter where you start almost.  It's probably going to have rain. I didn't expect to get pole. I thought I'd be fourth, fifth or sixth, around there. We ran Montoya's setup. I liked that a lot. It was very nice. I changed the setup drastically between every single session. I ended up with what I had. 
"I need to have a good day tomorrow.  We've had some rough races recently, so I want to really get it done."
**
Be sure to catch Bruce Martin's Honda IndyCar Report on RACEDAY on FOX Sports Radio every Sunday from 6-8 a.m. ET.
---