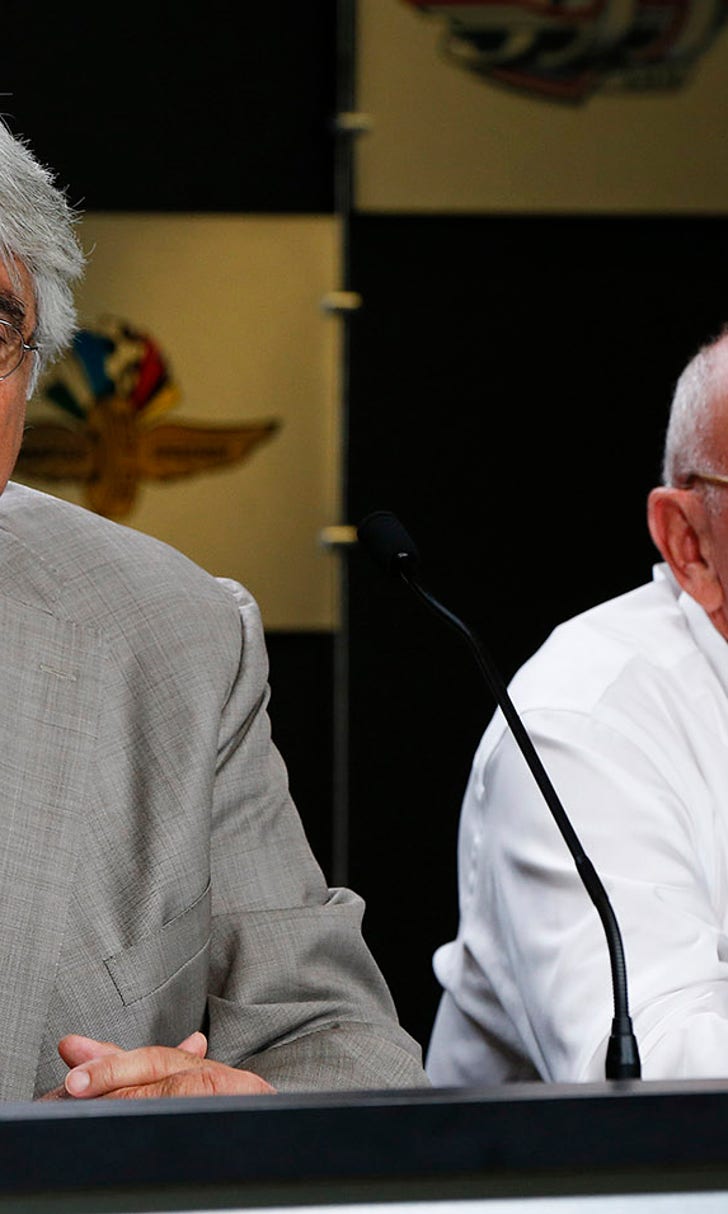 IndyCar: Miles speaks on resignation of Walker, finding a replacement
BY foxsports • July 31, 2015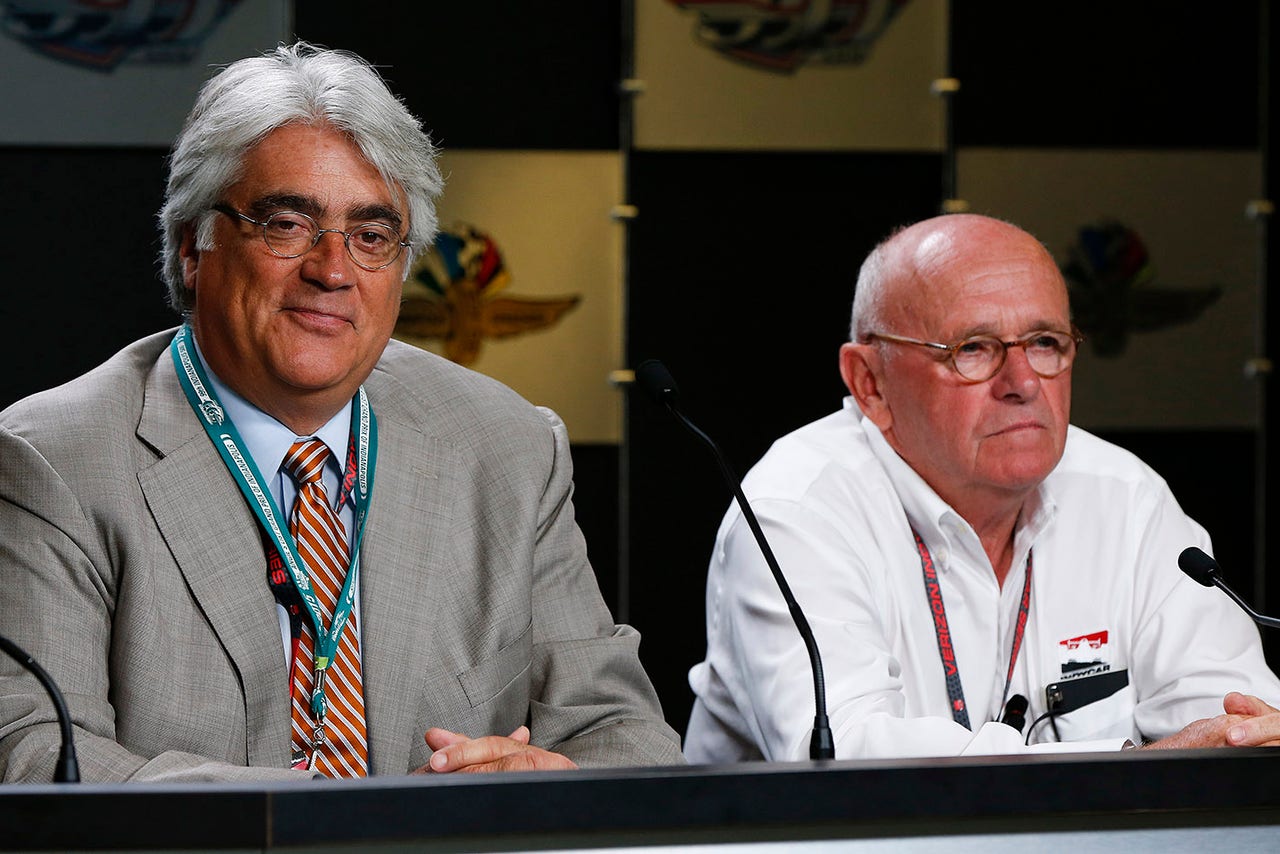 STEAM CORNERS, Ohio – Derrick Walker's decision to resign as IndyCar President of Competition effective Aug. 31 was actually made in the days following the 99th Indianapolis 500 on May 24. IndyCar officials had a difficult month of May at the Indianapolis Motor Speedway with the new aero kits leading to three cars going airborne after crashes in practice. Another driver, James Hinchcliffe, was seriously injured when he crashed hard into the Turn 3 wall during practice and nearly bled to death after a suspension rod pierced through his pelvic area.
Wherever the 70-year-old Walker turned there was more controversy, whether it was team owners talking about the dramatic increase in cost that came with the aero kits to trying to defend decisions that were made in race control that often did not make sense.
So in the days following the Indy 500, Walker typed up a letter of resignation but never gave it to Hulman & Company CEO Mark Miles – the ultimate authority at both IndyCar and the Indianapolis Motor Speedway – because the man who has spent the past 40 years in racing was hoping things would get better.
Walker knew he had lost the paddock – the team owners in the series that continue to yield tremendous influence over the sport. So when Miles met with Walker last Friday to discuss a broken pushrod on Juan Pablo Montoya's car that caused the Verizon IndyCar Series points leader to crash after just nine laps in the July 18 Iowa Corn 300 at Iowa Speedway, Walker reached into his pocket and gave Miles his letter of resignation.
"Last Friday Derrick and I were in a meeting talking about pushrods and he handed me the letter saying he was resigning at the end of the season," Miles told FOXSports.com Thursday. "I think he felt some significant frustration the way things had gone this year on the competition side of things and he felt some frustration in the paddock and believed it was time for him to make that call.
"It's really not any more complicated than that.
"The issue at Iowa with the bumps on the track were significant loads and a pushrod broke and the car that was leading the championship went out on Lap 9 and that was the reason we met."
After two years and two months as INDYCAR's leader of competition, Walker will leave the day after the 2015 Verizon IndyCar Series championship finale and another void will need to be filled in the sport. Walker brought tremendous passion to his position and when FOXSports.com spoke with him Thursday at the Mid-Ohio Sports Car Course, he wanted to remain "off the record" for his true reasons why he is leaving.
Although Walker stated publically "I believe the timing is right to move on to other opportunities" he doesn't want to leave racing and currently has no idea what he will be doing next.
"I want to have another job in racing and now I have to go out and find one," Walker said.
The pain of the decision was evident on the former bus mechanic from Edinburgh, Scotland who began his racing career and ultimately became the chief mechanic at Brabham Formula One in 1970 – a team owned by current Formula One czar Bernie Ecclestone. He joined Roger Penske's Formula One operation in 1976 and moved over to Penske's IndyCar team the following year.
He became an IndyCar team owner in 1988 and was one of the few to break ranks with CART and participate in the 1996 Indianapolis 500 – the first year the race was part of the new Indy Racing League. Walker helped bring a young Will Power into Champ Car in 2005 with Australian team co-owners Craig Gore and John Fish.
When the Champ Car Series dissolved and its teams were absorbed by the Indy Racing League in February 2008 to create the current Verizon IndyCar Series, Walker's team was unable to continue but he remained in the sport with a Tudor United Sports Car team with Falken Tire and as the general manager of Ed Carpenter Racing.
In 2013, INDYCAR needed a man who had passion, experience and vision to lead its competition department and Walker was hired on May 13. He began work the day after the Indianapolis 500 and in his first week on the job he laid out a detailed plan and vision for the sport through the 2022 season.
Another man will be in charge of that vision, whether any of those ideas ever get implemented or whether the Verizon IndyCar Series as we know it today exists in the same form in seven years.
"I like the vision then and I like it now," Miles said. "We've had a setback this year because as we dealt with the underwing and aero kits didn't go exactly as planned but it doesn't discredit Derrick's vision. It now becomes ours. The timing is affected but I think it made a lot of sense then and it does now.
"Derrick was right to challenge us all and have the kind of technical vision that I think made sense."
Walker told FOXSports.com that he made his fair share of mistakes on the job and owned up to them. But passion doesn't overcome mistakes in a high-stakes sport and Walker was in a thankless position.
"It's the toughest job in motorsports for any series," Miles said. "Last weekend I was talking to NASCAR's Mike Helton about the difficulties of that job and he said it's about impossible because every single decision you make somebody will think they are being disadvantaged by it. Helton said, 'The only thing we know is if we make a decision and nobody screams about it then we probably got it wrong.'
"It's the nature of that job in motorsports. No question it's high-pressure."
The common denominator in auto racing is costs and the team manufacturers and owners are highly concerned about that. INDYCAR also doesn't have the budget to do proper wind tunnel tests so many of the changes that were made to the cars this year had flaws that weren't realized until the actual competition of the season began.
Chevrolet started off the season with a much better aero kit than Honda and that created a competition imbalance. Honda is also determining whether it will remain with IndyCar beyond the end of this season but officials have indicated talks toward a renewal continue.
Miles indicated a search is already ongoing for Walker's replacement and the qualities he wants in the next leader are "leadership, strength of conviction, ability to represent the series publicly and internally, the ability to translate technical information to the realities of racing and a grounding of experience in being part of a team so they know the implications of the decision. Also, a strong sense collaboration and communication," Miles said.
"This isn't going to be a democratic job by someone looking for popularity awards," Miles said. "But we have to engage stakeholders in the process. This is a racing job, a racing position, and ultimately a leadership position."
One man who may be a candidate is Target/Chip Ganassi Racing managing director Mike Hull. Miles likes Hull a lot and Hull has been a major reason in the team's success in the Verizon IndyCar Series with former driver Dario Franchitti winning two of his three Indianapolis 500s and three of his four IndyCar Series titles with the team. Scott Dixon has won three IndyCar championships and the 2008 Indianapolis 500 with Hull calling his race strategy.
"We are not focused on one person at this point," Miles said. "We learned on Friday that Derrick would be leaving and we are in the early days of developing a list of prospective candidates. I've heard Mike's name mentioned but we aren't ready to make that decision.
"We aren't in the final round; we are in the first round."
Team Penske President Tim Cindric told FOXSports.com he would support Hull for that position "in a second"
Miles would like to have a seamless transition with the new leader taking over for Walker at the end of August but said that was "ambitious." More importantly is to fill it with the right person as soon as possible.
"We will have the right person when we find him," Miles said.
The Verizon IndyCar Series hits the track Friday for practice for Sunday's Honda Indy 200 at Mid-Ohio and with a tremendous championship battle and just three races remaining both Miles and Walker would like to see the emphasis shifted back to the racing and not the upper management of the series.
"That's what it is all about," Miles said. "We are in the final stretch of the championship. It's competitive. The racing has been great and the television engagement is up. We are eager when the cars hit the track this weekend that the fans are focused on that."
**
Be sure to catch Bruce Martin's Honda IndyCar Report on RACEDAY on FOX Sports Radio every Sunday from 6-8 a.m. ET.
---