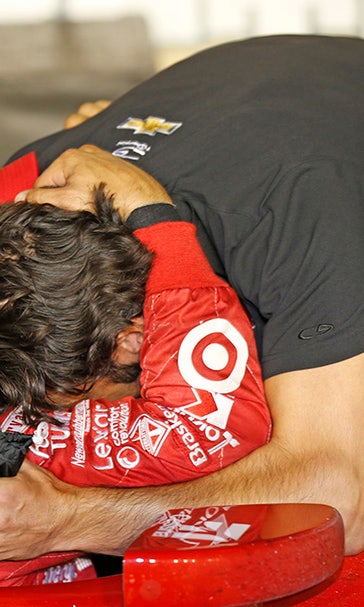 IndyCar: Kanaan dedicates win to Franchitti as No. 10 returns to winning ways
September 3, 2014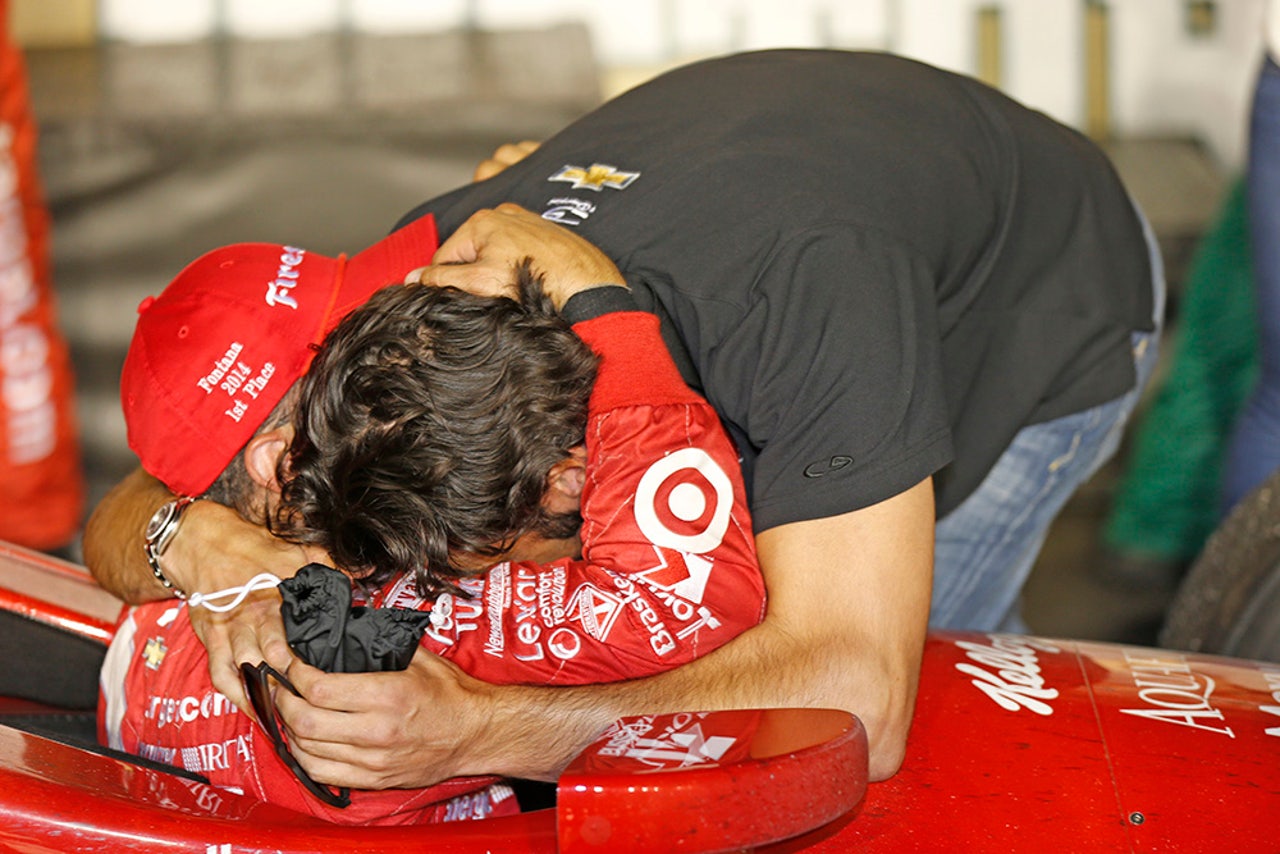 FONTANA, California – It was past halfway of the 2014 Verizon IndyCar Series season and the much-anticipated pairing of Tony Kanaan in the No. 10 Target/Chip Ganassi Racing car appeared stuck in neutral.
Kanaan, who won the 2013 Indianapolis 500, was in the same car that Dario Franchitti had driven to two of his three Indianapolis 500 victories and three of his four IndyCar Series championships. It was also the same car that Kanaan had turned down during the 2008 season and that opened the opportunity for Franchitti to achieve some glorious results.
But after the second race of the Shell and Pennzoil Grand Prix of Houston on June 29, Kanaan was winless and mired in 11th place in the Verizon IndyCar Series standings. If ever a driver needed a turnaround, it was Kanaan.
The following week in the Pocono INDYCAR 500 Fueled by Sunoco, Kanaan was on pace to finally break through with a win. He led 78 but, in a race that featured just one caution for six laps, he ran out of fuel toward the end and had to pit with just four laps remaining. Despite the 11th-place finish, Kanaan had regained his confidence and the best was yet to come.
He led 247 laps in the Iowa Corn Indy 300 but was beat at the end when Ryan Hunter-Reay and Josef Newgarden put on new tires for a final dash to the checkered flag. Kanaan's third-place finish at Iowa set the mark for another third-place and second-place finish in the Honda Indy "2 in T.O." the following weekend. A third-place start at Mid-Ohio in the Honda Indy 200 gave him hopes of victory but he crashed just after the start of the race and finished 21st.
A third-place finish at Milwaukee showed Kanaan was ready for victory and he wasn't going to let a 13th-place at Sonoma Raceway keep him from that goal.
It finally all came together for Kanaan last Saturday night at Auto Club Speedway when he drove to an impressive victory in the MAVTV 500. He led twice for 64 laps to score the 17th win of his career, his first since the 2013 Indy 500 and the first win for the No. 10 car since Franchitti won the 2012 Indy 500.
Fittingly, one of the first people to congratulate him was his old friend and the driver he replaced after he was forced to retire by doctor's orders after a horrific crash at Houston in October 2013 – Franchitti.
"I was just thanking him for being my biggest supporter on the team," Kanaan said. "He helped me adapt to the team really quick.
"I actually dedicated this victory to him. He went through a tough time. He's a guy that's extremely healthy, extremely capable to still drive a race car and he was forced to retire. I was grateful for what he's done for me this year, being with the time we spent. And I said I hope you feel proud of this. I know you're not driving it, but you won the race as well."
Kanaan's confidence has been building throughout the latter half of the season but, considering his first half of the season, the 2004 IndyCar Series champion had no other direction than to go up. He was 16th in the standings after the May 25 Indianapolis 500.
After he qualified seventh on the grid during last Friday's qualifications, Kanaan had an air of self-confidence.
"I knew I had a good car for the race," Kanaan admitted. "I took a very conservative qualifying run. I wanted to start in the top 6. It didn't work out quite that much. We were seventh. 
"But I wasn't just quiet; I was just really confident. And I kept it to myself that I knew how many things had to go right from end‑to‑end to win it. So I was really focused."
That focus took him all the way to victory lane last Saturday night.
"I'm extremely happy," Kanaan said. "I think, the team, we struggled in the beginning of the year and we showed mid‑season how strong we were. We won the last three races between Scott Dixon and me. So I'm extremely happy. Long time coming for me again, and it's a big pressure in that 10 car to give Chip and Target the win. It's a car that has won a lot of races in the past. We finally did it."
And as the winner of the last race of the season, Kanaan gets to celebrate it the longest as IndyCar begins its seven months of hibernation.
"It was a long time coming," Kanaan said. "Obviously the good thing about winning the last race, you get seven months to brag about that. Nobody's going to beat me into St. Pete. 
"I'm extremely confident. I think the team showed the potential when we're struggling how quick we can turn situations around. Next year is a whole new ballgame. We have new aero kits coming up. We have a lot of work to do. But it's really good to win the season on a high note; the whole team spirit is going to be good through the winter. 
"We have six months to figure out how we're going to win the championship, Indy 500 next year."
**
Be sure to catch Bruce Martin's Honda IndyCar Report on RACEDAY on FOX Sports Radio every Sunday from 6-8 a.m. ET.
---