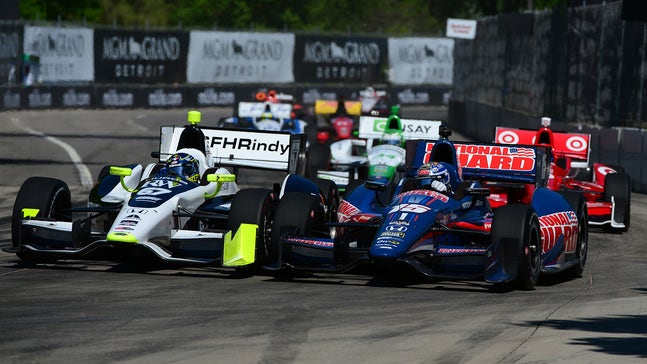 IndyCar: Dual in Detroit site of opportunity for Daly
Published
May. 28, 2015 9:20 a.m. EDT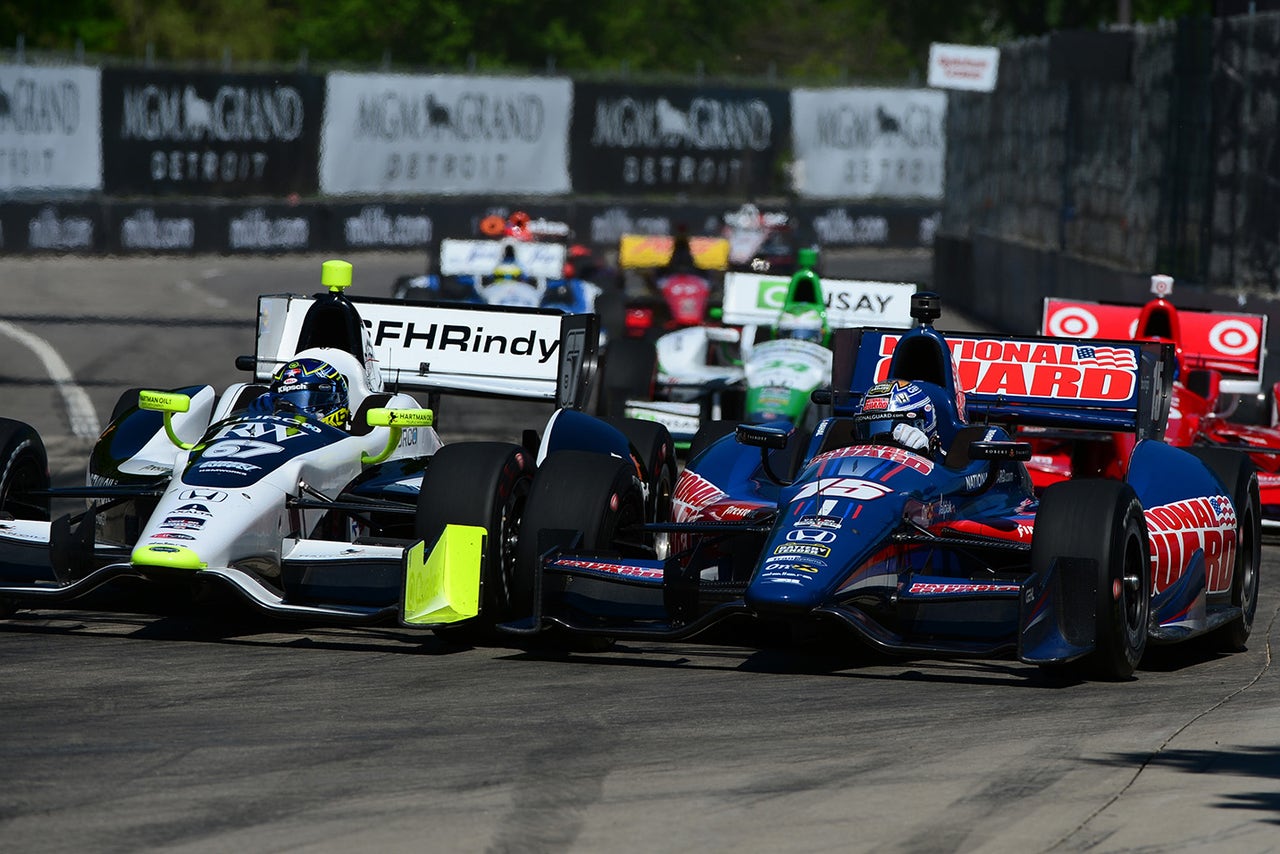 DETROIT – When Juan Pablo Montoya, Will Power and Scott Dixon were slugging it out to determine the winner of the 99th Indianapolis 500, Conor Daly was just a mere spectator. His hopes of joining the battle at the Indianapolis Motor Speedway ended before it ever began as his Honda caught on fire on the parade lap and he had to park the ride and watch a field of 32 drivers take the green flag instead of the traditional 33.
Daly, the son of former Indy 500 and Formula One driver Derek Daly, was in a third entry for Schmidt Peterson Motorsports and had no firm plans that he would get to compete in additional IndyCar Series contests this season. But with the team's No. 1 driver, James Hinchcliffe, on the sidelines as he recovers from injuries suffered in a crash at the Indianapolis Motor Speedway, and his Indy 500 replacement – Ryan Briscoe – testing for the upcoming 24 Hours of Le Mans, Daly gets another chance in this weekend's Chevrolet Dual in Detroit at the raceway at Belle Isle Park.
"You hate to see another driver hurt, especially a close friend but in the end he is going to recover," Daly said of Hinchcliffe. "He's doing well. He's out of the hospital now. I'm actually going over to his house after this to start talking about Detroit.
"I'm excited for the opportunity. It's one of those things that you always have to be ready for. I think Sam and the team have faith in me since we tested together in early February, mid February. It will be nice to have a proper shot at a road course, even though there's only one practice but two races. I definitely a good amount of time to get into it and hopefully have two good, solid races."
This will be Daly's third race in the Verizon IndyCar Series season and the fourth of his career. In 2013, he competed in the Indianapolis 500 for A.J. Foyt Enterprises. He started 31st and finished 22nd, completing 198 of the 200 laps in the race. This year, he finished 17th for Dale Coyne Racing in the Toyota Grand Prix of Long Beach and finished last in the 33-car field in last Sunday's 99th Indy 500.
"I'm getting to do preparation at the shop this week, looking at videos, doing pre-event reports, all that stuff," Daly said. "I actually feel like a racing driver heading up to an IndyCar weekend, a road course finally. I'm just excited to do the best I can do with it. You never know what will happen. Obviously I'd like to be a full-time IndyCar driver. These shots that I'm getting are very sporadic, sort of strange situations. But you never know when you will get a shot. You have to absolutely take full advantage of it. I have to do that this weekend."
Daly tested for Schmidt Peterson Racing during the offseason and was a candidate for the team's second entry before that went to James Jakes. But he has a familiar working relationship with the team and believes that will benefit him this weekend.
"I definitely got some time with all the engineers, including Allen McDonald, who will be my engineer this weekend," Daly said. "It's a great environment to be involved in. I'm excited to just continue that. It always helps to have continuity in the team.
"I'd love to be able to continue on after Detroit, as well, if we all develop a good relationship and a good feel for the car. But obviously right now we're taking it one day at a time, get after it in Detroit."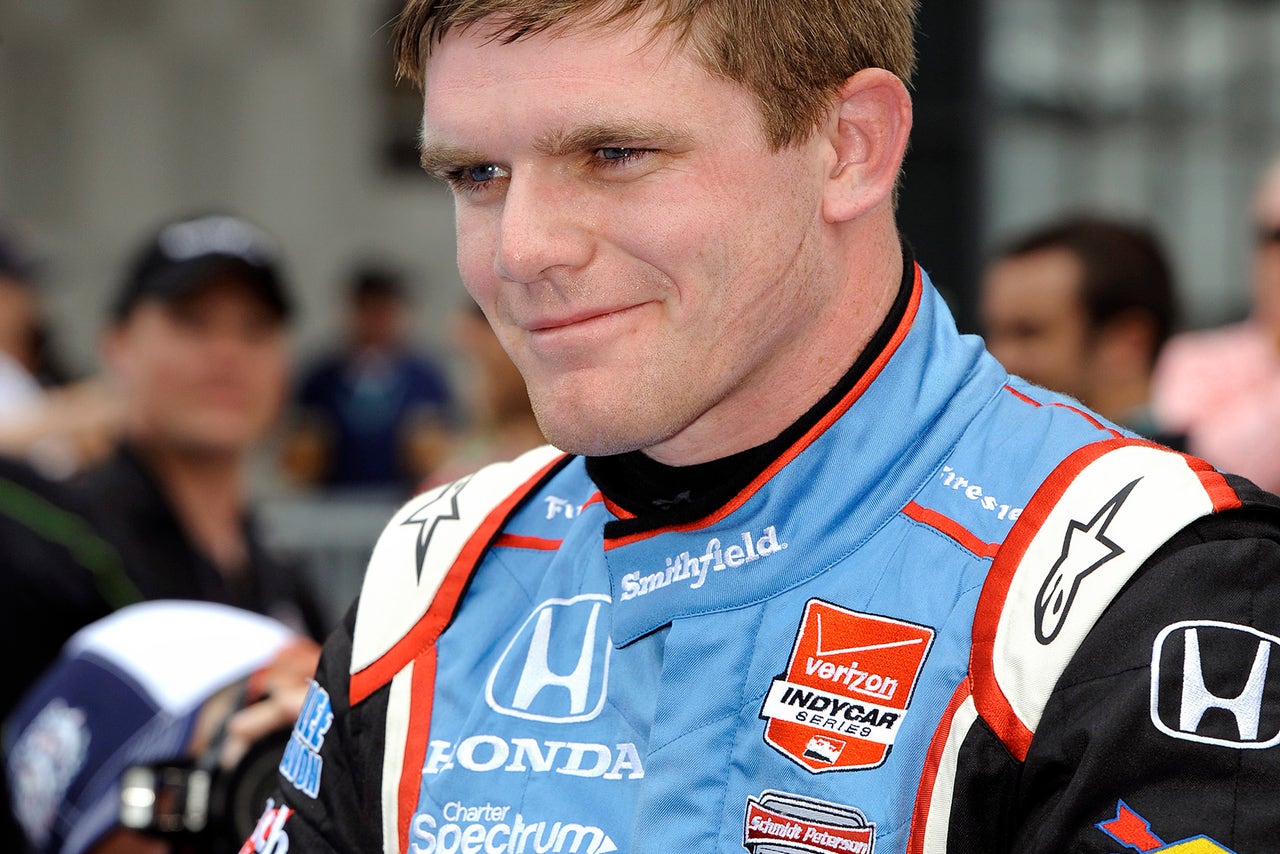 Conor Daly was unable to make it to the green flag at this year's Indianapolis 500.
This is the only doubleheader on the 2015 Verizon IndyCar Series schedule with a full race Saturday starting at 3:30 p.m. ET and then a quick turnaround for another full race on Sunday, also at 3:30 p.m. Both contests will be televised on ABC.
"I think we have to look at it as Sunday is really our race," Daly said. "Saturday will be very much still a learning experience. Obviously you never know what will happen. There could be strategies we could take advantage of, stuff like that.
"But I think ideally the goal would be to end up in a competitive position Sunday putting everything we've learned together through Friday, through Saturday, then show up to the qualifying session Sunday morning pretty close to the pace, and hopefully be able to deliver on what we've learned all weekend."
In a sense, Daly feels the pressure that he is auditioning for more opportunities in the series. But he also has to take the opportunities as they come along.
"For sure there's pressure," Daly admitted. "There's pressure every time you get into a car. It's been one of those situations where this year, if you would have asked me four months ago, would I be ready to start my third IndyCar race this season, I would have said you're crazy.
"I'm obviously very happy to have these opportunities but they are auditions. I still don't think team owners trust young drivers yet to truly jump in for pure opportunities like this one. So I'd love to be able to continue to not only strengthen my profile in the IndyCar Series, but give a chance for any other young driver, that if an opportunity comes up like this, team owners aren't afraid to give the up-and-coming drivers a shot."
Conor is considered a promising young American talent and is from Noblesville, Indiana. But his father, Derek, is from Ireland and competed in 72 IndyCar Series races including six Indianapolis 500s, as well as 49 starts in Formula One.
Young Daly does not have the advantage of money behind his effort and has struggled to get a full-time opportunity based on talent. And that has his father concerned at how difficult it is to get companies interested in backing young American drivers such as Daly.
"That is a function of the series being too weak to attract commercial sponsors to support the teams," Derek Daly said. "People think paid drivers are the problem. They are not; paid drivers are the symptom of not attracting enough commercial partners. America is not interested at the moment because there are no heroes or storylines. The series has to work out a way to passionately engage people. It's just like the Olympics – the Americans are interested in the American storylines of the Olympics and as the American storylines disappeared from the Indianapolis Motor Speedway so have the fans."
That is another reason why last Sunday's 99th Indianapolis 500 was so important. It was a tremendous battle determined by the three best drivers in the series in front of a crowd approaching 300,000 fans at the Indianapolis Motor Speedway. The television broadcast showed a nice increase over last year's television rating and helped make the Indy 500 the big story of the day.
If INDYCAR can continue the positive momentum from last Sunday throughout the remainder of the season, then young American drivers such as Daly can have a better chance at earning full-time rides in the series instead of limited auditions.
**
Be sure to catch Bruce Martin's Honda IndyCar Report on RACEDAY on FOX Sports Radio every Sunday from 6-8 a.m. ET.
---