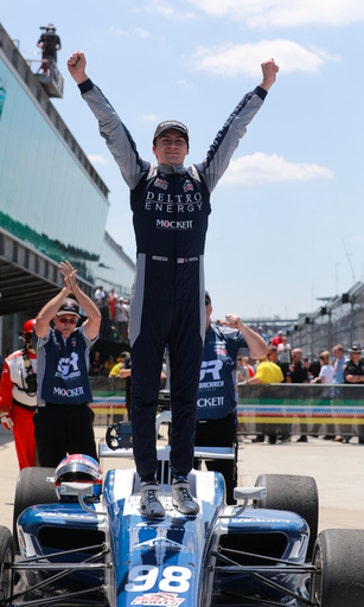 Herta wins Indy Lights race for Andretti-Steinbrenner Racing
May 25, 2018
INDIANAPOLIS (AP) Colton Herta held off on kissing the bricks when his father won the Indianapolis 500.
He finally did it after winning the Freedom 100.
After winning both Indy Lights races on the road course at Indianapolis Motor Speedway, the son of longtime IndyCar driver Bryan Herta completed a May sweep by winning the Carb Day feature Friday. Herta went to the lead on the final lap and managed to hold off a pair of teammates.
''It's so cool, and I didn't realize how cool until I kissed the bricks,'' Herta said. ''I held off both my dad's IndyCar wins here. I held off because I didn't deserve it. I finally deserve it.''
Herta drives for Andretti-Steinbrenner Racing, and was congratulated after the win by longtime IndyCar owner Michael Andretti and George Steinbrenner IV, the grandson of the late Yankees owner George Steinbrenner. He also got a big hug from his dad as he headed to victory lane.
''Obviously this win is massive. I was so psyched for the two before but yeah, it's cool,'' Herta said. ''I don't know if we're the first ones to sweep but yeah, it's cool.''
Steinbrenner grew up around racing, going to his first Indy 500 in 2008. The 21-year-old attended a few more before getting involved in team ownership, and called winning the Freedom 100 surreal.
''I'm not sure what to say, really. Just look at this place. It's amazing,'' Steinbrenner said. ''It's the goal of anyone involved to win here. To be able to do it is otherworldly.''
Herta jockeyed for the lead with Andretti teammates Patricio O'Ward and Dalton Kellett the final 10 laps of the 40-lap race, and ultimately went around Santi Urrutia down the backstretch with a lap to go.
Ward finished second and Kellett was third. That gave Andretti a podium sweep and capped a strong showing all month by its program for Indy Lights, a developmental series for open-wheel racing.
''The guys did a great job all week. I can't complain,'' said Kellett, who started on the pole before finishing third for the third straight year. ''It was super exciting. Went by quick.''
The sweep of the Indianapolis races was enough to push Herta into the series lead, and perhaps bigger things down the road. Steinbrenner was asked whether their future lay in IndyCar and, like his father Hank Steinbrenner, was perfectly pragmatic in delivering his answer.
''That would be pretty awesome for me. That's the goal we're setting for ourselves,'' Steinbrenner said, ''but we really want to make sure all the pieces fit together from an operational standpoint.''
That's when Herta cut off his boss.
''He's too modest,'' he said. ''If we win the championship we're definitely going IndyCar racing.''
---
---