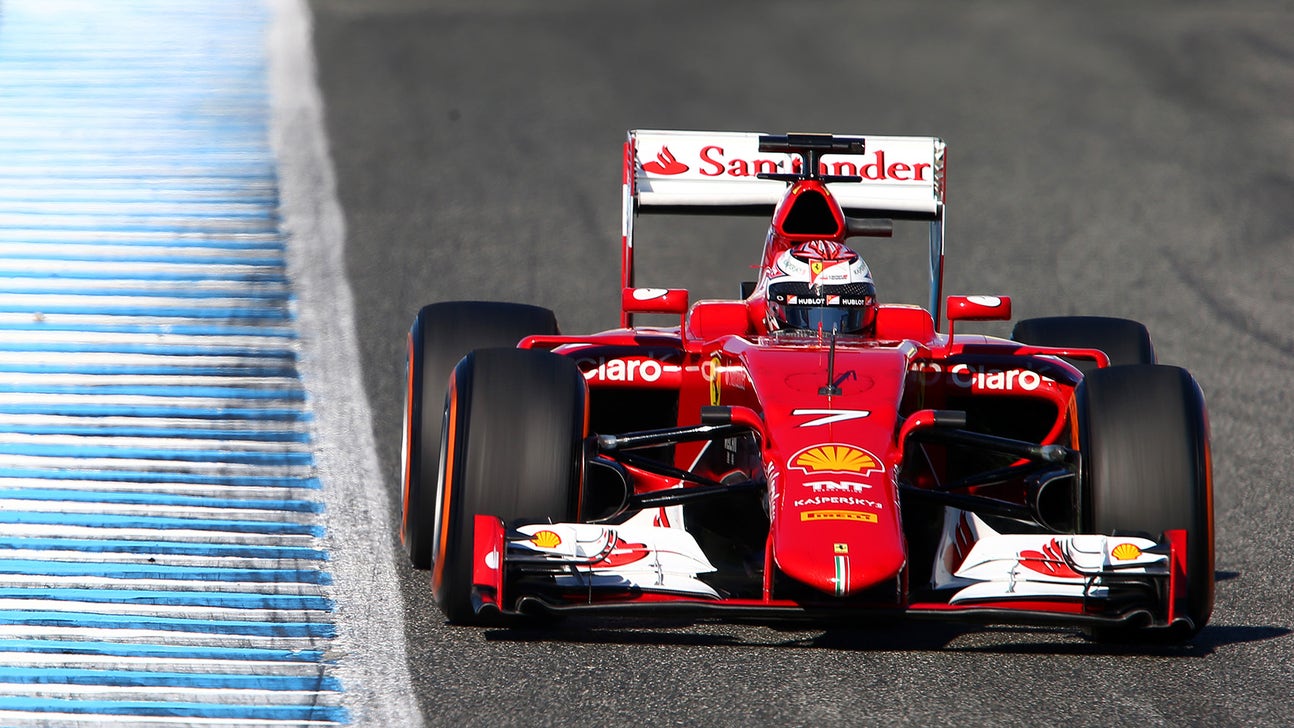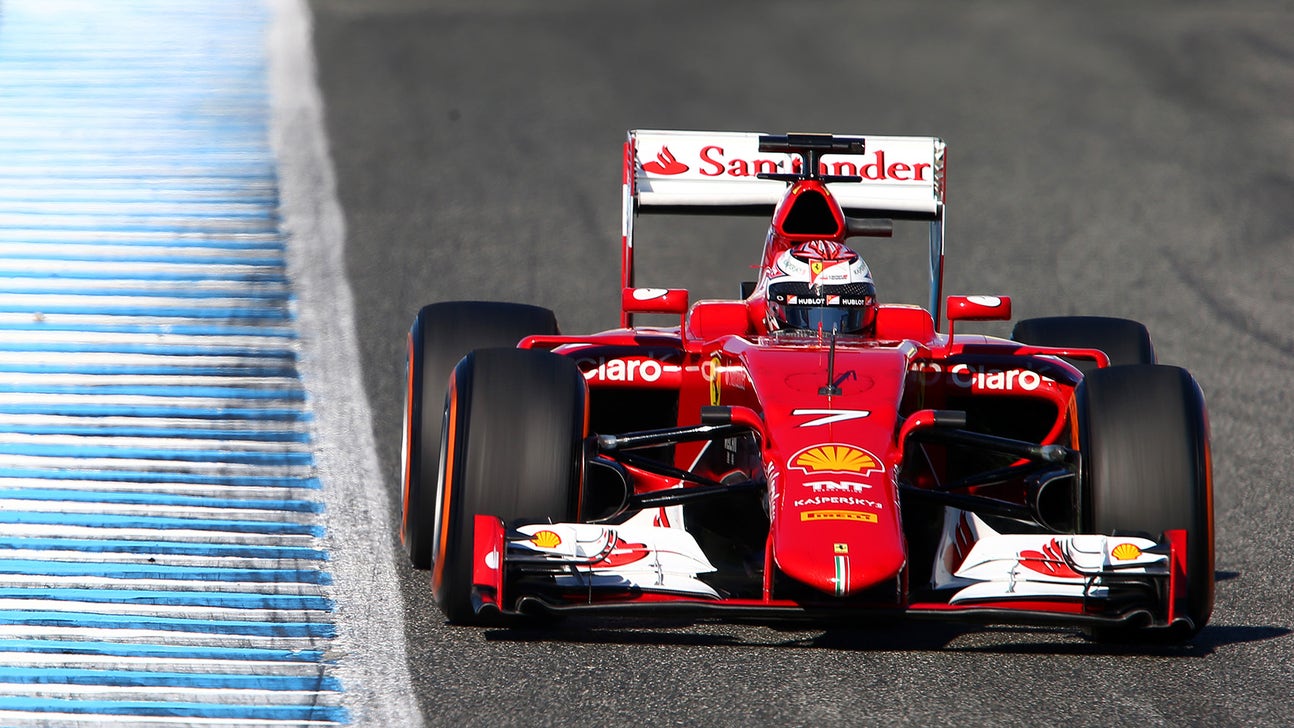 F1: Ferrari power tops all four days of Jerez test
Published
Feb. 4, 2015 1:51 p.m. ET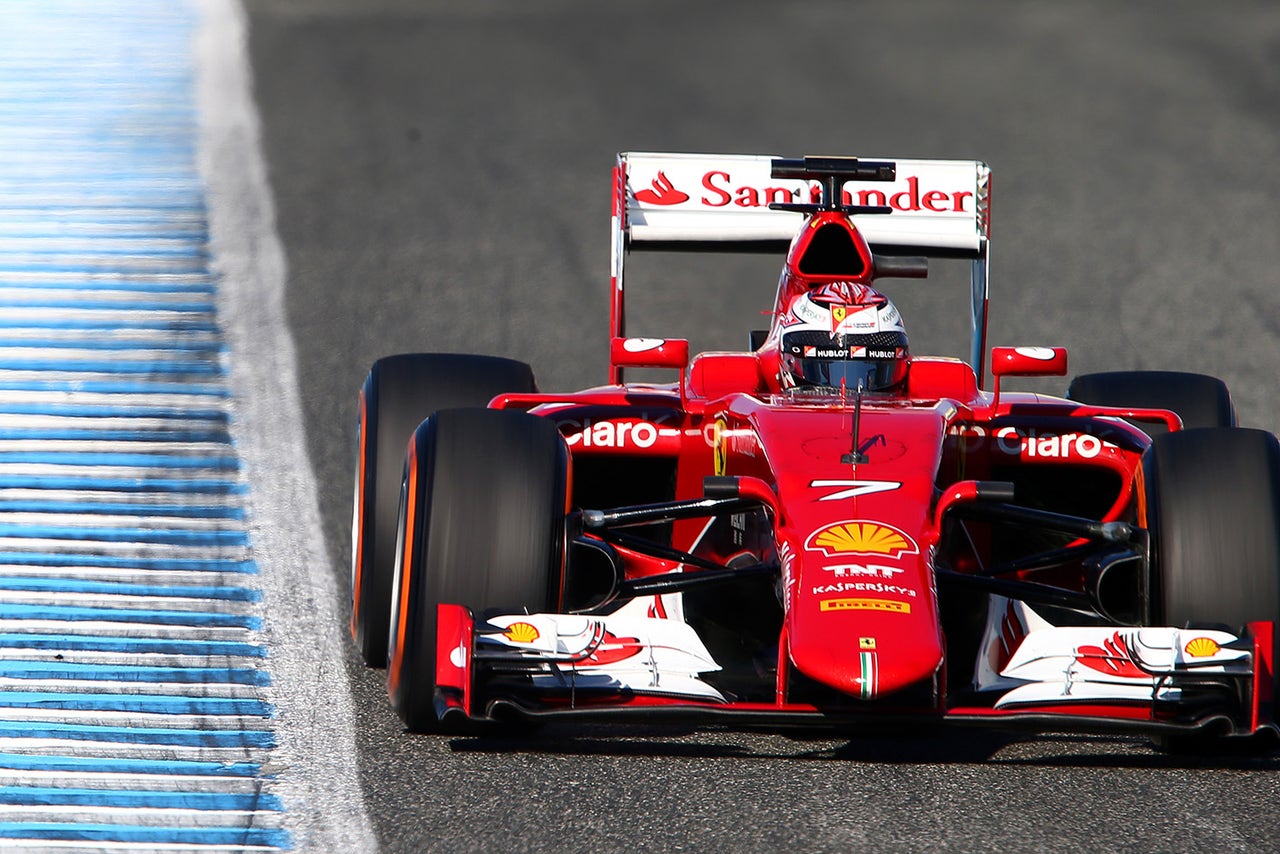 The opening test of the 2015 season in Jerez came to an end Wednesday with the two Ferrari-powered cars once again at the top of the times.
Kimi Raikkonen set the fastest time of the week, and while it is very early - and there is no doubt that Mercedes has a lot of speed in its pocket - it has nevertheless been a good week for the Italian team. The SF15T has shown not just respectable pace, but also good reliability.
"Over the winter, we have made a good step forward," said Raikkonen. "And this car is definitely an improvement over the 2014 one. It's the whole package that has progressed, but there is still a lot of work to do. We are not comparing ourselves to the others, we just got on with our own job, without looking at what they were doing.
"Times are of relatively little importance; what matters is that we have put together a good number of laps without having any real problems. Today's conditions were not that easy, with too strong a wind blowing on track, but then it's the same for everyone. As I said, we now have a good basis from which to start the development work."
Sauber again looked strong as Marcus Ericsson set the second best time of the day, although he was almost 1.2 seconds behind Raikkonen.
"It was another good day for us with more than 100 laps completed," said Ericsson. "It's been a great first week of testing for the whole team, and I would like to thank everybody for the work done. We collected a lot of good information. It was interesting for me because I drove the car on days one and four, and it was obvious that we were able to make some progress in between. Felipe and the team did a good job, so when I jumped in the car again I was able to immediately notice the progress, which is encouraging. I think we have a good basis which we can now build on."
For the third time in four days, Mercedes logged over 100 laps, Lewis Hamilton pushing his total to 117, after a spin interrupted his day.
Max Verstappen put in some good mileage for STR as he added 97 laps to his F1 experience.
"My second day in the car went well," he said. "We completed a large number of laps and, in terms of speed, I can't complain. The most important thing about these four days is that the car was generally reliable, so I could get plenty of track time, which was important also from the physical point of view for me. Clearly my winter training paid off."
Felipe Massa was a modest fifth fastest today as Williams continued its low-key progress, and as with Mercedes, clearly there is much to come.
"The car has been consistent over the last four days and we have made good progress," said Massa. "We have highlighted certain areas that need work and so will make sure the car is improving every time we take to the track. We have our feet on the ground and are focused on making this car quicker when testing continues in Barcelona."
Romain Grosjean was the only novelty on the driver front today as he took over the Lotus E23 from Pastor Maldonado. He ran only 53 laps but was nevertheless pleased with progress.
"My first impressions of the E23 Hybrid are good," said the Frenchman. "Both the Power Unit and the chassis are going in the right direction. I completed over 50 laps today and I can honestly say that all of them were enjoyable to drive. The team has made very good progress if you consider where we were this time last year. It's a very good start and I'm a happy driver."
Red Bull again did fewer laps than most of its rivals after an ERS problem early on kept Daniil Kvyat in the garage, and the Russian ended the day in seventh place.
Jenson Button returned to the McLaren MP4-30 and was able to post 35 laps before the team was forced to stop early. He was at least able to undertake some aerodynamic work as the team moved on from the power unit and basic systems checks it had been focused on.
McLaren gave some insight into how the day unfolded: "After the installation lap, Jenson had a small oil-level problem, which sidelined the car for an hour; in the afternoon, the team ended the day early after encountering an issue that was initially attributed to a fuel-pump. We later discovered it to be a fuel-related spark/ignition issue – the precise cause of which we're yet to pinpoint, so chose to end our day's running in order to fully analyze it."
Full Results from Day 4:
---