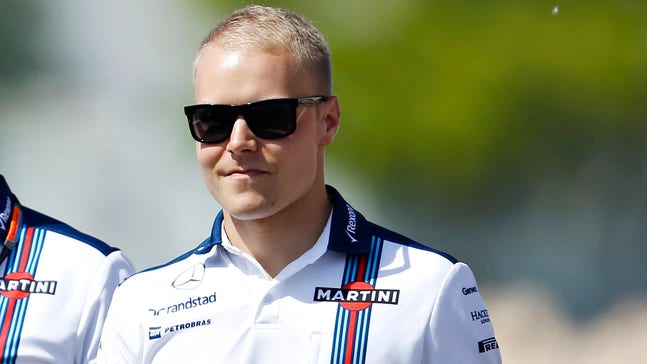 F1: Bottas downplays rumors of Ferrari future
Published
May. 7, 2015 10:21 a.m. EDT

Valtteri Bottas has laughed off suggestions that he has already signed some sort of pre-contract with Ferrari.
When asked in Barcelona on Thursday, the Finn was adamant that no deal has been done with the Italian team.
"I heard plenty of stories," he said. "And sometimes it's quite funny to hear those, because in the end you know what's the case and what's not. There's a lot of people making up stuff. The fact is at the moment I'm just focusing on this season and getting the maximum for us as a team. The rest, I don't know yet.
"There's been always many kind of rumors, so I'm not really thinking about those. That's for my management to think [about]. Like I said before I'm only personally focusing on this moment and this season, because I think that's the best thing for me to do for the future as well."
He confirmed that he will be a free agent at the end of 2015: "I don't have anything for next year."
However he wouldn't comment on whether discussions on an extension are ongoing.
"My management is doing all that, and maybe there can be some things they don't tell me, so you should ask them!
"If they have something solid for sure there will speak with me, but at the moment we haven't spoken about the future. We're not at that point.
"Of course we want to win here at Williams, we have big plans for the future, and the team has invested a lot. It has great people and made a massive jump from '13 to '14. It's been a bit of a difficult start, but if we can keep the development going we can be again strong at the end of the season."
Click HERE for more F1 news and features.
---