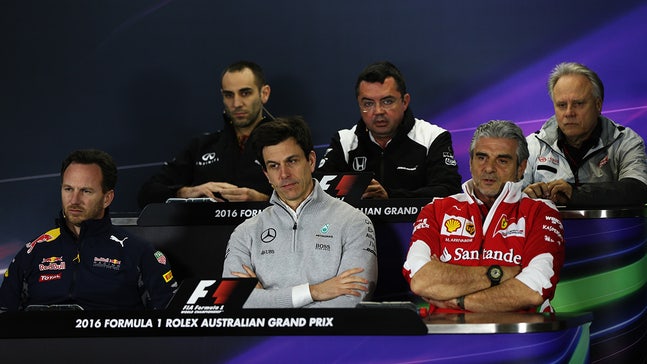 F1 bosses slam qualifying system they voted to implement
Published
Mar. 19, 2016 11:16 a.m. ET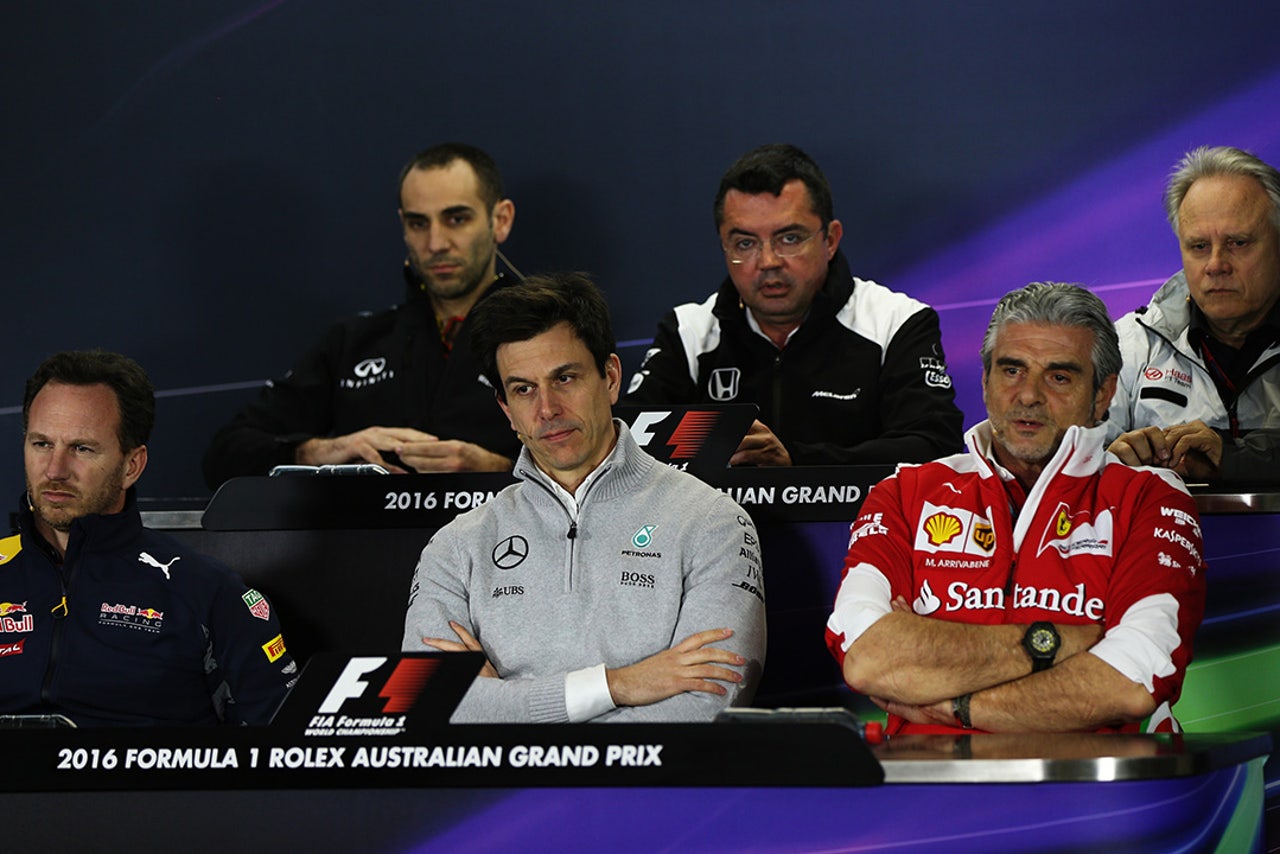 Formula One's team principals were unanimous in their criticism of the new qualifying system in Melbourne -- after they all voted for its introduction.
The idea originated from the FIA and gathered momentum because race promoters were looking for a way to improve the show. Although Bernie Ecclestone had alternative ideas, such as handicaps, he put his weight behind the elimination system and all the teams fell in line and voted for it.
When it became apparent from team engineers that there would be issues with a lack of cars on track, there were efforts to return to a normal format for the third round of qualifying with no elimination, but in essence the FIA did not want to allow a late change to go through.
Now that the system has proved to be a flop, bosses look set to vote to fast track through a change, assuming the FIA is fully supportive. Here's what some of them had to say today:
Eric Boullier (McLaren): "It's not the correct result, at least on TV and for the fans. It's true that there were discussions between the teams, and the team managers clearly spotted the fact that Q3 would not work, but we are not the governing body. Technically you only need a couple of days to change whatever you want, you just need to have a sort of E-vote, by fax or by E-mail, and obviously the F1 Commission members can give their opinion. I think if everybody agrees it should be unanimous and it could be done. Obviously I don't know if it will be unanimous. If some people want to give a change to this qualifying format there won't be unanimity, and we can't change anything."
Christian Horner (Red Bull): "I think firstly we should apologize to the fans and the viewers because that's not what qualifying should be, it should crescendo into something. The intentions were well meaning but we have to accept that it hasn't worked, we got it wrong, and we should address it very quickly. My personal view is that we should go back to what we had in time for the next race, because what we saw today is not good for F1. I didn't like the fact that the fast cars didn't have a right to reply. You've got Ferraris sitting in the garage because there's no point in them running again. Qualifying should build up to a crescendo, and everybody bolts their last set of tires in the last couple of minutes, and you see what you've got. That didn't happen today. It's not achieved what the objective was, the objective was to mix up the grid, a bit like a wet qualifying, but it's taken away the whole spectacle of what qualifying is. We just have to accept, we got it wrong, but react quickly, and change quickly. I think we have to hold our hands up and say we got it absolutely wrong. It was done for the promoters, to try to give them a better show, and I can't see that we've done that. I'd be amazed if anyone didn't agree. We have it a go, it didn't work, let's sort it out for Bahrain."
Claire Williams (Williams): "I think we tried, and that was the important thing. I think there are issues; I think we always thought there probably would be in the first round. I think we need to go away and have a look at it before deciding what we want to do. Whether that's just playing around with the format we've got or reverting back, it's too early to say. But it was not great to see no cars go out in the last five minutes of Q3."
Toto Wolff (Mercedes): "Nobody tried to really damage the spectacle in qualifying on purpose. The basic idea of having a shoot out and making it very exciting every 90 seconds somebody drops out could trigger results that give a certain variability that a favorite gets it wrong. So the basic concept was not completely stupid. But as with many things that devil is in the detail -- and we saw today we actually complicated things at a time where we should simplify them and there were periods were cars were not running. Everybody has an opinion I doubt there is anyone in the room who thinks it is great."
Cyril Abiteboul (Renault): "I think we should not overreact. The one thing that F1 can be very good at is doing nothing or overreacting. I think we need to look a little bit into it. One thing is sure is that Q3 doesn't work, that's obvious. Some clever guys said that in advance that Q3 would not work. So maybe there is an intermediate way, which is to keep Q1 and Q2, which frankly from inside was really exciting. I believe that looking at the TV feed that FOM isn't doing enough to explain what's going on. Q3 I think we need to do something, personally I don't think we need to immediately revert to Q1, Q2 and Q3 as before. It's important to consider it a little bit. It's a sport that's living, we do some mistakes, and we need to come back, so let's see. I am sure that's it's fairly easy to get a vote before Bahrain to modify one element, and that's Q3. I am sure that everyone will agree to change Q3, but I don't think we should immediately go back to the old system. I think we need to filter a little bit of the emotion."
Otmar Szafnauer (COO, Force India): "My initial thought was that Q1 and Q2 worked OK, and Q3, just change it back to what we used to have. We talked about a hybrid system before, but for whatever reason, it didn't go through. But now to me anyway that's the best thing to do. We do fax votes and all sorts of stuff, if you really want it to happen, you can get it through. It's going to take a bit of time, but Q3, it's got to change."
---
---