Entry lists for FIA WEC season, 24 Hours of Le Mans announced (VIDEO)
BY foxsports • February 5, 2016
The field of 32 full-season entries for the 2016 FIA World Endurance Championship season was revealed Friday in Paris.
The breakdown of WEC entries is nine in LMP1, 10 in LMP2, seven in GTE-Pro and six in GTE-Am.
There are no surprises within LMP1, but new numbers for Audi and Toyota were revealed. Both had used 7 and 8 in the past with the other taking the champions' 1 and 2, but Porsche takes those two numbers this year.
Audi now will have Nos. 7 and 8, with Toyota having 5 and 6 next season. The Audis, notably, shift to being called just Audi R18s rather than Audi R18 e-tron quattro as in recent years.
Team ByKolles has also joined Rebellion Racing in switching to Dunlop tires for next year.
Meanwhile, the LMP2 grid looks quite a bit different from last year.
G-Drive now works with Jota, what had been OAK Racing's crew is now with Tequila Patron ESM, SMP Racing adds two cars, RGR Sport debuts with Morand, DC Racing makes its debut and with KCMG now out of the class, there are a lot of changes.
Manor has also been confirmed, the ex-Formula One team led by Graeme Lowdon and John Booth with an Oreca 05 Nissan.
Signatech Alpine and Strakka Racing are the relatively unchanged entries compared to previous years. Even so, Strakka now starts the season with its Gibson 015S rather than the Dome Strakka S102 as last year.
In GTE-Pro, it's still a seven-car grid, but slightly altered from 2015. The two Ford GTs are the biggest arrivals, with Nos. 66 and 67.
Meanwhile, AF Corse has two new 488 GTEs and a new driver lineup with Sam Bird joining Ferrari's factory roster, Aston Martin scales back from three cars to two updated Vantages and Porsche, notably, drops its works effort to a works-supported effort for Richard Lietz and Michael Christensen.
GTE-Am has also been in flux and features only a six-car grid for the season. Porsche leads the way with three entries, including KCMG listed with Christian Ried as the nominated driver and with Gulf Racing UK also stepping up.
Aston Martin, Corvette and Ferrari have one additional car apiece.
As ever, all 32 cars will make up the bulk of the grid for the now 60-car grid at the 24 Hours of Le Mans. The Le Mans entries and those for the ELMS were also revealed Friday in Paris.
The 2016 24 Hours of Le Mans, which features an increased field of 60 cars, will feature nine LMP1, 22 LMP2, 14 GTE-Pro and 14 GTE-Am entries plus the Garage 56 car.
With a full 10-car reserve list and other teams reportedly having made entry requests, the interest was much higher than the availability on the grid, even with four extra grid spaces.
The LMP1 field, of course, takes a hit by five cars from 2015 to 2016. There are no extra entries beyond the 9 full-season FIA World Endurance Championship cars, with the three Nissan GT-R LM NISMOs and respective third Audi and Porsche cars all withdrawn this year.
Meanwhile, LMP2 will feature the biggest class car count of all, with 22 entries in the last year before the new 2017 LMP2 regulations come online and limit to four chassis and the spec engine.
That list includes the 10 full-season WEC cars, plus a further 12 more from the European Le Mans Series or IMSA, including the Le Mans debut of Michael Shank Racing.
GTE-Pro also has a significantly bigger Le Mans car count than the full-season, with a doubling to 14 cars here compared to seven in the WEC, thanks primarily to the influx of extra cars from American-based teams.
The two more Ford GTs, two Corvette C7.Rs, two works Porsche 911 RSRs and Risi Competizione Ferrari 488 GTE add seven more cars.
GTE-Am also sees an increased grid, including a variety of Ferraris and a host of Asian entries.
The reserve list includes 10 cars, including American teams Riley Motorsports and DragonSpeed, which are only seventh and eighth, respectively.
Find the full entry lists for the full 2016 FIA World Endurance Championship season (above) and 24 Hours of Le Mans (below):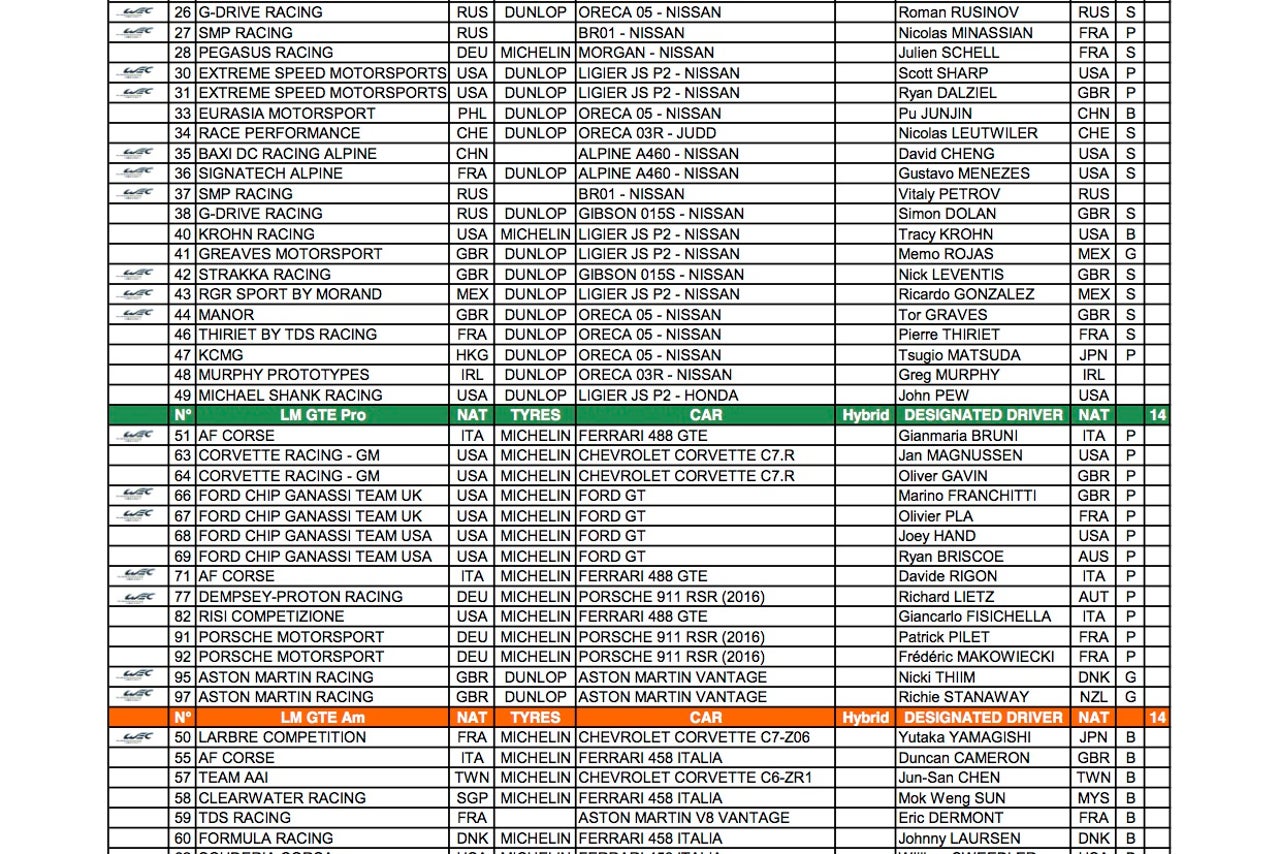 ---