NASCAR Xfinity Series
NASCAR Xfinity Series
Chastain gets ride with Ganassi, Cindric hired by Penske
Published
Nov. 9, 2018 2:22 p.m. ET
AVONDALE, Ariz. (AP) — Austin Cindric and Ross Chastain have landed the full-time rides in the Xfinity Series, and both will be driving the best cars of their careers.
Chastain was named driver of the No. 42 Chevrolet at Chip Ganassi Racing on Friday. DC Solar will sponsor Chastain, an eighth-generation watermelon farmer from Florida who got his big break when the CEO of the company noticed how hard the driver was working to chase his dreams.
Cindric will drive the No. 22 Ford next season for Team Penske. MoneyLion will expand its Penske relationship as Cindric's primary sponsor for 18 Xfinity races. MoneyLion also signed on to sponsor two Cup races for Joey Logano, one for Ryan Blaney and has pledged to give its members 5 percent cash back on certain NASCAR purchases.
Both Chastain and Cindric will both start next season as championship contenders for the Xfinity Series, the stepping stone to NASCAR's big leagues.
For Chastain, it's a remarkable breakthrough. DC Solar CEO Jeff Carpoff said he noticed Chastain working on a bus in the motorhome lot at the track, asked about it and learned Chastain was doing various side hustles to fund his racing.
"I thought, man, this kid really wants to drive and that inspired me. I started following closely the performance that Ross was doing on the track," Carpoff said. "Here at Phoenix earlier this year, I saw Ross in the driver meeting and I told him I was going to try to do something for him. I didn't know what, but I wanted to do something."
Carpoff, already a sponsor at Ganassi, pushed the team owner to take a look at the 25-year-old, even though Chastain had nothing remarkable on his resume.
"I could not have picked Ross out of a lineup of tall women and him," Ganassi said. "I repeatedly told Jeff to get the hell out of here, leave the drivers to me."
Carpoff persisted and Chastain got a shot in the Ganassi Xfinity car at Darlington, where he won the pole, led 90 laps and wrecked with Kevin Harvick while racing late in the race for the lead. Two weeks later, back in the Ganassi car at Las Vegas, Chastain scored his first career NASCAR national victory.
Now he'll have a chance to race for a title next season.
"I am just trying not to throw up," Chastain said about his new opportunity.
Cindric moves to Team Penske, where his father is president of the organization. The 20-year-old has split his time this season between both of the Team Penske Xfinity entries, and a car from Roush Fenway Racing. That will end next year as Cindric gets a consistent ride.
"I feel like everything I've been able to learn and put together has been leading up to this," Cindric said. "It's a huge opportunity. Without MoneyLion this wouldn't be possible. As a young driver these are the opportunities you live for, you work for and you hope come around."
Cindric is currently eighth in the Xfinity standings and needs to win Saturday at ISM Raceway near Phoenix. Cindric has one career win in the Truck Series and he made the championship four in that series last season.
Team Penske will continue to run the No. 12 Xfinity car on a limited basis in 2019 with Brad Keselowski, Logano, Blaney and Paul Menard as drivers.
---
---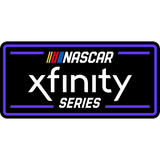 Get more from NASCAR Xfinity Series
Follow your favorites to get information about games, news and more
---