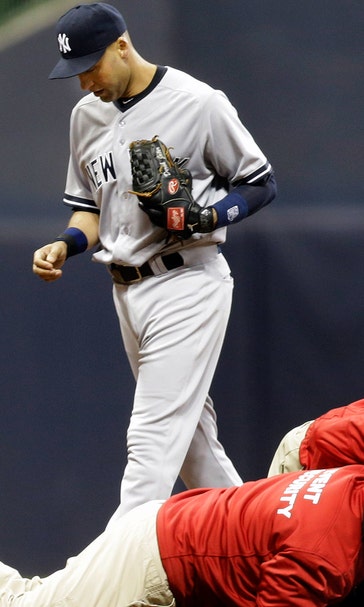 Yankees' Tanaka beats Brewers; fan interrupts game to 'hug' Jeter
May 9, 2014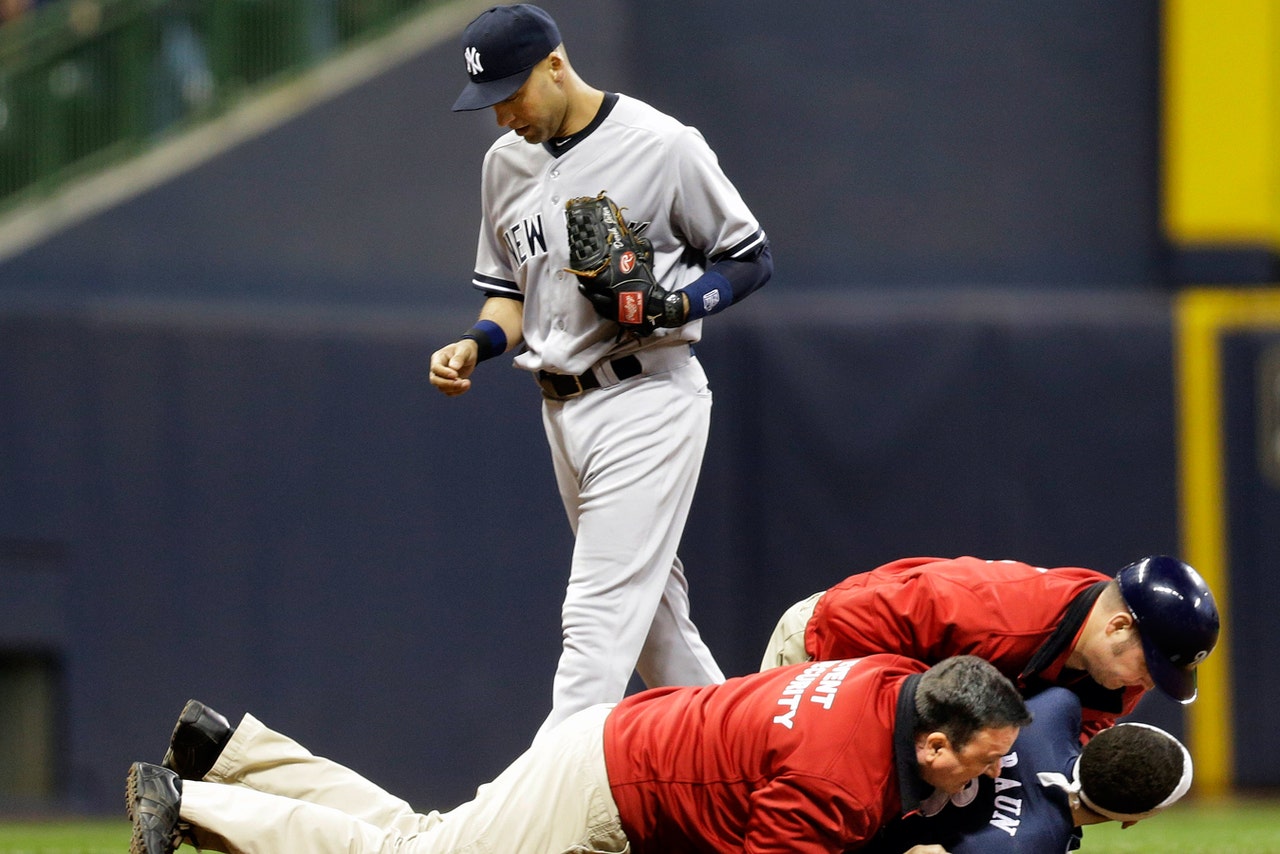 MILWAUKEE — The fan wanted a hug. Derek Jeter just wanted to get out of the way.
Jeter calmly eluded a fan that tried to meet him in the sixth inning of the New York Yankees' 5-3 victory against the Milwaukee Brewers on Friday night.
Masahiro Tanaka pitched into the seventh and Yangervis Solarte hit a three-run homer for the Yankees, who have won three in a row and four of six.
It was New York's first game in Milwaukee since 2005, and it took a surprising turn when a guy jumped out of the left-field stands and walked briskly toward Jeter at shortstop in the sixth inning.
Jeter didn't appear to notice the fan at first. Jeter, who plans to retire after this season, took a few steps away as several security guards rushed in to tackle the person.
Jeter said the guy, who was wearing a Ryan Braun jersey and white bandana, didn't appear threatening.
"His face was calm," Jeter said. "He was saying he wanted a hug. I was thinking I wasn't going to hug him. That was pretty much it. It happened pretty quick. I didn't even see him until he got past the third-base line."
Jeter warned the guy he had made a big mistake.
"I told him, 'You're going to get in trouble,'" Jeter said. "Then he repeated that he wanted a hug. I said, 'Look out.'"
That's when several security guards flattened the guy and then hauled him away.
"If you saw his face, he wasn't coming out there with anger," Jeter said. "So, no, I wasn't scared."
But Yankees manager Joe Girardi was worried about Jeter.
"I was like, 'Derek, move,'" Girardi said. "Derek just kind of stood there. Obviously, he didn't feel threatened. It's not what you want because you never know what people are up to. It's an unfortunate part of the game."
Tanaka (5-0) allowed two runs and seven hits in his first interleague game. The Japanese right-hander struck out seven and walked one.
Tanaka also struck out in each of his first three major-league at-bats.
Yovani Gallardo (2-2) matched Tanaka pitch for pitch until New York scored four times in the fourth on four hits, highlighted by Solarte's second home run of the season. Carlos Beltran walked and Brian McCann singled before Solarte hit Gallardo's first pitch, a cutter, over the right-field wall.
"That's what's frustrating about this game," Gallardo said. "You have to stay away from the big inning."
Solarte leads the Yankees with 18 RBI. He signed a minor-league deal in January and then played his way onto the major-league club with a strong spring training.
"He's obviously had a great first five or six weeks," Girardi said. "He's played well and he deserves to be out there."
The Yankees tacked on an insurance run in the eighth inning. Beltran hit a leadoff double against Brandon Kintzler, and Ichiro Suzuki then came in to run. Suzuki stole third and scored on Mark Teixeira's roller down the first-base line, making it 5-2.
The Brewers got on the board in the sixth. Carlos Gomez and Scooter Gennett started the inning with consecutive doubles, and Jonathan Lucroy followed with an RBI single.
Tanaka then got Aramis Ramirez to ground into a double play and struck out Mark Reynolds.
Gallardo was impressed with Tanaka.
"He kept the ball down in the zone and he was moving the ball around," Gallardo said. "He was pretty good at keeping our guys off balance."
Adam Warren took over for Tanaka after he put runners on the corners in the seventh. Warren struck out pinch-hitter Lyle Overbay and Logan Schafer was cut down while trying to steal second.
David Robertson allowed Reynolds' sixth homer in the ninth, but struck out the side for his sixth save.
Milwaukee has lost three in a row and seven of nine since getting off to a hot start. The Brewers are playing without Braun, who has been sidelined by a right oblique strain.
Notes
Gomez's appeal hearing of his three-game suspension for a bench-clearing brawl in Pittsburgh on April 20 was Friday. It went OK, according to what manager Ron Roenicke heard in the clubhouse. "They should have a decision here in a few days," he said. ... The Miller Park roof was open for the first time in 19 games this season. ... Jeter received a loud round of applause from the near sellout crowd of 40,123 when the starting lineup was announced and again when he batted in the first. The Brewers plan to honor him before Sunday's game. ... Yankees LHP CC Sabathia (3-4, 5.75 ERA) faces Brewers RHP Kyle Lohse (4-1, 2.72 ERA) on Saturday night. ... The University of Wisconsin men's basketball 2014 Final Four team and coach Bo Ryan were honored in a pregame ceremony. Eighteen ceremonial first pitches were tossed as the team and staff stretched from third base to first across the mound. 
---
---