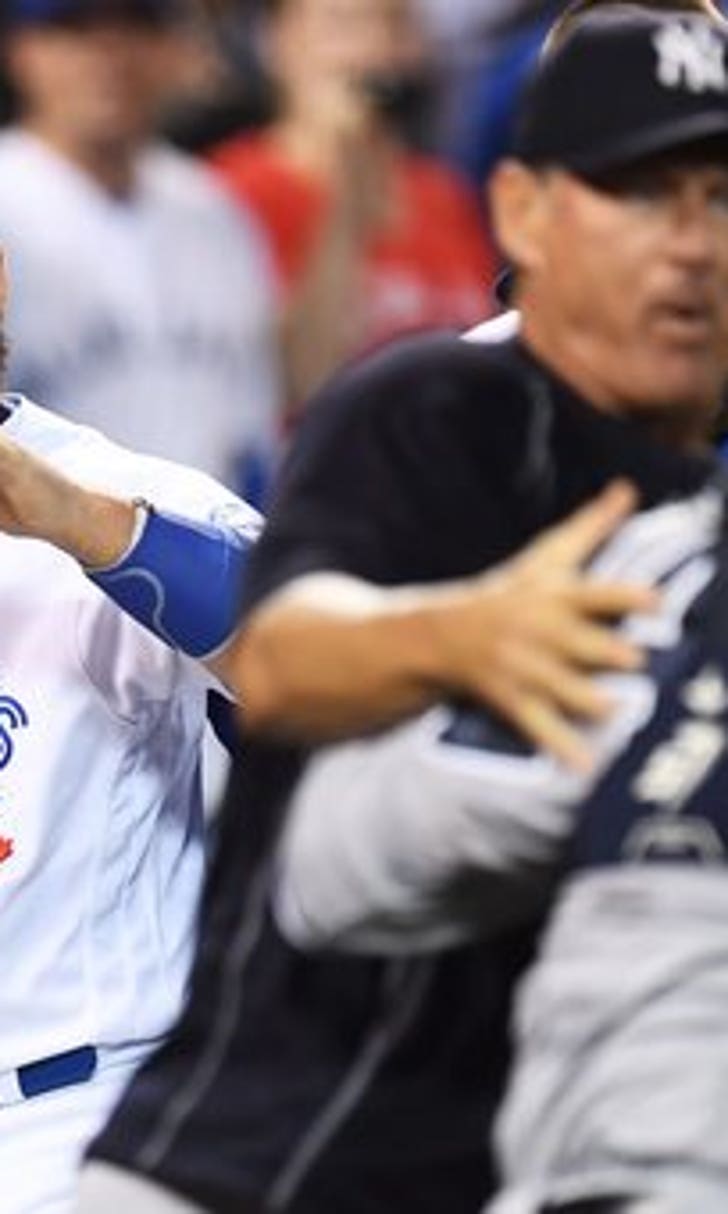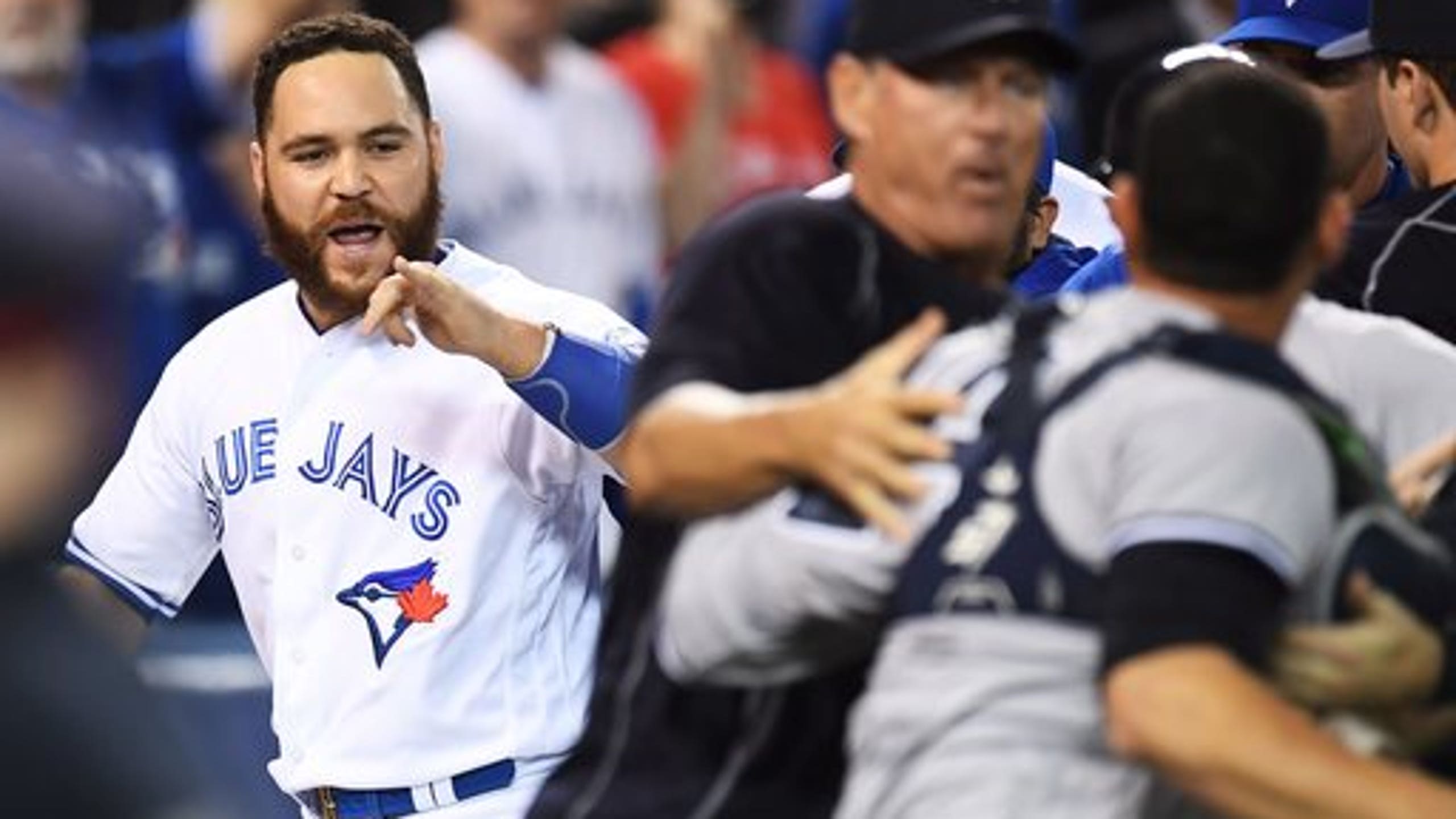 Yankees avoid sweep, beat Blue Jays 7-5 in testy game
BY foxsports • September 27, 2016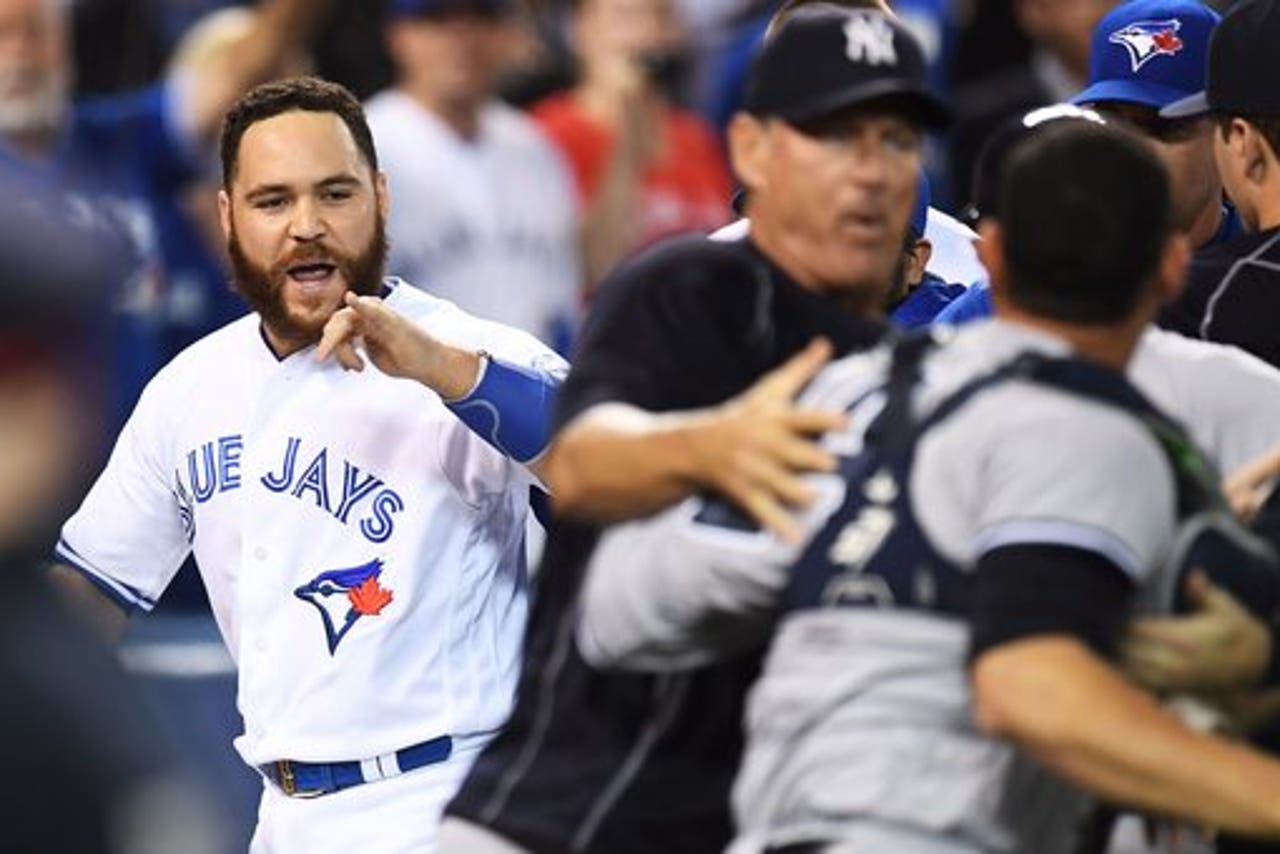 TORONTO (AP) Yankees slugger Mark Teixeira had a night to remember in his final road game before retirement.
Teixeira hit a tying homer in the ninth inning, adding an uncharacteristic bat flip, and Aaron Hicks added a game-winning blast as the New York Yankees avoided a four-game sweep, beating the Toronto Blue Jays 7-5 on Monday night in a testy game that saw two benches-clearing incidents.
Leading 3-2 heading to the ninth, Blue Jays manager John Gibbons called on Jason Grilli (7-6) to close it out because Roberto Osuna was unavailable after pitching the previous two days.
Teixeira tied it 3-all with a one-out homer. After pausing to admire his second-deck drive and casually flipping his bat, Teixeira yelled ''Blown save!'' at Grilli after returning to the dugout.
''Our team has been fighting all year,'' Teixeira said. ''We're probably not going to make the playoffs. We're just going to enjoy ourselves the rest of the year and keep fighting.''
Didi Gregorius singled and Hicks followed with a two-run homer.
New York scored five runs in a bat-around ninth, matching their total from the 35 previous innings in the series.
Teixeira's homer was his 408th, passing Duke Snider to take over 54th on baseball's all-time list. No better time to bat-flip, right?
''(The Blue Jays) do it all the time,'' Teixeira said. ''They have fun with it. It's the first time I've ever done it, so I'll have fun with it too.''
Chase Headley called the Blue Jays ''The Kings of Fun'' for their emotional reactions to home runs and strikeouts.
''You've got to take some of your medicine,'' Headley said. ''They certainly have no shortage of emotion and, if you play like that, you've got to expect to get some it back.''
The Yankees were still steamed at Toronto after four New York players and coaches were ejected following two benches-clearing incidents in the first two innings.
New York starter Luis Severino was ejected in the second after hitting Justin Smoak, sparking the second melee.
The scrap came after Toronto left-hander J.A. Happ threw consecutive inside pitches to Headley in the top of the inning, hitting him with the second. That led to a warning from plate umpire Todd Tichenor.
''If they feel like they need to protect their guys, I respect that,'' Headley said. ''But if you do that, you're accepting the consequences.''
Yankees manager Joe Girardi was ejected for arguing the warning. New York pitching coach Larry Rothschild and bench coach Rob Thomson were ejected along with Severino following the second melee.
''I was mad because Happ hit him on purpose and he had one shot,'' Girardi said. ''You throw it behind the guy and you miss, I mean, he's got to be tossed. That's terrible, it's terrible.''
Donaldson, hit on the elbow by a pitch from Severino in the bottom of the first, walked in from his position and exchanged words with the New York dugout after Headley was hit.
Both benches and bullpens cleared that time, too, but no punches were thrown.
''Some teams have been taking pot shots at us all year long and some guys just got tired of it,'' Gibbons said.
After Dellin Betances loaded the bases with no outs in the bottom of the ninth, Tommy Layne, the eighth Yankees pitcher of the game, came on and got Donaldson to fly out. Edwin Encarnacion walked to drive in a run and pinch-hitter Dioner Navarro delivered a bloop single, making it 7-5. Layne forced Darwin Barney out at home plate on Russell Martin's grounder, then wrapped up his first save by getting Troy Tulowitzki to foul out.
''Unbelievable job by Tommy,'' Girardi said.
Adam Warren (7-5) worked two innings for the win.
Toronto still leads the AL wild card race, one game ahead of Baltimore. The Orioles were off Monday.
Making his first start since Aug. 14 in place of injured right-hander Masahiro Tanaka (right forearm), Severino was on a limit of 50 pitches. Instead, he was ejected after throwing his 34th. Severino allowed one run and one hit, walked two and struck out one.
New York's late rally denied Happ his 21st win. Happ allowed two runs and six hits in 7 1-3 innings.
BIRD BACK IN ACTION
With New York managing general partner Hal Steinbrenner in attendance, Yankees 1B Greg Bird (right labrum surgery) played for the first time in a year in an Instructional League intrasquad game Monday in Tampa, Florida. Bird hit infield pop-ups in both of his at-bats. ''I felt like I was seeing the ball well,'' Bird said. ''Now it's just about getting at-bats. It felt pretty good considering the circumstances.''
POWER DISPLAY
Minor league OF Clint Frazier, acquired by the Yankees in the trade that sent closer Andrew Miller to Cleveland, has joined the Instructional League team and hit several homers in batting practice over a 30-foot high screen in center field.
TRAINER'S ROOM
Yankees: After sitting out the past seven games with a sore right hamstring, 2B Starlin Castro pinch hit for Ronald Torreyes in the eighth. Donovan Solano replaced Castro in the field. ... Tanaka will be examined by team physician Dr. Christopher Ahmad when the Yankees return home Monday. Tanaka has not thrown in the past five days.
UP NEXT
Yankees: LHP Luis Cessa (4-3, 4.30) starts against Red Sox LHP David Price (17-8, 3.91) as New York begins its final homestand of the season. Cessa has lost his past three starts and is winless since Aug. 26.
Blue Jays: RHP Aaron Sanchez (13-2, 3.12) starts Tuesday as Toronto opens a pivotal three-game series against wild card rival Baltimore. RHP Kevin Gausman (8-11, 3.57) starts for the Orioles. Sanchez has not received a decision in any of his past three starts, with Toronto losing all three.
---
---