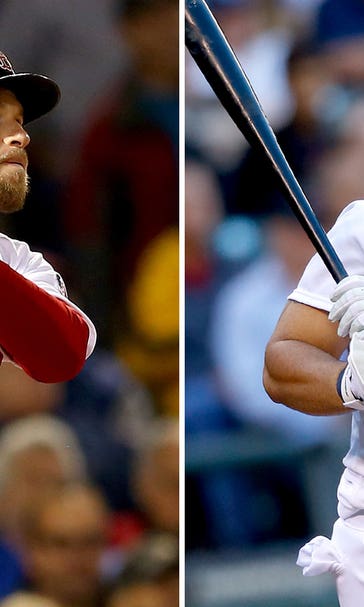 Why wait to sign unsigned free agents Drew or Morales?
May 10, 2014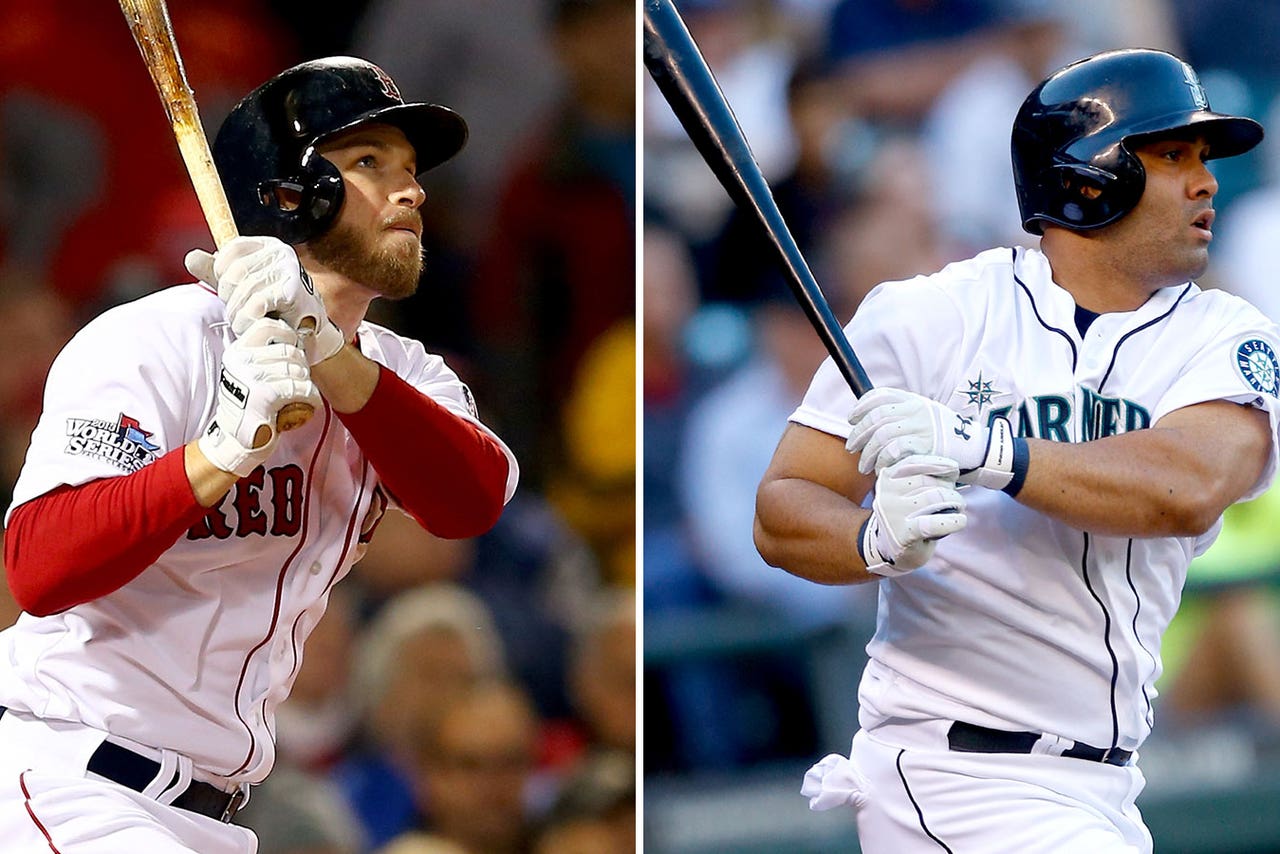 It's the 10th of May, and there are still two highly talented baseball players just sitting around, waiting for the phone to ring.
Thanks to a ... well, it's not exactly a loophole in the rules, and I suppose wormhole isn't the right word, either. But there's definitely a hole, and it's both loopy and wormy. A woophole.
Last winter, Stephen Drew and Kendrys Morales both declared free agency. Their teams — the Red Sox and Mariners, respectively — made the requisite qualifying contract offers: one year, $14.1 million. Seems like pretty good money, no? But Drew and Morales both declined those offers, which meant a) they would indeed become free agents, but b) a team that signed either to a new deal would forfeit its highest pick in the next amateur draft.
Did I mention that $14.1 million seems like pretty good money? That would have represented a 48 percent raise for Drew and a 168 percent raise for Morales. Still, it wasn't enough. Of course, there's more to life than immense wealth. Drew and Morales have lost huge chunks of their careers to injuries, so you can't blame them for craving the security of long-term contracts. Plus, all the players given qualifying offers turned them down. All 13 of them.
To this point, the standard line has been that Drew and Morales have remained unsigned because of that draft pick. The standard line is almost undoubtedly correct; after all, when's the last time any desirable free agent remained unsigned in May? This just doesn't happen. Or hasn't. Still, the players have their role in this little drama, too. What if Drew announced tomorrow that he would happily sign a three-year, $25 million deal? Would he have some takers? Undoubtedly. What's happened is that nobody wants to give up the draft pick and the "fair-" market value for either of these guys. For which you can hardly blame the teams, as "fair-" market value will almost certainly be an overpay (cf. the Winner's Curse).
Ah, but as if this situation didn't have enough wrinkles already, in a few weeks it becomes wrinklier: After the draft, nobody loses a draft pick. After the draft, you can sign Drew or Morales and all it costs is money. Granted, huge piles of money. But what's $40 million among friends?
After the draft, normalcy returns. And that's less than month from now.
Should every suitor wait for a month, though? The advantage is that you don't lose a draft pick. The disadvantage is you'll be competing with all the other suitors who were unwilling to forfeit a draft pick. Which seems like a big disadvantage.
So leaving aside the obvious possibility that every team should be negotiating with Drew and/or Morales because draft picks are big-time crap shoots — and we're not even talking about HIGH draft picks, because the top 10 are "protected" — we might make a list of the teams that have the least to lose and the most to gain by signing Drew or Morales.
Hey, it's the weekend. Let's do exactly that.
Essentially, we're searching for contending teams that could really use one of these guys and wouldn't lose a good pick — say, a top-20 pick — by signing him.
Morales might be better than you think. After missing most of 2010 and all of '11 with that terrible injury, Morales batted .275/.329/.457 over the next two seasons, which these days is pretty good even for a player with essentially zero defensive value. Morales does seem to have become a terrible first baseman, so let's focus on contending (or at least not rebuilding) American League teams that somehow haven't been able to find a working designated hitter ...
Four AL teams haven't gotten even a 700 OPS from the DHs: the Yankees (.686), Mariners (.607), Indians (.590) and Royals (.584).
The Royals would lose the 17th pick in the draft, plus they have to assume that Billy Butler will start hitting eventually. The Indians would lose the 21st pick, but they also seem to have reason for optimism about their DH situation, as both Lonnie Chisenhall and Carlos Santana are capable hitters.
Which leaves the Yankees, who just haven't gotten the production from Alfonso Soriano they presumably expected. Then again, he's 38 years old and posted a 107 OPS+ from 2009 through '13. What should the Yankees have expected, really? Regarding the draft ... actually, we'll return to the Yankees shortly. What we've seen so far, I think, is that there's no perfect suitor for Morales.
There are obviously plenty of teams who could use a player like Drew. But let's look at those whose shortstops collectively rank among the 10 worst in the majors, OPS-wise (yes, defense counts, and I won't forget about it).
Tenth-worst are the Orioles. Last season, J.J. Hardy hit 25 home runs. This year, he's hit zero home runs. Should the O's give up on him? Probably not. Anyway, there are nine teams with composite a OPS lower than .600: Padres, Twins, Brewers, Blue Jays, Tigers, Mariners, Reds, Mets and Pirates. We can knock out the Padres and Twins, because they're non-contenders. We can eliminate the Brewers because of Jean Segura. Which leaves the Blue Jays, Tigers, Mariners (again), Reds, Mets and Pirates.
The Blue Jays were supposed to have one of the league's best shortstops in Jose Reyes. But he opened the season on the disabled list and has been lousy since returning to the lineup a few weeks ago. Still, Reyes' track record and $16 million salary will keep him in the lineup and Drew out of the running.
The Tigers were supposed to have one of the league's best shortstops, too, but that plan went to hell when Jose Iglesias got hurt. Since then, Detroit has been getting by with Andrew Romine. Ideal? Hardly. But the Tigers are 20-10, which makes the problem seem less problematic. With Iglesias possibly missing the whole season, do the Tigers really want to assume that another Central club won't challenge them? Do the Tigers really want Romine playing shortstop in October?
Brad Miller has been shortstopping for the M's this season. So good last season as a rookie, this season he's been dreadful. It seems far too early to give up on him, though.
Zack Cozart returns for the Reds; he's been around long enough to prove he's not much of a hitter, but he's not this bad and remains a fine defender.
The Mets are relevant here only if you think they're really contenders, which I don't.
The Pirates' shortstops have been the worst in the majors, as regular Jordy Mercer and backup Clint Barmes are both hitting well beneath their weights (and they're not big guys). While I continue to believe Mercer's a solid everyday shortstop, he's obviously not Drew, who would make the Pirates better in not just 2014, but also for a year or two beyond. The Pirates would, if they signed Drew, forfeit the No. 24 pick in the draft. But the 24th pick is worth ... well, on average not a lot. Then again, the Pirates have played so poorly this season that maybe they should already be thinking about next season.
Do you see any great candidates here? Maybe the Tigers, who have the obvious need and would merely forfeit the 23rd pick in the draft.
I said I'd get back to the Yankees, though. As unimpressive as Derek Jeter has been this season, the Yankees' shortstops do rank 20th in the majors in OPS. Seriously, though ... considering Jeter's well-documented lack of range afield, does anyone really care to argue that he's one of the 20 best shortstops in the majors at this point? One of the 25 best? That, I think, is a tough case to make. Unless you're convinced that Jeter just hasn't yet played to his 40-year-old, coming-off-a-serious-injury abilities.
Friday, Yankees fan Joe Sheehan devoted his subscription-only newsletter to making a convincing case if the Yankees really want to win this season, they should sign Drew right now. We know money is not a problem; thanks to their publicly funded stadium and the YES Network, the Yankees could sign three Stephen Drews and still turn a tidy profit. Joe's big finish:
Oh, and the draft? The Yankees don't even have a draft pick until the 56th spot. The Yankees' chances of drafting a star with the 56th pick are roughly the same as A.J. Burnett getting a plaque in Monument Park. All of which does lead to the conclusion that if not for Jeter, Drew would be wearing pinstripes already.
Is that really the only reason, though? The Yankees are playing 36-year-old Brian Roberts at second base, and anonymous Yangervis Solarte at third base. Which has actually worked fairly well! Really, though … Is this a championship infield? Kelly Johnson is a fine spare part, but doesn't this look like one Mark Teixeira, one Farewell Tour and the Utility Three?
You might consider all of this academic, considering the Yankees' rotation issues. But right now they've got four starting pitchers with tremendous strikeout-to-walk ratios, and the bullpen has been outstanding. If Michael Pineda is really healthy, the pitching should be fine. We might also assume that both Carlos Beltran and (especially) Brian McCann will hit more than they have. Still, the Yankees have been outscored this season, and Beltran and McCann coming around won't turn them into a great team. They sure seem an infielder short, and it's hard to understand why Stephen Drew is still waiting for that call from the Bronx.
If it's not the money (and it shouldn't be) and it's not the 56th pick in the draft (it really shouldn't be), then what is it?
---
---