Major League Baseball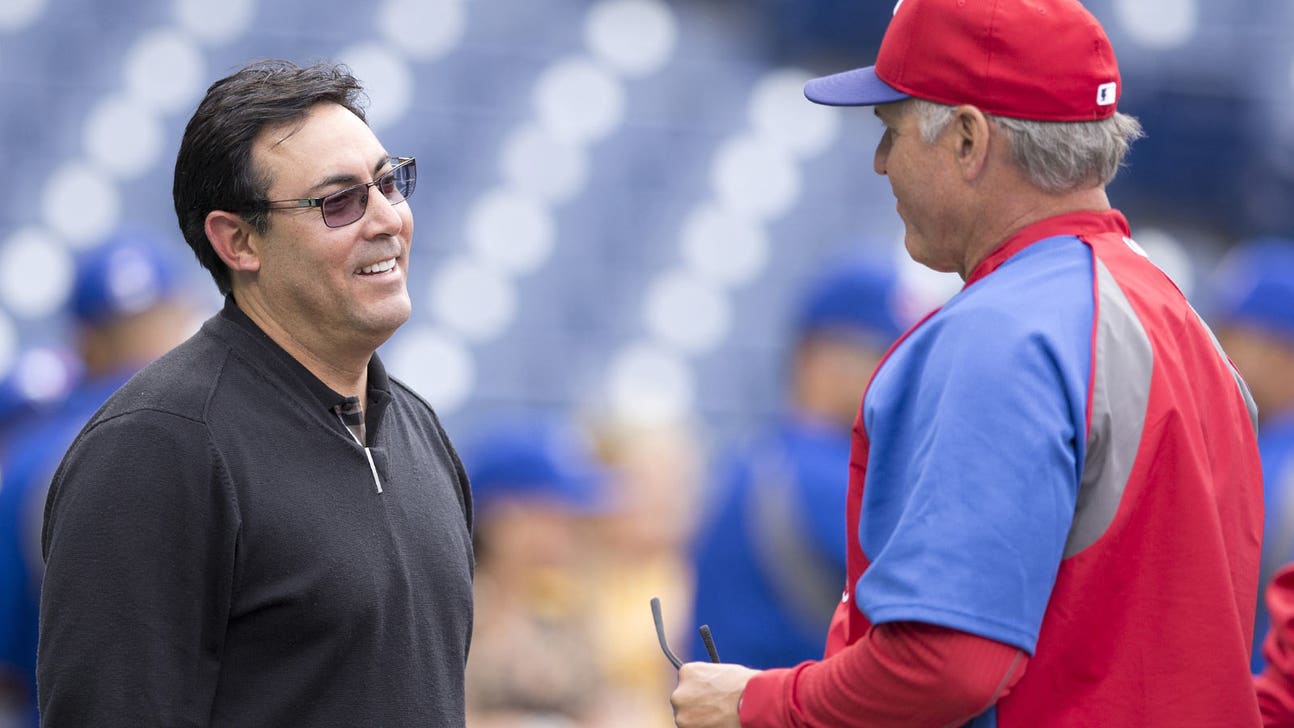 Major League Baseball
Who'll be sent packing as season hits home stretch?
Published
Aug. 10, 2014 9:29 p.m. ET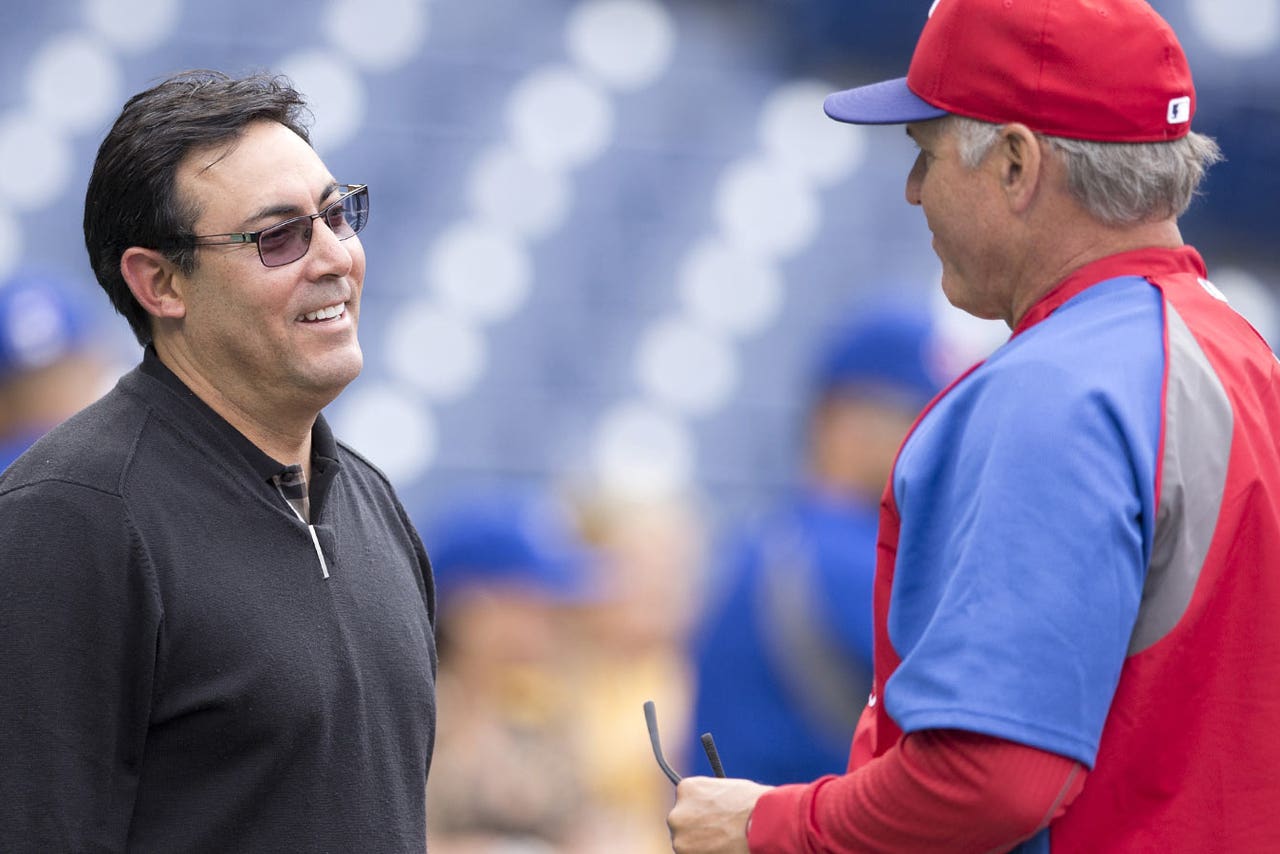 When the Padres fired Josh Byrnes on June 22, part of their rationale was to get a jump on other clubs that might seek to hire new general managers in the offseason.
The Pads were onto something.
Once the season ends, a number of organizations could experience shakeups in one form or another. The decisions of some clubs will hinge upon their finishes. But for other franchises, the die is all but cast.
With less than 50 games remaining, here is a look at the potential upheavals.
Phillies
Phillies president David Montgomery is immensely loyal to his employees, but the team's home attendance is cratering — from an average of at least 44,000 from 2009 to '12 to 30,346 this season.
The failure of general manager Ruben Amaro Jr. to make a single trade before the July 31 non-waiver deadline only intensified fan unrest. Amaro since has moved right-hander Roberto Hernandez. He can shop other players this offseason. But if not for Montgomery's protection, Amaro might be gone by now.
Much as it might pain Montgomery, fresh leadership is needed — and Amaro is not the only one who warrants scrutiny. Manager Ryne Sandberg, in the first year of a three-year contract, at times looks overmatched, struggling in his communications with veterans and with his in-game management.
Charlie Manuel was a player's manager, and perhaps it was inevitable that his successor would encounter friction. Sandberg inherited an old, bad team, and might simply need more time to grow. But considering that a new GM eventually would want his own man, the removal of Amaro would not bode well for the manager.
Rockies
When shortstop Troy Tulowitzki said, "something needs to change," he wasn't talking about the Double-A strength and conditioning coach.
Owner Dick Monfort said in a radio interview last month that he assigned responsibility for the team's poor record to Bill Geivett, who is the senior vice president of major-league operations.
Shortly after that, I reported that manager Walt Weiss has grown frustrated due to his philosophical differences with Geivett and the team's unusual front-office structure, according to major-league sources.
Monfort, like Montgomery, is resistant to change. But how else can he salvage his relationship with Tulowitzki, who seems on the verge of requesting a trade?
Dan O'Dowd has been GM since Sept. 20, 1999. Geivett joined the organization in 2000. Both would admit that they have yet to figure out how to build a consistent winner at Coors Field — and it remains to be seen if anyone can.
Monfort has no financial incentive to move Tulowitzki; Rockies attendance remains strong. The trick now is for him to persuade Tulowitzki that the franchise is moving in the right direction. Monfort cannot do that by maintaining the status quo.
Diamondbacks
Tony La Russa has said all the right things about GM Kevin Towers and manager Kirk Gibson since being named chief baseball officer on May 17. The D-backs, since their 5-18 start, have been almost a .500 club (46-49).
Still, why would the D-Backs have hired La Russa if not to serve as an agent of change?
The plunking of the Pirates' Andrew McCutchen re-ignited the debate over the "eye-to-eye" retaliation mandated by Towers last October. La Russa, true to the code he maintained as a manager, noted that the Pirates will have to "live with the consequences" for pitching up and in. But remember when Gibson gave pitcher Evan Marshall a fist bump for hitting Ryan Braun in June? It would be helpful, once and for all, for the D-backs to change the conversation.
The team routinely is mocked for its emphasis on "grit" — an emphasis that La Russa will not necessarily alter, no matter who serves as his manager and GM. In any case, Gibson looks to be gone, while Towers could return to the Padres as a senior advisor.
At some point soon, the D-backs will start to reflect La Russa's vision, whatever it might be.
Astros
Wait, what?
In late June, Sports Illustrated proclaimed the Astros, "Your 2017 World Series Champs," lauding the team's collection of prospects and the strategic foresight of GM Jeff Luhnow.
Well, since then the Astros have suffered the embarrassment of failing to sign the No. 1 pick in the amateur draft, high-school left-hander Brady Aiken. Things haven't been much better on the field — the team has sunk to a 95-loss pace, making a fourth straight 100-loss season possible.
Internal tension seems unavoidable. Owner Jim Crane has made no secret of his desire for the team to win more games. Nolan Ryan, appointed as an executive adviser last February, comes from an entirely different background than Luhnow — and Ryan's son, Reid, is the Astros' president of business operations.
Is Luhnow in trouble? Maybe not. Does his situation bear watching? Absolutely.
Padres
They've got their new GM, A.J. Preller. The next question is what will become of manager Bud Black, who reportedly was in trouble before the team fired Byrnes.
At the moment, the Padres expect Black to return. But per standard industry practice, they discussed potential replacements while interviewing candidates for their GM opening. As I reported on Friday, Jason Varitek's name surfaced during those conversations.
No one should be surprised if the team's ownership encourages Preller to start fresh. Black, who is under contract through 2015, would be out of work for about five minutes if the Padres chose to go in another direction.
Reds
Walt Jocketty is in the final year of his contract, raising the question of whether he will remain GM. There is no indication that Jocketty wants to leave, or that owner Bob Castellini wants him out. The Reds, even with all of their injuries, remain in contention.
The idea of La Russa hiring Jocketty for the D-backs is intriguing; La Russa was Jocketty's manager with the Cardinals, and Jocketty owns a home in Arizona. The Reds, though, stand a much better chance than the D-backs of winning a World Series in the near future.
Jocketty, 63, would need to navigate the Cincinnati club through a challenging juncture; all of the team's starting pitchers but Homer Bailey are eligible for free agency after the 2015 season, and the Reds will need to trade at least one this winter.
Assuming Jocketty gets to choose, the most logical course for him would be to stay with the Reds, perform the necessary restructuring and take another shot once Joey Votto and Brandon Phillips are healthy next season.
Mets
The refusal (inability?) of Mets ownership to maintain a large-market payroll is a far bigger problem than the manager ever will be. The loss of right-hander Matt Harvey doomed the team before the season even started. Yet, Terry Collins Fatigue seems to be setting in, at least with some fans and media.
Questionable moves are one thing — all managers make 'em — but New York Post columnist Mike Vaccarro wrote recently of "a continuing clubhouse culture that too often allows indifferent play to go unanswered."
The old, fiery Collins would not have stood for such lapses, and probably drawn criticism for losing his temper. The Mets' version of Collins is a kinder, gentler sort, and now that's not good enough, either. It happens.
GM Sandy Alderson routinely has shown that he will not bow to public opinion, and might not be of a mind to scapegoat Collins. The potential loss of rookie phenom Jacob DeGrom to a shoulder injury will make it even more difficult for the Mets to finish strongly.
Collins is signed only through next season; if the Mets do not want to give him an extension, they might as well dismiss him. Starting '15 with a manager on the hot seat would be in no one's best interests.
Rangers
Manager Ron Washington cannot be held accountable for the team's stunning collapse, which is largely attributable to injuries. The Rangers, however, will need to replace Preller, their top evaluator, and perhaps pitching coach Mike Maddux, who is in the final year of his contract.
Washington, hitting coach Dave Magadan and bench coach Tim Bogar all are signed through '15. But while both Maddux and the Rangers seem eager to extend their relationship, the coach remains without an extension.
"I have really enjoyed my time in Texas. I would like to stay here," Maddux said. "Going through a season like this, you get frustrated with the results. But we don't live in a perfect world. My family is all in Texas. My interest level to stay in Texas is very high."
Said GM Jon Daniels, "It's something I know needs to be addressed, not just him, but other staff members as well. We'll probably wait until the end of the year to do that. He's done a good job over the years, for sure."
Mariners
Has GM Jack Zduriencik saved his job?
The mere question assumes that the Mariners' inert ownership would even consider a change. But encouraging as it is for the Mariners to be contending in mid-August, it's probably too early to give an answer.
Zduriencik made three trades to upgrade his offense, answering rival executives who criticized him for his inability to finish off deals. The problem is, Kendrys Morales, Austin Jackson and Chris Denorfia are a combined 22 for 109 (.202) with eight walks — and that's with Jackson and Denorfia going a combined 5 for 8 on Sunday.
Still, the Mariners are seven games over .500, in the thick of the wild-card race. Zduriencik scored with his hiring of Lloyd McClendon as manager. The GM, barring an outright collapse, can safely say that the team is showing legitimate progress.
I'll hold off on such proclamations, preferring to see how the M's finish first.
Royals
Everyone should be safe — I think.
In late May, I wrote of the Royals, "the entire organization seems almost too comfortable, waiting for a surge that might never come." A few days after that, the team performed an annual ritual, changing hitting coaches.
The Royals proceeded to roar back into contention with a 13-2 run. They then went into a 9-18 skid, including losses in their first four games after the All-Star break. GM Dayton Moore, speaking to Andy McCullough of the Kansas City Star, gave Ned Yost a vote of confidence, and said the team would not be sellers at the non-waiver trade deadline.
And now, the Royals are surging again.
Their latest 15-3 run has put them in the lead for the second wild card and — more importantly — moved them to within a half-game of the Tigers in the AL Central.
What can possibly go wrong? Let's not ask, not when the Royals are finally playing the way so many of us expected.
One more thing: Critics of the Wil Myers trade might want to reconsider all of the vitriol they directed at Moore. James Shields' ERA-plus of 129 since joining the Royals is the 10th-best in the majors. Wade Davis has a 0.91 ERA this season, the lowest of any AL reliever.
Yes, Jake Odorizzi looks like a solid starter for the Rays, and Myers still could prove to be a star. But Shields' influence on the team's pitching staff extends beyond his statistics. And if the Royals reach the postseason for the first time since 1985, the argument will be over.
---
---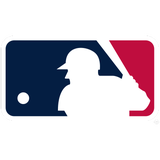 Get more from Major League Baseball
Follow your favorites to get information about games, news and more
---