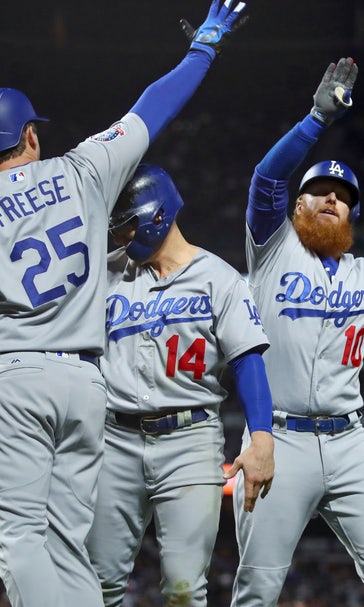 Turner, Dodgers beat Giants 3-1, move closer to playoff spot
September 29, 2018
SAN FRANCISCO (AP) — Justin Turner and his teammates want to win their way back into the playoffs, no help necessary during the season's final weekend.
Turner hit a go-ahead, two-run homer in the fifth inning and the Los Angeles Dodgers moved to the brink of securing baseball's final playoff berth by beating the San Francisco Giants 3-1 on Friday night.
"We want to win our way into the postseason, we don't want to rely on someone else losing to get us in," Turner said.
The Dodgers remained one game behind NL West-leading Colorado. They also extended their lead to two games over St. Louis for the second NL wild-card spot with two left to play.
Los Angeles, which has won the last five division crowns, will go to lefty ace Clayton Kershaw on Saturday.
Colorado locked up a second straight playoff berth by beating the Nationals at home earlier Friday and the Rockies are chasing the franchise's first division title.
"If we win, good things are obviously in store for us," Dodgers manager Dave Roberts said, noting of the Rockies: "They're winning baseball games. We've got to keep pace."
Hyun-Jin Ryu (7-3) allowed one run on four hits over six innings to win his third straight start. He gave up Nick Hundley's leadoff homer in the second but the defense then backed its pitchers by turning a season-high five double plays — including one to end the game.
"Their focus is incredible," Ryu said of the defense, speaking through a translator. "I know the seven guys behind me will make plays."
Kenley Jansen, the fifth Dodgers reliever, finished for his 38th save.
The Dodgers had to get by Madison Bumgarner (6-7) in the series opener, and Turner's homer off the lefty ace broke a 1-all tie.
Roberts went with a right-handed lineup against the 2014 World Series MVP that left 103 home runs on the bench to begin the night — no Max Muncy and his 33 clouts, nor Joc Pederson (24), Cody Bellinger (24) or Yasiel Puig (22).
MadBum asked to push back his scheduled Wednesday start against San Diego to pitch a game in the final weekend that mattered against the contending Dodgers. He gave up three runs on seven hits in six innings, struck out six and walked one.
Turner followed Enrique Hernandez's third single of the night with a drive into the seats in left-center. Manny Machado hit a tying RBI single in the third.
"I'd like to have the one to (Turner) and Machado back if I could go back and take them back," Bumgarner said.
PACKING
With the uncertainty of the playoff scenarios, the Dodgers aren't sure where they will go after Sunday's regular-season finale. Roberts packed for six days when he left Los Angeles this week, for the hot weather of Phoenix to the cool fall temperatures in San Francisco and Denver.
"Everyone did it different," Roberts said. "My suitcase was regular standard. Some guys might have gone a little bit lighter, some might have packed for two weeks."
WILLIE MAC AWARD
Giants lefty reliever Will Smith won the Willie Mac Award, named for the Hall of Famer and is voted on by the players, coaches and training staff to recognize the team's most inspirational player both on the field and in the clubhouse. Smith came back this season after missing a year following Tommy John surgery.
TRAINER'S ROOM
Dodgers: RHP Ross Stripling, who has struggled since coming off his second stint on the disabled list with a lower back injury and lost his last three starts, could be available in relief Sunday. Roberts didn't expect to use him the first two games of the series out of the bullpen.
UP NEXT
Dodgers: Kershaw (9-5, 2.53 ERA) has yet to beat the Giants this season in three previous starts. He is 6-1 with a 2.34 ERA in 12 second-half starts.
Giants: Rookie Dereck Rodriguez (6-4, 2.50) faces the Dodgers for the first time. He has pitched well but San Francisco has lost his last six outings and eight of 10.
---
---