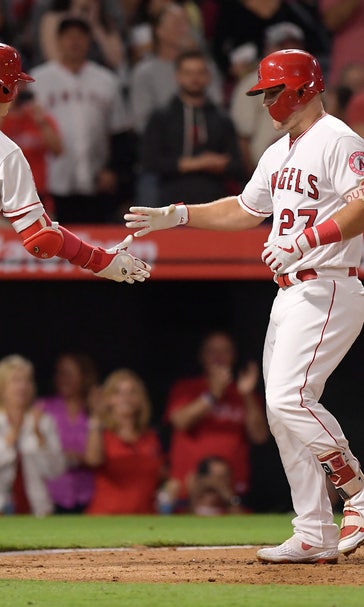 Trout slugs 39th HR, Ohtani 3 for 3 as Angels beat A's 8-5
September 29, 2018
ANAHEIM, Calif. (AP) — The Angels are playing out the string, although it's tough to tell by watching Mike Trout and Shohei Ohtani.
The team's two biggest stars both shined Friday night in an 8-5 victory over the Oakland Athletics.
Trout hit a two-run homer and has reached base safely in nine of his last 10 games while batting .313 with six homers, 11 RBIs and eight walks in that span.
Ohtani went 3 for 3 — his fourth three-hit game this season — and is batting .289.
"For my money, he's hands-down Rookie of the Year," Angels manager Mike Scioscia said.
Taylor Ward added a two-run shot for the Angels (79-81). If they can sweep the weekend series, they would finish with a .500 record in what is widely expected to be Scioscia's final season after 19 years at the helm.
"Any time a team being in the playoffs comes in, it's always fun to beat a team like that," Ward said.
The Yankees routed the Red Sox 11-6 earlier Friday to clinch home-field advantage in the AL wild-card game, leaving the A's to travel cross-country to play Wednesday night in New York for the right to face Boston in the best-of-five Division Series.
"We've played well on the road this year and we're a power-hitting team and that's a home run ballpark," A's manager Bob Melvin said.
Mike Fiers (12-8) entered in the second inning for Oakland and was hit hard.
Lou Trivino started and threw 11 pitches in the first inning before turning it over to Fiers. He gave up six runs and seven hits in 3 1/3 innings, struck out three and walked two.
"I think we have a really good shot and I'm really excited," Trivino said of the A's visit to the Bronx.
Taylor Cole (4-2) allowed one hit in 2 1/3 innings, struck out five and walked one. Hansel Robles worked the ninth to earn his second save.
"Cole is going to be an important piece of a major league bullpen going forward," Scioscia said. "He's helped us out a lot."
The Angels took a 3-0 lead in the second.
Ohtani singled leading off, went to second when Justin Upton got hit by a pitch and stole third before scoring on Francisco Arcia's RBI groundout. With two outs, Ward homered to the lower left-field seats, scoring Upton, who stole second.
"These games mean the world to us younger guys," Ward said. "Just trying to leave a footprint."
Trout hit his 39th homer to right field on the first pitch in the third, extending the Angels' lead to 5-0. That gave Trout the sixth 100-run season of his career and made him the seventh player in major league history with that many 100-run campaigns before age 27.
The Angels added a run on Ohtani's sacrifice fly to the warning track in left in the fifth.
Los Angeles made it 7-0 in the seventh on Ohtani's two-strike infield single to the pitcher near the third-base line, scoring Kole Calhoun, who doubled leading off.
The A's didn't get a hit until Jed Lowrie singled leading off the sixth against Cole, who promptly retired the next three batters on swinging strikeouts.
Oakland broke out for five runs — two on errors — in the eighth to trail 8-5.
Matt Chapman singled and pinch-hitter Mark Canha scored on right fielder Jabari Blash's throwing error. Chapman scored on Lowrie's RBI groundout.
Ramon Laureano was safe at first on an error by Ward at third base, scoring Matt Olson. Marcus Semien's RBI double brought in Oakland's other two runs.
Angels starter Jaime Barria tossed 4 2/3 hitless innings, walked a career-high six and struck out four. The right-hander became the first Angels rookie to make 26-plus starts in a season since Scott Schoeneweis made 27 in 2000.
SAY HEY, SHO
Ohtani stole third base in the second inning, giving him the third 20-homer, 10-steal rookie season in Angels history, joining Devon White in 1987 and Trout in 2012.
SITTING ON 99
Chapman has scored 99 runs and one more would make him the first A's player with 100 in a season since Nick Swisher had 106 in 2006.
UP NEXT
RHP Trevor Cahill (6-4, 3.91 ERA) starts for the A's on Saturday. His six wins and 20 starts coming in are his most since 2013 with Arizona, but he's tossed five innings or fewer in his last five starts. LHP Tyler Skaggs (8-9, 3.91) makes his 24th start for the Angels. He is 2-5 with a 4.98 ERA in nine career starts against Oakland.
---
---