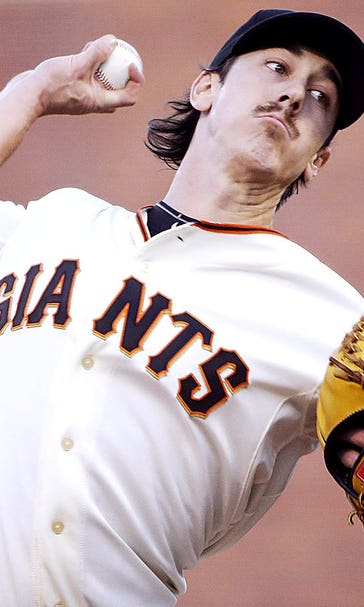 Tim Lincecum strikes out 11 to lift Giants over Braves
BY foxsports • May 13, 2014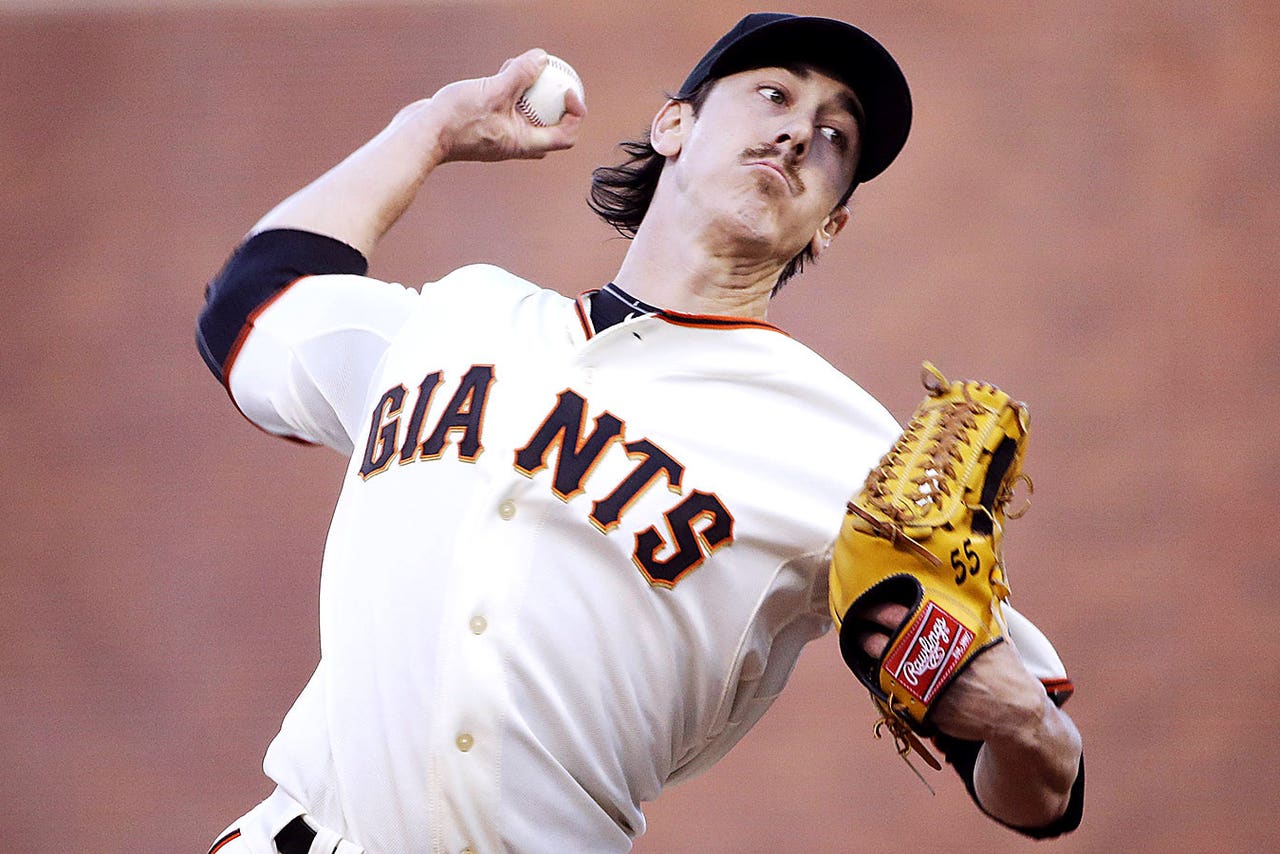 Tim Lincecum rarely acknowledges the cheering crowd when he walks off the mound, though the support of 41,000 when he made his exit Monday night meant plenty.
Lincecum struck out 11 in his best start of the year, Tyler Colvin backed him with a home run and go-ahead, two-run triple in the seventh inning and the San Francisco Giants beat the Atlanta Braves 4-2 on Monday night.
Lincecum (3-2) left to a roaring standing ovation after pitching a season-high 7-2/3 innings in his first start of eight getting past the sixth.
"The result today was the best of any game I've had so far," Lincecum said. "It's pretty special here every time these guys give you something like that. I'm not one to be the big acknowledger of something like that, it's kind of hard for me, but I definitely take it in and definitely appreciate it."
B.J. Upton hit a tying solo homer in the fifth, then was caught stealing on replay review as the potential go-ahead run in the top of the seventh.
Upton hit a one-out double and was ruled to have stolen third on a slide below a reaching Pablo Sandoval. Giants manager Bruce Bochy challenged the call by third base umpire Dana DeMuth, and it was overturned in 2 minutes, 7 seconds.
Bochy said he had "nothing to lose" at that stage of the game. Braves manager Fredi Gonzalez said afterward they got the call right.
"I still thought I was safe," Upton said. "I don't know what evidence they had to overturn it."
San Francisco, coming off a 7-3 road trip to Atlanta, Pittsburgh and Los Angeles, won for the sixth time in seven home games. Atlanta had won three in a row.
Lincecum struck out 10 or more for the 36th time in his career and first since last July 28 against the Cubs. He retired Chris Johnson on a swinging strikeout to end the sixth with runners on first and second.
"It was vintage Timmy the way he had good secondary pitches going along with his fastball," Bochy said. "A great start and also a great ovation. . . . It was nice to see him get that ovation. I'm sure he appreciated it very much."
Promoted from Triple-A on Saturday, Colvin splashed a solo homer into McCovey Cove beyond the right-field arcade in the second -- the 65th Giants homer to reach the water. Brandon Crawford had the other this season, on April 13 against Colorado.
"My first at-bat at home, it's a great feeling right there," Colvin said.
Giants leadoff man Angel Pagan produced his fourth three-hit game of the season.
Javier Lopez surrendered Freddie Freeman's ninth-inning splash homer, then Sergio Romo finished for his 13th save. It marked the first game with two splash homers since Barry Bonds did it by himself on May 18, 2002.
Gavin Floyd (0-1) remained winless after his second start of 2014.
Floyd struck out eight over 6-1/3 innings in his first outing against the Giants since 2008. The right-hander was 2-0 against the Giants and won in his only previous appearance at AT&T Park while with the White Sox.
"Their pitcher was putting up zeroes so I knew I had to keep executing and keep us in the game. Things didn't go our way in the seventh inning," Floyd said. "I feel like I'm building off of each time I got out there."
Braves left fielder Justin Upton returned after being held out Sunday. He bruised his lower back Saturday when hit by a pitch from Chicago's Jeff Samardzija.
NOTES: The Braves don't have to face former Atlanta pitcher Tim Hudson this series, and that's fine with Gonzalez. "It's not all bad. I'd like to say hi to him and hug him," Gonzalez said. . . . Giants 1B Brandon Belt has opted to undergo surgery on his broken left thumb to have two pins inserted. The procedure will be performed by Dr. Tim McAdams on Tuesday at Stanford. Michael Morse made his first start at 1B since last July 31 at Boston while with Seattle. He made a fielding error in the sixth. . . . San Francisco reinstated LHP David Huff from the 15-day disabled list and optioned OF Juan Perez to Triple-A Fresno. . . . The Giants are in the middle of a 17-day stretch without a day off. 
---
---