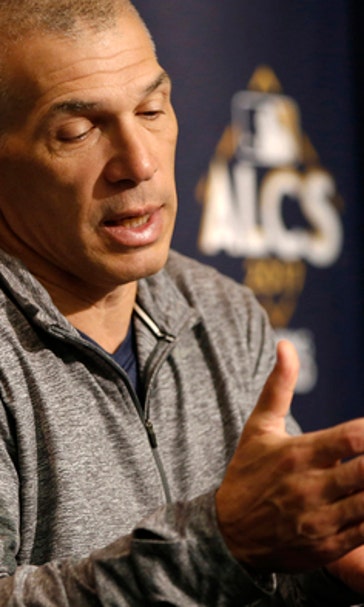 This time vs Astros, Yanks again try to overcome 2-0 deficit
October 15, 2017

NEW YORK (AP) Trailing again 2-0 in the postseason, these young New York Yankees remain even keeled going into Game 3 of the AL Championship Series against the Houston Astros.
''I don't know if it's maturity or just being dumb,'' Yankees pitcher CC Sabathia said Sunday.
At 36 the old man of the pitching staff, Sabathia will pitch Monday surrounded by a starting lineup that includes Baby Bombers Aaron Judge (25), Gary Sanchez (24) and Greg Bird (24).
Houston, two wins from its first World Series appearance since 2005, starts 33-year-old right-hander Charlie Morton, who grew up in Connecticut rooting for the Yankees. He remembered getting Joe Girardi's autograph at spring training and his family spotting Derek Jeter at a Bahama Breeze restaurant, an especially exhilarating experience for his sister, Jennie.
''She walked up to him and said, `Hey, can I have a picture with you?' And he said, `Only if you smile,''' Morton recalled.
After a pair of 2-1 games in Houston, the series shifted to the Bronx and the Astros worked out at Yankee Stadium, where New York went 51-30 during the regular season. Houston won the 2015 AL wild-card game in the Bronx by a 3-0 score.
''It will be the biggest game of my career,'' said Morton, who didn't get a decision against Boston in Game 4 of the Division Series.
While Judge, Sanchez and Didi Gregorius combined to go 2 for 22 in the first two games of the series, Astros stars Jose Altuve and Carlos Correa went 8 for 15. Reaching the best-of-seven LCS is new for most players on both teams, and Astros manager A.J. Hinch thinks his players are motivated by doing well for each other.
''Maybe we don't sense sort of the magnitude of these moments because this is us, who we are, how we are,'' he said.
New York seeks inspiration from its comeback last week from a 2-0 deficit in the best-of-five Division Series against Cleveland, which led the AL with 102 wins - one more than Houston. Girardi said New York's streaky nature during the season also bred confidence. The Yankees started 38-23, opening a four-game AL East lead, lost 19 of their next 26, then rebounded to finish 91-71 and earn the top wild card.
''Guys started to understand that you have to be resilient in this game,'' the manager said. ''You're going to have really tough losses and you have to learn to bounce back.''
He also thought back to his playing days on the 1996 Yankees, outscored 16-1 by Atlanta in the opening two games of the World Series. New York swept the next four to win the first of its five titles with Jeter and reliever Marino Rivera.
''There were a lot of young players that played important roles, mostly Mariano and Derek,'' Girardi said. ''The message then was go win one, one game, and see where we're at. And that's the same message.''
Sabathia was 9-0 with a 1.71 ERA in 10 starts following Yankees' losses during the regular season and didn't get decisions against the Indians in New York's Game 2 loss or Game 5 win. Given a relief corps that includes Aroldis Chapman, Dellin Betances, David Robertson, Chad Green and Tommy Kahnle, Sabathia doesn't worry about pitching deep.
''I'll go out and do my thing and let the bullpen clean up my mess,'' Sabathia said.
Morton follows Dallas Keuchel and Justin Verlander, whose stellar starts were the primary factor in the Yankees' 27 strikeouts over the two games. Morton recalled going to the old Stadium across 161st Street and also looking on at a Roger Clemens bullpen session during spring training.
''When I was little, I remember really wanting a Don Mattingly rookie card, and I never got it,'' he said.
Morton missed most of 2016 with a hamstring injury, left Philadelphia last offseason to sign with Houston as a free agent and went 14-7. He limited left-handed batters to a .172 average, down from .258 in 2016, and attributed his improvement to a talk in a Citi Field video room last year with Phillies pitching coaches Bob McClure and Rick Kranitz, who advised he throw more curveballs to lefties and fewer sinkers.
Morton's percentage of flyballs among balls in play rose from 21.5 percent two years ago to 29 percent this year. And just like the old ballpark, new Yankee Stadium has a short porch in right, transforming flyouts elsewhere into home runs.
''It might be present in the back of my mind, but I don't think it would overly dictate the way that I throw,'' Morton said.
NOTES: Yankees DHs are 0 for 27 in the postseason, but Girardi isn't thinking about starting Ronald Torreyes there instead of Chase Headley, Jacoby Ellsbury or Matt Holliday. ''It's not something he's accustomed to doing,'' Girardi said. ... Brad Peacock or Lance McCullers will start Game 4 for Houston, and Sonny Gray for the Yankees.
---
---