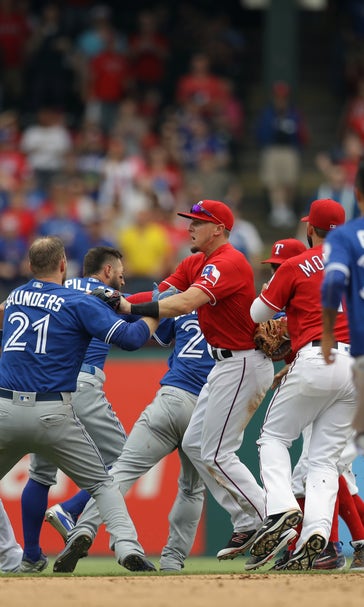 The Rougned Odor-Jose Bautista dust-up is good for baseball
May 16, 2016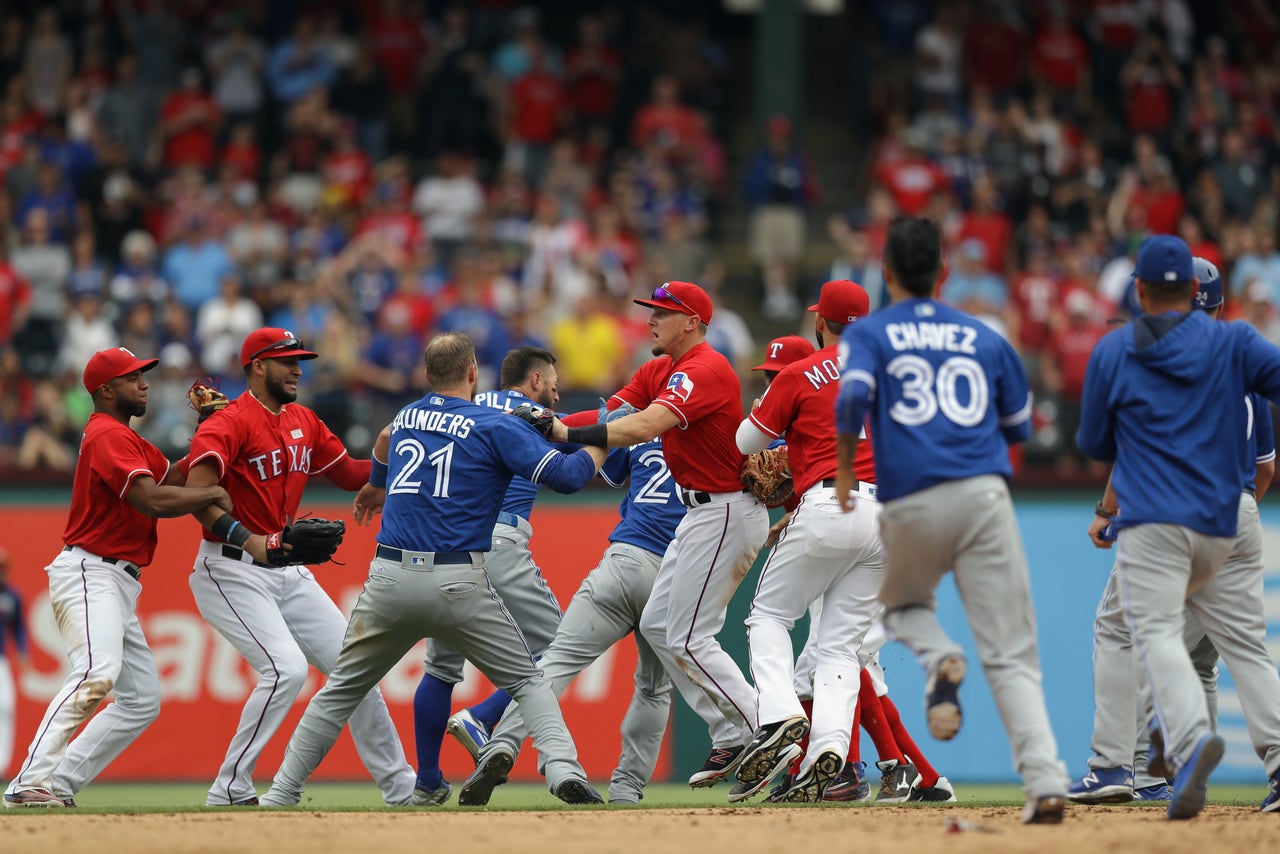 What was already a great game in Texas on Sunday, where the Rangers were taking on the Blue Jays, got even more interesting in the eighth inning when tempers flared between stars of different kinds -- one established, one rising.
If you didn't see it, Rangers second baseman Rougned Odor took exception to a late slide by Jose Bautista and promptly let him know. Words were exchanged, Odor shoved the Blue Jays outfielder, and before Bautista could completely raise his right fist his face was met by the much quicker right fist of Odor, who squarely landed a punch across Bautista's jaw. Benches cleared, but little else happened after the punch everyone was talking about Sunday night.
New rules instituted in baseball in 2016 are clear about this slide, it was late and illegal. Despite the throw going awry, a double play was called because Bautista did not execute what is now deemed a bona fide slide. 
There is history here. We all remember the seventh inning of Game 5 of the ALDS last year and the epic Bautista bat flip that followed his go-ahead home run off the Rangers' Sam Dyson. Much was made of that bat flip, more than should have been thanks to social media.
In the eighth inning on Sunday, Matt Bush, pitching in just his second big-league game after being released from prison this past October, drilled Bautista with a first-pitch 96-mph fastball.
Here is what a lot people are getting wrong in their analysis of Bautista vs. Odor: You cannot say with certainty, as I have seen some in the industry do, that Matt Bush hit Jose Bautista with the pitch on purpose. You just can't.
It sure didn't look great, but the Rangers just took a one-run lead in the bottom of the seventh inning. It was also Bush's second MLB game and first with a lead. Without a doubt, emotions were running high for him already. He might have done it intentionally, we don't know for sure. The timing didn't seem right, the pitcher didn't seem right. Personally, I do not think Matt Bush hit Jose Bautista on purpose.
Regardless, Bautista took issue with the hit-by-pitch but he did not charge Bush. Instead he walked slowly to first base, guided by home plate umpire Dan Iassogna, and warnings were issued to both teams.
The next batter, Edwin Encarnacion, flew out to left and Bush was replaced by lefty Jake Diekman. Diekman induced a groundball from Justin Smoak to Adrian Beltre at which time Jose Bautista sought his revenge.
A hard slide into second base after a batter is hit by a pitch is nothing new to baseball, it happens all the time. The second baseman knows it's probably coming, and, depending on the severity of the slide, has a decision to make: let it go or say something about it. Odor took option No. 2, and within a matter of seconds Jose Bautista was likely regretting his decision.
Big picture, this is not bad for baseball.
What? You advocate assault at the workplace? You think that is a great example for children? You're a Neanderthal! Get real, this is professional sports, not your office. It's also your job to raise your children, it is not the job of Major League Baseball or its players.
Baseball has the least contact of any sport, but we need it once in a whiledespite what the self-appointed advocates who never laced up try to tell you. We need buzz, and nothing creates more buzz than a good physical altercation. No one was really hurt, great animated GIFS are all over social media, and everyone is chiming in with an opinion. While this is not something the game needs frequently, Sunday in Texas was not bad for baseball.
People who never talk baseball are talking about this game. They are talking Jose Bautista, they are talking Game 5 and they are talking Rougned Odor (and probably pronouncing his name wrong).
I find it ironic that many of the same people who thought it was OK for Bryce Harper to curse at an umpire directly on the field after a game was over (a game he was ejected from) are upset over this Bautista and Odor incident. I didn't have a problem with either. Emotions can get the best of our professional athletes, and that's OK once in a while.
I grew up with this part of the game, and I love this part of the game. It's entertainment. The players will always police themselves in these kinds of situations, and they should continue to do so. You may not like violence of any kind, and a situation like this might make you uncomfortable. I get that. But people are talking baseball today all over this country. Not about PEDs, not about how baseball is boring, but about a fight that took place in the context of a great baseball game. And while many of them will get it wrong and flaunt their ignorance, ultimately this is a good thing. 
---
---