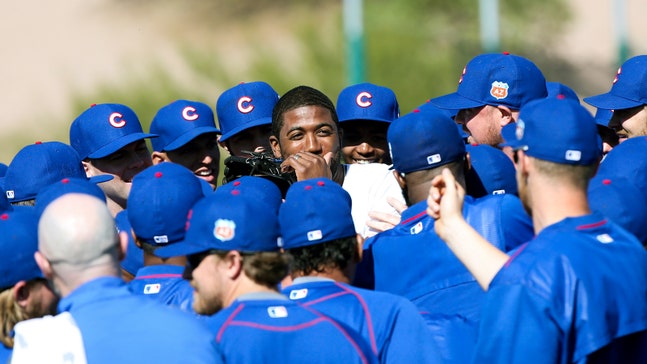 The Cubs might finally have the perfect World Series recipe
Published
Mar. 16, 2016 10:00 a.m. ET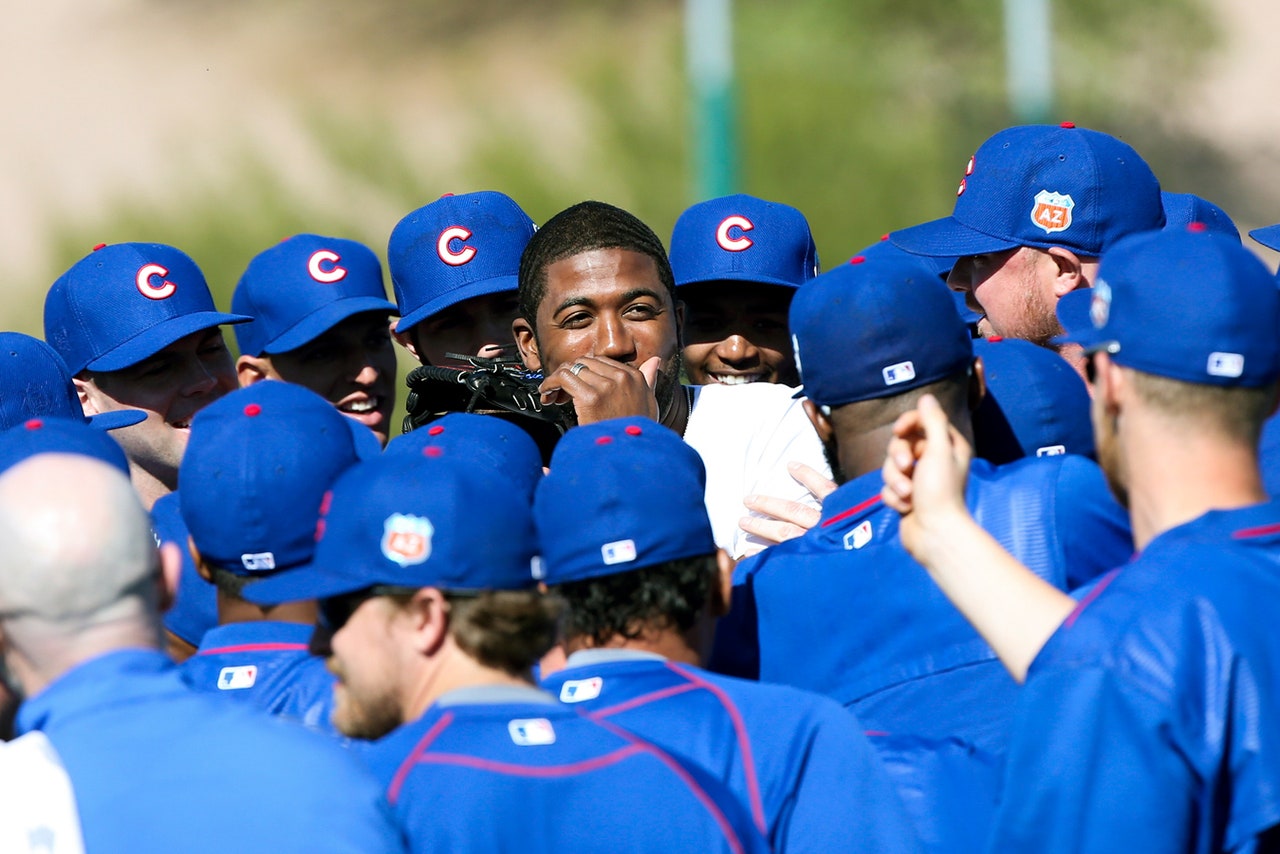 MESA, Ariz. -- Joe Maddon gestured toward some Cubs prospects taking batting practice and said, "Walk around, there's stuff everywhere."
Good stuff. Talented stuff. The kind of stuff that can help the Cubs swing a trade for Athletics right-hander Sonny Gray or any other available starting pitcher come July.
It hasn't come to that yet. It might not come to that. But if the Cubs have a weakness -- What, we're holding off on the coronation? -- it's the depth of their rotation.
Well, the depth of their rotation and their left-field defense, but one of the left fielders is an offensive wrecking ball named Kyle Schwarber, so we're getting a little granular, no?
Heck, you need to get granular when trying to find fault with a team that won 97 games last season, then added right-hander John Lackey, right fielder Jason Heyward and second baseman Ben Zobrist in free agency.
Anything can happen in baseball, we all know that, but at least on paper, the Cubs seemingly have the answers to every question. Even with the rotation, what are we talking about? Right-handers Jason Hammel and Kyle Hendricks, the projected fourth and fifth starters, are quite serviceable, thank you.
Ah, but regression might occur, and injuries will occur, and then what?
Well, the Cubs will have four converted starters in their bullpen – that's right, four: left-handers Travis Wood and Clayton Richard, and right-handers Trevor Cahill and Adam Warren.
Maddon believes he can keep one or more of those pitchers stretched out, using them in stints of more than one inning. He also can use one or more as spot starters, inserting Cahill, for one, against teams that struggle against right-handed sinkers, providing extra rest for Lackey, righty Jake Arrieta and lefty Jon Lester early in the season.
Cubs officials fear that the idea is better in theory than it will be in practice: What if Warren, for example, emerges as the seventh-inning reliever and the Cubs suddenly need him as a starter in August? Well, by then, Gray or his equivalent might be in Chicago.
The Cubs have too many infielders, too many outfielders, an embarrassment of position-player riches. Consider third baseman Jeimer Candelario, a switch-hitter and strong defender, who currently is blocked by Kris Bryant. Unless, of course, the Cubs end up trading Jorge Soler and moving Bryant to left field.
Maddon says that he thinks Candelario looks like Bobby Abreu from the left side, but that president of baseball operations Theo Epstein sees more of a resemblance to Robinson Cano.
OK ...

On Sunday, Candelario hit an opposite-field home run off Athletics righty Jesse Hahn in the first inning, then had to face righty Ryan Madson in the sixth. He asked a Cubs coach, "What does this guy have?" The coach replied, "Changeup." And on a first-pitch changeup, Candelario hit an opposite-field single.
"It's like the same game every day," the coach said. "He hits missiles all over the field."
Can Candelario be the centerpiece of a package for a pitcher such as Gray? Well, let's see how he starts the season, most likely at Double-A. The Cubs will resist trading certain youngsters, most notably Willson Contreras, their catcher of the future. But a good number could be in play, including Soler and infielder Javier Baez.
Again, let's see how the puzzle plays out.
One Cubs veteran fears that a division of playing time between Soler and Schwarber in left could prove counter-productive, leading both to press. But the Cubs already have developed a plan to get at least 450 plate appearances for all four of their top outfielders, if everyone stays healthy.
Schwarber is expected to be the regular catcher for one of the Cubs' starting pitchers, getting 30-plus starts in that spot. A designated hitter will be needed for the 10 games that the Cubs will play in American League parks. Dexter Fowler, a switch-hitter, is better against lefties and could sit against certain righties. Heyward, likewise, could sit against certain lefties, staying fresh over say, 145 games instead of 155.
The infield offers similar depth -- Baez can spell both Zobrist at second and shortstop Addison Russell. An injury to first baseman Anthony Rizzo could be problematic, but the Cubs could use Bryant at first and either stick Baez at third or promote Candelario. Baez also is getting time at first this spring.
Baez seems irreplaceable, right? Not necessarily -- the Cubs' top prospect, according to Baseball America, is Gleyber Torres, a 19-year-old shortstop. Torres likely will start the season at High-A and finish in Double-A. But if the Cubs move Baez, they could fill the utility gap short-term, knowing that Torres is coming. Or they can just trade Torres, if that is what it takes to bring them a top starter.
Options, so many options. Albert Almora could be the center fielder of the future -- or not. Billy McKinney is another outfielder who could be expendable. Maddon rattles off other names, one after another, delighted by the possibilities.
The usual caveats apply: Something will go wrong. Something always goes wrong. The best team on paper does not always translate to the best team on the field. But walk around, and there's stuff everywhere. Enough stuff for the Cubs to cure whatever might ail them in 2016.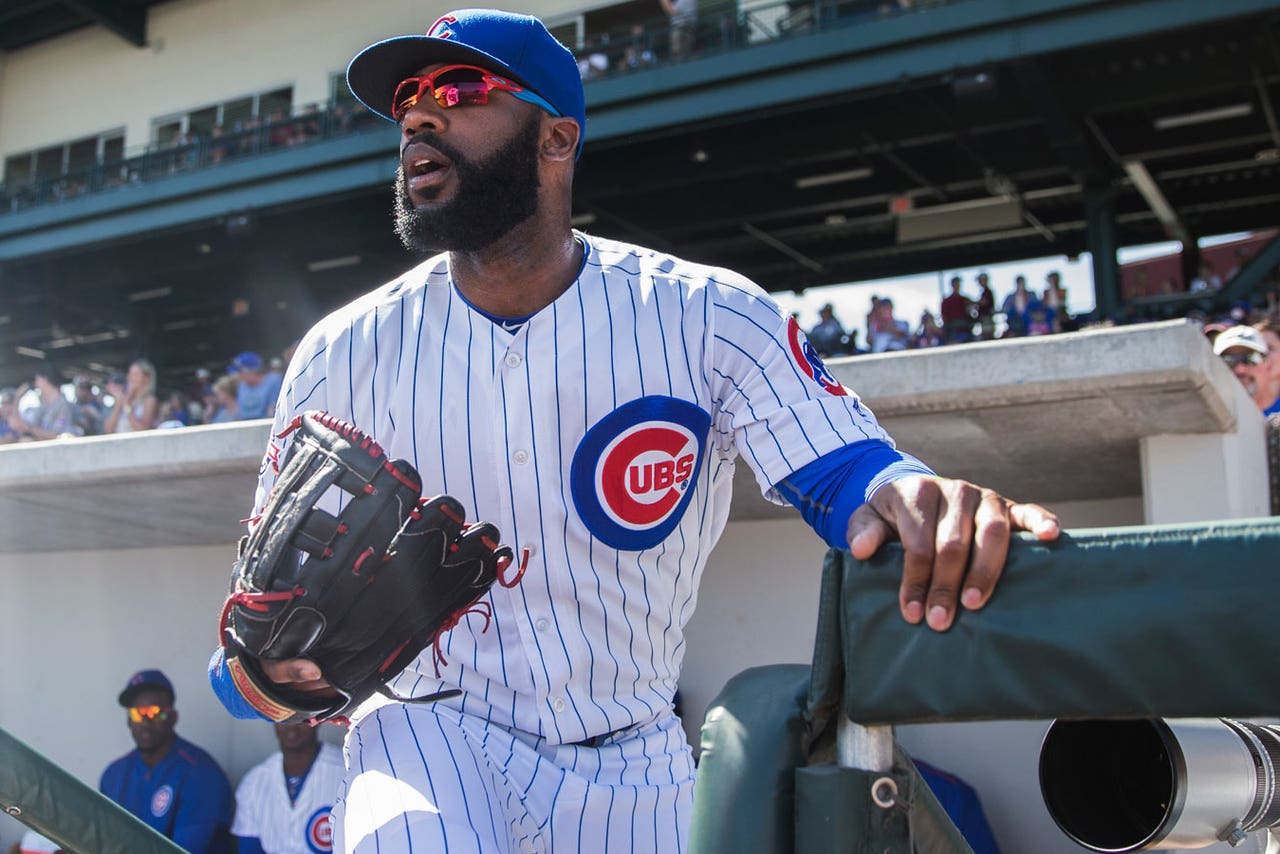 Jason Heyward brings another powerful bat to an already strong Cubs lineup.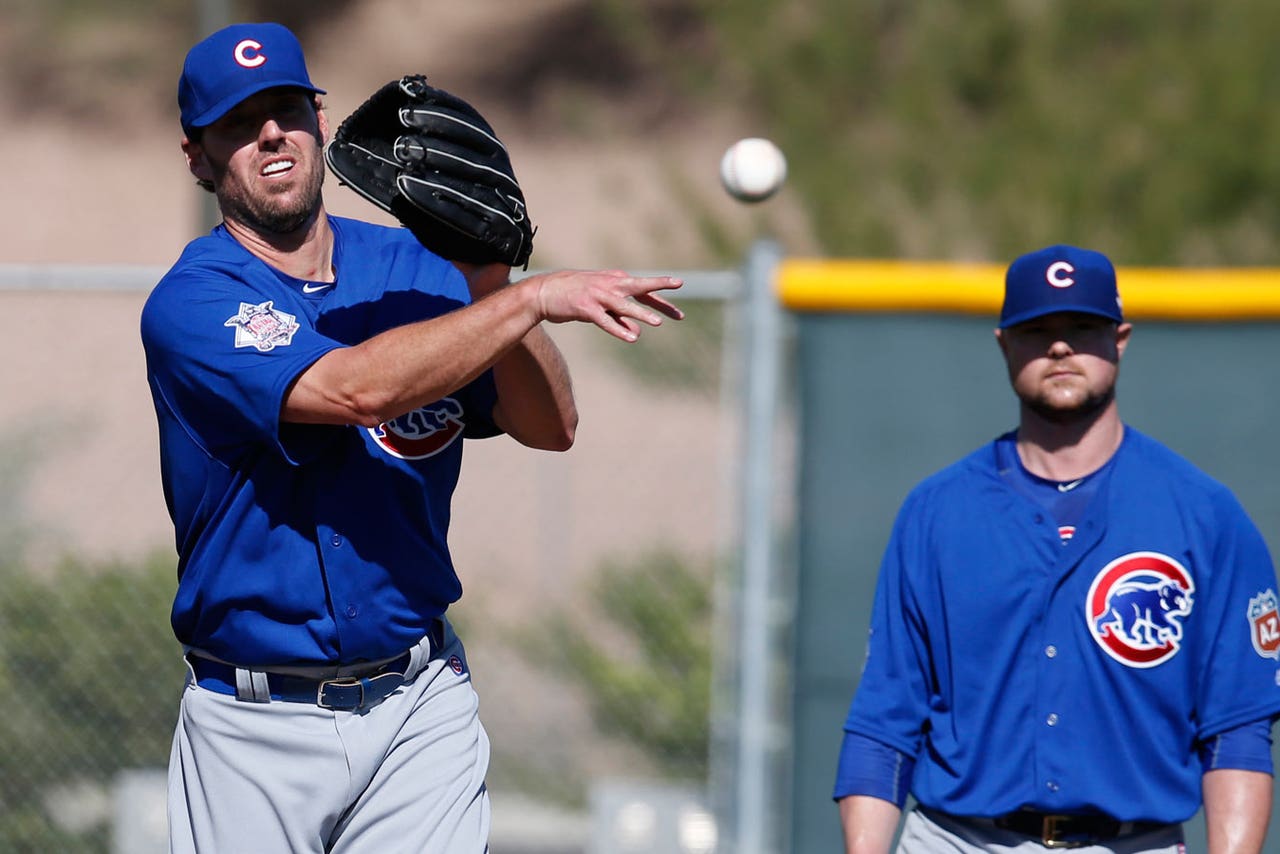 John Lackey (left) adds to an already formidable Cubs pitching roster.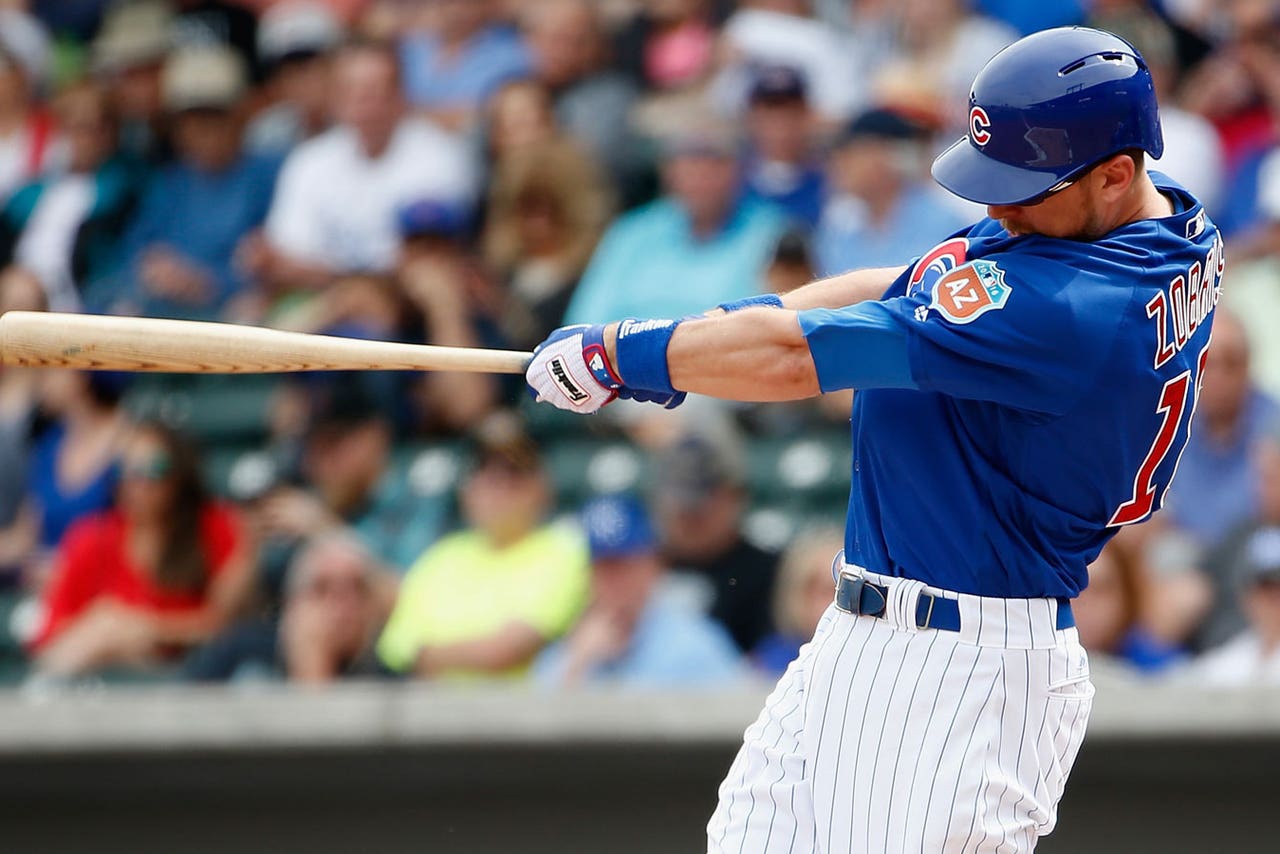 Spark plug utility man Ben Zobrist gives the Cubs even more infield depth.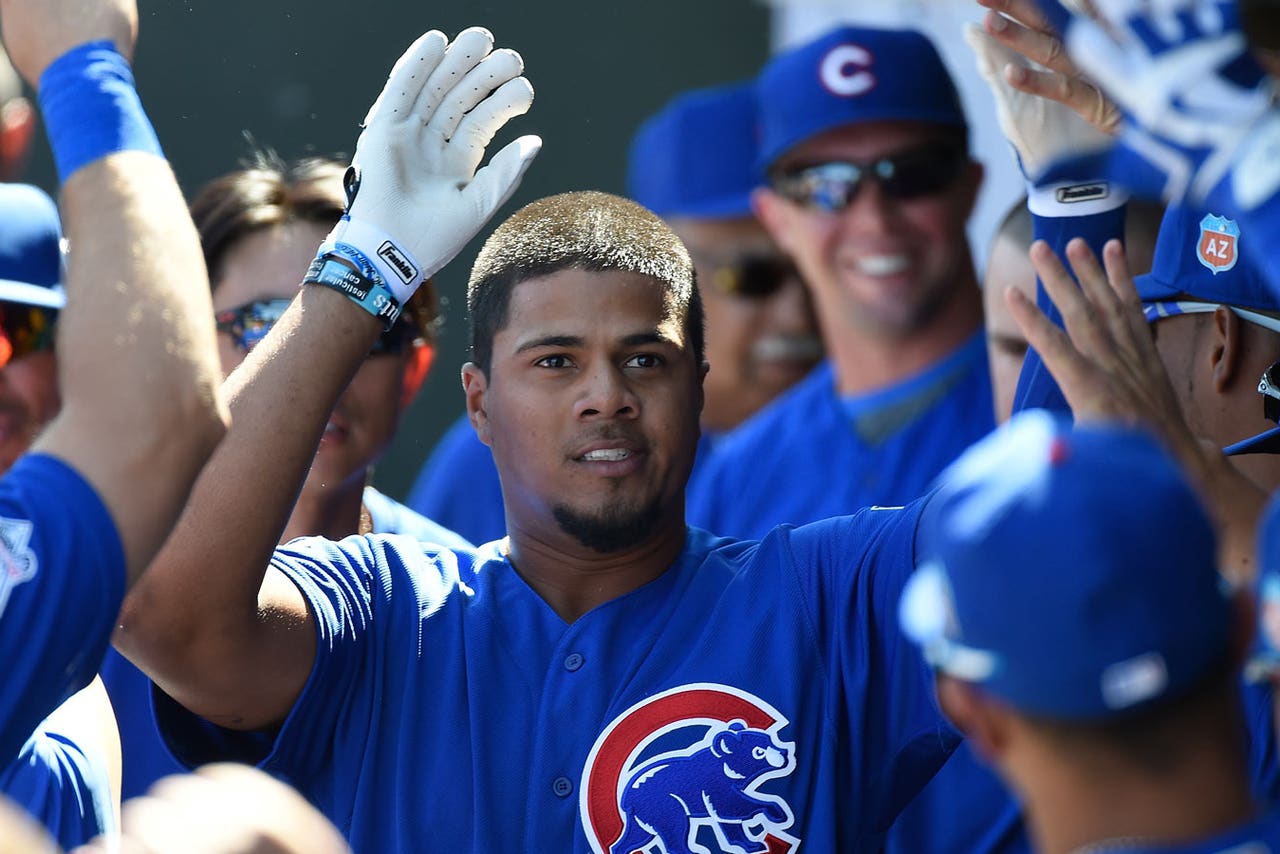 Star prospect Jeimer Candelario could be trade bait ... or a key call-up later in the season.

BRAND NEW CUBS
| | | | |
| --- | --- | --- | --- |
| Player | Pos. | Key 2015 stats | 2015 team(s) |
| Jason Heyward | RF | .293 BA, 13 HR, 60 RBI, won Gold Glove | Cardinals |
| Ben Zobrist | 2B | .276 BA, 13 HR, 56 RBI | A's/Royals |
| John Lackey | SP | 13-10, 2.77 ERA, 175 K, 9th in Cy Young | Cardinals |
| Adam Warren | RP | 7-7, 3.29 ERA, 17 starts, 7.1 K/9 | Yankees |
---
---