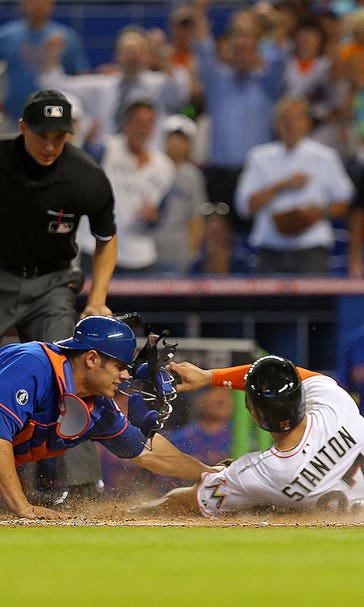 Surging Marlins sweep Mets with 'another' walk-off victory
May 7, 2014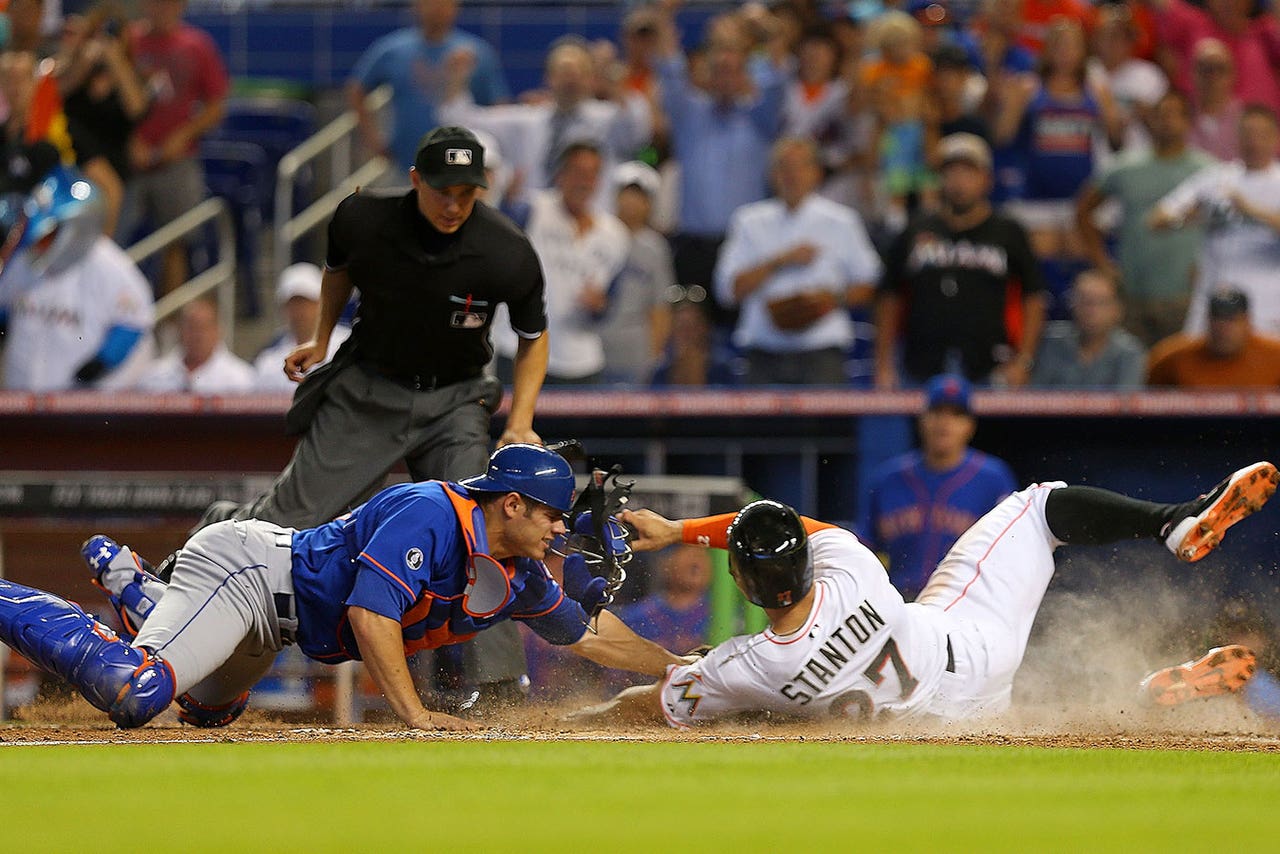 MIAMI — Racing to beat a throw from center field with the game on the line, Giancarlo Stanton slid and reached out with his left hand to tag the plate.
Home sweet home. Stanton and the surprising Miami Marlins won another thriller in their ballpark Wednesday.
Stanton scored on Marcell Ozuna's one-out sacrifice fly in the ninth inning, and Miami beat the New York Mets 1-0. The Marlins completed a three-game sweep, finished 8-1 on their homestand and improved to 17-5 at home, best in the majors.
''We have complete confidence,'' said Casey McGehee, who drew a key walk during the ninth-inning rally. ''There was never a doubt in my mind we were going to get that game, no matter how long it took. That's the way it's supposed to be.''
The Marlins have won three of their past four games in walk-off fashion.
''They put a lot of strain on guys' hearts,'' said Tom Koehler, who pitched eight innings to match a career high.
Koehler held the opposition without a run for the second start in a row, lowering his ERA to 1.99. Steve Cishek (3-1) pitched a perfect ninth to complete a two-hitter and the Marlins' sixth shutout.
''Nice way to finish the homestand,'' manager Mike Redmond said.
While no team has been better at home, the Marlins' 2-10 road record is the worst in the majors. They begin an 11-game, 11-day trip Thursday in San Diego.
''We've just got to keep playing,'' Redmond said. ''Everybody has made a huge deal of the home-road split. But this team is starting to come together. I like exactly where we're at right now. I like the energy and the chemistry. I can't wait to get out there.''
The Mets were swept despite allowing only eight runs in the series. They batted .157, scored three runs and were shut out in the final 23 innings.
''They have great young pitchers,'' manager Terry Collins said. ''They can really pitch. You just have to really apply yourself at the plate. We're just not swinging the way you hope to.''
The Mets' scoreless streak is their longest since July 2010
Miami couldn't muster much offense either. Stanton singled for their third hit to start the ninth against Carlos Torres (2-1). McGehee walked on a 3-2 pitch, and Stanton took third on a flyout by Garrett Jones.
Kyle Farnsworth replaced Torres, and Ozuna, who had struck out in his previous three at-bats, hit a fly to center fielder Juan Lagares. His throw home was wide of the plate, and the ball skipped away from catcher Anthony Recker as Stanton scored.
''The throw was a little bit more off line than we'd like,'' Recker said. ''It was one of those do-or-die plays, and I wasn't able to come up with it.''
Stanton quickly rose to join the mob scene gathering around Ozuna, while Redmond remained in the dugout watching the video scoreboard as a movie clip showed Mrs. Doubtfire dancing with a broom. He suggested the clip to celebrate series sweeps.
''When I came here last year, I made sure she ... well, he ... whatever ... I made sure when we swept a team, Mrs. Doubtfire was up on the big board,'' he said.
New York wasted a fine effort by Zack Wheeler, who walked five in six innings but allowed only two hits. He also went 0 for 2 with a strikeout at the plate, leaving Mets pitchers at 0 for 58 this season with 31 strikeouts.
The Mets lost for the sixth time in their past seven games and went 2-6 on a three-city trip. The walk-off loss was their seventh at Marlins Park, which opened in 2012.
''It has been very difficult,'' Wheeler said. ''We haven't played well this series. It's a tough road trip, but I think we have a good group of guys, and I think we can turn it around when we get back home.''
Notes
Mets LHP Scott Rice was unavailable in relief because of a sore back. ... On an 85-degree afternoon, the retractable roof was closed after being open the previous two games. ... Stanton's bat broke when he grounded into a double play in the sixth. The barrel flew into the stands and slammed against an empty seat, and Stanton crossed first base still holding the handle. ... The Mets play 16 of their next 19 games at home, starting Friday when Jenrry Mejia (3-0, 5.23) is scheduled to start for them against Philadelphia's Roberto Hernandez (2-1, 4.50). ... The Marlins begin an 11-game trip, their longest of the season, Thursday at San Diego with Jacob Turner (0-0, 9.90) scheduled to start against the Padres' Ian Kennedy (2-4, 3.43).
---
---