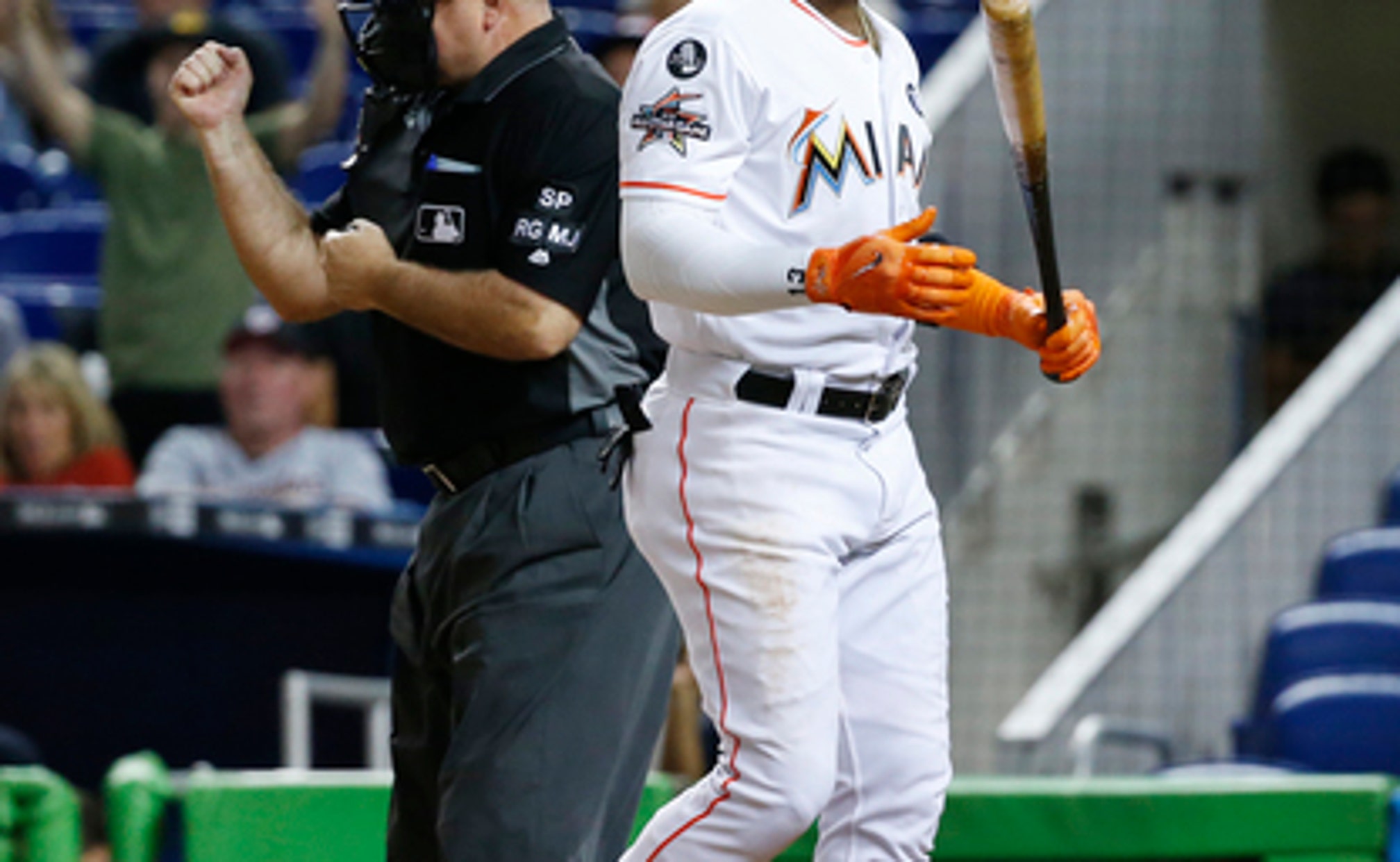 Strasburg pitches Nationals to 2-1 win over Marlins (Sep 05, 2017)
BY AP • September 7, 2017
MIAMI (AP) The results for Stephen Strasburg looked like a pitcher in top form.
However, Strasburg had to battle through a leg cramp in six innings extending his scoreless innings streak to 26 to help the Washington Nationals to a 2-1 victory over the Miami Marlins on Tuesday night.
''I felt like my arm was in good shape,'' Strasburg said. ''I was just getting into some humidity and stuff, and have been dealing with that a little bit. It just seems like I lose a lot of fluids no matter how much I drink, it kind of just goes right through me. IVs were seemingly helping me in the past, but they weren't going to give me one here so it was just part of it. I've just got to find a way and I went as long as I could.''
Strasburg (12-4) allowed a single in each of his six innings, but was able to keep the Marlins from getting into scoring position after tossing a shutout against the Marlins in his last start on Aug. 30.
''We obviously didn't get to him but still had better at-bats tonight than we did the other day,'' Marlins manager Don Mattingly said. ''You just need to have production at some point and we really weren't able to do that.''
He struck out eight and did not walk a batter throwing 60 of his 90 pitches for strikes and lowering his ERA to 2.78
''If he was 100 percent good, I think he would have thrown eight or nine innings today,'' Nationals catcher Pedro Severino said. ''He would have thrown a complete game again today, but he did an excellent job. I give respect because nobody goes through that situation hurt and wants to keep pitching. That's what I call a man.''
Strasburg worked through the cramp while on the mound stretching at times.
''He threw the ball great,'' Nationals manager Dusty Baker said. ''It just came up again and I don't know what to make of it because our trainers are working on it, just taking anti-cramping medicine and all of that kind of stuff.''
Daniel Murphy hit his 22nd home run and Severino also drove in a run for the Nationals, who have won seven straight against the Marlins.
''One-nothing didn't seem like it was going to hold up especially against this team here so that was a great victory for us,'' Baker said. ''We're back to 30-over (84-54) so we want to keep marching from here and our magic number goes down every day.''
Sean Doolittle pitched the ninth for his 18th save in 19 chances. Doolittle allowed a lead-off bloop single to Marcell Ozuna, who eventually scored on a sacrifice fly by Derek Dietrich, but got Brian Anderson to line out to end the game.
Miami's Giancarlo Stanton went 0 for 4 with two strikeouts and did not add to his major league-leading home run total of 53, but did take a home run away from Murphy when he leaped above the right-center field wall to make a catch in the third.
Miami's Odrisamer Despaigne (0-3) nearly matched Strasburg allowing one run and five hits in seven innings.
Severino's RBI single in the second scored Adam Lind, who doubled to lead off, and gave the Nationals an early lead.
Nationals right fielder Jayson Werth dropped a fly ball hit by Miguel Rojas in the seventh giving the Marlins a runner on second base for the first time. However, Sammy Solis got pinch-hitter Ichiro Suzuki to ground out to end the inning.
Murphy's home run to right field off Kyle Barraclough in the eighth pushed the lead to 2-0.
Ozuna had three hits for the Marlins, who have lost eight of nine.
''What's most important now is to win and get out of this bad stretch we're experiencing,'' Despaigne said. ''We were one of the teams playing the best baseball to one that is playing poorly. We are trying to find that moment to get out of this bad situation.''
INTERFERENCE CALL
With the Marlins trailing 1-0 in the fourth, Ozuna appeared to cleanly swipe second base with Dietrich at-bat. However, Dietrich was called out for interference when checking a swing as Severino fired a throw down to second ending the inning.
''It seemed like the catcher bumped into my box and made an attempt to hit me actually,'' Dietrich said. ''So, from my perspective, I think I did the right thing. I've never been called for that before. It's unfortunate. I feel that at-bat was taken from me.''
It would have been the only time the Marlins had a runner in scoring position against Strasburg.
''It was a big situation,'' Dietrich said. ''The runner's safe in scoring position. I was disappointed that was called there and I think so were a lot of people in our dugout.''
TRAINER'S ROOM
Nationals: OF Bryce Harper (left knee, left calf) threw before the game for the first time since sustaining the injury after slipping on first base on Aug. 12 against San Francisco. Harper is hitting .326 with 29 home runs and 87 RBIs in 106 games.
UP NEXT
Nationals: LHP Gio Gonzalez (13-6, 2.58 ERA) will look to bounce back in Wednesday's series finale after allowing five runs in six innings in his last start at Milwaukee after going 5-0 with a 1.09 ERA in his previous six starts.
Marlins: LHP Dillon Peters (0-0, 0.00) makes his second start after tossing seven scoreless innings striking out eight in his Major League debut against Philadelphia.
---
---