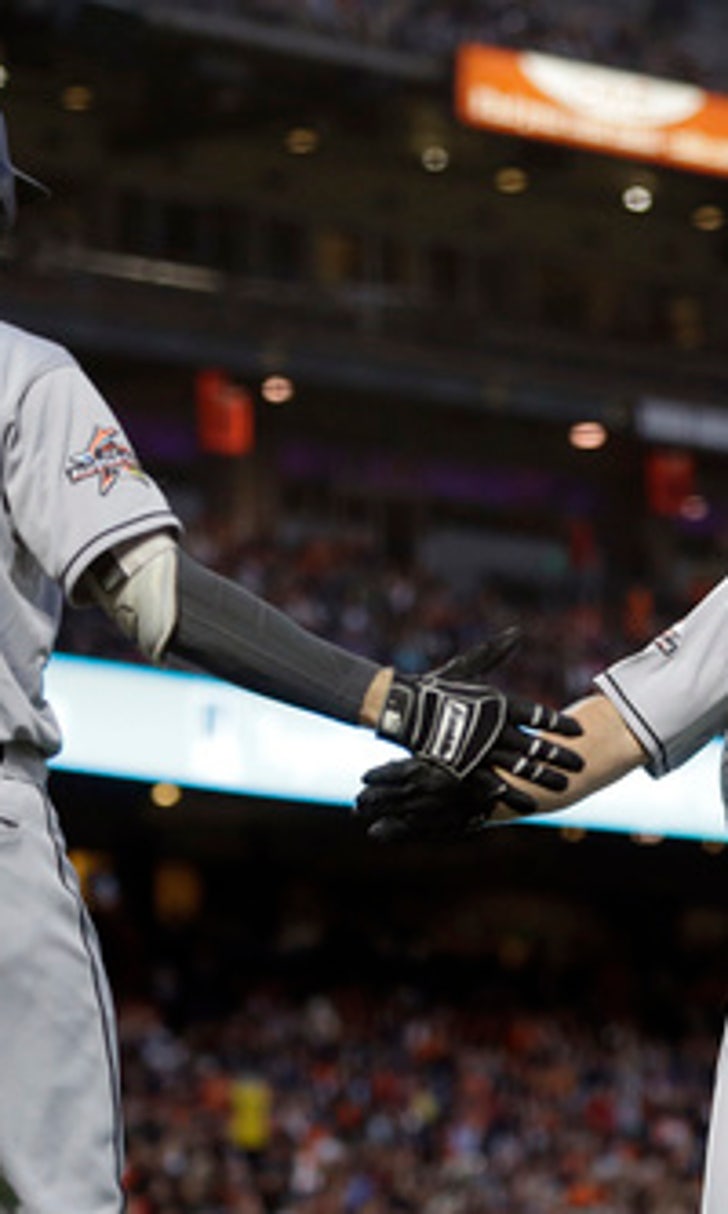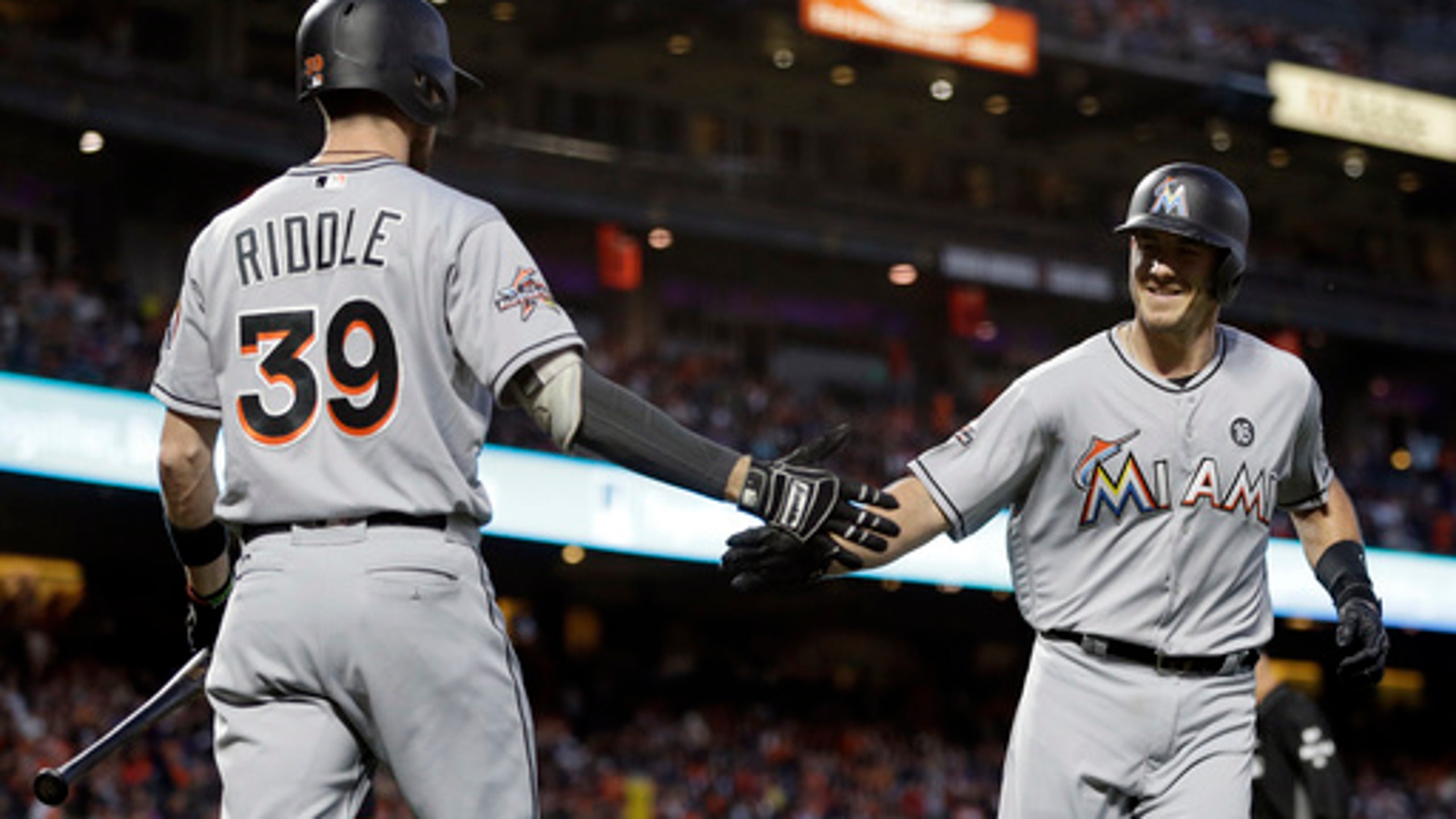 Stanton hits 24th home run in Marlins' 6-1 win over Giants (Jul 07, 2017)
BY AP • July 8, 2017
SAN FRANCISCO (AP) Dan Straily's bid for his first career complete game ended with a splash when Denard Span homered off the Miami pitcher into McCovey Cove with one out in the ninth inning.
Not that it mattered much.
On a night when Giancarlo Stanton hit his team-leading 24th home run, Straily overshadowed the Marlins All-Star outfielder Friday with his best outing of the season.
Stanton and J.T. Realmuto homered to back another strong start by Straily, and Miami beat the San Francisco Giants 6-1.
''I just wanted to finish it,'' Straily said. ''If you can have a bitter taste in your mouth after that outing I just had, it's that right there. I've only pitched eight innings a couple times, and two of them have been in this ballpark.''
Dee Gordon had four hits, Realmuto added three and JT Riddle drove in two runs to help the Marlins win the opener of their final series before the All-Star break.
The Marlins batted around during a four-run first inning highlighted by Stanton's opposite field two-run homer off starter Matt Moore (3-9).
Stanton - who will defend his title in the Home Run Derby at next week's All-Star Game in Miami - also doubled off the bricks in right field in the fourth.
''There's a lot of balls that guy hits, even some of them for outs, and you're like, `That's the hardest ball I've ever seen hit,''' Straily said. ''Then you see the next one and you're like, `No, that's the hardest ball I've ever seen hit.'''
Six of the first eight Marlins hitters reached base during the first-inning onslaught, including four consecutive two-out singles. Miami has scored 67 first-inning runs this season, second in the majors behind Milwaukee's 75.
''(Moore) just had trouble with the put-away pitches,'' Giants manager Bruce Bochy said. ''He made some mistakes when he was in a good count. I think six or seven of those hits were to left-handed batters.''
Straily (7-4) made it stand up to remain unbeaten in four career starts against San Francisco. The right-hander allowed four hits and came within two outs of pitching his first career complete game while improving to 6-1 over his past 12 starts.
''After that first inning he seemed to be able to get a lot more easy outs,'' Marlins manager Don Mattingly said. ''Got a lot of pop-ups. He just kind of got rolling.''
Dustin McGowan retired two batters to complete the five-hitter.
The Giants, coming off their first winning road trip of the season, had only one runner advance past first base.
IN CONTROL
Straily didn't walk a batter for the fourth time this season. The right-hander has issued only five walks over his past eight starts. ''He's a command guy,'' Mattingly said. ''Early in the game sometimes he'll have a little struggle with it, but once he gets rolling he seems to be able to throw the ball where he wants.''
GIANTS STRETCH DRIVE
The Giants are holding their annual Junior Giants Stretch Drive over the weekend. The program, created in honor of Hall of Famer Willie McCovey, provides funding for the Junior Giants program that serves more than 25,000 boys and girls in California, Nevada and Oregon. Last year the team raised $375,000 from the event.
TRAINER'S ROOM
Marlins: RHP Edinson Volquez was placed on the 10-day DL with left knee tendinitis. The move is retroactive to July 6.
Giants: Austin Slater is expected to be put on the disabled list after a right hip injury while trying to run out a grounder in the eighth inning. . LHP Madison Bumgarner threw a bullpen session before the game and is scheduled to pitch for Single-A San Jose on Monday. Bochy said that it's possible Bumgarner, who will throw about 90 pitches, will rejoin the big league club shortly after the All-Star break. ... Ryder Jones was placed on the 10-day DL after being hit by a pitch on his left wrist on July 1.
UP NEXT
Marlins LHP Chris O'Grady was called up from Triple-A New Orleans and will make his major league debut Saturday night, while the Giants counter with RHP Jeff Samardzija (4-9, 4.54).
---
---