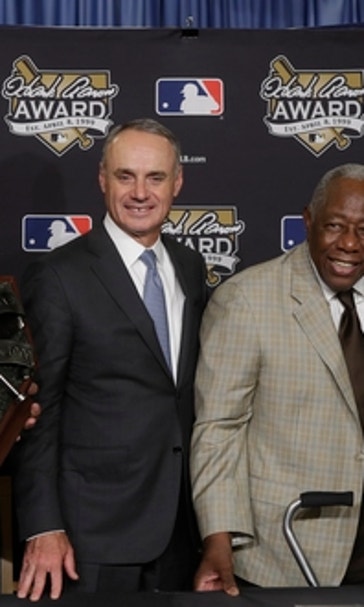 Stanton expects to meet Jeter, new Miami owners after Series
October 25, 2017

LOS ANGELES (AP) Giancarlo Stanton still hasn't met with the Miami Marlins' new leadership, including Derek Jeter, amid speculation the team will unload its most expensive player in an effort to cut payroll.
Stanton said he expects to meet with ownership after the World Series. He was in Los Angeles before Game 2 between the Astros and Dodgers on Wednesday night to accept the Hank Aaron Award as the National League's top offensive performer.
He is due to make $25 million next season in the fourth year of a $325 million, 13-year deal. His pay jumps considerably in years nine through 11, when he is set to earn $32 million a season.
By trading Stanton, the Marlins could cut their biggest expenditure. Otherwise, the club could rebuild around the 27-year-old outfielder.
Asked if he has a gut feeling on his future, Stanton said, ''I don't know, to be honest. I've had thoughts on both sides, but I don't know any specifics.''
If the new owners want to reduce payroll, Stanton said he doesn't know whether he would want to remain or go to another team with a chance to win sooner.
''I'll figure out those plans and the specifics when we get there,'' he said. ''I don't have stamped-out ideas for that.''
Stanton is from the Los Angeles suburb of Panorama City, and has been a frequent visitor to Dodger Stadium over the years. He received the Aaron award on the field before the game.
''Just to have my friends and family that are here, being able to watch, we came to watch games here together,'' he said. ''Now they're watching me get this, it's pretty cool.''
---
More AP baseball: https://apnews.com/tag/MLBbaseball
---
---