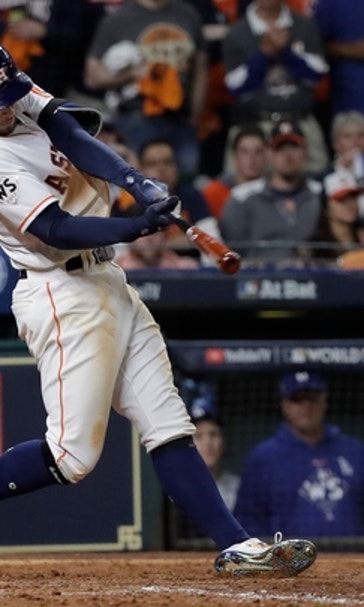 Springer rewards Hinch's faith as Astros near Series title
October 30, 2017

HOUSTON (AP) When Astros center fielder George Springer went 0 for 4 with four strikeouts in Game 1 of the World Series, some called for manager A.J. Hinch to move the All-Star leadoff man down in the order.
Hinch scoffed at the suggestion, a winning move for a team now one victory away from a championship.
Springer homered for the third time in four games to help Houston beat the Los Angeles Dodgers 13-12 in 10 innings Sunday night for a 3-2 edge in the Series.
After a lousy AL Championship Series and an even worse World Series debut, Springer said support from Hinch and the team helped him shake out of his funk.
''That was not a good start to any series, whether it's now or May,'' he said. ''But the guys here said shake it off and it's over. Baseball is a crazy game. There's ups and downs, but you just have to go out, try to slow the moment down and be yourself.''
Springer also walked three times, scored three times and added a single in the eighth inning for his second multihit game of this series.
His last walk came with two outs in the 10th inning to bring up Alex Bregman, whose RBI single ended it.
Said Bregman: ''He starts off the series by going 0 for 4, four strikeouts. And then gets back up and kills it.''
Springer's homer on Sunday night came on the first pitch of the seventh inning against Brandon Morrow to tie it at 8.
That hit came after he dived and missed a ball in the seventh. Springer thought he should have caught Cody Bellinger's RBI triple, which put the Dodgers on top.
''It's a very lonely feeling to know that I made a bad decision ... but I got told by (coaches) Alex Cora, A.J. Hinch and Gary Pettis: `It's over. Just go have a good quality at-bat and see what happens,''' Springer said. ''To go from that low to that high was very emotional. I don't really know how to describe it.''
Hinch raved about how Springer was able to move on so quickly from his miscue.
''I've been in the game a long time, I don't think I've seen someone remedy a mistake faster than what Springer did tonight,'' Hinch said. ''He (dived), he tried to make an athletic play ... and then feels like the worst feeling in the world. He feels like he made the mistake of a lifetime. And one pitch later he hits a homer.''
Jose Altuve hit an RBI double to put Houston on top later in the inning before Carlos Correa padded the lead with a two-run shot.
The homer was Springer's first hit of the night, but he'd already scored twice when he trotted home in the seventh. He got things going for the Astros in their four-run fourth inning when he drew a leadoff walk. He also walked with two outs in the fifth to keep the inning going before Altuve homered with two on to tie it at 7-7.
Sunday's performance gives Springer seven hits and four RBIs in the World Series after he managed just three hits and didn't drive in a run during the seven-game AL Championship Series.
His big game on Sunday comes after he broke out of his slump in a huge way in Game 2 with three hits, capped by a two-run homer in the 11th inning of Houston's 7-6 win.
Springer had a double in Game 3 before clubbing another deep ball on Saturday in Houston's 6-2 loss in Game 4.
His recent power surge is no surprise considering he hit a career-high 34 homers with 85 RBIs - also a career-best - in a season where he earned his first All-Star nod.
Springer is basking in the spotlight of Houston's deep postseason run for many reasons, but one of them is that it's bringing greater awareness to Camp SAY (Stuttering Association for the Young), a camp for children who stutter for which he is the spokesman. It's a cause close to his heart after he struggled with a stutter so severe as a child that he rarely talked to people outside of close friends and family.
''It's huge. I hope there's somebody somewhere out there that is impacted and can learn to just go be who you are and not let any stage or any place stop you,'' he said.
Springer said he hears stories every day from children that stutter and is moved to have helped them even if it's a small way.
''It's heartbreaking, but it's also very, very humbling,'' he said.
---
More AP baseball: https://apnews.com/tag/MLBbaseball
---
---