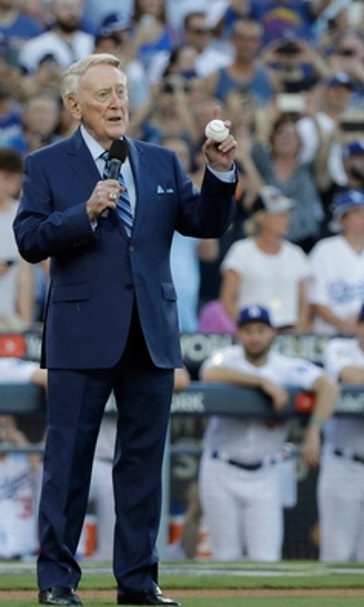 Scully delivers, and then calls in a left-handed reliever
October 25, 2017

LOS ANGELES (AP) The cheers began even before Vin Scully stepped onto the field. One year removed from the broadcast booth, his job Wednesday night was to throw out the ceremonial first pitch before Game 2 of the World Series.
Scully walked out with a microphone in his right hand and a baseball in his left. Fitting for the man who provided the soundtrack for Dodger games for 67 years, first in Brooklyn and then in los Angeles.
''Somewhere up in heaven Duke Snider, Jackie Robinson, Roy Campanella and Gil Hodges are laughing their heads off,'' Scully told the crowd. ''Look at who's throwing out the first ball at the World Series!''
Scully, who turns 90 next month, has always enjoyed a good yarn. As he took the mound he began spinning one, much to the delight of the big crowd.
First, there was no catcher to take his throw. Then Steve Yeager, a Dodger favorite for 14 years, came out of the dugout to take his place behind home plate.
''It must be terrifying for you to look out here and see me,'' he told Yeager. ''I must warn you. I worked all week playing catch with my wife and she said I had good stuff.''
With the crowd on its feet, Scully started his windup. Then he suddenly stopped.
''I think I hurt my rotator cuff. I can't do it,'' he said. ''I apologize. I'm really saddened. But like all managers in this game, I'm going to go to the bullpen. I need a left-hander. Is there a left-hander down here?''
Turns out there was. His name was Fernando Valenzuela and he was the reason Fernandomania was all the rage in the 1980s.
Vinny being Vinny, he couldn't let Valenzuela take the mound without talking about his career and delivering some stats.
''Can you imagine, one year he had eight shutouts, another year when he won 21 games, and he had 20 complete games,'' Scully said. ''I feel like I'm almost defiling the mound. I'm going to get out of the way. Fernando, see if you can get one over for me.''
The lefty who beat the Yankees in the 1981 World Series at the age of 20 delivered a strike to Yeager, and he and Scully walked off the mound to thunderous applause. Valenzuela still works for the team as a Spanish language broadcaster.
Scully began broadcasting Dodger games in 1950 in Brooklyn and moved with the team to Los Angeles in 1958. For decades his voice reverberated through Dodger stadium as fans listened to him on transistor radios.
Scully retired at the end of last season and resisted calls to do an inning or two of the World Series broadcast, saying it would not be his place.
On the mound Wednesday night it was his place, though, to give Dodger fans one last listen and one lasting memory.
---
---