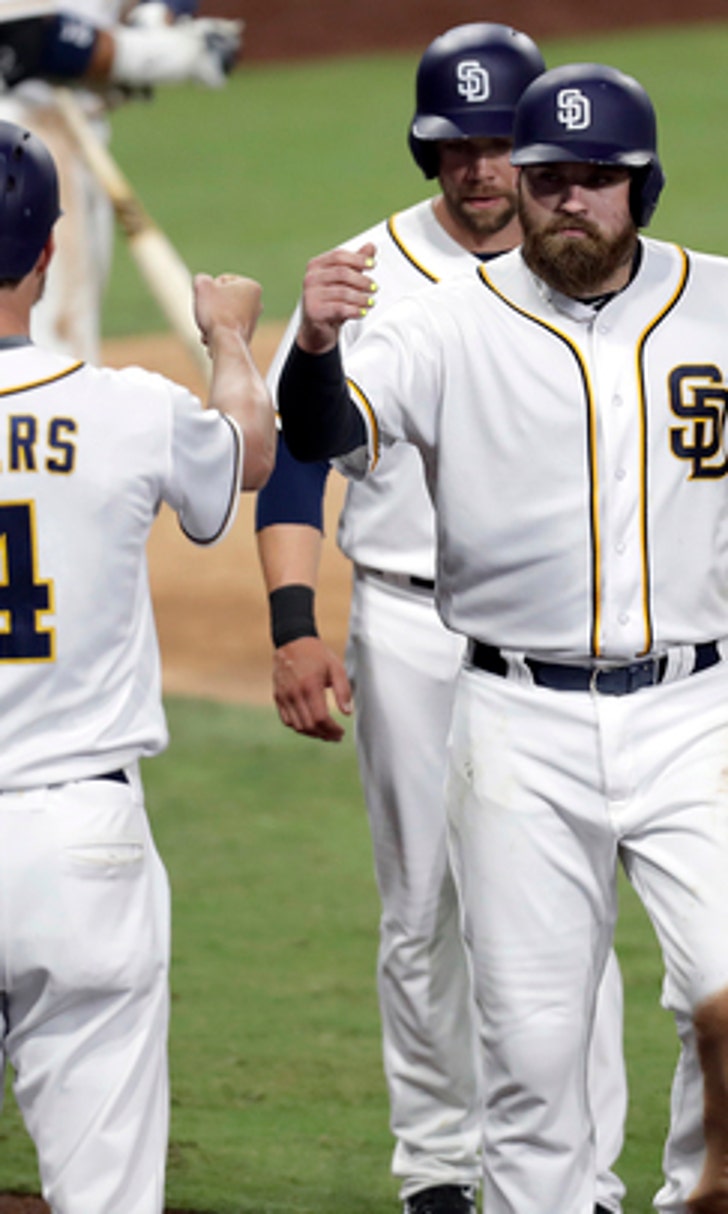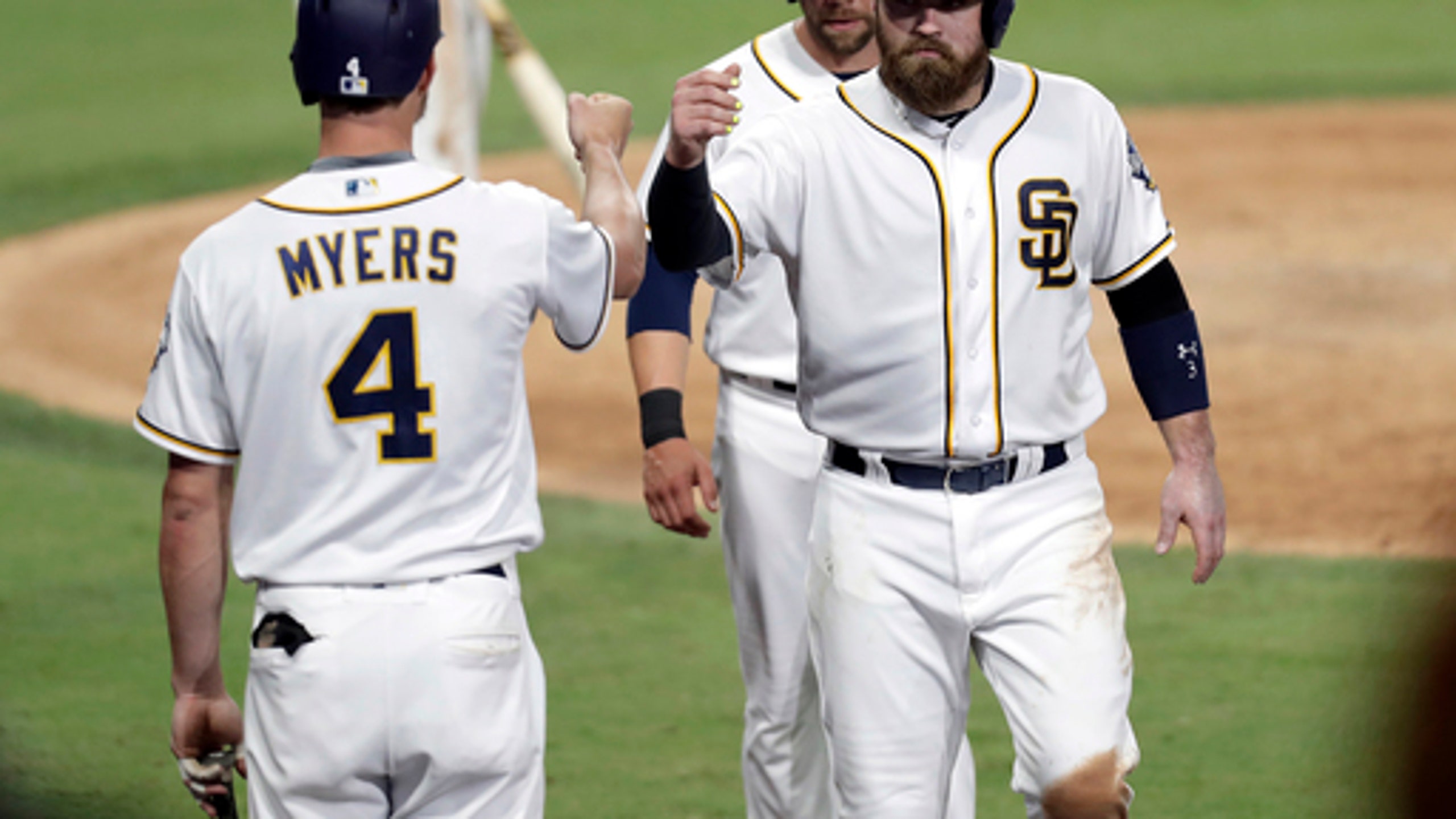 Schimp's 4 RBIs and Richard's gem lifts Padres to
BY foxsports • September 9, 2016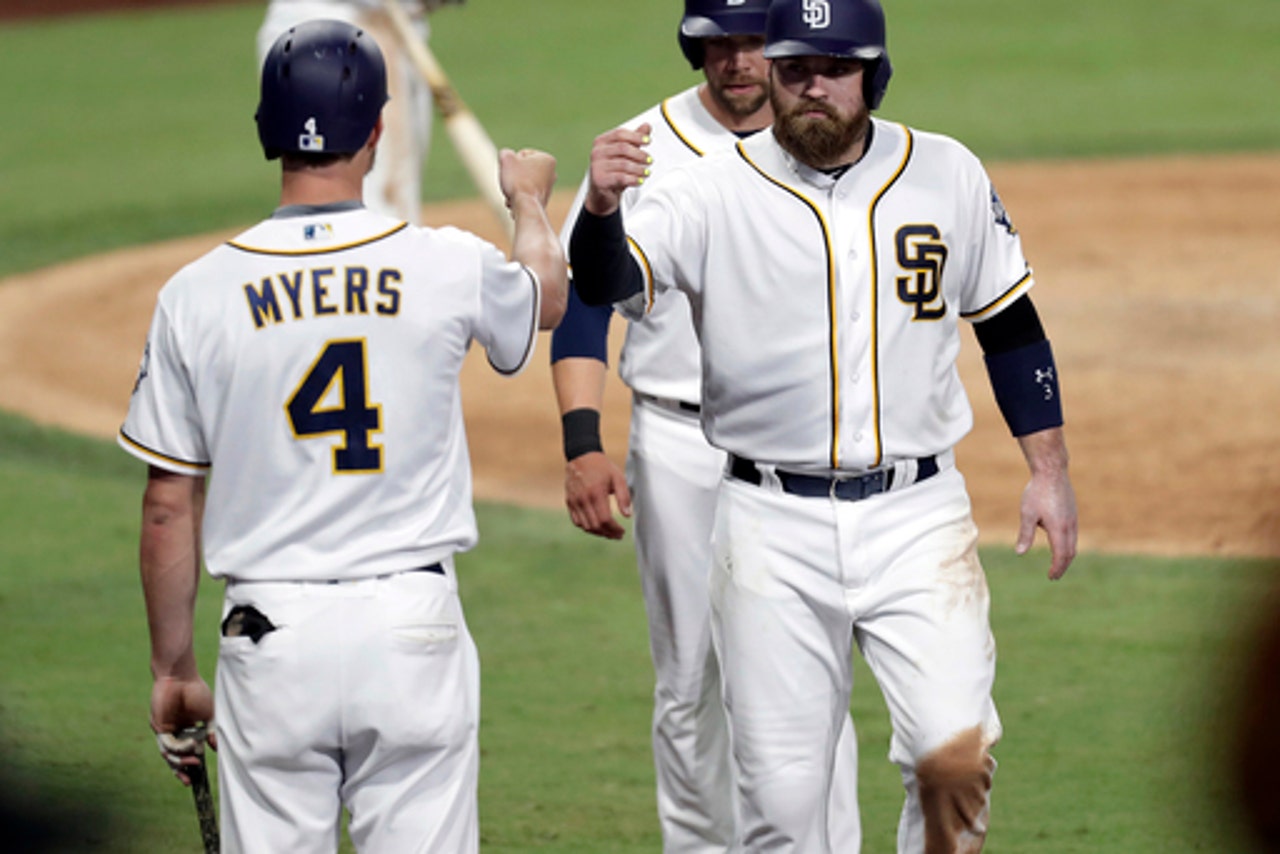 SAN DIEGO (AP) The Padres' Clayton Richard is a different pitcher in this go round in San Diego.
Richard proved that by blanking Colorado for seven innings as San Diego routed the Rockies, 14-1 on Thursday night.
''I think I'm smarter and I'm taking things easier,'' Richard said. ''I have an understanding that on the mound doing less is more. It creates better stuff and more consistency.''
After two earlier stints with the Padres, Richard was claimed off waivers when released by the Chicago Cubs on Aug. 3. It was his second impressive start since Aug. 27, when he blanked the Miami Marlins over seven innings in a win.
Richard missed the 2014 season after undergoing a left shoulder operation. He's bounced around since, but it appears he's bounced all the way back.
''You bet on the person and what he has done in the past,'' Padres manager Andy Green said. ''As he gets distance from his surgery he's returning to form. He's one of those guys that works harder than everybody and I've learned not to count those types of people out.''
Richard (2-3) was sharp as he scattered six hits, walked two and had eight strikeouts.
''I think consistently it was about being down in the zone and throwing strikes,''
He's doing so with a different arm slot, dropping down more three-quarter on his release.
''Instead of staying up top I've kind of let the arm goes where it wants to,'' Richard said. ''I'm just relaxed and not worrying about getting on top on the ball.''
Ryan Schimpf hit a three-run homer and tied a career-high with four RBIs to lead the offensive outburst.
Schimpf, a rookie second baseman, hit his 18th home run of the season, all coming since July 1.
Keith Hessler and Brandon Morrow pitched the final two innings. Cristhian Adames spoiled the shutout with a one-out homer in the ninth off Morrow.
Every position player in the Padres' starting lineup had a hit. Travis Jankowski, Yangervis Solarte, Alex Dickerson and Schimpf had two each. Derek Norris added a two-run homer in the eighth.
Jeff Hoffman (0-3) lasted 2 2/3 innings but it was hardly all by his own doing. He gave up seven unearned runs, six hits and two walks. It was his shortest stint in his four career starts.
`I think it's just a matter of command and getting in tough counts,'' Rockies manager Walt Weiss said.
San Diego tacked on three runs in the fifth on Richard's RBI groundout after German Marquez walked the bases loaded in his major league debut. Jankowski added a two-run single.
The Padres dinged Hoffman with a seven-run third, highlighted by Schimpf's three-run blast. It tied a season-high for runs in an inning for the Padres after they sent 11 batters to the plate.
San Diego had a little help from Adames as all the runs were unearned.
With Luis Sardinas at third, Jon Jay's two-out grounder kicked off Adames' glove at shortstop for a run-scoring error. Wil Myers, Solarte and Dickerson followed with singles, with the last two bringing in runs.
''The error didn't mean anything,'' Hoffman said. ''That stuff happens. You just gotta go out and make the next pitch and get out of it.''
Then Schimpf went deep over the fence in center field. Sardinas got on for the second time in the inning with an RBI single for a 7-0 lead.
Green said Norris was to undergo an X-ray after taking a foul tip off his right shoulder in the ninth inning.
TRAINER'S ROOM
Rockies: Reinstated RHP Jason Motte from the DL. Motte has been out since July 26 with a strained right rotator cuff.
Padres: RHP Jarred Cosart could miss his next start after straining his right groin and hamstring when leaping for an errant throw on Wednesday.
UP NEXT
Rockies: RHP Tyler Chatwood (10-9, 3.94) is 6-1 on the road, with a 1.82 ERA which leads the majors. He's 2-0 with a 1.84 ERA in two starts against the Padres this year.
Padres: RHP Luis Perdomo (7-8, 5.92) has given up three earned runs or less in 10 of his last 14 starts. Two of the wins have come against the Rockies, one in relief.
---
---