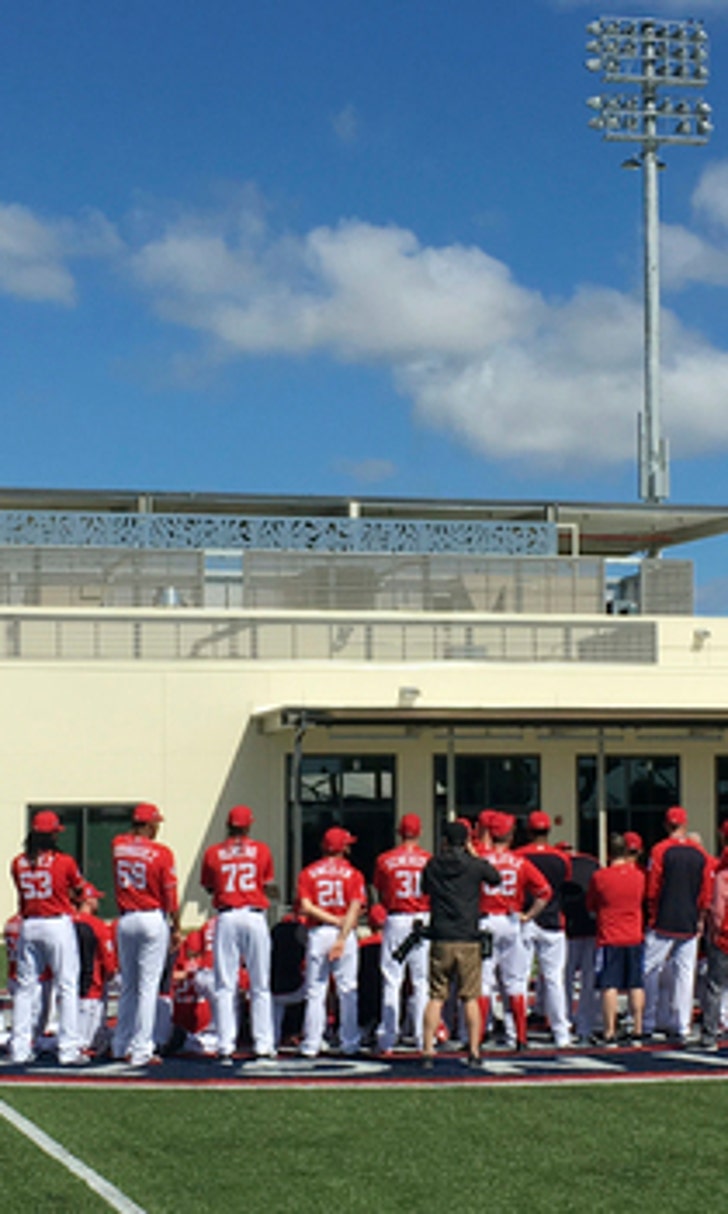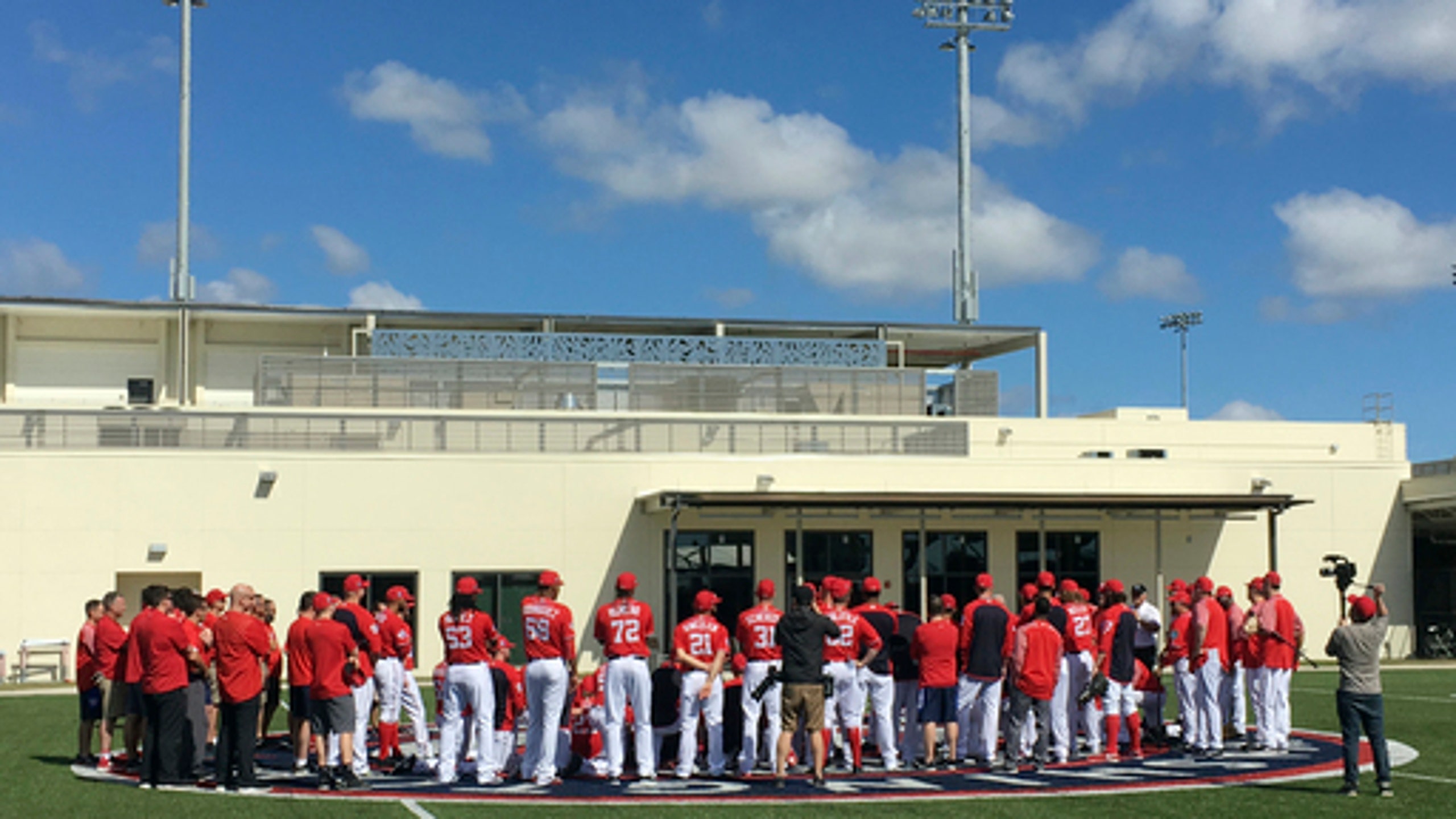 Scherzer comes out firing as Nationals try to get over hump
February 15, 2018
WEST PALM BEACH, Fla. (AP) Long after the other pitchers in his group were finished, Max Scherzer was the only one left on a bullpen mound, still firing away and working hard on specific game situations.
''Got two more hitters,'' he called out to Washington catcher Miguel Montero.
''One more righty. ... Little too much plate. ... I'll throw a change-up off that.''
In a voluntary workout Thursday, a day before the Nationals formally open spring training, the three-time Cy Young Award winner charged out of the gate and threw a whopping 60 pitches - about twice as many as other Washington starters.
''Does he know he gets one day off?'' before his next bullpen, All-Star reliever Brandon Kintzler asked.
Bemused teammates and coaches, some cracking wry smiles, watched as Scherzer grunted during his delivery and worked up a sweat under the Florida sun while other pitchers waited their turn.
''Complete game? February?'' reliever Shawn Kelley chided before Scherzer offered to let him walk through.
''No, I'm just watching the show,'' Kelley said, and then leaned in to grab the ear of new manager Dave Martinez: ''Good luck trying to get him to use his defense.''
Hey, whatever it takes to finally get Washington over that playoff hump.
A new father this season, the 33-year-old Scherzer downplayed the intensity of his session, calling it ''standard'' for a starter because it was his fifth one since arriving early at camp.
''Throwing 60-pitch `pens, that should be easy - and it is easy. I'm using my normal routine of how I get ready for the season,'' he said. ''There's a lot of throwing here, so for me I always like to get on the mound, feel some fatigue and kind of work through it. I feel like I see the benefits on that by the end of spring training.''
Still, his teammates took notice. Kintzler said it was tough enough just playing catch with Scherzer - ''I thought Max was going to kill me today'' - because of how much his ball moves.
And later: ''They're going to move him to the last group so we don't have to wait.''
''Max is a little different than the rest of us,'' lefty Gio Gonzalez said, explaining that Scherzer probably wanted to work on certain things already because he'll likely start the first Grapefruit League game next Friday.
''It was impressive to watch, though,'' Gonzalez added. ''Still got the hump in that fastball.''
There are plenty of impressive things about the Nationals, a talent-laden team that's been unable to advance in October.
Scherzer, Stephen Strasburg and Gonzalez ran 1-3-6 in NL Cy Young Award voting last year. Bryce Harper was the 2015 NL MVP, second baseman Daniel Murphy was runner-up the following season. Anthony Rendon, Ryan Zimmerman and speedy Trea Turner, among others, round out a dangerous lineup.
''We can play with anybody,'' Scherzer said.
And yet, despite winning four NL East titles in the past six years, Washington has been bounced in the Division Series every time. Three of those bitter defeats came in a decisive Game 5, the last two by one excruciating run.
''It's fuel for the fire - the naysayers, the doubters. People think that we're cursed now `cause someone said it one time. Spreads like wildfire, which is stupid,'' pitcher Tanner Roark said. ''It's annoying.''
''But the main objective is to win a World Series. Not make it to the World Series, not get past the first round, it's to win a World Series,'' he added. ''That's the only thing that matters to me.''
Some will say the Nationals better do it this year because Harper, Murphy and Gonzalez can become free agents next fall. Harper is expected to seek a record contract, so this could be his final season with the club that drafted him No. 1 overall in 2010.
''I think you enter into every season with a sense of urgency,'' Murphy insisted.
Most of last year's 97-65 team, which won a weak division by 20 games, returns intact - although the coaching staff is different after manager Dusty Baker was let go.
Scherzer said he couldn't recall being on a club with less turnover in the offseason, and Martinez implemented a ''circle of trust'' among the Nationals as he huddled his team outside for Thursday's workout.
''You've got to be in the circle of trust to talk about the circle of trust,'' Strasburg said, drawing laughs from reporters. ''I guess it's like `Fight Club' or something like that.''
''I think we're under the radar a little bit,'' he added. ''I think that you get this feeling (from outsiders) that this is like our bubble, this is our window. ... Our talent is there. So as long as we don't go out there and beat ourselves on a regular basis, we're going to be OK.''
---
More AP baseball: https://apnews.com/tag/MLBbaseball
---
---