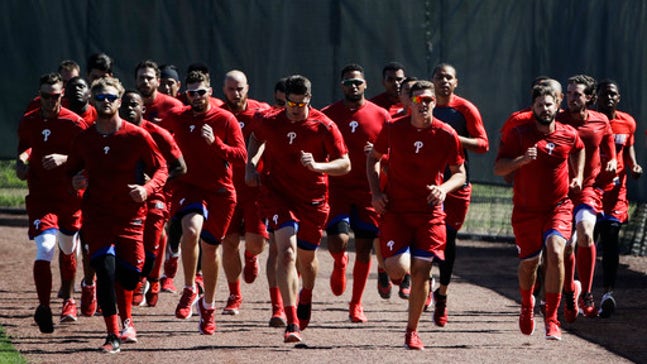 Saunders aims to provide leadership in Phillies clubhouse
Updated
Mar. 4, 2020 3:24 p.m. EST

CLEARWATER, Fla. (AP) After moving from the All-Star-laden clubhouse in Dunedin to the young locker room in Clearwater six miles up the road, veteran outfielder Michael Saunders is embracing a leadership role with the Philadelphia Phillies this spring.
Saunders, who turned 30 two weeks after filing for free agency this offseason, is an elder statesman in the Phillies' clubhouse and one of just two players, along with fellow newcomer Howie Kendrick, in the team's regular lineup who is not in his 20s.
''I'm not looking to change the way I act or change the way I do things, with my routine or anything like that,'' Saunders said. ''There are a few guys in this clubhouse that have been around. If (there's) something that needs to be said, it will be said. But I learned from my first few days in the big leagues that you lead by example.''
Saunders signed a one-year, $9 million deal with the Phillies last month after spending the last two seasons with the Toronto Blue Jays.
The rebuilding Phillies have an impressionable clubhouse this spring, with more than a half-dozen prospects in major league camp. With mainstays Ryan Howard and Carlos Ruiz gone, the front office made a point to add veterans on one-year contracts this winter, including Saunders, Kendrick and pitchers Clay Buchholz, Pat Neshek and Joaquin Benoit.
Saunders was once a top prospect himself, coming up through the Seattle Mariners' system, and he understands the path to the big leagues isn't always linear.
''The first part of my career, the first two or three years, honestly, I didn't know how to hit at the major league level,'' Saunders said. ''I didn't have much of an approach, I didn't have a game plan. I was young. I think I put a lot of pressure on myself to perform. And I wore my emotions on my sleeve.
''I think ever since 2012 I've started to learn how to hit in the major leagues. I think the biggest thing I did was more mental than physical. Really, giving myself permission to fail. And not taking my first or my second at-bat and having it ruin my game. Realizing it's one at-bat at a time. I think that's something that just happens when you get older, you mature, you have more of a solid mental approach.''
Saunders enjoyed a breakout season in 2016, when he went to his first All-Star Game. He hit .253 with a career-best .815 OPS and 24 home runs in 140 games.
The left-handed hitting Saunders will start in right field and likely hit between third baseman Maikel Franco (25 home runs in 2016) and first baseman Tommy Joseph (21 home runs), two of the promising players in the Phillies' youthful lineup. In addition to providing balance to manager Pete Mackanin's regular batting order, Saunders will be a veteran that other position players can lean on for advice, whether it's how to attack an opposing veteran pitcher or come out of lengthy slumps.
''Learning how to win and, for this franchise learning how to take that next step, that's going to be critical,'' Phillies general manager Matt Klentak said. ''And Michael has a unique perspective having been a highly touted prospect coming up with Seattle and then certainly a young team when he was there, and then transitioning to a Blue Jays club over the last couple years that was dominated by experience and very talented veterans and seeing it from both sides.
''And I think that, candidly, that perspective that he can bring drew us to Michael Saunders. He can relate to both sides of the coin on that and bring that to our clubhouse and some of our younger players. What does it mean to take that next step and play winning baseball. That's part of the reason he's here.''
NOTES: Mackanin said there was a ''good chance'' right-handed veteran Jeremy Hellickson would start on opening day for the Phillies for the second straight year. Hellickson went 12-10 with a 3.71 ERA in 32 starts in his first season in Philadelphia last season and returned this winter when he accepted the club's $17.2 qualifying offer rather than testing free agency. . Right-handed pitcher Zach Eflin (right knee swelling) threw a bullpen session without issue on Monday morning. Eflin, who had surgery on both his knees since August, had skipped a throwing session last week. . The Phillies will begin their exhibition season schedule on Thursday in Clearwater when they host the University of Tampa at 1:05 p.m.
---
---