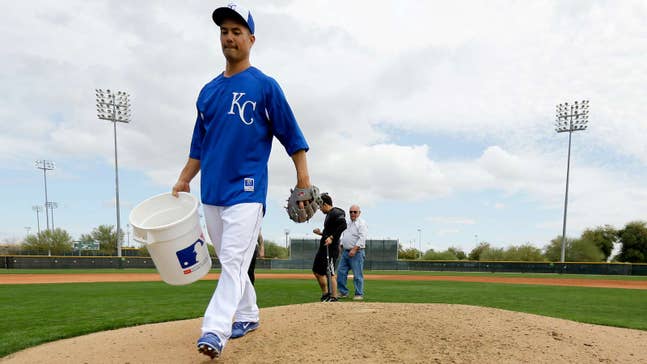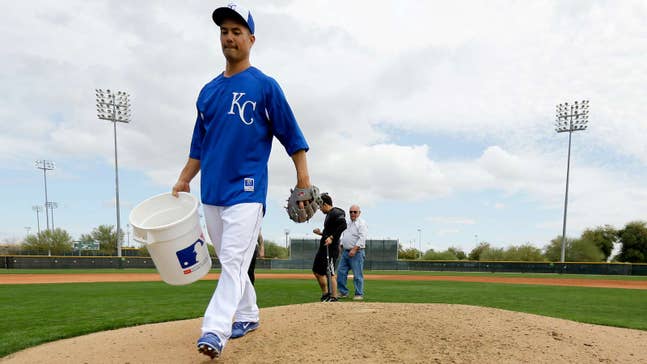 Royals shoe-freak Guthrie a subject, producer in 'Sneakerheadz' film
Published
Mar. 5, 2015 6:28 a.m. ET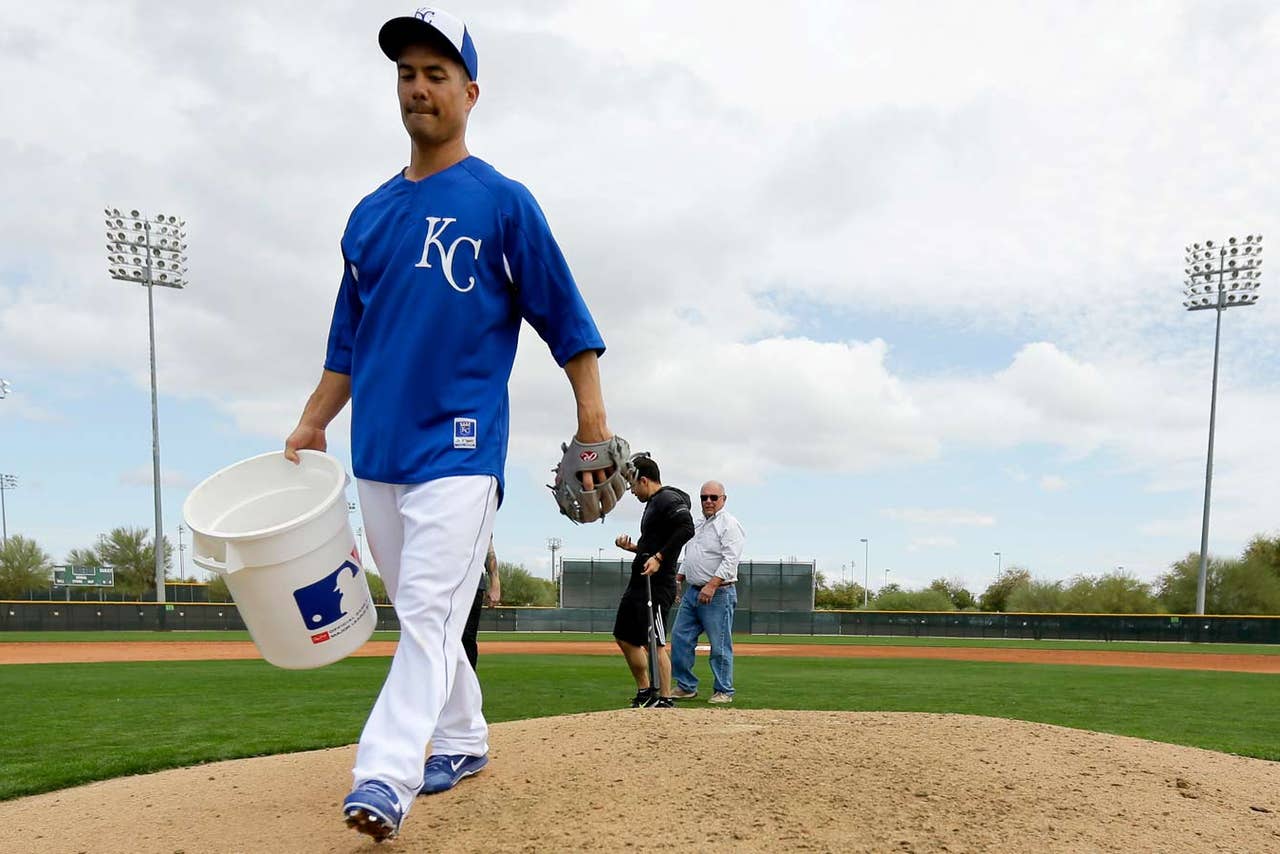 SURPRISE, Ariz. -- Jeremy Guthrie strode to the table with a television camera trained on him, settling down behind a pair of microphones. His voice clear and his words concise, Guthrie announced in a mock news conference that he was hanging up his cleats.
The Kansas City Royals pitcher was retiring. In his prime.
From the business of shoe collecting.
To which his buddy, filmmaker David T. Friendly, replied: ''My foot!''
''I believe that about as much as I believe my degenerate friends who say they're never going to gamble again after a bad loss,'' Friendly said. ''He'll be back.''
This was no minor announcement.
In the world of sneakerheads, a subculture of folks whose pursuit of the latest kicks sometimes borders on the obsessive, Guthrie is something just short of a deity. He's been accumulating shoes since he was a kid, when he got his first pair of Air Jordans, and his vast collection held in a vault in his Utah home has grown to roughly 500 pairs.
There's at least one of every edition of Air Jordan. There are special editions and one-offs, variations of colors, styles and designs. Some were signed by other athletes or worn in games.
While the value of anything is what someone is willing to pay for it, Guthrie estimates that his most expensive pair is worth about $40,000. His entire collection? About $500,000.
And make no mistake: There are plenty of people willing to pay for it.
''You'd be amazed at how many sneakerheads there are,'' said Friendly, the Academy Award-nominated producer of ''Little Miss Sunshine,'' who had been thinking of making a documentary film a few years ago when he stumbled on the sneaker movement.
Friendly started to poke around this underground world, meeting people who regularly drop thousands on a pair of shoes. Eventually, someone told Friendly to get in touch with Guthrie, who gave him unfettered access to his knowledge and collection.
The result was ''Sneakerheadz,'' a film exploring the subculture that will premier March 16 at South by Southwest, the iconic music, film and arts festival in Austin, Texas.
''There's been a sneaker culture since hip-hop music became more mainstream,'' said Guthrie, who wound up investing in the film and is credited as a co-executive producer.
''I grew up in a smaller town in Oregon, close to Nike, and I was always going to Foot Locker and buying shoes,'' he explained. ''But once I left that pocket, and I saw a lot of other guys that loved Jordans - they had 10 or 20 pairs - I said, `Oh, OK. That's pretty cool.'''
It was a revelatory moment. Guthrie had learned that, just like folks who collect baseball cards or stamps, there were other people who collected shoes.
He found those people at BYU and Stanford, where he went to school. At every stop up the minor league ladder. Guthrie even found them in the big leagues, other ballplayers who would wait anxiously for the release of a rare pair, or stand in line for a limited edition.
Guys like David Riske, a journeyman reliever whom Guthrie met at Double-A Akron. Or Eric Crozier, a first baseman he met at Triple-A Buffalo who played all of 14 games in the big leagues.
Guthrie also formed kinships with collectors outside of the sports world, which became easier once social media exploded. He learned that he was a mere novice next to guys like Jordy Geller, whose ''ShoeZeum'' bills itself as the largest sneaker collection in the world, or a dude known as Kenny G --''The Perfect Pair'' on Instagram -- who has a world-class collection of his own.
''Of course, there are people who don't understand it,'' said Scott Keeney, better known by his stage name DJ Skee, a TV host, producer and entrepreneur who narrated ''Sneakerheadz.''
''It's like collecting fine art,'' Keeney said. ''These are fine, very limited pieces of art in a weird way where, you know, there's supply and demand. That's why some of these shoes can be worth tens of thousands of dollars.''
No wonder Guthrie's rarest shoes are safely housed in his customized vault. This is serious business, not something he does for kicks and giggles.
''Jeremy is great, and now that he's retired, it's interesting,'' Keeney said. ''I mean, he put cleats on a pair of basketball shoes -- that's never been done. Some of the limited-edition Jordans that he shows off in the video are holy grails in the community.''
In other words, Guthrie's retirement leaves a significant void in the subculture. It's one less devotee who takes his collection beyond a simple hobby.
''I've always said and always stressed to people who know me and followed me on Instagram, when I lose that sense of motivation, that sense of needing something to prove, as a sneakerhead, it's time to move away,'' Guthrie said. ''I've reached the pinnacle of my career.''
---
---